College Football 2012: 10 Underclassmen with Best NFL Potential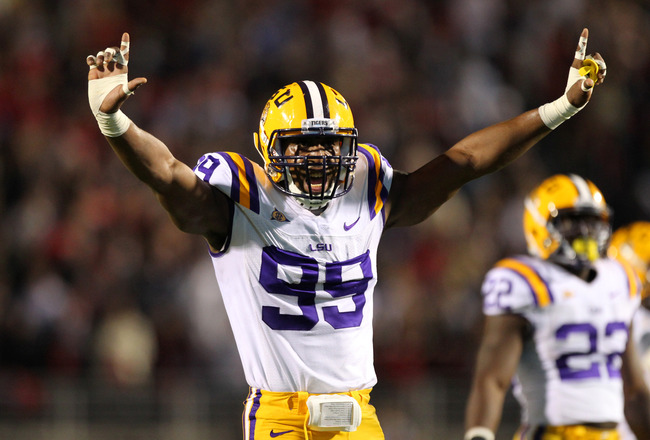 Joe Murphy/Getty Images
Move over, seniors. This one is all about the underclassmen.
Don't worry, fans of Matt Barkley. There will be plenty of time to swoon over the senior quarterback and presumably the No. 1 pick of the 2013 NFL draft.
However, as fewer and fewer of the most talented players wait until their senior year these days to join the NFL, it's fitting to examine the best prospects of perhaps the not-so-distant future.
So, who are the top 10 underclassmen NFL prospects of 2012? Read on.
Casey Pachall, TCU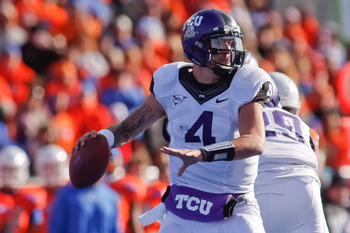 Otto Kitsinger III/Getty Images
Normally, you'd look for TCU to produce NFL-caliber linebackers and defensive backs under Gary Patterson. However, the Horned Frogs have turned into a bit of a quarterback factor as of late.
Andy Dalton is already a solid starting quarterback, and now Casey Pachall looks to follow in Dalton's footsteps.
It was evident that Pachall learned well from Dalton in 2010, and he is now one of the most efficient quarterbacks in the league with a QB rating of 158.0 as a sophomore.
That's impressive.
Marcus Lattimore, South Carolina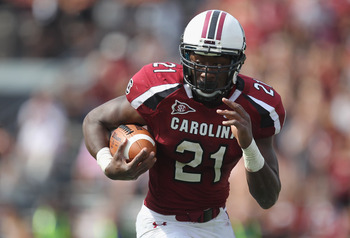 Streeter Lecka/Getty Images
Marcus Lattimore is rightly thought of as one of the best running backs in the country. He's quick (4.58 40-time), has great vision and can slip out of the backfield and make a catch or two if the situation requires it.
However, he has yet to stay healthy for an entire season. That's something that will concern NFL scouts as they evaluate Lattimore's considerable potential.
The Gamecocks seem to ride Lattimore a bit too hard when he's in, but perhaps this year South Carolina will find the proper balance.
That can only help Lattimore's NFL prospects.
Eric Reid, LSU
Kevin C. Cox/Getty Images
The LSU defense is filled with players who could be in the NFL right now if they could, and Eric Reid is one of those players.
Reid is the best player in LSU's secondary, contrary to the belief that the Honey Badger is. He's everything you want in a safety. Most importantly, he has a nose for stopping the play no matter where it is.
That's how he was able to lead LSU in tackles with 76 last season.
Reid will likely be a key leader in what looks to be the best defense in the nation. Such leadership experience will surely translate well to the next level.
Logan Thomas, Virginia Tech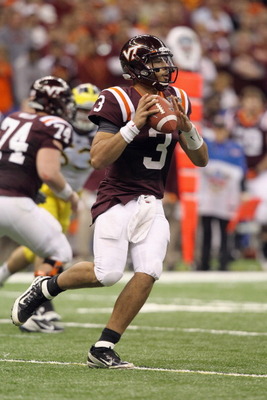 Matthew Stockman/Getty Images
Logan Thomas is perhaps the best quarterback year of his recruiting class. A redshirt junior, Thomas has been consistently billed as the next Cam Newton.
Well, thus far he hasn't lived up entirely to the hype.
He's got the ability to rush out of the pocket and make positive yards if the situation requires just as Newton does, but he's yet to develop a reliable passing arm. He did have a stellar game against Miami (FL) where he went 23-of-25 for 310 yards and three touchdowns, but that was much more the exception than the rule.
If you take out that game, Thomas completed 57.7 percent of his passes and averaged 225 yards passing per game.
Those aren't Cam Newton numbers. In comparison, Newton completed 66.1 percent of his passes.
However, the talent is certainly there. If he can improve upon his passing game, he just might be one of the most sought-after players in the 2013 NFL draft.
Jarvis Jones, Georgia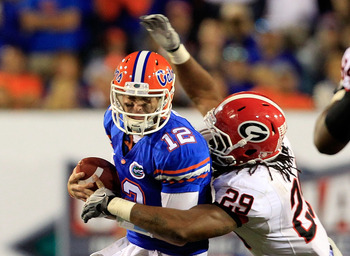 Sam Greenwood/Getty Images
USC is in prime position to win a national championship, but I'm sure they still kick themselves for letting Jarvis Jones get away.
As a redshirt sophomore last season, Jones proved himself to be perhaps the best OLB in the SEC, and that's no small feat.
Florida, for one, still has nightmares of his four-sack performance against them last season. Jones finished 2011 with 19.5 tackles for loss, 13.5 sacks and even two fumble recoveries.
And I'll bet there are defensive coordinators all over the NFL who are itching to have Jones haunt their division rivals.
Johnathan Hankins, Ohio State
Sandra Dukes-US PRESSWIRE
Ohio State didn't have many bright spots last season, but DT Johnathan Hankins was certainly one of them.
He's a massive defensive tackle at 6'3" and 335 lbs. He had 10.0 tackles for loss and 2.0 sacks last season for the Buckeyes.
Now he's got former Florida head coach Urban Meyer coaching him, who I'm sure will bring what he learned in the SEC with him.
Be afraid. Be very afraid.
Sam Montgomery, LSU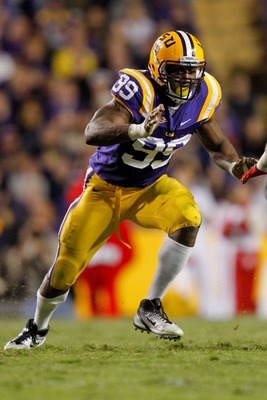 Derick E. Hingle-US PRESSWIRE
Although he's entering his redshirt junior year, Montgomery probably would have said goodbye to LSU had they won the national championship last year.
The fact that the Tigers got blown out of the water 20-0 by Alabama may be the best thing that's ever happened to Montgomery and those that remain at LSU.
Montgomery will look to improve on an already impressive record. Last season, he made 9.0 sacks and 13.5 tackles for loss. And at 6'4", 248 lbs and a 40-yard dash time of 4.59, he's the kind of defensive lineman who can get around blocks and to the quarterback.
David Amerson, NC State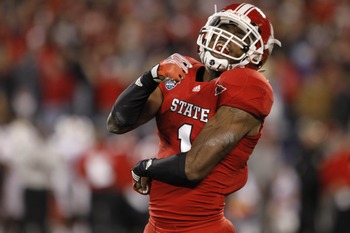 US PRESSWIRE
Tyrann "Honey Badger" Mathieu may get a ton of attention, but David Amerson is the best CB prospect in college football.
Bar none.
Amerson's greatest talent is reading the play and stepping in front of the receiver. Last season he made an astounding 13 interceptions.
That's good enough for second in college football history.
He may not have those kind of numbers in 2012, as quarterbacks are sure to not throw anywhere near him this season, but it shouldn't affect his standing with NFL scouts.
Robert Woods, USC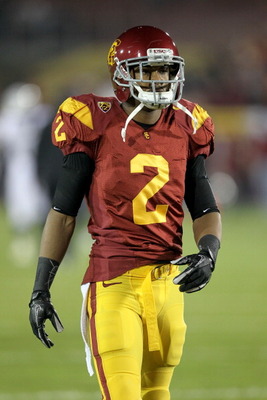 Stephen Dunn/Getty Images
While most NFL scouts are drooling over QB Matt Barkley, the smart ones are also paying close attention to one of Barkley's favorite targets: junior WR Robert Woods.
Woods is one of the best route-running receivers out there, and he excels at making Barkley look great. What NFL team doesn't want that combination?
Oh, and last season he had 1,292 yards and 15 touchdowns. Remember that Woods and USC only played 12 games unlike many of the top WRs who played 13 or even 14.
Barkevious Mingo, LSU
Jamie Squire/Getty Images
Besides having one of the coolest names in college football, Barkevious Mingo is one of the most terrifying NFL prospects, period.
Last season Mingo led the LSU defense in tackles for loss with 15.0 and picked up 8.0 sacks. With a 40-yard dash time of 4.57, he's a quick terror for any quarterback out there.
Which means that any NFL team looking to up their pass rush should be standing in line to get this guy.
In fact, Mingo just might have gone to the NFL already if the BCS National Championship Game had gone differently.
Keep Reading