UNC Basketball: Must-Get Recruits That Would Cement UNC as Top 2013 Class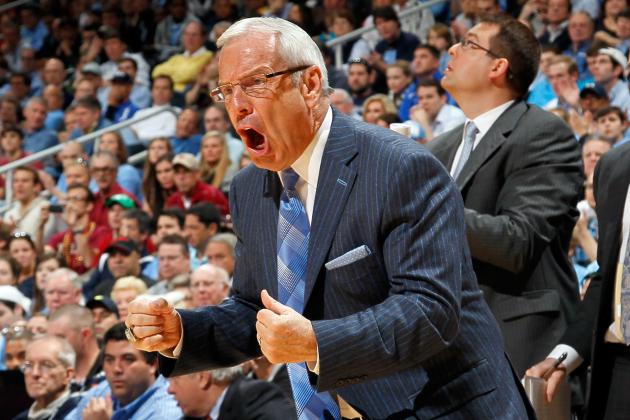 Kevin C. Cox/Getty Images

After owning the top spot for months with Nate Britt and Isaiah Hicks, the North Carolina Tar Heels relinquished their crown to the Florida Gators. Last week Billy Donovan snatched up power forward Chris Walker, to go along with the No. 2 point guard in the nation Kasey Hill.
The commitments of the No. 6 and No. 7 player in the ESPN 100 moved Florida to the front of the 2013 recruiting class (subscription required).
Are there any recruits left that could put UNC back on top? Absolutely.
However, the chances of that happening are very slim. The top 5 players are still open but, for all we know, that may be Kentucky's starting lineup in 2013.
"So you're telling me there's a chance."
Of course. The top two players in the nation still have North Carolina on their list. If Roy managed to snag Jabari Parker and Julius Randle, not only would they be a lock for the top class, but almost surely a lock for a title.
That's something I can get down with.
It's pipe dreams to many, but you just never know. For the sake of today's article, we're going to go ahead and dream a little dream.
Before we look at some possible winning combinations, as always, we need to look over the projected roster to see how much space Coach Williams has to work with.
Begin Slideshow

»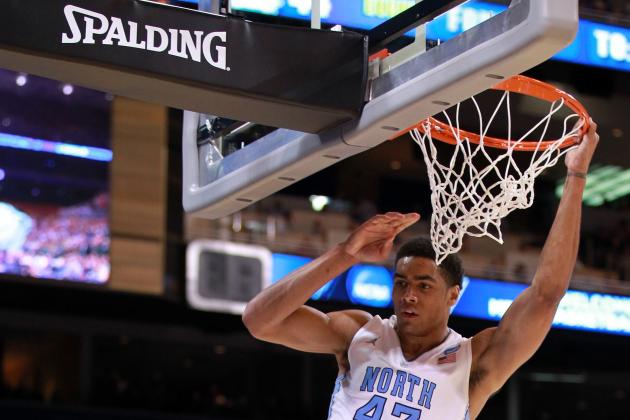 Andy Lyons/Getty Images
Say "good-bye" to McAdoo in 2013.
PG: Marcus Paige, Sophomore
PG: Nate Britt, Freshman
*PG Luke Davis
**SG: Leslie McDonald, Redshirt Senior
**SG: Reggie Bullock, Senior
**SG: P.J. Hairston, Junior
SF: J.P. Tokoto, Sophomore
PF: Isaiah Hicks, Freshman
PF: Brice Johnson, Sophomore
*PF: Jackson Simmons
C: Desmond Hubert, Junior
C: Joel James, Sophomore

*Preferred walk-ons
**Possible early entries for the NBA draft
Those of you that don't need to count with your fingers can plainly see 12 scholarships are already locked up. And that is assuming James Michael McAdoo takes off to the NBA after this season.
The odds of him staying are about as good as the odds of UNC picking up Jabari Parker and Julius Randle. As a matter of fact, that's about the only way I see him staying—serious title hopes. Even then it may be a stretch, though.
The stable of shooting guards could also jet, but they are more likely to stay than McAdoo.
Jackson Simmons and Luke Davis are currently on scholarship but that gets renewed annually, as they are "preferred walk-ons."
With the flexibility of Simmons and Davis, that leaves Roy Williams with three spots to play with off the bat. There is also a possibility of up to six vacancies on the roster. To maintain sanity, let's go with three.
What could Ol' Roy do with those open slots to cement UNC's place at the top?
The obvious scenario starts with the No.1 and No. 2 players in the country. Though Andrew Harrison is riding close, nobody gets more praise than Jabari Parker and Julius Randle.
And it isn't all hype. They are just that good.
Parker is a silky smooth small forward that can do just about anything you ask—dribble penetration, perimeter shooting, passing and the list could go on and on. Imagine a hybrid version of Kobe Bryant and LeBron James and you pretty much have Jabari Parker.
And snagging the No. 1 player kind of helps a program's ranking average. With the lack of depth at small forward, I would say Parker should be the top priority.
However, you can't overlook the beast. That Carolina Blue paint would not be safe for opponents with Joel James and Julius Randle clogging it up. Both players are man-childs and play like bullies in the schoolyard.
Randle also has a solid outside game and would give a southpaw variation in the double post. Though space is tight at power forward with Isaiah Hicks and Brice Johnson, it's hard to pass up such a talent.
If there is to be a third player to add on, that would likely mean one of the shooting guards left Chapel Hill.
Wayne Selden is the highest ranked shooting guard (No. 20 overall) that has an interest in North Carolina. While he is a solid and aggressive shooting guard, I wouldn't say his skill set is any better than small forward Nick King (No. 15 overall)—who could easily transition to the 2.
Since he has the higher rank, that's who I'm going with in this scenario.


The List:
No. 1—Jabari Parker
No. 2—Julius Randle
No. 10—Isaiah Hicks
No. 15—Nick King
No. 22—Nate Britt
Average Rank: 10
Let's face it. It isn't likely that Coach Williams will manage to snag Parker and Randle, though I'm still drooling over the possibility.
I think UNC has a better shot at Randle, so I will run with him in this scenario. He could also slide to small forward if needed, which could make him the better and more versatile option anyway.
That's one of the reasons I think Randle is better than Parker. And, as I said, it would be full-on beast mode in the paint with him and James.
Since Coach Williams would have options with Randle, it would be smart to grab another versatile player with Nick King. With two players, he has the 2, 3 and 4 positions covered with a lot of flexibility.
While we're at it, why not go with Johnathan Williams, III? He is listed and has the size for power forward at 6'8", but he has more of a perimeter game than what Coach Williams asks of his post men.
Johnathan Williams just isn't a back-to-the-basket kind of guy. But he is ranked No. 16 overall and could very easily play small forward.
The List:
No. 2—Julius Randle
No. 10—Isaiah Hicks
No. 15—Nick King
No. 16—Johnathan Williams
No. 22—Nate Britt
Average Rank: 13
Considering Florida has locked up the No. 6 and No. 7 players and I have a feeling Kentucky will snag the Harrison twins (Andrew and Aaron)—who rank No. 3 and No. 8, respectively—there is very a slim chance this final option could put UNC back on top.
But there is a chance, so we will go through it anyway.
In this scenario, let's say Parker shocks the nation and chooses North Carolina while Randle heads elsewhere. That locks up the small forward spot, as I don't think anyone would shift Parker from his position.
Maybe Nick King wants to stay a small forward, so he doesn't choose UNC. Then Roy would pick up Wayne Selden to play shooting guard.
Though I am a big fan of Austin Nichols (No. 30), Coach Williams would probably have to grab Johnathan Williams in order to stay contender for the top class. Though, Nichols could move up in the rankings before the class is finalized.
The List:
No. 1—Jabari Parker
No. 10— Isaiah Hicks
No. 16—Johnathan Williams
No. 20—Wayne Selden
No. 22—Nate Britt
Average Rank: 13.8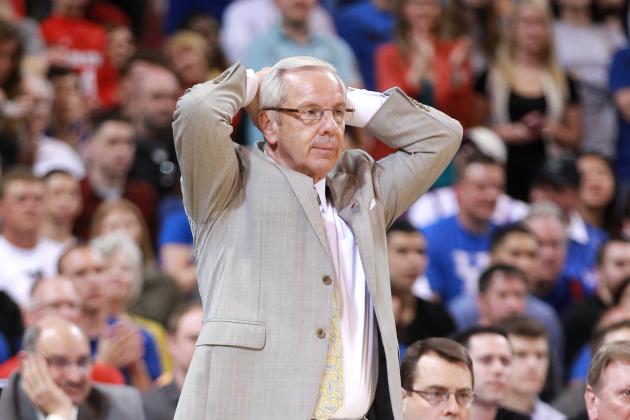 Andy Lyons/Getty Images

To be honest with you, I don't have a lot of confidence that North Carolina will be able to get a commitment from Jabari Parker or Julius Randle—much less both of them. But in order to cement them as the top recruiting class of 2013, I feel Roy Williams has to get one of them.
Unless, of course, Florida and Kentucky completely flop on their remaining recruits.
But we're talking about a lock at the top. And that lock just isn't possible if UNC can't get one of the top two recruits in the nation.
Fortunately, it's hard to go wrong after Hicks, Britt and the returning roster in Chapel Hill. Carolina doesn't need the top recruiting class to have a shot at the title.
It certainly wouldn't hurt though.