Olympic Basketball Scores 2012: Full Results from Today's Action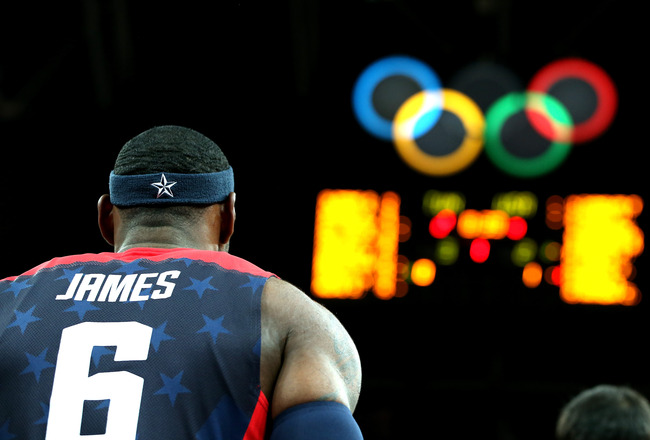 Christian Petersen/Getty Images
While some teams enter play today on a high note, having won their opening games on Sunday, others realize that they need to put forth a winning performance in the worst way if they have any hope of reaching the quarterfinals.
Tuesday's slate of games is highlighted by teammates going head-to-head, with the Manu Ginobili-led Argentina squad taking on his Spurs' teammates Boris Diaw, Tony Parker and France.
Keep checking B/R for the latest news of the day and recaps of all the Olympic action.
Let's get to it, shall we?
Russia 73, China 54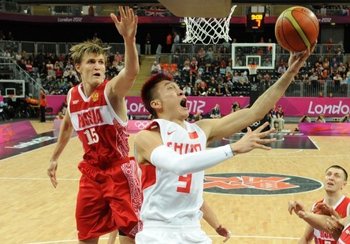 Kirilenko did what he does - play consistent basketball for Russia. Photo courtesy of Yahoo! Sports.
Led once again by the duo of forward Andrei Kirilenko and point guard Alexey Shved, Russia had little trouble dispatching of Yi Jianlian and China in the opening game of Tuesday's action, 73-54.
The game was never close, with Russia leading by eight points after the opening quarter. They continued to pile on the over-matched Chinese team, increasing the lead to 15 points at halftime and 22 points after three quarters of action.
Both Kirilenko and Shved are set to play for the Minnesota Timberwolves in the 2012-13 NBA season, having signed contracts with the club in the weeks leading up to the games in London.
Kirilenko tied for the lead among all scorers with 16 points on 7-of-12 shooting from the field to go along with nine rebounds and four steals. Shved contributed 14 points on 6-of-11 shooting while dishing six assists.
Jianlian led China with 16 points (6-of-14 from the field) to go along with seven rebounds and a game-high four blocked shots.
Next up for Russia (2-0) is a Thursday afternoon tilt with Brazil, while China (0-2) goes up against Australia.
Spain 82, Australia 70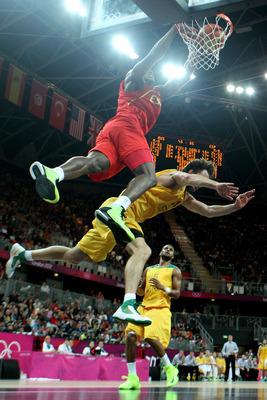 Spain's Serge Ibaka wasn't the only one flying through the air.
Christian Petersen/Getty Images
For 10 minutes, it looked as if Australia had a chance.
Taking a 19-14 lead into the second quarter, the Aussies were outplayed by the supremely talented Spanish squad, led by Pau Gasol's 20 points (8-of-13 from the field) in only 18 minutes. Gasol spoke to reporters after the game (per Yahoo! Sports):
We got off to a slow start but we picked it up in the second and in the third we were able to break it open and open a big lead. Against better teams, we'll have to start better, but we are a team that likes to build, we play better as the tournament gets longer.
Two other Spaniards, Marc Gasol (12 points) and Rudy Fernandez (17 points), scored in double digits, while forward Felipe Reyes pulled down a game-high 12 rebounds. Australia was led by Joe Ingles and Brad Newley, who each scored 12 points in the losing effort.
Spain (2-0) meets up with Great Britain on Thursday afternoon in what is sure to be a packed house for the home team, while Australia (0-2) will go for their first victory against a winless China (0-2).
Lithuania 72, Nigeria 53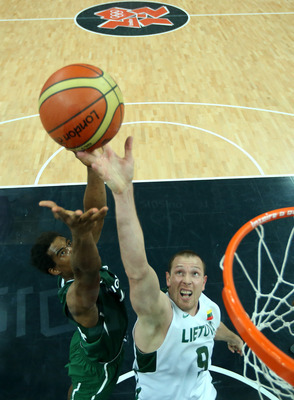 Nigeria struggled to keep Lithuania from getting to the basket.
Christian Petersen/Getty Images
Even with double-double performances from Al-Farooq Aminu (12 points, 11 rebounds) and Ike Diogu (12 points, 10 rebounds), Nigeria suffered it's first ever loss in Olympic play, falling by 19 to a hungry Lithuania squad.
Darius Songalia (12 points) was one of three Lithuanians to reach double-digits in scoring but it was more Nigeria's inability to make shots that kept the game from ever getting close. Nigeria shot 24 percent from the field (16-of-66), including a putrid 1-for-16 from behind the arc.
Up next for Lithuania (1-1) is a meeting with France (0-1), while Nigeria prepares for their toughest test of the Olympics, taking on the United States.
Brazil 67, Great Britain 62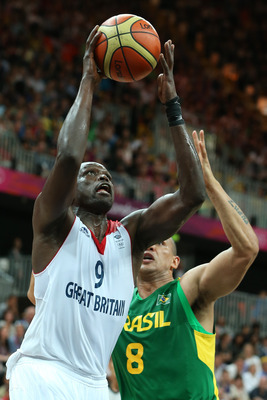 Luol Deng and the Olympic hosts put forth a valiant effort against heavily favored Brazil.
Christian Petersen/Getty Images
With the home crowd behind them, Great Britain came within minutes of notching the biggest upset on the hardwood thus far in London, falling to Brazil 67-62.
Luol Deng drained back-to-back threes to give Great Britain a slim 57-56 lead with four minutes left in regulation, and a goaltending call on Brazil's Nene Hilario made it a four point game with just over a minute left, But that was the closest the Brits would get, falling 67-62.
The Olympic hosts were led by Pops Mensah-Bonsu's double-double (13 points, 12 rebounds) and Nate Reinking's 13 points. Deng struggled to find his shot all day long but was highly effective in other areas of the game, finishing with 12 points (3-of-13 from the field), seven rebounds, eight assists and two steals.
Brazil's Tiago Splitter led all scorers with 21 points on 9-of-11 shooting to go along with four rebounds.
Next up for Brazil (2-0) is a clash with Andrei Kirilenko and the Russian Federation (2-0) at 1:45 p.m. ET on Thursday.
Great Britain (0-2) will take on the Gasol brothers and Spain Thursday afternoon at 3 p.m. ET.
France 71, Argentina 64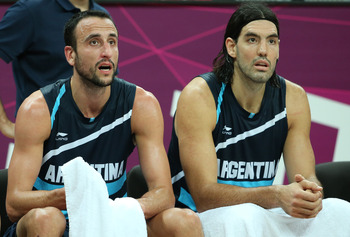 Ginobili and Scola gave it all they had against France.
Christian Petersen/Getty Images
We finally got our first upset on the court as the Tony Parker-led French team took out Manu Ginobili, Luis Scola and the favored Argentinian squad 71-64.
Parker struggled with his shot once again, going only 4-for-17 from the field. But he drove the lane relentlessly, draining 9-of-10 free throws and single-handedly outscoring Argentina in the fourth quarter, 13-11. He paced France with 17 points and five assists, one of five French players to score in double digits.
Despite 26 points from Ginobili on 9-of-20 shooting and 16 points from Luis Scola, Argentina struggled to find their shot most of the game, shooting 37 percent from the field and only draining four of the their 23 attempts from three point range.
France (1-1) takes on Lithuania (1-1) at 4 a.m. ET on Thursday to open the third day of the Men's competition.
Argentina (1-1) goes up against Tunisia—who is likely going to be 0-2 after playing the United States tonight—at 9:30 a.m. ET on Thursday.
United States 110, Tunisia 63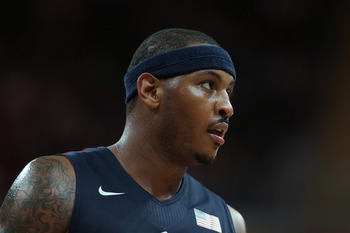 'Melo was one of many to score against Tunisia for the U.S..
Ezra Shaw/Getty Images
Everybody on Team USA made their way to the scoresheet against Tunisia in a game that was never really in doubt.
Kevin Durant put together a double-double performance with 13 points and 10 rebounds, one of six Americans to reach double digits in scoring. Carmelo Anthony and Kevin Love led the way with 16 points a piece. Tunisia's Makram Ben Romdhane led all scorers with 22 points on 9-of-18 scoring and also pulled down a game high 12 rebounds in a losing effort.
The United States (2-0) next takes on Nigeria (1-1) at 5:15 p.m. ET on Thursday.
Tunisia (0-2) looks to pick up it's first win in London against a heavily favored Argentina squad (1-1) on Thursday morning at 9:30 a.m. ET.
Keep Reading