Washington Football: What Husky Fans Need to Know About Mike Leach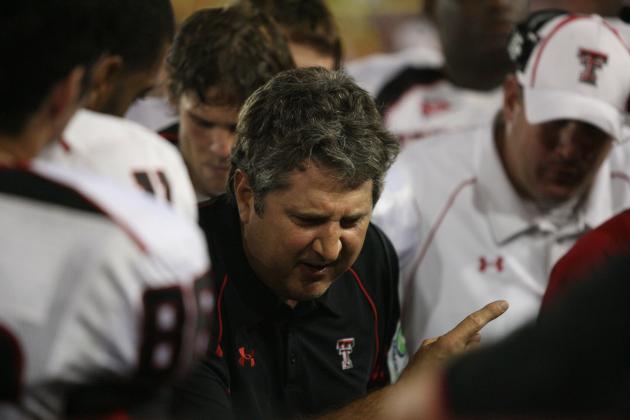 Thomas B. Shea/Getty Images

Next season, the Washington Huskies may face some competition from their in-state rivals, Washington State. The Cougars' new head coach, Mike Leach, will be looking to lead a resurgence.
Meanwhile, after an exciting 7-6 finish last year, the Washington Huskies are hoping to continue their growth under fourth-year head coach Steve Sarkisian.
He has never eclipsed the seven-win mark, but he has turned around a UW program that had come off an 0-12 campaign the year before he started.
With junior quarterback Keith Price emerging as a Heisman candidate, Washington is in position to return to the top of the Pac-12.
However, on the other side of the state, the relatively dormant Cougars are starting to drum up some interest.
Enter Mike Leach.
Husky fans should already know Leach's name and pedigree, but he means so much more for WSU.
With Leach leading the troops, the Cougs have proven they are committed to revolutionizing their football program. Gone are the days of mediocre sub-par athletes. Leach will not accept ordinary play from any of his players.
Nonetheless, the Cougs have won only four conference games in the last four seasons. Their rebirth will take a lot more than just Leach.
Here is what UW fans should know about Leach.
Begin Slideshow

»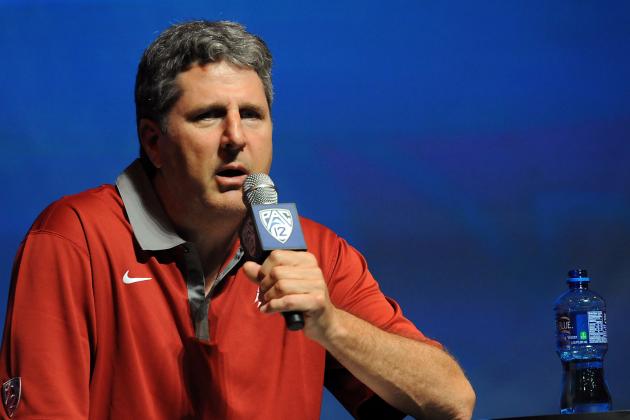 Jayne Kamin-Oncea-US PRESSWIRE

Leach guided Texas Tech to an 84-43 record during his tenure. He eclipsed seven wins in eight of his 10 seasons and nabbed 11 victories during 2008.
Needless to say, Leach knows how to win ballgames. The Red Raiders played in a competitive Big 12 conference, and Leach still found ways to upset teams such as Texas, Oklahoma and Oklahoma State.
Regardless of the players his offense featured, Leach's teams scored a lot of points.
His teams reached bowl games in each of his 10 seasons, and that bodes well for the Cougs, who have not been bowling since 2003.
If the season comes down to one game separating the Huskies from a bowl game at the end of the season, UW fans should not be excited about the prospect of facing Leach.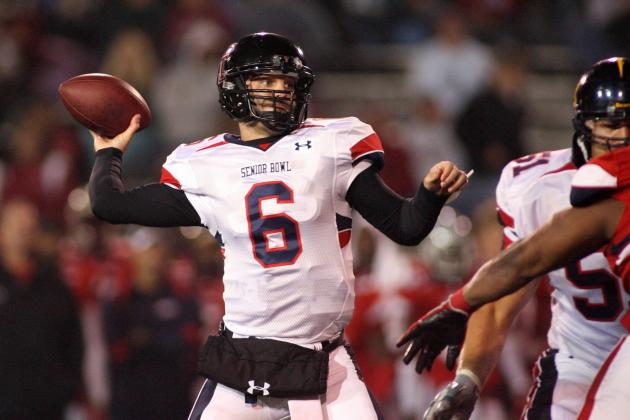 John David Mercer-US PRESSWIRE

Leach is well-known for his offense's ability to air out the ball.
After making average quarterbacks look like gods (see: Harrell, Graham), Leach's quarterbacks can really put up some legendary stats.
During Leach's first three seasons in Lubbock, Kliff Kingsbury led the NCAA in quarterback rating. He compiled 5,017 passing yards in the third year and tossed 45 touchdowns.
Not to be outdone, B.J. Symons, Sonny Cumbie and Cody Hodges followed Kingsbury and led the NCAA in quarterback rating for the three following seasons.
That was largely without a dominant receiving threat, until Texas Tech landed Joel Filani in 2006, where he hauled in 91 passes for 1,300 yards.
Then, in 2007, Michael Crabtree emerged as a superstar receiver, as he finished with 134 receptions for 1,962 yards and 22 touchdowns.
Harrell finished that season with 5,705 yards passing and 48 touchdowns.
Needless to say, Leach's teams throw the ball, and they throw it a lot.
Washington will need to be ready to drop into coverage when they match up with the Cougs and hope Marquess Wilson is not the second coming of Crabtree.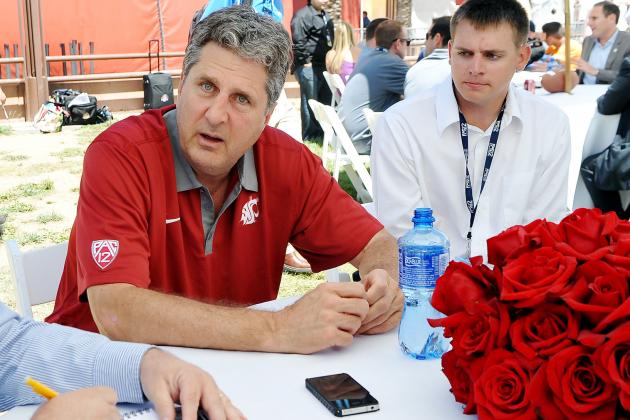 Jayne Kamin-Oncea-US PRESSWIRE

Leach is a unique coach who is willing to take risks.
He is a high-octane coach that simply does not roll over during games. He utilizes statistics to decide whether to attempt fourth downs and two-point conversions.
By bringing in outside statistics when making coaching decisions, Leach is not a conventional head coach. He makes decisions based on facts rather than emotion, which can be an important strategy for a high-powered offense.
With a law degree from Pepperdine University, he may be one of the smartest coaches in the Pac-12.
He exemplifies his own brilliance in his quarterback evaluation, where he said he values decision-making ability and accuracy.
By bringing in smart quarterbacks who can understand his offensive schemes, Leach's teams generally outperform their expectations. With quarterback and head coach on the same page, the results can be unprecedented.
Washington must understand that Leach is a genius, and although his principles may be unproven, his resume is anything but.
His teams are well prepared, and the Dawgs must be prepared to an offensive wizard.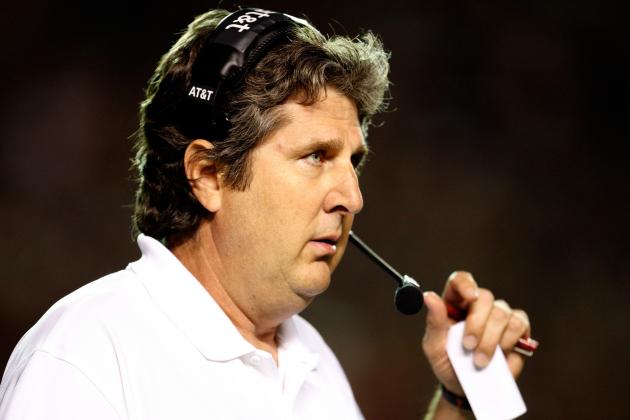 Jamie Squire/Getty Images

Maybe one of the best parts of Leach's reign over Washington State is the excitement he has drummed up.
After four seasons where the team won a measly nine games, the Cougs are yearning to win some games. Leach has provided the necessary spark to instill some hope in Cougar nation.
That does not bode well for the Huskies, who have yet to make it past the hump in the Pac-12. They are not in the upper echelon of the conference alongside Oregon and USC, but they have still finished past .500.
The Cougs will not instantly jump to the top of conference, but they may compete alongside the Huskies for third in the Pac-12 North.
He has generated interest in unconventional ways, including a live chat on Reddit. He has said all the right things through spring practice and by keeping interviews interesting, fans are enticed by the prospect of Leach on the sidelines.
The Cougars have been inert for nearly 10 years, but Leach could spell bad things to come for WSU's opposition.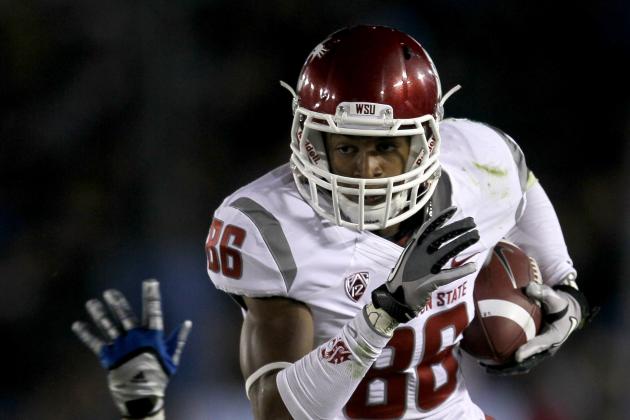 Stephen Dunn/Getty Images

Perhaps the most intriguing portion of Leach's hiring is the team he is inheriting.
With players such as Jeff Tuel and Marquess Wilson already on the roster, Leach will surely have the playmakers to make his offense succeed.
After turning a relatively unknown roster into championship contender at Texas Tech, Leach will have a similarly arduous task with Washington State.
He has turned quarterbacks into demigods, capable of throwing for thousands of yards with ease. His receivers have turned into All-Americans, and now he will start fresh with a talented roster.
Washington should be aware of the talent already in place for WSU and realize that Leach will aid in their development.
Players such as Andrei Lintz were forgotten in Paul Wulff's offense, where in Leach's offense, he has simply emerged. Lintz went from 10 catches in his career, to a possible NFL draft pick.
With Leach's coaching expertise, WSU will find players who may be unheralded but are talented enough to hang with the rest of the Pac-12.
After Leach has a full year of recruiting, WSU will likely get attract more quarterbacks and receivers who are eager of teaming up with Leach's air raid.