Olympic Swimming Results 2012: Day 4 Updates, Medal Winners, Analysis & More
A rare mistake but also a night to remember for Michael Phelps. More medals for Allison Schmitt and China's Ye Shiwen.
Here's how it happened.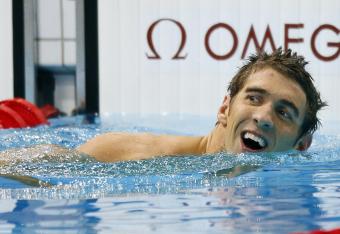 So in the end, it's a night of history for the United States. One legend, Michael Phelps, has the largest medal collection in Olympic history. And the breakout American star, Allison Schmitt, was simply dominant.
There's also a bit of redemption for Ryan Lochte, whose leadoff leg in the 4x200-meter freestyle relay left little doubt about the outcome. Conor Dwyer and Ricky Berens stretched out the lead a bit farther, making Phelps' anchor leg a virtual victory lap.
That's all for today. Still so much more swimming to come in these enthralling Olympics.
GOLD FOR THE USA AND A MEDAL RECORD FOR MICHAEL PHELPS.
That's 19 medals, 15 gold. He had a lead he couldn't lose, and he brought it home with ease.
Phelps' disappointment over the 200-meter butterfly seems to be ancient history. He's laughing with his fellow swimmers in the pool, and whatever happens in the rest of the Olympics, Phelps' career legacy is secure.
Credit to Ryan Lochte, whose blistering first leg left everyone racing for second. France got it, then China. Again, Australia doesn't make it.
Leg 3: Ricky Berens gives Michael Phelps a lead of nearly three seconds. France's Yannick Agnel racing to hold onto second.
Update:
Lochte's handed over a whopping lead to Dwyer for second leg of 200m relay. Like a jet-ski releasing a surfer onto the top of a big set.

— sportingintelligence (@sportingintel) July 31, 2012
Leg 2: Germany rapidly cut into the lead of the USA's Conor Dwyer, but Dwyer built it back up. The USA leads by 2.13 seconds at the halfway point.
Reminder: Michael Phelps is poised to take sole possession of the record for most Summer Olympic medals.
Leg 1: Ryan Lochte has turned around from his disappointing anchor leg in the 4x100 to stakes the USA to a 0.98-second lead in the 4x200. Australia and Germany are 2-3.
South Africa took a slight lead over the USA and France, then faded.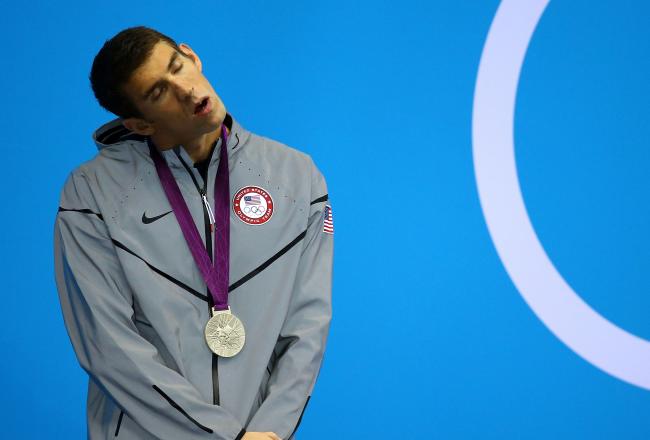 Our final final today: The men's 4x200-meter freestyle relay. And it looks like Michael Phelps will have the anchor leg for the USA after Ryan Lochte, Conor Dwyer and Ricky Berens.
South Africa's Chad le Clos also will be coming back from the earlier final.
Surprise, surprise -- China's Ye Shiwen has won the women's 200-meter individual medley.
Defending champ Stephanie Rice (Australia) led after the butterfly, with American Caitlin Leverenz and Australia's Alicia Coutts following.
Ye edged ahead over the backstroke, ahead of Rice and Zimbabwe veteran Kirsty Coventry.
Leverenz struck in the breaststroke, taking a lead of 0.30 over Coutts and 0.31 over Ye.
Then, as expected, Ye turned on the jets. Coutts and Leverenz will join her on the podium.
And away we go into the women's 200-meter IM. The crowd will cheer for Britain's Hannah Miley and then watch China's Ye Shiwen win. The race for silver and bronze should be good -- Australians Stephanie Rice and Alicia Coutts against Americans Caitlin Leverenz and Ariana Kukors.
Two takes on Michael Phelps before we get to our last two finals tonight:
Only 18 medals in 20 races? Michael Phelps is a clownfraud choker, amirite?

— Barry Petchesky (@barryap1) July 31, 2012
Michael Phelps has clearly been affected by concerns that the Orioles won't do enough at the trade deadline.

— SportsPickle (@sportspickle) July 31, 2012
Hey, the last time the Orioles were good, I still cared about baseball. That's a long time ago.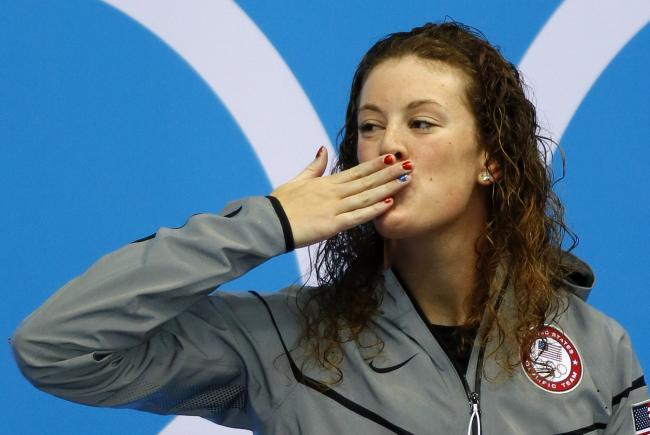 Phelps looks considerably more relaxed at the medal ceremony. He shares the record for Olympic medals won and is sure to hold it by himself unless he slips on the pool deck.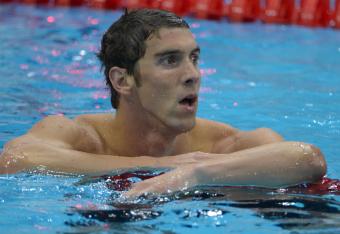 Hungary's Daniel Gyurta takes the second 200-meter breaststroke semifinal. The USA's Scott Weltz is third. Japanese legend Kosuke Kitajima makes another final, as does the second American, Clark Burckle.
Meanwhile, photographers seem to be competing to get photos of a sullen Michael Phelps. Here's one, but then we're going with the smiling Allison Schmitt. As U.S. women's soccer coach Pia Sundhage says: Glass is half-full, people.
Home crowd liked that -- Britain's Michael Jameson wins the first 200-meter breaststroke semifinal in a fast time of 2:08.20. Then it's the USA's Clark Burckle (0.91 seconds back) just edging out Japan's Ryo Tateishi (0.93).
Second semi includes Japanese legend Kosuke Kitajima and the second American, Scott Weltz.
Off to the men's 200-meter semifinals, and if we're going with the idea that the less-famous Americans are faring better than the megastars, then the USA's Clark Burckle should dominate this first semi.
More on Allison Schmitt: She helped the USA to bronze in the 4x200 free relay in Beijing as a high schooler, she's currently at Georgia (near your afternoon blogger's childhood home), and she enjoys scrapbooking. That's what USA Swimming leads with in the bio?
More importantly, she has three medals in London -- bronze in the 4x100 free relay, silver in the 400-meter freestyle and now gold in the 200-meter freestyle.
Seems like she should be a little more famous.
Kathleen Hersey is making a mockery of my projections. She just won the second of the women's 200-meter butterfly semifinals and posted the fastest time in either race.
She's in the final along with China's Jiao Liuyang and fellow American Cammile Adams.
British favorite Jemma Lowe barely made it.
Off to the women's 200-meter butterfly semifinals. Americans Kathleen Hersey and Cammile Adams have a tough fight to reach the final. This one's all about China and Britain.
Adams, though, was third in the first semi behind China's Jiao and Japan's Natsumi Hoshi.
The congratulations are pouring in for Allison Schmitt:
Allison Schmitt has one of every color. She just won the gold medal in the 200m free, adding to her earlier silver and bronze. #UGAOlym

— Georgia S&D (@UGASwimDive) July 31, 2012
South Africa's Chad le Clos has upset Michael Phelps' drive for his third straight 200-meter butterfly final, outtouching the American by 0.05 seconds.
Phelps took the lead right away ahead of le Clos and Matsuda. He held the lead through 150, but le Clos just ran him down in the last 50. Japan's Takeshi Matsuda was third. The USA's Tyler Clary was never in it, finishing fifth.
We'll see what NBC says later, but the commentators here think Phelps simply failed at the finish and didn't touch as quickly as usual -- the reverse of what we've seen in close Phelps races of the past.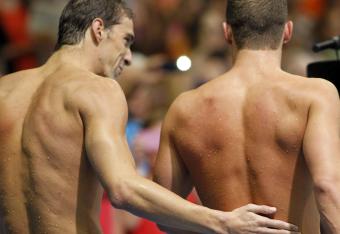 After Schmitt's dominating swim, we move quickly to the men's 200-meter butterfly.
Australia's Nick D'Arcy didn't qualify, so that's one medal contender gone. Should be looking at Michael Phelps, Tyler Clary and Japan's Takeshi Matsuda.
You may recall that Clary dissed Phelps but patched things up.

The USA's Allison Schmitt dominated the 200-meter freestyle final, winning in an Olympic record 1:53.61. France's Camille Muffat took silver, 1.97 seconds back. Australia's Bronte Barratt kept Missy Franklin out of the medals by 0.01 seconds.
Schmitt started fast, as did Frankin, Muffat and Russia's Veronika Popova. The top three were all under the world-record split at 50 meters.
At 100, Schmitt had pulled away by 0.85 seconds over Franklin and 1.00 over Muffat.
She pulled it out to 1.57 over Muffat and 1.61 over Franklin at the 150 mark, just under world-record pace.
Defending champion Federica Pellegrini finished fifth, followed by Popova.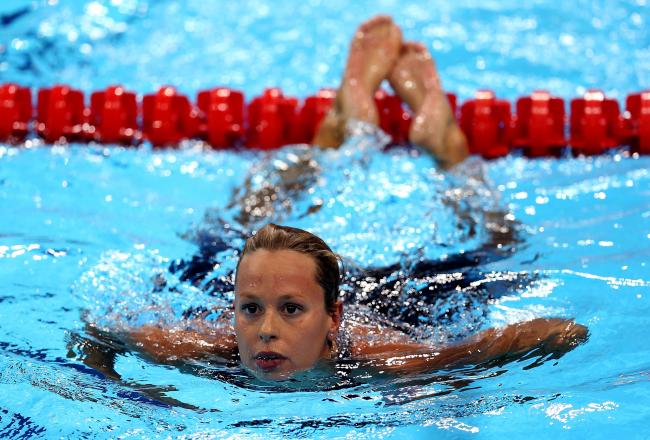 Now: women's 200-meter freestyle final.
Meet Italy's Federica Pellegrini. As Hall and Oates (and the Italian media) might say, she's a man-eater. She won this event in 2008, 2009 and 2011.
But she'll have a tough battle for gold against Missy Franklin, Allison Schmitt, France's Camille Muffat and Sweden's Sarah Sjostrom.
It's Adrian, Agnel and Jones at the turn. Jones started to fade in the second 50, and we have some surprises ... Cuba's Hanser Garcia and the Netherlands' Sebastiaan (yes, aa) Verschuren are 2-3.
Cullen Jones finishes last and will not advance.
As we saw yesterday, the stats feed is faster than the live stream. That gives us a chance to catch the times before we see the finish. Magnussen "The Missile" launched in the second 50 to finish in 47.63. Then Cielo in 48.17. Possibly sweating the second semi: Russia's Nikita Lobintsev and slow-starting South African Gideon Louw.
Second semi will include the Americans (Adrian and Jones), Canada's Brent Hayden and the guy who keeps beating Ryan Lochte, France's Yannick Agnel. Oddly enough, Agnel is out in Lane 1.
The first semi will include Magnussen and Cielo. The others are in the second.
Cielo is Brazilian but is familiar to NCAA swimming fans -- he went to Auburn.
This article is
What is the duplicate article?
Why is this article offensive?
Where is this article plagiarized from?
Why is this article poorly edited?