The Texas A&M Football team will start practice for their inaugural season in the Southeastern Conference on Friday. Members of the SEC media picked A&M to finish fifth in the West division in 2012. The Aggies can exceed those expectations, but it is going to take a much better effort than the one they put on the field in 2011.
The Aggies are picked to finish ahead of Mississippi State and Ole Miss but behind LSU, Alabama, Arkansas and Auburn. Judging by the records of SEC West team in 2011, a fifth place finish would mean a likely 7-5 record with a 3-5 conference record.
Judging from those rankings, the media expects A&M to beat Mississippi State and Ole Miss on the road while taking out either Florida or Missouri at home. These are very reasonable expectations. If the Aggies want to exceed the medias predicted number of wins, then they will have to find a way to win a game that no one expects them to win.
Exceeding expectations would be an 8-4 finish with a 4-4 conference record. In order to accomplish this, the Ags will likely have to win two out of the three games against Florida, Auburn and Arkansas.
Florida and Auburn are probably the most vulnerable two teams out of the three. Florida has major questions on offense at running back, quarterback and on their offensive line, and the Aggies get them at home early in the season before their offense will have likely gotten the opportunity to gel.
Auburn has some questions at quarterback and running back and are also breaking in a new offensive and defensive coordinator. A&M faces Auburn on the road at Jordan-Hare Stadium with Gene Chizik having a losing career record against A&M. Auburn had one of the youngest teams in the nation in 2011, and they should be improved with more experience returning in 2012.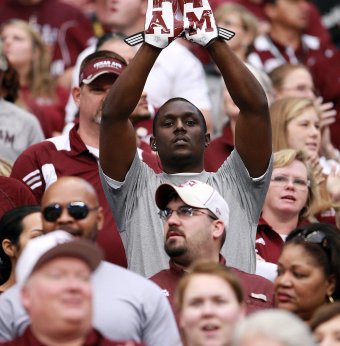 Troy Taormina-US PRESSWIRE
A&M plays Arkansas at Kyle Field. The Aggies outplayed Arkansas for most of the game in 2011 before giving it away at the end, but the A&M players know they can move the ball against Arkansas. The biggest issue for A&M is that this season Arkansas has a healthy Knile Davis in the backfield.
Davis is one of the top two or three running backs in the nation. Even if the Hogs are not quite as explosive on offense without Bobby Petrino calling the plays, they can still hand the ball off to Knile Davis 30 times per game and beat most teams.
Beating Arkansas is a stretch because they have such a talented offense. They do not have any of the offensive issues that Auburn or Florida have.
The Aggies best bet to win two out of three of those games would be to upset Auburn on the road. If they can do that and hold serve at home against Florida, then they will have a great shot at winning four conference games.
Win those two, plus a win over Missouri, and then a sweep of the Mississippi road trips and you have the makings of a shocking season from the new team in the conference.
A 5-3 conference record with a 9-3 record overall would not only exceed expectations, it would make Kevin Sumlin a national coach of the year candidate.
The odds of A&M beating Ole Miss, MSU and on the road in their inaugural season in the SEC are pretty slim. The Aggies have very poor depth on their interior defensive line and are going to be playing in a running league.
It is a combination that is not a recipe for success. If the Aggies want to exceed expectations, their best bet is to find a way to win four games which will include beating the two Mississippi schools on the road.
An 8-4 record with a 4-4 league record is realistic and would be considered very successful season in Sumlin's debut. That would exceed the media's expectations.