Dwight Is Franchise Star Lakers Need to Usher in Post Kobe Bryant Era
Ronald Martinez/Getty Images
The Los Angeles Lakers are poised for at least two more championship runs with Kobe Bryant at the helm, but Dwight Howard is the franchise star who could usher in the post-Bryant era in Lakerland to ensure this team stays competitive when Bryant's time in the NBA comes to a close.
According to an article in the Los Angeles Times, Bryant's retirement could come sooner rather than later. Bryant, who has two years and more than $58 million remaining on his current contract said of a possible retirement at age 35, "It'll be the last year of my contract. I don't know if I will play any longer than that. I don't know. […] It could happen."
A lot can happen in two years' time, but it would certainly be head-scratching if Bryant chose to walk away from the game at just 35 years old.
Steve Nash is still playing at an extremely high level at 38 years old, and Kevin Garnett signed a three-year contract this summer to remain with the Boston Celtics as a 36-year-old. It would be odd to watch Bryant retire if he could still play at a high level, but he's said himself that it's a possibility he'll have to consider.
As if that isn't enough of a hint that Bryant may choose to walk away from the game before a diminishing skill set forces him out, Kurt Helin of NBC Sports referenced an interview between Bryant and ESPN's Stephen A. Smith in which Bryant said, "You think I'd hang around and average 18, 19 points? Hell no."
Bryant is a competitor, plain and simple. If age prevents him from playing up to his lofty standards, walking away may be the best decision he can make (as long as an ugly comeback years later doesn't taint how people remember him).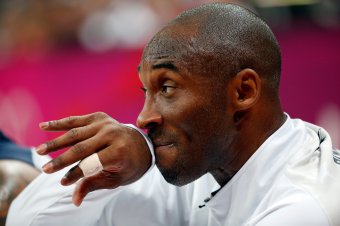 Kobe Bryant may decide to call it quits at age 35.
Jamie Squire/Getty Images
The Kobe Bryant era in Los Angeles is clearly approaching its final chapters. Adding Dwight Howard would create for a smooth transition after Bryant leaves, as far as creating a winning product.
No disrespect to Andrew Bynum, who has been shopped around in trade talks so often this summer that he's almost become underrated, but he hasn't shown that he can be a consistent star in the NBA.
Contrary to the logical universe that we live in, Bynum was able to stay consistently healthy last season for the first time since 2007 despite the grueling, lockout-shortened year. The Lakers' young big man played in 60 of a possible 66 regular season games and put up a career year statistically, averaging 18.7 points and 11.8 rebounds per game.
Although Bynum had a fantastic, breakout season, I'd wager that most Los Angeles Lakers fans would trade the hot-headed young center if it meant getting D12 in return (even given the "Dwightmare" Howard has put Orlando through without a shred of class).
Bynum was around for two Laker championships in 2009 and 2010, but the immature center was still learning the game and trying to get healthy at the time. Admittedly, Bynum was a bit of an afterthought as far as his championship involvement on both occasions.
While Kobe Bryant and Pau Gasol were playing at a superstar level, Bynum only averaged six points and 4.2 rebounds during the 2009 NBA Finals and 7.4 points and 5.1 rebounds during the 2010 NBA Finals.
Bynum has spent his entire career in L.A. either injured or as the team's third or fourth best offensive option. Can that suddenly translate into becoming the alpha dog of a winning team to usher in the post-Bryant era of basketball in Los Angeles?
Do you think Kobe Bryant will retire when his current contract expires at 35 years old?
Howard has shown time and time again that he can assume that alpha dog role and even lead mediocre teams to playoff berths.
Howard, regardless of how he conducts himself off the court, comes with little question as to how he'll perform when he's on it.
D12 is without question the NBA's best center. Not only would he improve the Lakers' chances at another title in the short term, but he would also be the superstar the team needs to build around when Bryant calls it quits.
Trading away two first-round draft picks last season for Ramon Sessions and Jordan Hill, respectively, coupled with trading away two additional first-round picks along with two second-round picks in order to add Steve Nash, could potentially cripple the Lakers' chances at rebuilding once Bryant retires.
Howard could single-handedly end those nagging questions about the Lakers' future if he were acquired by the team moving forward.
This article is
What is the duplicate article?
Why is this article offensive?
Where is this article plagiarized from?
Why is this article poorly edited?

Los Angeles Lakers: Like this team?