Olympic Basketball 2012: 7 Bold Predictions for Men's Play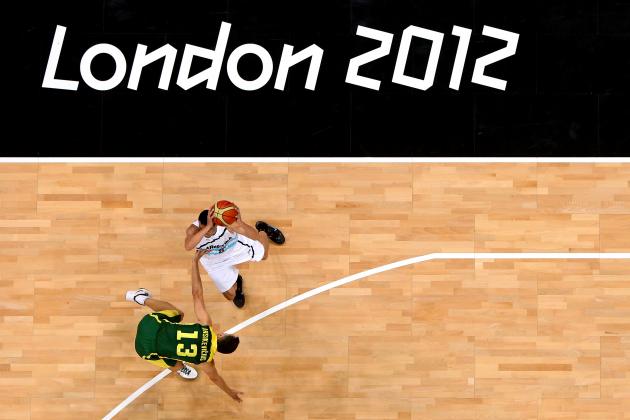 Rob Carr/Getty Images

With one game in the books, many teams are looking to take another next step forward in their second matches on Tuesday. The perennial favorites, Brazil, Argentina, Spain and the U.S. all came out victorious, but many other teams impressed the field with their performances on Sunday.
Who will come out victorious and what teams will take a step back in the second game of group play? Are any of the major gold-medal contenders in trouble and how many more points will Team USA score than Tunisia?
To answer these and many other questions about the games on Day Four of the Olympics, here are seven bold predictions for Men's Olympic Basketball action.
Begin Slideshow

»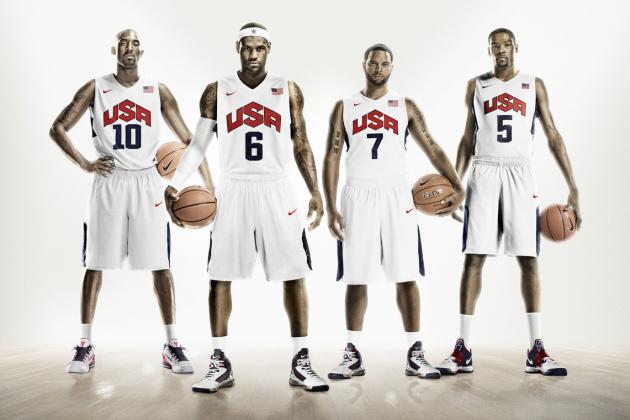 Handout/Getty Images

Team USA will dominate Tunisia for four quarters, something it could not do against France.
Team USA came out slow from the start against France shooting zero for six from behind the arc. Once the second half rolled around, Team USA unleashed, shooting eight for fourteen breaking open the contest.
The biggest disappointment from the 27-point victory was the team's inability to dominate the French in sensational fashion for four quarters.
This will change against the No. 32 ranked Tunisia squad who lost to Nigeria by four in its opening match.
The players may not say that the score of this game matters, but if Team USA wants to strike even more fear into the eyes of its opponents, then it will take this opportunity to crush the under-manned Tunisia squad by at least 50 points.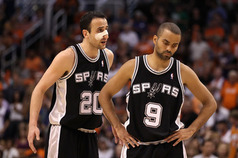 It looks like the boys from San Antonio will finally get a chance to duke it out in Olympic play. Tony Parker and Manu Ginobili will lead their respective teams into this crucial pool play matchup in group A.
After a tough loss to the Americans, France needs to get on track against the Argentinians if it wants to regain control of the group.
The French looked overwhelmed against Team USA, but they will have the motivation and hopefully a more effective Parker, propelling them to a better showing against Argentina.
After a dominating win over Lithuania, Argentina looks like the biggest competitor to the U.S. in group A. Luis Scola scored a game-high 32 points, Ginobili scored 21 and Carlos Delfino added 20 in a complete team effort overwhelming the Lithuanians.
This matchup features a dangerous, effective Argentine squad versus a hungry but underachieving French squad that will come down to the play of their respective Spurs late in the fourth.
Christian Petersen/Getty Images

In China's opening match against Spain, Yi Jianlian was the shining star of the game, even in a losing effort. He scored 30 of China's 81 points, shooting an impressive 68 percent from the field and grabbing 12 rebounds.
Yi battled against Serge Ibaka and Pau Gasol, showcasing his jump-shooting ability all night against two of the biggest post defenders in the tournament. Jianlian must now prepare for a Russian squad who will not take him lightly.
Russia features Alexander Caun, Denver Nuggets center Timofey Mozgov and 6'9" Viktor Khryapa in the post. These men combined for only eight rebounds in their opening match and struggled against the smaller British lineup that featured no true center.
Yi Jianlian's will use his ball handling and jump-shooitng ability to create easy opportunities all night long, making him poised to easily put up 30 points. Unfortunately for the Chinese, it will take a lot more than a terrific scoring night from their only NBA player to defeat the Russians.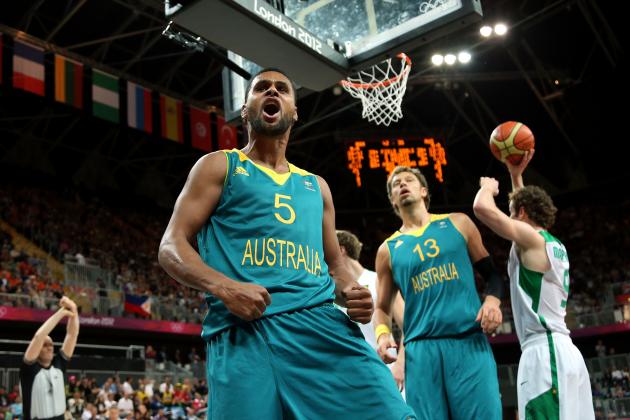 Christian Petersen/Getty Images

In its opening game, Australia fought hard and played scrappy basketball all night before eventually losing by four points to the formidable Brazilian squad.
Australia shot four-for-22 from behind the arc and struggled to score against the much more athletic Brazilian squad. Although the Aussies shot horrendously from three, they must love the effort of point guard Patrick Mills.
Mills led the Aussies with 20 points and four assists, catalyzing their late run back into the game in the fourth quarter. How does this worry Spain, you may ask? Well, the Spanish struggled to defend the three point line in their opening round matchup against China.
For all the talk about the Spanish elite post defense, their guards are not quick or agile, which should be a cause for concern against an Australia squad that lives and dies on jumpers. The Spanish allowed China to shoot 43 percent from three and will have its hands full against the shooter-heavy, Australian squad.
Expect the Saint Mary's duo of Mills and Matthew Dellavedova to give Spain problems all night from behind the arc, spotting Australia a great opportunity for the upset.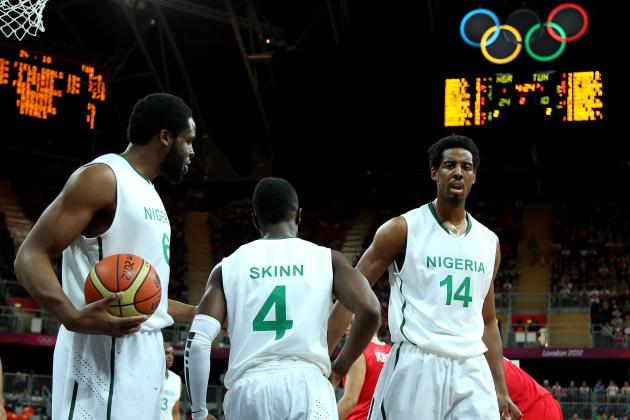 Christian Petersen/Getty Images

Nigeria has its two easiest tests to start the Olympics in Tunisia and Lithuania, and will capitalize on this schedule by securing a second victory to gain control of group A.
Nigeria is led by New Orleans Hornets star Al-Farouq Aminu and Ike Diogu (Arizona State), who combined for 23 points against Tunisia. Alade Aminu joined the party by scoring 15 points while adding nine rebounds on the night.
Nigeria dominated Tunisia in the first half before letting the game get scarily close in the fourth quarter. In its next matchup against Lithuania expect a similar result, but in a different fashion, for Nigeria.
Lithuania looked overwhelmed by the organized, proficient Argentine squad that received double-digit scoring from four of its five starters.
Linas Kleiza led the way for Lithuania with 20 points but will need more help if he wants to deliver his country its first win. Nigeria will use the play of both Aminu's to defeat Lithuania and remain undefeated before its matchup with group A powerhouse, Team USA.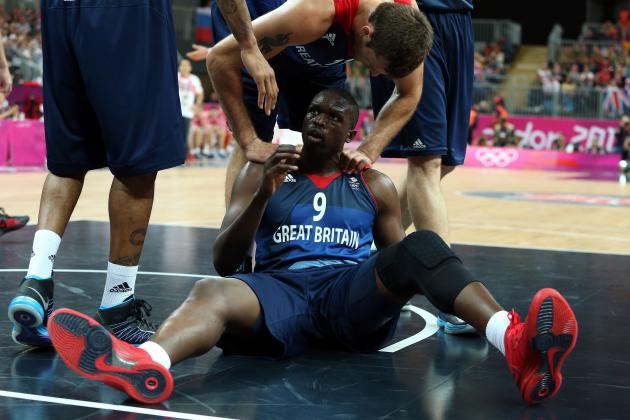 Christian Petersen/Getty Images

After getting annihilated and run off the court by the Russians, the host nation embarks on another challenging task in Brazil.
Brazil features size, speed and athleticism all over the court, which will give the smaller British lineup trouble. The bright spots for Great Britain so far have been Paul Mensa-Bonsu and Luol Deng who combined for 48 points against Russia.
Both attacked the basket and ended the game with a combined 28 free throw attempts. The problem for Great Britain is that the Brazilian squad is much more formidable in the front court than the Russians and should pose problems for both men all night.
Anderson Varejao, Nene and Tiago Splitter are forces in the paint that will disrupt any attempts for drives and easy buckets that Deng and Mensa-Bonsu thrived on in their first game.
Guards Leandro Barbosa and Marcelinho Huertas are quick and aggressive players who will break down the British defense all night long and making life tough for the host nation. Expect Great Britain to head home winless after its match against Brazil.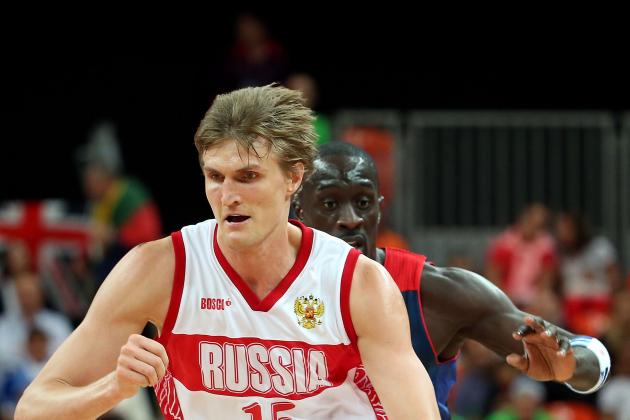 Christian Petersen/Getty Images

Andrei Kirilenko is playing the best basketball of his career at this present moment, and is pushing Russia into the conversation for gold-medal contention.
Kirilenko scored 35 points on 14-17 shooting from the floor against albeit a weak Great Britain squad, but regardless, a performance for the ages for the Russian star.
This Russian squad also features sensational shooting guard Alex Shaved, who scored 13 points and added 16 assists last game.
The Russians shot 73 percent from the field, largely in part due to Kirilenko, and assisted on 24 of 32 made baskets, an incredible feat to say the least. Denver Nuggets center Timofey Mozgov adds size and versatility to complement an already big front court staring 6'11" Alexander Kaun and 6'9" Viktor Khryapa.
Although the Russians may lack depth and athleticism, they can slow the pace of the game and bang with any team in this tournament, making them a serious contender for Olympic gold in the 2012 games.