London 2012: 10 Bold Predictions for Brazil vs. New Zealand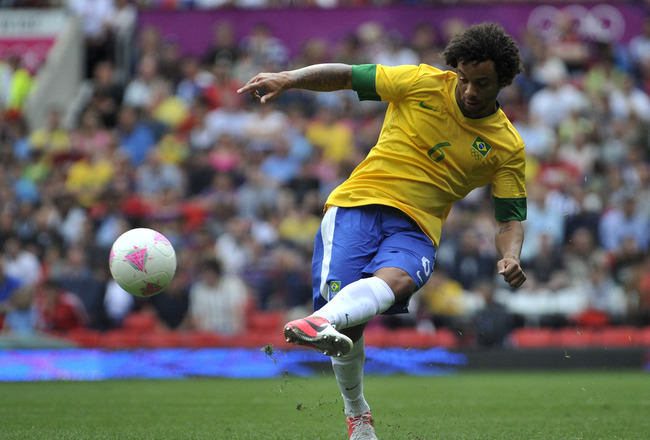 Francis Bompard/Getty Images
On one side, you have a team built to win Olympic gold, hailing from perhaps the best footballing country on the planet. On the other, you have a team that is in desperate waters to qualify and must win against all odds.

Such is the case with this contest between Brazil and New Zealand in Group C of the London 2012 Olympic men's football tournament on Wednesay at St. James' Park in Newcastle upon Tyne.

Brazil are through to the knockout rounds and will sew up the top spot in Group C with a win. As for New Zealand, a victory may not be enough, as they will need some help from a couple other teams competing at Hampden Park.

Kickoff at the home of Newcastle United is scheduled for 2:30 p.m. BST. Here are 10 bold predictions for the Wednesday match between Brazil and New Zealand.
1. It's a Goal Festival: Over Five Goals Will Be Scored
Sindy Thomas/Getty Images
With this being the mismatch that it is, you can be sure that the goals will be flying at St. James' Park. A majority of production will come from Brazil, who have yet to win Olympic gold at this event. Look for over five goals scored.
2. Neymar with a Brace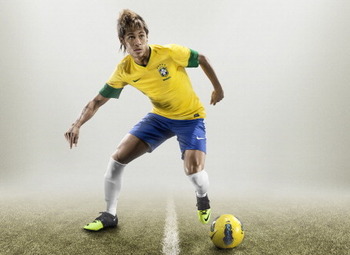 Handout/Getty Images
It's too soon to anoint Neymar as the next Pele, even though both players hail from the same club in Santos. But for a player with 42 club goals to his credit, you can't question his ability to score. Neymar already has two goals at this tournament, and he will make it four with a brace against New Zealand.
3. Hulk on the Scoresheet for Brazil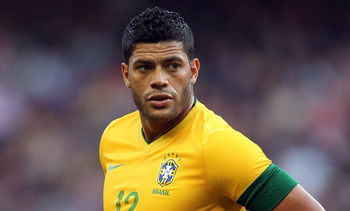 Julian Finney/Getty Images
One of three overage players for Brazil, Porto's Hulk has 52 goals in 96 appearances for his club and provides an added dimension defensively for A Selecao. Look for Hulk to open his scoring account against New Zealand.
4. Pato with a Brace for Brazil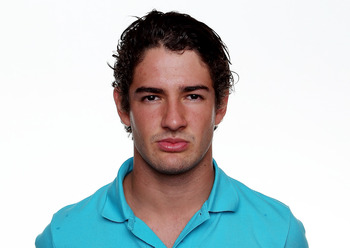 Scott Heavey/Getty Images
Also predicted by yours truly to score in this contest is AC Milan's Alexandre Pato. With 51 goals in 113 league appearances for the Rossoneri, Pato will add to his goal collection against the Oly-Whites with a brace.
5. Marcelo with Two Assists for Brazil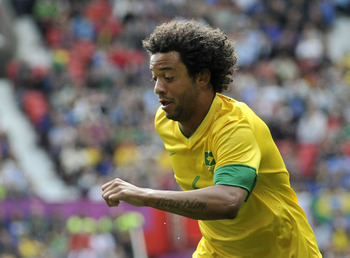 Francis Bompard/Getty Images
There are a number of midfielders who are capable of delivering through balls to the forwards of Brazil, but a notable defender who knows how to orchestrate some fantastic sequences is Real Madrid's Marcelo, who ditched his club's preseason tour of the States to play at the Olympics. Look for Marcelo to secure two assists in this contest against New Zealand.
6. Under Five Saves for Neto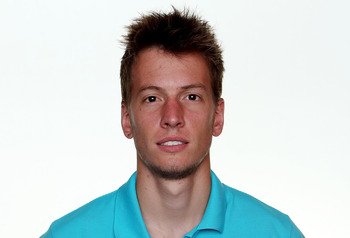 Scott Heavey/Getty Images
Neto, a sparingly-used backup goalkeeper for Fiorentina, will not have a busy night in goal. Buoyed by the backline of Rafael, captain Thiago Silva, Juan Jesus, Marcelo and Romulo—arguably one of the most resilient at this tournament—Neto will need to make under five saves against the Oly-Whites.
7. Chris Wood on the Scoresheet for New Zealand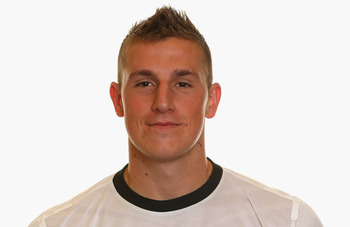 Robert Cianflone/Getty Images
New Zealand won't go down without a fight, and if there is one player who can salvage some sort of pride for the Oly-Whites, it's West Bromwich Albion striker Chris Wood. He scored in the 17th minute of their 1-1 draw with Egypt and will score a consolation goal late for New Zealand against Brazil.
8. Michael O'Keefe vs. the Brazilian Firing Squad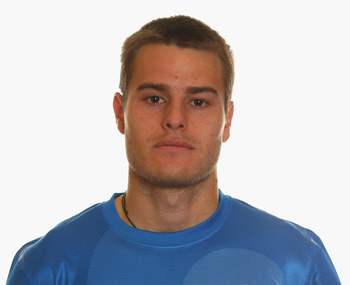 Robert Cianflone/Getty Images
New Zealand's Michael O'Keefe can try to make all the saves in the world and be like Petr Cech, but it most likely won't be enough. Still, the Fairfield Stag goalkeeper will show his potential as a goalkeeper for a league—perhaps MLS—with a bevy of saves. Over five saves will be made by O'Keefe.
9. Under 25 Fouls and Three Yellows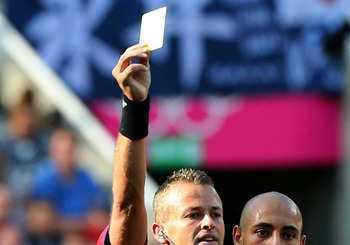 Stanley Chou/Getty Images
It's going to be a physical game, but it won't get so ugly that the game is unmanageable for Gambian referee Bakary Gassama. Under 25 fouls will be called and no more than three yellows will be issued between both teams on Wednesday.
10. Clean Sweep for Brazil in Rout of New Zealand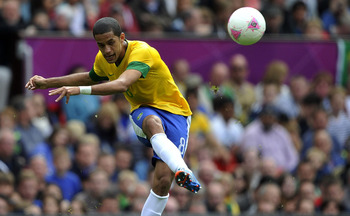 Francis Bompard/Getty Images
Here is the point in the tournament where Brazil shows its class and proves to the world that they are the favorites to win their first gold medal at these Olympic Games. Mano Menezes' crew dusts off Neil Emblen's Oly-Whites in a rout.

Brazil 5, New Zealand 1
Keep Reading