Florida State Football: Why Seminoles Will Ruin ACC Media's Prediction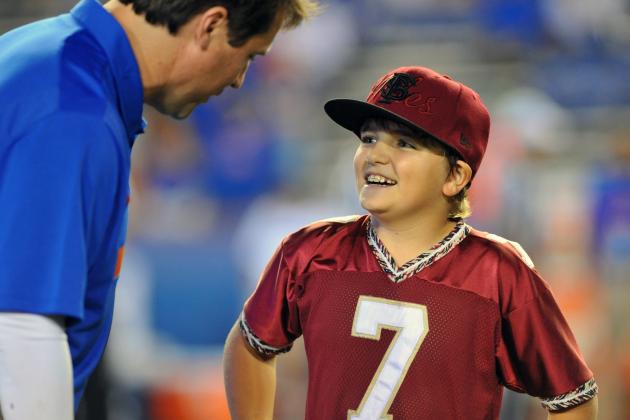 Al Messerschmidt/Getty Images
How could FSU fall from grace and be the little brother of the state in 2012?
Florida State has had satisfactory, but not optimal results under Jimbo Fisher.
The fate of the program, while having an upward trajectory, is far from settled.
With recent news about Jimbo Fisher's ban on Twitter and Greg Reid's dismissal from the team, is there a question about how the program is running? Is there a lack of discipline on Fisher's squad? And if so, has Fisher been able to mitigate it or will the players' personal attitudes prevail in the fall?
We all know that each team member is a part of a whole, and if the team does not play as a whole everything falls apart for the year. All the bricks in Doak Campbell would come tumbling down (okay, not literally—I am embellishing just a tad bit).
The Seminoles have lost games (particularly in ACC play) that they should not have lost since Jimbo has come to rebuild the program. Sure, he is just entering his third season as head coach, but he has been offensive coordinator since 2007. Let us applaud Fisher for bringing FSU back to relevance, but let us also remember that the Seminoles are growing up and are still vulnerable.
Will they shock the ACC and not win the conference championship like last year? Even with the Tribe's easy schedule, it is a strong possibility. Let's see the hints of what might lead to another mediocre FSU season.
Begin Slideshow

»
Defensive back and punt returner Greg Reid is out of the program, according to Jimbo Fisher and the Orlando Sentinel.
Reid has been a difference maker at FSU, especially with his interception in a tight win against Miami last season. He's only short of Deion Sanders' return yard all-school record by 313 yards. With this being his senior year, Jimbo likely has prepared ahead, especially given Reid's sordid police record.
Field position will not be a problem this year; there is a recent rule change of rules that makes kickoffs go from the 30-yard line to the 35-yard line. Of course, you probably know this. That will cause more teams to keep the ball in the end zone, so the loss of a punt returner won't hurt Florida State that much.
The defensive backfield should be loaded, but lacking senior leadership on the team can mess with the team mentality. A potent offense on a team that wants revenge for a loss—say NC State's quarterback Mike Glennon, who was embarrassed at a 34-0 shutout at Doak—might tear up the defense on the road. A loss to N.C. State, an interdivisional rival, would likely cause the Seminoles to lose the Atlantic Division.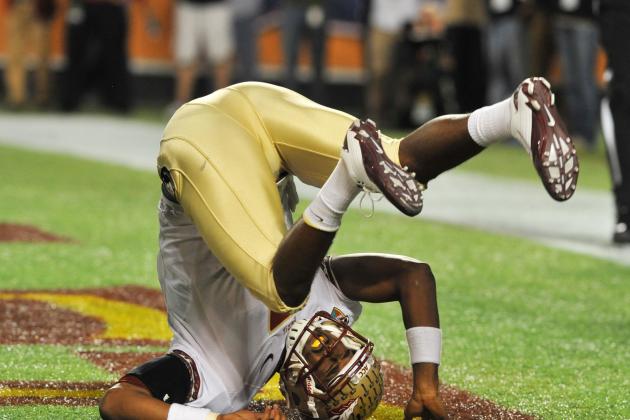 Al Messerschmidt/Getty Images

FSU quarterback E.J. Manuel is not Christian Ponder. He's not Chris Weinke. He's not Charlie Ward.
At least not yet. Charlie had a terrible passing year in 1992; he won the Heisman in '93 and Florida State won its first national championship.
E.J.'s nervousness can likely cost the Seminole a gimme game in 2012. Every team has an off-day, but E.J. having unreasonable nervousness will make for some anxious games. In two games last year, Manuel threw two interceptions. Unsurprisingly, those games each ended in losses—and one of those games was against Wake Forest.
Combine that with the still-green offensive line that might allow E.J. to get pummeled behind the line of scrimmage, which negates his versatility as a dual-threat quarterback.
Maybe a quarterback competition with Clint Trickett might keep him on his toes every Saturday?
Chris Thompson, who was injured last year, is finally back. Having experienced sophomore (sounds kind of ironic, doesn't it?) Devonta Freeman will help. Really, it is all up to the offensive line.
On this point, I must say, just trust me. A lack of a running game would ruin us at Virginia Tech or Miami.