Maurice Jones-Drew Holdout: Jacksonville Jaguars RB Has Every Right to Be Angry
Kirby Lee-US PRESSWIRE
As the Jacksonville Jaguars participate in training camp to prepare for the 2012 NFL season, their best player—and the NFL's leading rusher—Maurice Jones-Drew, is refusing to attend the mandatory camp.
Jones-Drew is angry with the team thanks to a tiny contract that only pays him close to $9 million over the next two seasons, according to Mike Freeman of CBSSports.com.
That's not enough for a player that rushed for 1,606 yards and eight touchdowns last year on one of the most miserable offensive clubs in the league.
MJD is arguably the best back in the league. How unfair is this situation? Doug Farrar of Shutdown Corner puts it best:
Compare those numbers with the current deals for Adrian Peterson (seven years, $100 million, $30 million guaranteed), Chris Johnson (four years, $53.5 million, $30 million guaranteed), LeSean McCoy (five years, $45.6 million, $20.8 million guaranteed), Arian Foster (five years, $43.5 million, $20.8 million guaranteed), and Matt Forte (four years, $32 million, $18 million guaranteed), and you can see why Jones-Drew has a beef with his current situation.
Now, it is a bit easier to digest Jones-Drew's anger with the Jaguars organization. Not only does MJD put up eye-popping statistics while being a model NFL'er, he carries the load for one of the NFL's worst offenses.
Blaming this entire situation on Jones-Drew is questionable. Many will point to the fact that he held out and received a new extension halfway through his rookie contract. That is an astute point, but what else was he going to do?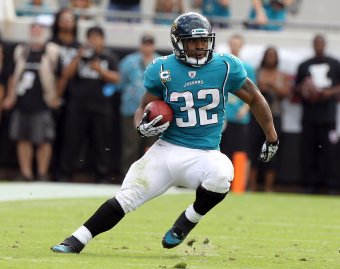 Sam Greenwood/Getty Images
Should MJD have predicted he was going to put up 1,600 yards a few years down the road and asked for more money? No. He did the smart thing at the time and took care of himself financially in case he were to be injured.
Now he is doing the smart thing once again. He is simply asking to be rewarded for what he has done for the organization. In comparison to the deals listed above, MJD is being paid far under market value for what he has done over the past three seasons.
To say the Jaguars offense would struggle without MJD next season would be an understatement. Sure, they have some quality players behind him on the depth chart, but none that scare the rest of the NFL into stacking the box, which means even more players in coverage to shut down struggling quarterback Blaine Gabbert.
Like it or not, Jones-Drew is an integral piece to the Jaguars future. If the organization hopes to compete next year and beyond and have Gabbert develop in a positive manner, it is going to have to meet MJD's demands—no matter the cost.
This article is
What is the duplicate article?
Why is this article offensive?
Where is this article plagiarized from?
Why is this article poorly edited?

Jacksonville Jaguars: Like this team?