2012 Olympics Results: Winners & Losers from Day 3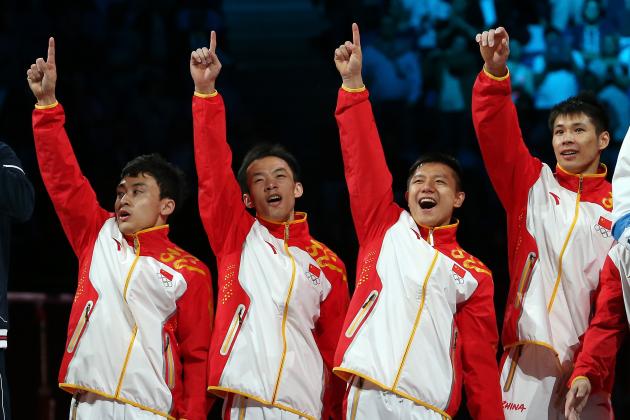 Ronald Martinez/Getty Images

We've completed our first Monday at the London 2012 Summer Games, and one thing is clear: weekday Olympic competition is no saner than weekend Olympic competition.
It might even be a bit loonier.
A topsy turvy day in London left us with plenty to digest, and we'll do just that in the winners-losers breakdown ahead.
Begin Slideshow

»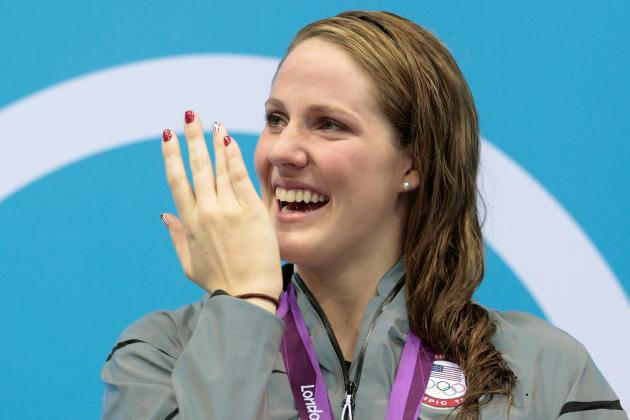 Adam Pretty/Getty Images

Missy Franklin, the 17-year-old golden girl of American swimming, came to London with more hype than just about any athlete outside the Phelps-Lochte matrix of media domination.
And it hasn't fazed her one bit.
Swimming in her first ever individual Olympic event final—held just 20 minutes after she contested a semifinal in the 200-meter freestyle—Franklin toppled Australian dynamo Emily Seebohm to take gold in the women's 100-meter backstroke.
It was a maestro of a performance under the brightest of lights, and a powerful indicator of what makes the Colorado native such a special talent.
Not only is she skilled, the youngster has poise for days.
To wit, Franklin was 0.79 seconds faster in the final than she was in the semis. Seebohm, three years Franklin's senior, was 0.29 seconds slower.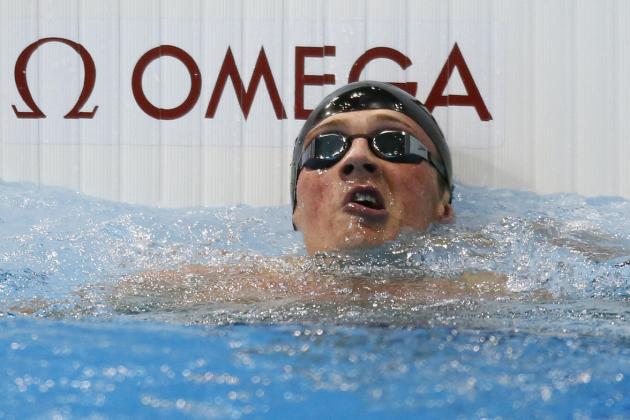 Rob Schumacher-USA TODAY

The last 24 hours have not been kind to Ryan Lochte.
The 27-year-old had London in his palm on Saturday after toppling rival Michael Phelps in the 400-meter individual medley and setting a new textile world record.
The torch, we were told, had been passed.
Even after Lochte swam a pedestrian anchor leg in Tuesday's 4x100-meter freestyle relay and ceded the gold medal to France, he still seemed destined to usurp Phelps as the world's greatest swimmer.
But today...well today, all that legacy talk is officially on hold.
Lochte finished fourth in the 200-meter free, a race he won at the 2011 Worlds, and wasn't anywhere near gold-medal winner Yannick Agnel (the same man who hunted him down in the aforementioned relay) at race's end.
Two days ago, the media was ready to crown him. Now they're asking if Lochte has overextended himself in a quixotic attempt to one-up his rival.
Mr. Lochte, your turn to respond.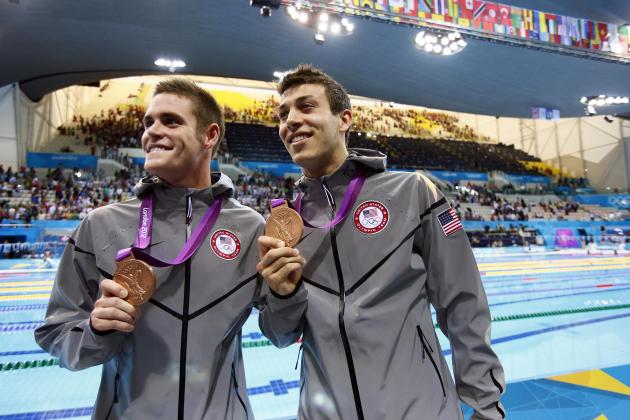 Rob Schumacher-USA TODAY

The goal for Team USA's diving contingent in London was simple: Win a damn medal.
After going oh-fer at each of the last two Olympiads, the most decorated diving nation on the planet simply wanted to see its flag in the rafters.
Well, they've already done that—and some.
After breaking that ignominious drought with a silver in women's synchronized three-meter springboard yesterday, the U.S. duo of David Boudia and Nicholas McCrory landed a bronze in today's men's synchronized 10-meter platform event.
Better yet, the Americans still have two of their stronger disciplines—men's 10-meter platform and men's synchronized three-meter springboard—still to come.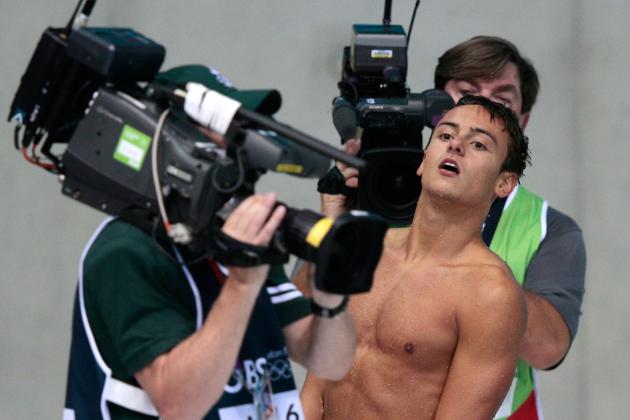 Adam Pretty/Getty Images

Ever since Tom Daley appeared in the 2008 Beijing Games as a 14-year-old, the pint-sized British diving sensation has been on his home country's sporting radar.
By London, prevailing wisdom went, he could be a star.
Midway through the men's synchronized 10-meter platform final, it seemed his destiny was unfolding as planned; he and partner Peter Waterfield stood in first place after the third of six dives, with their best dive still to come.
When that "best" dive yielded a nightmare score, Daley's medal dreams turned to mush and the home crowd got a stunning dose of disappointment.
Daley personally took the heat afterward, telling The Telegraph, "The fourth dive kicked a little bit early and was short, Pete was early but a bit over, and if you do that the synchronisation is not going to be good."
Daley will have a shot at redemption in the men's 10-meter platform competition, slated for August 11. That means he'll have plenty of time to digest what went wrong today.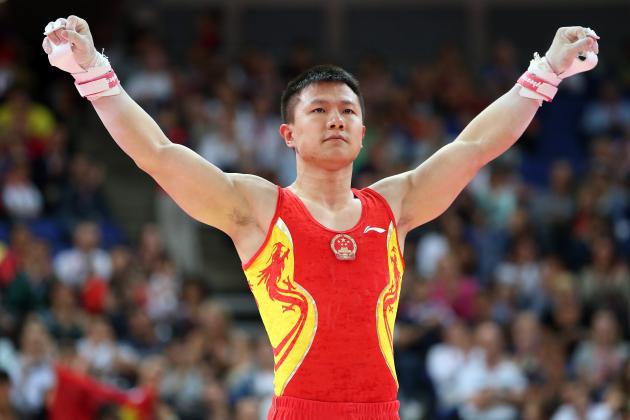 Ronald Martinez/Getty Images

Despite winning gold in '08 and taking first at each of the last four World Championships, China came into today's men's gymnastics team final looking as vulnerable as ever.
An injury to veteran team leader Teng Haibin, combined with a wretched performance in qualifying, pushed Team China from "vulnerable older team" to "decided underdog."
As NBC Olympic research guru Alex Goldberger put it:
@nzaccardi Incredibly close. But two things are very possible that a year ago you'd be called crazy for saying: USA gold, and CHN no medal
— alex goldberger (@alexgoldberger) July 30, 2012
Apparently, China doesn't take well to doubters.
The Chinese proved their superiority on almost every apparatus, marching out to an early lead and cruising past co-favorite Japan en route to a dominant four-point win.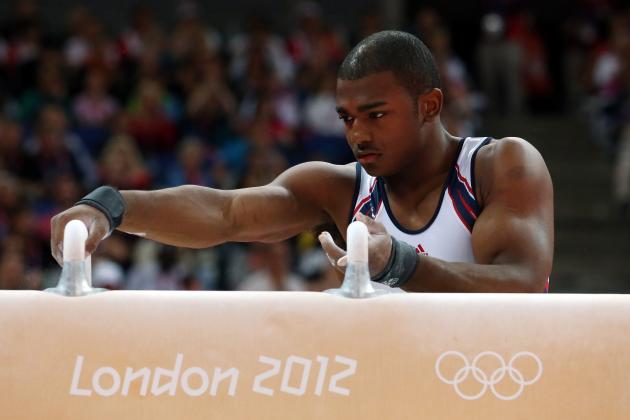 Ronald Martinez/Getty Images

Pundits were very recently talking about this year's U.S. men's gymnastics team as the most talented American collective since the '84 gold-medal-winning group.
They were young. They were deep. And after they qualified for today's final with the best overall score, they looked like an emerging gold-medal threat.
With those expectations as prelude, today was an unmitigated disaster.
The Americans started out lukewarm on floor exercise, stunk on pommel horse, and by the third rotation had effectively been eliminated from medal contention.
The most acute disappointment was 19-year-old John Orozco, a normally rock-solid all-around performer who looked completely out of sorts.
His 12.733 on pommel horse was America's first big-time scoring blight, and his fall on vault in the fourth rotation ended any hope of a Team USA resurgence.
The Americans mustered some pride on high bar to salvage a fifth-place finish, but that's little consolation on a day that was supposed to yield so much more.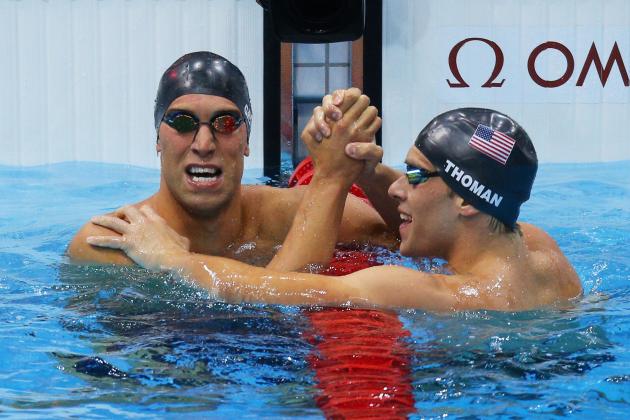 Cameron Spencer/Getty Images

American audiences are used to displays of national might in the pool, and they got a dandy in the men's 100-meter backstroke.
Pre-race favorite Matt Grevers swam a killer final 50 meters—spurred by a beautiful final turn—to take gold, but it was second-place finisher Nick Thoman who really surprised.
The 26-year-old came to London with no major individual medals on his resume and qualified for Monday's final with just the fifth-best time.
But when they came to the wall, it was Thoman ahead of Japanese hot-shot Ryosuke Irie, British hopeful Liam Tancock, and French medal favorite Camille Lacourt.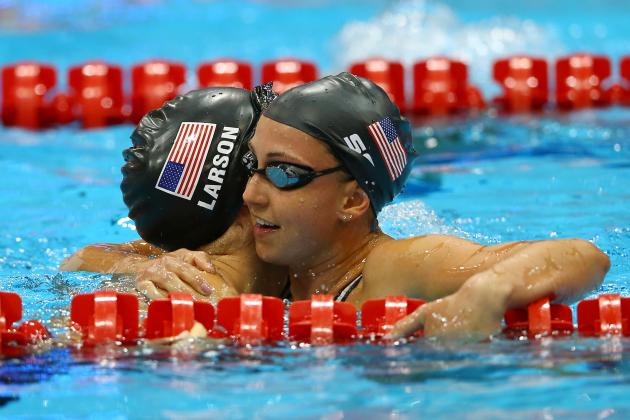 Al Bello/Getty Images

Having won each of the last two World Championships, Rebecca Soni came to London as a clear favorite in the women's 100-meter breaststroke.
And when Breeja Larson came out of nowhere to nip Soni in the event at U.S. Trials, it seemed America might have two medalists on its hands.
Neither expectation materialized.
Soni was bested by 15-year-old Lithuanian burner Ruta Meilutyte—a veritable unknown before posting fantastic times in the prelims and semis—and settled for silver.
Larson's race went even worse.
A sound-system malfunction prompted her to jump into the pool before the race had even begun. It's hard to know if that mishap rattled the Olympic debutante, but she sure didn't swim a smart race in the aftermath.
After taking it out too fast, Larson faded down the home stretch and ended up in sixth place.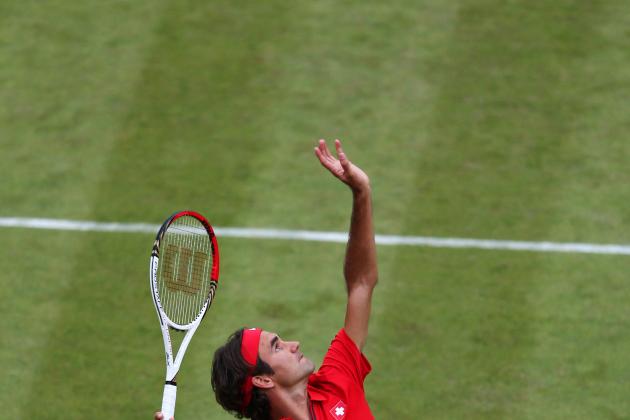 Clive Brunskill/Getty Images

Perhaps it is the result of Wimbledon's orthodox charm, but the Olympic tennis tournament hasn't had its usual spate of upsets.
Today's matches saw Roger Federer, Serena Williams, Kim Clijsters, Victoria Azarenka, Petra Kvitova, John Isner, Sabine Lisicki and Juan Martin del Potro advance with relative ease.
For good measure, Federer and Williams teamed up with their doubles partners in the afternoon for a second helping of victory puddin'.
With the exception of Poland's Agnieszka Radwanska, the top four seeds in both the men's and women's singles bracket remain in contention for gold.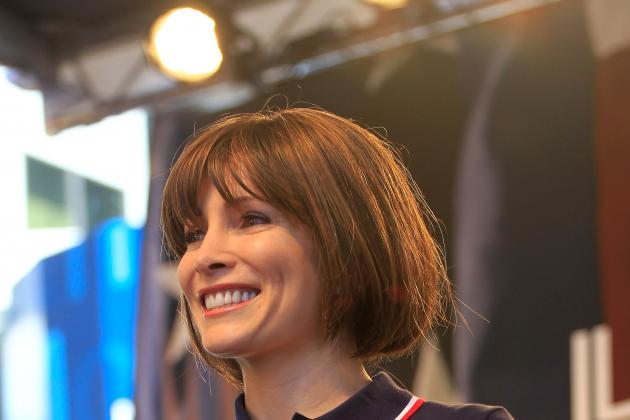 Chris Trotman/Getty Images

By now you've likely resigned yourself to the fact that NBC isn't going to show marquee events live on TV. If you want to watch these Olympics as they happen, the online live stream is your ticket.
And that wouldn't be so bad if the live streams weren't, well, soooo bad.
In addition to the incessant buffering and indiscriminate insertion of commercial breaks, the announcing teams assigned to these lives streams have apparently been instructed to avoid any semblance of excitement.
The worst of the bunch may be the gymnastics live stream team, composed of American gymnastics legend Shannon Miller (who's actually a great analyst in other settings) and an Australian gentleman of unknown name.
As I put it in my live blog of today's men's team final, "This group sounds like its browsing fine art at a tea shop." Yes, the audio is atrocious, but it wouldn't hurt these two to emote a bit when, say, team Great Britain hits a fantastic floor routine in front of a raucous home crowd.
And while I appreciate that many Olympic announcing teams are a bit overbearing, this is (after all) a quadrennial event. The results are pretty dang meaningful. At the very least, give us an occasional "yipee" to let the audience know you've still got a pulse.