What the Baltimore Ravens Must Do to Win the AFC North Title Again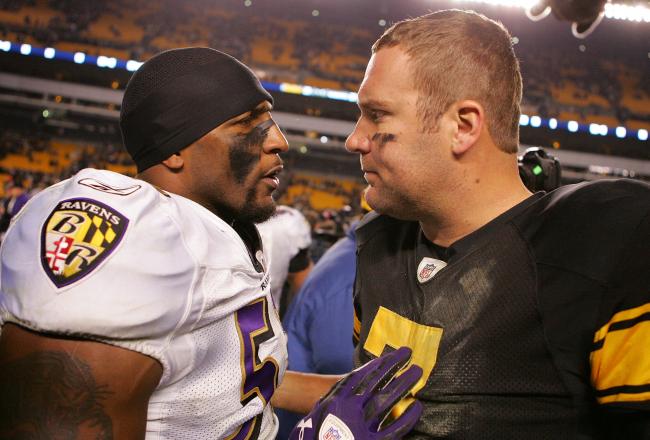 What do the Ravens need to do to stave off the Steelers and again win the AFC North?
Jared Wickerham/Getty Images
In the NFL, no team can rest on its laurels for long after winning its respective division and heading into the playoffs. Immediately, that team is thrust into the next season with targets clearly on their backs, and in a competitive division like the AFC North, the target on the backs of the Baltimore Ravens is larger than most.
Every team in the AFC North has undergone some significant changes in the time since the last game was played, and the Ravens will have to adjust both to their own changes and the ones of their divisional rivals to command the divisional title for the second consecutive season.
So, what do the Ravens have to do to win the AFC North yet again (aside from the simple answer of "win games")? Let's take a look.
Defense, Defense, Defense
It's no secret that the Ravens' bread-and-butter is their defense, which has ranked in the top 10 every year since 2003. Though Baltimore has made incremental, yearly improvements on offense, it's imperative that they continue to field a top-10 or top-five defense in order to stay in the Super Bowl hunt.
With the emphasis ever-growing on the passing game and teams fielding all manner of receiving formations, key members of the Ravens' linebacking corps have decided to slim down in an attempt to increase their speed.
Both Ray Lewis and Jameel McClain are at or under 240 pounds in order to take on the array of receivers and tight ends being thrown to in today's NFL, but it will take more than just speed in coverage to assure the Ravens yet again field one of the league's best defenses.
It is going to take a lot of effort—more so than usual. With linebacker Terrell Suggs out for at least part of the season, other members of both the linebacking corps and the defensive line will have to step up significantly in his absence.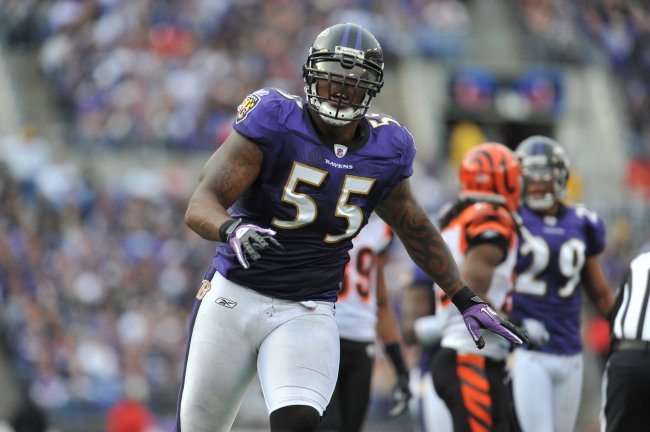 Larry French/Getty Images
Last year, Suggs had 70 solo tackles, 14 sacks, defended six passes, caught two interceptions and forced seven fumbles. This year, his snaps will belong to linebacker Paul Kruger and defensive end Pernell McPhee (the latter having yet to take the field at training camp as he winds up his recovery from a minor knee scope in May).
But there's more to the Ravens defense than their front seven and their pass rush. They also have one of the better secondaries in the NFL, with Ed Reed at free safety, Bernard Pollard at strong safety, and Lardarius Webb, Jimmy Smith and/or Cary Williams as starting cornerbacks.
What the Ravens might lack in the pass rush without Suggs on the field will have to be made up for by the secondary not allowing receivers to bring down deeper balls and keep them from getting useful yards after the catch.
Last season, Baltimore allowed just 196.3 passing yards per game—the fourth best in the league—and they'll again have to do that this season, especially with high-powered passing games fielded by both the Pittsburgh Steelers and Cincinnati Bengals.
Fewer Passes to Ray Rice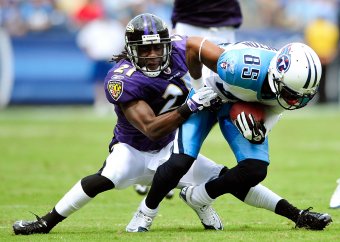 Grant Halverson/Getty Images
Quarterback Joe Flacco relied heavily on running back Ray Rice last year, both in the passing and running games. But the former is something that the Ravens shouldn't repeat this year if they want to again reign supreme in the AFC North.
Yes, it was effective for Flacco to check down to Rice last year—it resulted in 76 receptions on 104 targets, 704 yards and three scores—but for a quarterback with such a big arm, it would better serve both Flacco and the Ravens if they were able to successfully air it out more often.
As long as the reason for so much reliance on Rice's receiving skills came from the relative youth and inexperience of the Ravens' 2011 receiving corps—Torrey Smith, Tandon Doss and LaQuan Williams were all first-year players, Lee Evans was in his first season in Baltimore (and has since moved on), and it was the first year that either tight end Ed Dickson or Dennis Pitta were asked to contribute heavily—then there shouldn't be reason for worry.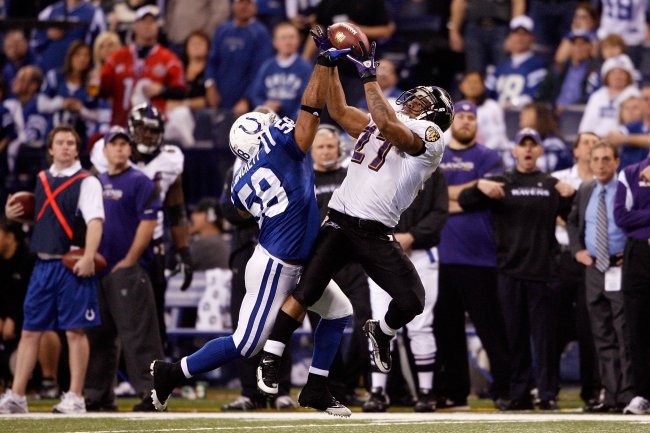 Andy Lyons/Getty Images
If it was caused by some issue with Flacco's confidence or pocket presence, however, then expect to see the passes to Rice continue. However, it seems that Flacco was not so much the issue if reports of his leadership and all-around sharpness so far at training camp continue to flow.
With more familiarity, communication and trust between Flacco and his receivers, he should be more comfortable going deeper in games. Of course, Rice is still going to see his fair share of targets—as of this writing, he's easily the Ravens' most explosive offensive weapon and is the best running back in the league, as well—but an opened-up passing game will do wonders for the Ravens' chances to win games.
Don't Forget About Special Teams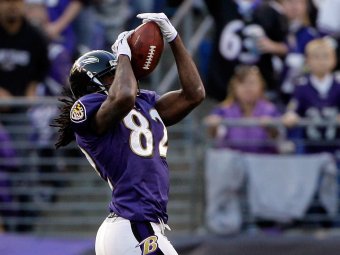 Rob Carr/Getty Images
A major Achilles' heel for the Ravens last year was their special teams, primarily their punt and kick return coverage teams.
They allowed 29.2 yards on average per kick return and 11.9 yards per punt return—their worst numbers in franchise history. The two returned punts for a touchdown and one kick return for a score they allowed ranked among the worst in the league.
The Ravens' overall return coverage unit ranked 17th overall in the league in kickoff yardage allowed and 13th against punts. Opponents noticed this, only calling for a fair catch just 11 times on punts, ranking them 27th in the league in opponent fair catches.
Among the many personnel changes the Ravens faced this offseason, most of them affected their coverage teams. They lost a pair of safeties—Haruki Nakamura and Tom Zbikowski—who specialized in that area.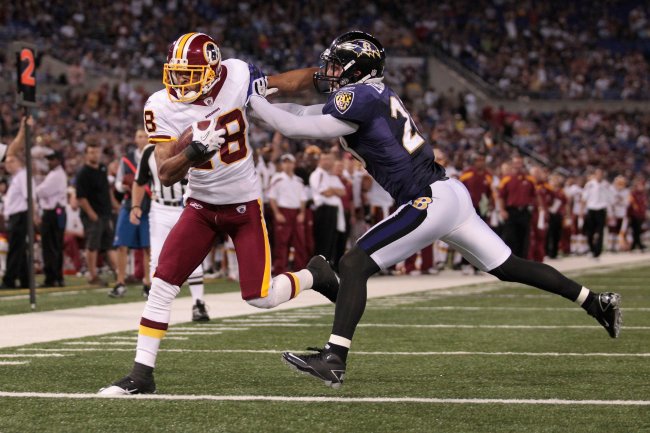 Rob Carr/Getty Images
But they also locked down linebacker (and stellar special teamer) Brendon Ayanbadejo to a long-term deal and brought on free agents Sean Considine and Corey Graham, both who have made names for themselves as part of the coverage team. In addition, fourth-round draft pick safety Christian Thompson could also contribute to special teams coverage.
The last thing a team like the Ravens wants to be thought of is one that is easy to return punts and kicks on, especially considering their defense's reputation of being able to stop practically any player at any time.
At the very least, when it comes to kick and punt coverage, the Ravens have nowhere to go but up. In their own return game, the hope is that they don't go any lower.
Last year, the Ravens ranked 14th in total kick return yardage and 15th in punt return yardage. With Lardarius Webb likely to spend most of his time in the secondary rather than returning punts this year and long-time kick returner David Reed still recovering from ACL surgery and on the roster bubble, the Ravens need to find new solutions.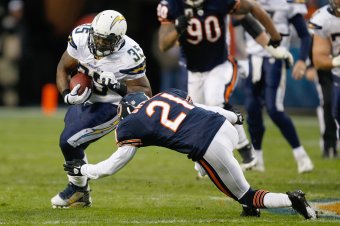 Scott Boehm/Getty Images
Luckily, Baltimore added a lot of rookie speed this year. Wide receiver Tommy Streeter, cornerback Asa Jackson and undrafted rookie receiver Deonte Thompson are all incredibly fast; Jackson set records in college for his return skills, averaging 14.7 yards on punts. They also brought on former Houston Texans receiver Jacoby Jones, who also has a background in returns.
No matter what the Ravens do on either offense or defense, games can still be won or lost via special teams play. Football, after all, is a game of inches. So it is extremely important that the Ravens can reverse their special teams slide if they want to retain the upper hand in the AFC North in the 2012 season.
This article is
What is the duplicate article?
Why is this article offensive?
Where is this article plagiarized from?
Why is this article poorly edited?

Baltimore Ravens: Like this team?