Miami Dolphins: 5 Under-the-Radar Things to Watch for on 'Hard Knocks'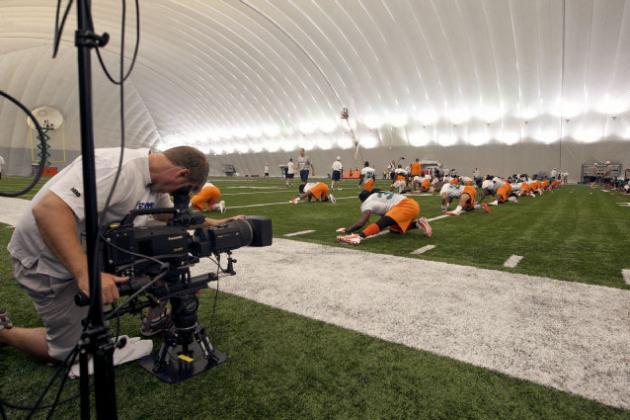 Photo courtesy of miamiherald.com
Tonight, Hard Knocks will premiere its first episode on HBO, thrusting Miami into the NFL's spotlight for the first time in a long time.
Hard Knocks is a series that follows a team through training camp, showing four episodes weekly leading up to the team's NFL season opener. It gives a rarely seen look into the workings of training camp. Viewers will get to see players' and coaches' personal lives off the field, which can really help strengthen a team's bond with its fanbase.
New head coach Joe Philbin, 2012 first-round pick Ryan Tannehill, and superstars Jake Long and Cameron Wake will undoubtedly be featured often throughout the episodes. While they are worthy of the attention, there are a few other things that Miami fans should keep an eye out for during the series.
These players and personnel will have a major impact on the Dolphins, even if they are not as visible to the public eye.
Begin Slideshow

»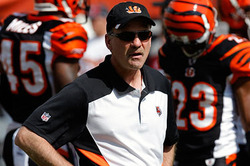 Photo Courtesy of bengals.com
Miami's three coaches are all new this season, and fans are lucky enough to get to know them quickly through Hard Knocks. While head coach Joe Philbin will garner the most attention, pay attention to the new coordinators, Mike Sherman and Kevin Coyle.
Sherman, the team's offensive coordinator, comes to Miami from Texas A&M, where he was head coach for four seasons. Sherman has lots of NFL experience, he has been offensive coordinator for Houston, offensive line coach for Seattle, and head coach for Green Bay.
But most interesting about Sherman is the west coast style offense he is bringing to Miami. It will be interesting to see how the players are picking up on it during the first couple weeks of camp.
Coyle will run the defense this year, a position he has never held in the NFL ranks. Coyle spent the last 11 years on Cincinnati's coaching staff, and was in charge of defensive backs for last nine of them. Coyle is a lot more unknown than Sherman, so many Miami fans will get their first introduction to him on Hard Knocks.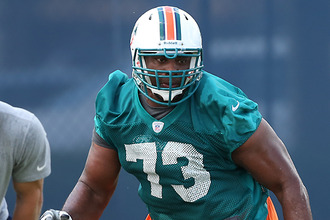 Photo courtesy of miamidolphins.com
The left side of the offensive line is solid, with Jake Long and Richie Incognito lining up at tackle and guard for another year. Continue moving over past center Mike Pouncey, however, and things get a little bit shaky.
Jonathan Martin will probably start at right tackle. The rookie spent his college years protecting Andrew Luck's blind side, and was a first-round talent coming into the draft. The Dolphins got lucky when he fell to them in the second round, and hopefully he will get a lot of airtime so fans can get to know him.
The right guard spot is up in the air, but it looks like Artis Hicks is the favorite. The 11-year veteran is in his first year as a Dolphin, but will be counted on right away if he wins the starting spot.
John Jerry is Hicks' biggest competition. The 26-year-old was highly regarded in his college days at Ole Miss, but has yet to find his groove in the NFL.
Keep an eye out to see how things are progressing with those three players, because the whole offense will live and die with that right side.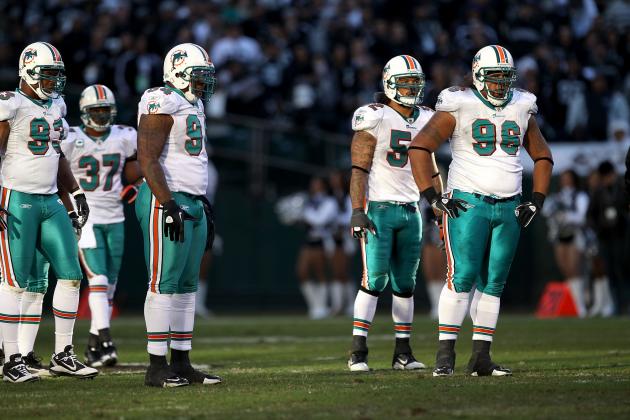 Ezra Shaw/Getty Images

There is no one player to look out for here, but rather to see if anyone steps up to fill the leadership void on defense. Jason Taylor retired, and captain Yeremiah Bell was cut, so Miami's defense will need a few players to step up.
Linebackers Karlos Dansby and Kevin Burnett are both veterans with starting spots locked up. Dansby was a captain alongside Bell last season, and should now step in as the main guy for the defense.
Cameron Wake has emerged as a superstar, and is well-respected by teammates and opponents alike. If he wants, he undoubtedly has the potential to step up and become a leader.
Reshad Jones, Vontae Davis, and Sean Smith should all start in the secondary, and one of them needs to step in and fill the void left by Bell. Look to see if Davis has continued to mature, because he could be a premier corner and leader if he fulfills his potential.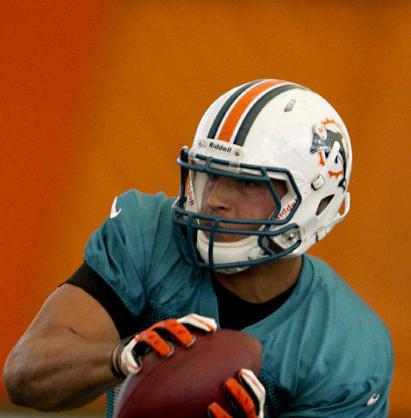 Photo courtesy of miamiherald.com
Ryan Tannehill will get a lot of attention, but three rookies taken a few rounds later than him could have a bigger impact on the team in 2012-2013.
Michael Egnew is an athletic tight end who Miami took in the third round. At Missouri, Egnew was a two time All-Big Ten selection and consensus All-American in 2010. Egnew is 6'5", runs a 4.62 40-yard dash and broad jumps 11'3", and could be a major weapon for Miami.
Olivier Vernon was the Dolphins' other third round pick. Vernon is a defensive end who could rotate in with Cameron Wake and Jared Odrick if the rookie impresses during camp and preseason. Vernon has reportedly been playing well in camp, which bodes well for his future.
Last but certainly not least is Lamar Miller. Miller and Vernon were teammates at the University of Miami, and will look to continue their collegiate success together in the NFL. Miller is an explosive running back who will start the year behind Reggie Bush and Daniel Thomas but could certainly see a lot of playing time as the season wears on.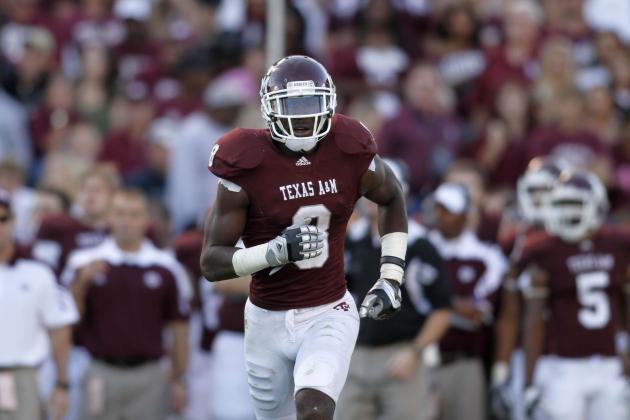 Brett Davis-US PRESSWIRE

The two most prominent additions to the Dolphins offense, Sherman and Tannehill, share a special bond: Sherman was Tannehill's head coach at Texas A&M. Tannehill has said that the majority of the playbook is similar to the one Sherman used at A&M, which is a big positive for the quarterback.
But joining Sherman and Tannehill in Miami is Jeff Fuller, one of the best receivers in A&M history. Fuller is the school's all time leader in touchdown receptions, and is one of two Aggies to have over 2,000 career receiving yards.
The former first team All-Big 12 receiver was one of the most highly regarded prospects after his junior year at A&M, but he opted to return to school, and his draft stock plummeted throughout the season. He was projected to go in the late rounds of the 2012 draft, but was not taken. Miami signed him as an undrafted free agent, and Omar Kelly of the Sun-Sentinel listed Fuller as one of 12 players who are "flourishing" in training camp thus far.
Watch out for the interactions and cohesion between these three. Hopefully they can work together and drive Miami's offense for years to come.