Ranking Training Camp's Most Important Position Battles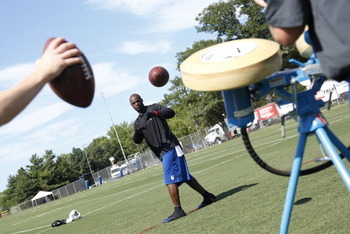 Joe Robbins/Getty Images
NFL training camps used to be about getting back in shape. Players who'd spent all offseason letting themselves go or working their day jobs retrained their bodies for football with two-a-days and tackling drills. Now, players report to camp ready to do battle—or they lose their jobs.
In today's NFL, depth is everything. Variety and specialization maximize every player's strengths while minimizing their weaknesses. Running backs by committee, five-receiver (and three tight-end) sets, nickel and dime packages and "amoeba" defensive alignments mean any active player any given Sunday can break the game wide open.
But with 32 teams and 90-player training-camp rosters, there's an awful lot of talent stashed on some NFL rosters and an awful lot of important holes in others. A small difference in performance at a crucial position could mean a big swing in results during the regular season.
These are the most important training-camp position battles of 2012.
No. 10: Jacksonville Jaguars Quarterback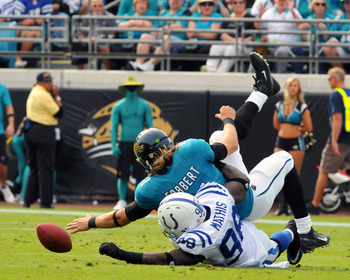 Al Messerschmidt/Getty Images
Jaguars quarterback Blaine Gabbert was the No. 10 overall pick in the 2011 draft, an "upside guy" with all the tools (and lingering doubts about his execution and decision-making).
With patient, consistent coaching, a strong supporting cast and a veteran starter to take pressure off of him, Gabbert had a good chance to develop into a quality NFL starter.
When then-head coach Jack Del Rio panicked, cut veteran starter David Garrard days before the season started and installed Gabbert as the starter in Week 2, the results were predictable.
Gabbert completed just 50.8 percent of his passes, threw 12 touchdowns against 11 interceptions and had a miserable adjusted net yards per attempt of 4.74, per Pro Football Reference. That was the worst in the NFL, a half-yard behind Curtis Painter.
But the only other option is veteran Chad Henne, whose career marks after four seasons in Miami aren't much better: a 60 percent completion rate, but a 31-to-37 TD-to-INT ratio and 5.7 adjusted Yards per attempt.
The Jaguars have a much-better-than-you-think defense (11th-best scoring D in the NFL in 2011) and, in No. 5 overall pick Justin Blackmon, may have added the playmaking receiver they've lacked since Jimmy Smith's heyday. With strong quarterback play, the Jaguars could take the NFL by surprise.
Projected Winner: Gabbert. Henne can hit a checkdown, but even at his best, he won't lead the Jaguars anywhere special anytime soon. New head coach Mike Mularkey has to find out what he has in Gabbert as soon as possible.
No. 9: New York Jets Right Tackle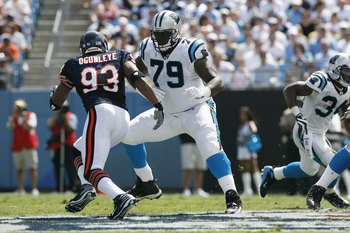 Kevin C. Cox/Getty Images
Since head coach Rex Ryan took over three seasons ago, the Jets became instant contenders. The Jets have combined power running with relentless defense, and the formula has worked well for them.
But in 2011, right tackle Wayne Hunter was a major liability: Hunter was Pro Football Focus's 72nd-ranked tackle out of 76.
Pictured is Jeff Otah, whom the Jets acquired from the Panthers for a conditional seventh-round pick. If the former first-round pick can pass a physical in time, wrote Lisa Zimmerman of CBSSports.com, he'll compete with veteran Hunter.
Otah only played in four games last year due to his injury problems, but in 239 snaps he was graded positively both in run-blocking and overall.
Projected Winner: Hunter, or somebody else. Even if Otah can pass the physical in time, and he told Jenny Vrentas of the Star-Ledger he thinks he can, it's unlikely he'll be healthy enough fast enough to really compete with Hunter.
UPDATE: July 31, 12:00 ET: Manish Metta of the New York Daily News reports that the Otah trade has been rescinded, leaving Hunter in the driver's seat for the starting right tackle role.
No. 8: Detroit Lions Cornerback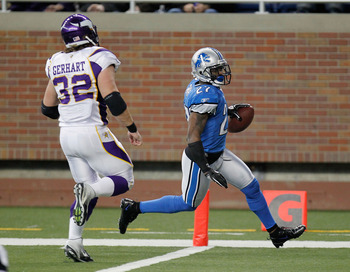 Gregory Shamus/Getty Images
The Detroit Lions have a lot going for them. They have a very young team that finished 10-6 last season en route to a Wild Card berth. This season, they return 21 of 22 of the starters from the 2011 squad.
The problem is the other one.
Last year's No. 2 CB, Eric Wright, signed an enormous free-agent contract with the Tampa Bay Buccaneers. His presumptive replacement, Aaron Berry, was released after being arrested twice during the layoff between minicamp and training camp.
Now, the Lions have to dig deep. They're replacing a starter who was replacing a starter off a 2011 secondary that was nowhere near good enough.
They have Alphonso Smith, former first-round draft pick of the Denver Broncos, who's snagged eight interceptions (and returned two for touchdowns) in two seasons of spot duty.
They added former Indianapolis Colts nickel back Jacob Lacey, who's looked good in the first-team camp reps, according to DetroitLions.com's Tim Twentyman.
They drafted Louisiana-Layfayette's Bill Bentley in the third round, and he could be the long-term solution if neither Smith nor Lacey is.
Projected Winner: Smith. He's surrendered as many big plays as he's made, but the maturing young veteran has the nose for the ball that the Lions need.
No. 7: Seattle Seahawks Quarterback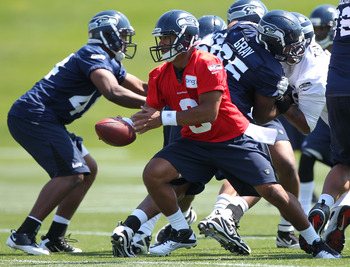 Otto Greule Jr/Getty Images
The Seattle Seahawks didn't make a lot of headlines in 2011, going 7-9 in an unimpressive division. But their scoring defense was seventh-best in the NFL, allowing just 19.7 points per game. With stud tailback Marshawn Lynch already leading the offense, an upgrade in quarterback play could quickly make the Seahawks a playoff contender.
Tarvaris Jackson is the incumbent starter, but he's never consistently performed at an NFL level. The Seahawks signed Flynn to a three-year, $19 million deal, so they're invested in him as a starter, despite his extremely short track record.
The wild card is Russell Wilson, the Seahawks' third-round draft pick. Wilson took an unconventional path to the NFL, and his unconventional style could spark the Seahawks' offense to life.
Projected Winner: Flynn. As Aaron Nagler recently wrote, Flynn is the obvious choice. Besides the Seahawks' investment, Wilson won't be ready to lead a team where the Seahawks want to go, and Jackson won't ever be.
No. 6: Atlanta Falcons Right Guard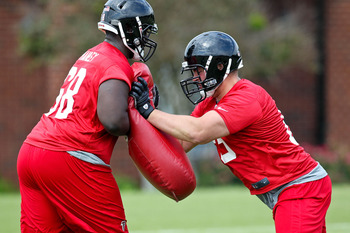 Daniel Shirey/Getty Images
In 2011, Joe Hawley, Garrett Reynolds, Sam Baker and Brett Romburg all took snaps at right guard for the Atlanta Falcons, and none of them passed muster.
The Falcons offense is built off the power running of Michael Turner, and the minus-13.8 overall Pro Football Focus grade of Reynolds and the minus-3.1 mark of Hawley showed why "the Burner" didn't have room to blaze.
Hawley and Reynolds will compete for the spot again this year. The Falcons originally signed veteran Vince Manuwai to give both of them a run for their money, but per Knox Bardeen, the Falcons released Manuwai when he reported out of shape.
That leaves second-round draft pick Peter Konz, a center by trade. Per Mike Singer of CBSSports.com, Konz is in the mix for right guard, despite his ability to snap.
Projected Winner: Reynolds. Hawley is the better run-blocker, but he's also better as a center. Konz is the something "of the future," but he needs strength and experience before he unseats an NFL veteran.
No. 5: Houston Texans Wide Reciever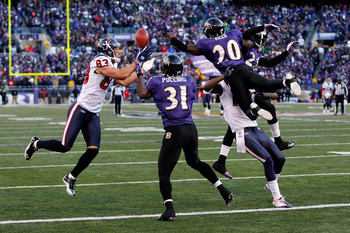 Rob Carr/Getty Images
The Texans' No. 2 wide receiver position is always of intense interest to fantasy football fanatics. The Texans have a quality aerial attack, a solid quarterback in Matt Schaub and one of the best wide receivers of this generation, Andre Johnson, drawing coverage on the other side.
But Kevin Walter, who's perennially fought off challengers for his job, is about to hit the dreaded 3-0. Lance Zierlein of the Houston Chronicle believes Walter could lose snaps this season to one of the young guns waiting for their chance.
Lestar Jean, entering his second year, has consistently impressed. Per the Texans' official site, Jean has been filling for Johnson as the first-team "X" receiver while Johnson nurses a groin injury. Meanwhile, rookie KR Keshawn Martin has been deemed "a pleasant surprise" by Kubiak when working as a WR in offensive sets.
Projected Winner: Walter, because his run-blocking and experience will serve the Texans well as they try to re-establish their winning rhythm from 2011. But Jean looks likely to break into the first team sooner rather than later, and Martin was a weapon all over the field at Michigan State.
No. 4: Baltimore Ravens Defensive End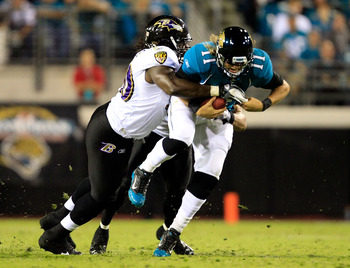 Sam Greenwood/Getty Images
No defense has been more consistently responsible for its team's success over the last decade-and-change than the Baltimore Ravens'. Whenever a starting position is up for grabs, it means a potential slipping in the unit that's been the franchise's identity for years.
With incumbent DE Cory Redding gone to Indianapolis, the Ravens will likely use a rotation of Arthur Jones and Pernell McPhee.
Jones, a 2010 fifth-round pick, had already started nipping at Redding's heels. But McPhee, a 2011 fifth-rounder, tallied six sacks in his rookie season.
Projected Winner: Jones. McPhee will see plenty of time, but as the Carroll County Times explains, Jones is a better run defender. Further, McPhee did most of his damage as an interior pass-rusher, not turning the corner around the outside. Also, McPhee is recovering from a 'scoped knee, so Jones will have time during this camp to establish himself.
No. 3: San Francisco 49ers Cornerback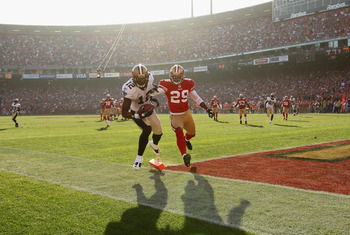 Ezra Shaw/Getty Images
In 2011, San Francisco 49ers had one of the most incredible single-season turnarounds in recent memory. Rookie head coach Jim Harbaugh wrung 13 wins and an NFC Championship Game appearance out of a team with much-maligned 2005 No. 1 overall draft pick Alex Smith at quarterback.
But the key to the 49ers' success was their stifling defense, which allowed just 14.3 points per game (second best in the NFL). No. 1 corner Carlos Rogers had an excellent season (+9.4 overall per PFF), and 27-year-old Tarell Brown acquitted himself quite well (+1.3).
The 25-year-old Chris Culliver, though, presents the best kind of problem: He's threatening to overtake a starter who's playing well. Culliver is two inches taller than the 5'10" Brown, ten pounds heavier and has speed to boot.
Culliver has played very well when asked, but will Harbaugh be willing to demote a steady veteran at such a key spot?
Projected Winner: Culliver. There's nothing wrong with what Brown's done, but Harbaugh's M.O. has been "his way or the highway," and Culliver's one of "his guys," not a holdover. When a handpicked player with that kind of potential seems to be realizing it, he'll get his chance.
No. 2: Chicago Bears Left Tackle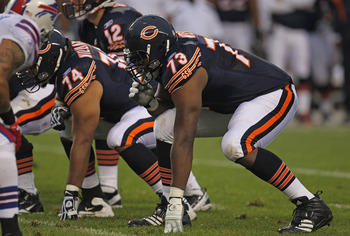 Jonathan Daniel/Getty Images
The Chicago Bears made it to the 2010 NFC Championship Game, and appeared poised to repeat the feat in 2011—until star quarterback Jay Cutler broke his thumb. Combined with the injury to running back Matt Forte, the Bears' playoff chances ran out.
Starting left tackle J'Marcus Webb, a 2010 seventh-round draft pick, struggled mightily. Pro Football Focus dinged Webb with a dreadful minus-26.2 grade, ranked 67th out of 76 offensive tackles.
Chris Williams, the Bears' 2008 first-round pick, was supposed to be the left tackle of the future. But when he ascended to the starting role in 2010, he suffered a training camp injury, and Webb slid into the spot and performed admirably.
Williams was shifted to left guard and has been very inconsistent. But "inconsistent" is better than "struggling mightily," so Bears offensive line coach Mike Tice has declared the left tackle position battle wide open.
Projected Winner: Webb. Williams certainly hasn't proven himself a quality left tackle, despite plenty of opportunity. Webb may not be good enough, but if Williams slides over to tackle and the Bears scramble for a new guard, the resulting line will likely be weaker than if they stand pat.
No. 1: Green Bay Packers Cornerback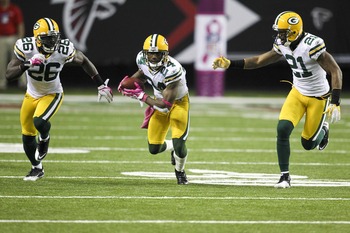 Daniel Shirey-US PRESSWIRE
The Green Bay Packers went 15-1 in 2011 but failed to defend their 2011 NFL title in the playoffs. Though their No. 1 scoring offense (35.0 points per game) made them look invincible at times, their 19th-ranked scoring defense (22.4 points per game) had a lot of holes, especially on the outside.
With the release of safety Charlie Peprah, and the resultant switch of Charles Woodson from cornerback to safety in the base 3-4 alignment, the Packers are suddenly desperate for a quality No. 2 next to Tramon Williams.
Sam Shields, who struggled as the team's third corner last year, appears to be on the outs this season. Jarrett Bush is a 6'1", 192-pounder who looked very good for the first 11 weeks of 2011 but faded down the stretch.
The most intriguing possibility is 23-year-old Davon House, a 6'0", 195-pound corner who was twice named First Team All-WAC at New Mexico State. House barely got to put on cleats for the Pack in 2011, but he'll have every opportunity in camp to prove his worth at this level.
To further muddy the waters, Bob McGinn of the Milwaukee Journal-Sentinel reports rookie Casey Hayward is turning heads at camp with his precocious ball skills.
Projected Winner: Bush, for now. The NFC North is full of high-flying offenses, and the Packers will need Bush's experience on the outside at first. But look for House and Hayward to push not only each other, but Bush, for reps with the starting base defense.
Keep Reading