Clint Dempsey Reportedly Skipping Fulham Tour to Force Move to Liverpool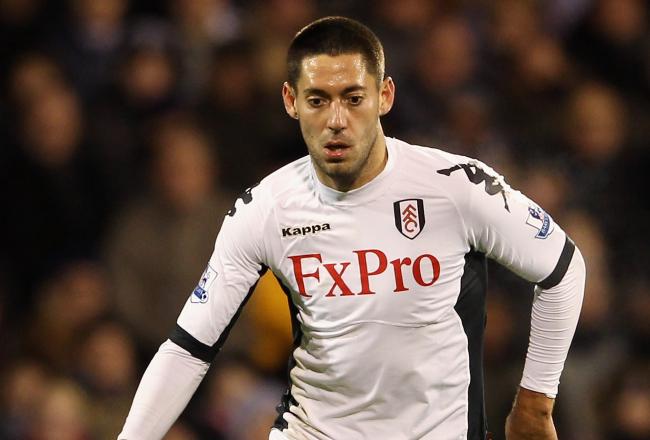 Scott Heavey/Getty Images
Clint Dempsey is really, really desperate to leave Fulham and join Liverpool.
So desperate, in fact, that he was reportedly willing to stay behind while his team took off for training camp in Switzerland in the hopes of forcing club management into giving him his way.
According to Goal.com's Wayne Veysey, Dempsey opted not to travel with the team from London to training camp in Switzerland on Monday and stayed behind in order to practice on his team's home turf. The hope, according to Veysey, is that the club will understand how serious he is about leaving Fulham with one year left on his current contract in order to join Liverpool.
Fulham is in Switzerland to prepare for a friendly against Nice, but per Veysey's report, Dempsey made it clear as early as last Friday that he didn't plan to be a part of the preseason festivities.
Rumors have been circulating for weeks that Dempsey was interested in a move from Fulham, but according to Fox Sports, club manager Martin Jol hasn't been all that interested in letting his talented forward get away. The manager told the website:
"I don't want to talk about that [speculation]. I love Clint, he scored a lot of goals and I want to keep him."
And what's not to love? Dempsey tallied 23 goals for Fulham last season, and if the club loses him, it will struggle to replace his offense.
The thought of losing an offensive spark like Dempsey isn't a happy one for a team that finished just behind Liverpool in the 2011-12 Premier League standings—and much farther behind Manchester City, Manchester United and Arsenal.
Alternately, for Liverpool, Dempsey would be a huge pickup, and according to Goal.com's report, manager Brendan Rodgers has expressed an interest in acquiring him.
As much eagerness as Dempsey has shown toward the idea of joining Liverpool, he's shown the opposite toward the idea of staying with Fulham, which offered him a three-year deal with an option for a fourth year, according to Goal.com. Needless to say, Dempsey rejected it.
And so it would seem, the two sides are at an impasse. Fulham wants Dempsey to stick around, and Dempsey's heart—and head—are somewhere else. He has one year left on his deal with the club and seems intent on jetting off for Liverpool.
According to Goal.com, Dempsey wants to win. He's 29, and he sees this as one of his final chances to be a part of a club that's going to give him that opportunity.
Unfortunately, that leaves Fulham in a bad situation. Obviously, Jol and the club don't want to lose Dempsey's offense, but with a limited amount of impactful years left, the player has to think about himself. And what he's thinking is that winning is what's important right now.
At a certain point, Fulham needs to recognize that letting Dempsey walk will be easier than keeping him around, knowing that he's so unhappy it could compromise his impact in the final year of his deal.
Dempsey isn't going to find a championship with Fulham—not this year, and probably not ever. Fulham is better off cutting its losses and recognizing that now.
This article is
What is the duplicate article?
Why is this article offensive?
Where is this article plagiarized from?
Why is this article poorly edited?

Fulham: Like this team?