United States vs. North Korea: Olympics Live Score, Analysis, Recap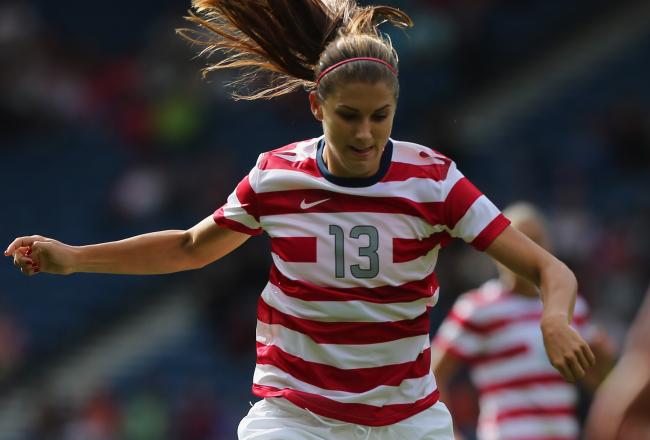 Stanley Chou/Getty Images
2012 Summer Olympics—women's soccer tournament, Group G
United States 1-0 North Korea (full time)
LINEUPS
USA: Hope Solo; Amy Le Peilbet, Christie Rampone (capt.), Rachel Buehler, Kelley O'Hara; Heather O'Reilly, Carli Lloyd, Lauren Cheney (Amy Rodriguez 83'), Megan Rapinoe (Tobin Heath 46'); Alex Morgan, Abby Wambach
North Korea: O Chang Ran; Kim Nam Hui, Kim Myong Gum, Pong Son Hwa, Choe Yong Sim; Choe Un Ju, Ri Ye Gyong, Jon Myong Hwa, Kim Chung Sim (capt.) (Kim Un Hyang 80'); Yun Hyon Hui (Kim Su Gyong 31'), Kim Song Hui (Choe Mi Gyong 63')
Goals: Wambach (USA) 25'
Red card: Choe Mi Gyong (PRK) 81' (second yellow)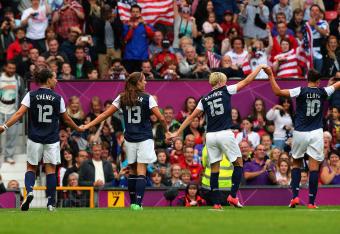 FULL TIME: USA 1, NORTH KOREA 0
There's the final whistle. The US wins and finishes group play with a perfect record!
It wasn't the most imposing performance, but the US will take it. Abby Wambach scored the only goal in the first half, and North Korea never really threatened.
The United States will play in the quarterfinals, where they'll have a match in Newcastle against a still-unknown opponent.
90'—SHOT!
Kelley O'Hara cuts in from the left and curls a shot over the bar.
The US is still attacking, but should they instead hold the ball and kill the clock?
89'—SHOT!
Carli Lloyd takes the free kick, and she connects with a strong shot…
…but it's right at the keeper.
89'—FOUL!
Choe Yong Sim clatters into Abby Wambach from behind in an aerial challenge.
Free kick for the US, about 35 yards out, right in the middle.
85'—CHANCE!
Abby Wambach bursts into the box and cuts back a great pass to Alex Morgan.
Two defenders and the keeper converge on Morgan, who can't get off a shot.
On the other end, Choe Un Ju flashes a shot over the bar. Not far off!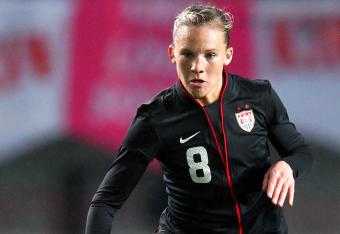 84'—USA SUB
Final change for the US. Amy Rodriguez replaces Lauren Cheney, who had played every minute for the US until now.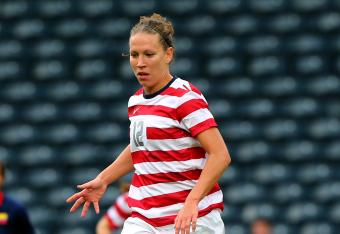 82'—USA 1, PRK 0
Lauren Cheney takes a shot following a pass by Heather O'Reilly on the free kick.
It's saved easily.
81'—RED CARD!
Choe Mi Gyong sees red for a late challenge on Lauren Cheney. It's her second yellow, and she has deserved both.
Bye bye.
80'—SUB
North Korea makes its final change. Kim Chung Sim, the captain, makes way for Kim Un Hyang.
79'—USA 1, PRK 0
The US players are just stroking the ball around the midfield, toying with the North Koreans.
North Korea's players seem a bit miffed about it.
77'—YELLOW CARD
Choe Mi Gyong hacks at the back of Carli Lloyd's legs. Lloyd turns and towers over Choe.
Choe gets a yellow card.
75'—USA SUB
Becky Sauerbrunn replaces Rachel Buehler in the US defense. This is Sauerbrunn's first appearance at this tournament.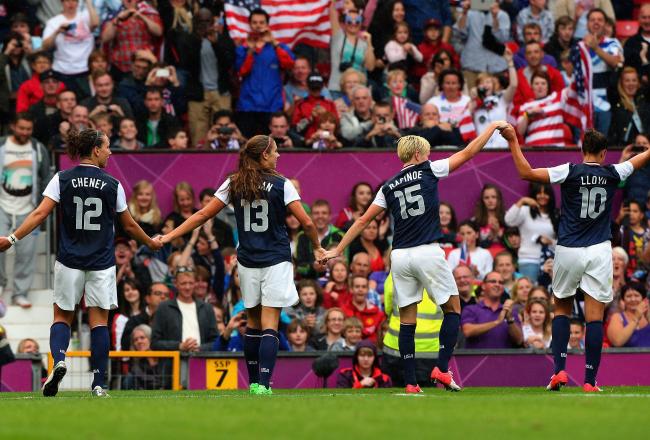 73'—USA 1, PRK 0
We're in the final 20 minutes, and the score remains 1-0.
The US will be disappointed if they let this lead slip. They need to put this away with a second goal.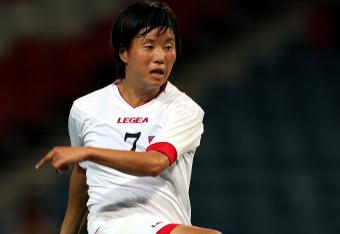 67'—SHOT!
North Korea's Ri Ye Gyong drags a shot toward the far post. Hope Solo saves comfortably.
North Korea finally getting their offense going.
Tweet, Tweet
Another great stat:
16 - #USWNT's Kelley O'Hara has more tackles than any other womens soccer player in Olympics 2012. Tough.

— OptaJack (@OptaJack) July 31, 2012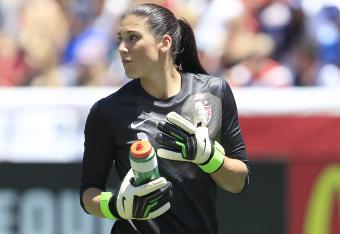 65'—USA 1, PRK 0
Hope Solo comes off her line alertly to grab a looping cross in her box. That was tougher than it looked. North Korean attacker had a boot sticking out at eye level just then.
Nice work from Solo.
63'—SUB
North Korea makes a change.
Choe Mi Gyong replaces Kim Song Hui. That's a forward for a forward.
North Korea has to attack.
62'—USA 1, PRK 0
Little of note lately in this game. North Korea still needs a goal, but all the possession is still with the US.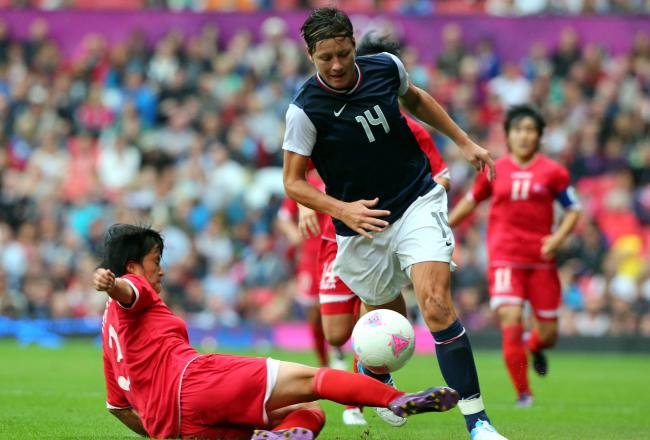 56'—USA 1, PRK 0
Still 1-0 at Old Trafford, and North Korea is still getting physical with the US players.
North Korea needs a goal to stay alive, so you'd think they will attack at some point.
Right?
Tweet, Tweet
This is from the first half, but it's still a great stat:
135 - #USWNT's Carli Lloyd leads all Americans with 135 passes attempted, and 115 passes completed thus far at 2012 Olympics. Active.

— OptaJack (@OptaJack) July 31, 2012
52'—Tweet, Tweet
From B/R's Karla Villegas Gama:
The second goal of the @ussoccer_wnt is close. North Korea can't keep up with the Stars and Stripes rhythm and depth.

— Karla Villegas Gama (@karlitsv) July 31, 2012
51'—CHANCE!
Now Heath plays the ball to Morgan in the box. Morgan bears down on goal but the goalkeeper manages to push the ball away.
Was that a pass or a shot by Morgan? Not sure.
49'—MISS!
Wambach feeds Morgan, who lays off for Tobin Heath, the substitute.
Heath is all alone in the box and has all kinds of time to shoot…
…but she chips the ball over the bar!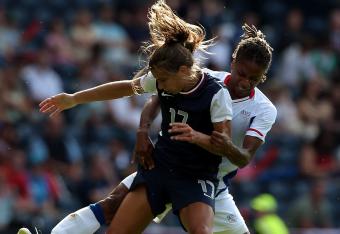 Second half
The US starts the second half. They'll be moving right to left in this half.
Tobin Heath replaced Megan Rapinoe at halftime.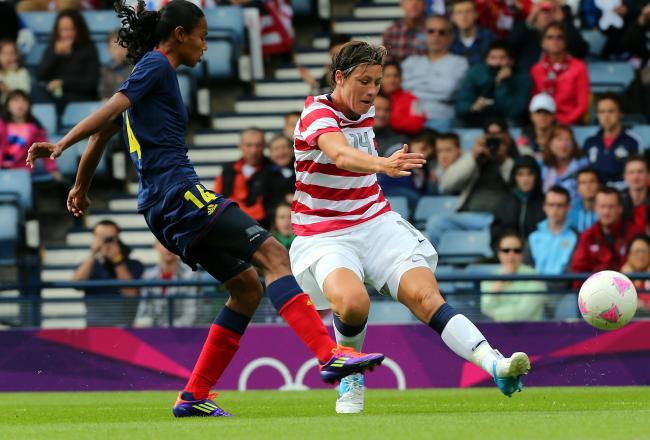 HALFTIME: USA 1, NORTH KOREA 0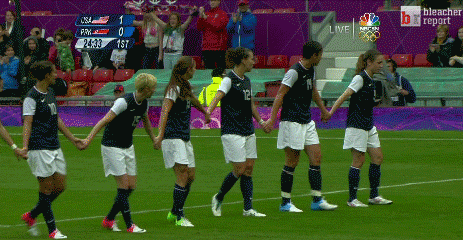 There's the halftime whistle. The US leads 1-0, and it was a pretty comfortable half, to be honest.
Abby Wambach scored the only goal after a great entry pass from Laurent Cheney and even better work from Alex Morgan in the box.
In truth, though, the US should have had more goals. I think they'll add a few in the second half.
This article is
What is the duplicate article?
Why is this article offensive?
Where is this article plagiarized from?
Why is this article poorly edited?