Brooklyn Nets: Breaking Down Why the Core Four Is Better Than Heat's Big Three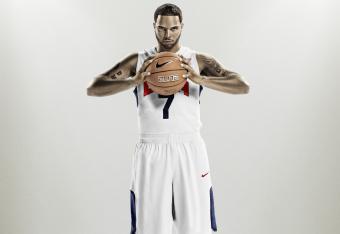 Handout/Getty Images
The Brooklyn Nets core four—Deron Williams, Joe Johnson, Gerald Wallace and Brook Lopez—may provide the Nets with a considerable edge over the 2012 NBA Champion Miami Heat if they meet in the 2013 NBA playoffs.
Two factors justify this, albeit bold, prediction:
1. The Heat struggle against well-balanced offenses lead by elite pure point guards.
2. The Nets have a strong perimeter and wing defense that could frustrate the Heat's outside shooting.
The Nets Have the Offensive Ingredients to Respond to the Heat's Elite Defense
The Heat's top rated NBA defense primarily relies on the aggression and superior athleticism of its "big three"—guard Dwyane Wade, forward LeBron James and forward Chris Bosh.
The Heat's smoldering defense ranked in the top five in the NBA in steals, forced turnovers and field goal percentages allowed.
The optimal response to the Heat's particularly aggressive perimeter defense is through ball movement evenly distributed to all areas of the floor. Teams who have experienced success against the Heat—like the Boston Celtics in last spring's Eastern Conference Finals—have done so by consistently shifting between scoring in the paint, on the corners and the wings through excellent ball movement.
The Nets will have that strategy covered with Williams at the 1-spot flanked by Johnson, Wallace and Lopez.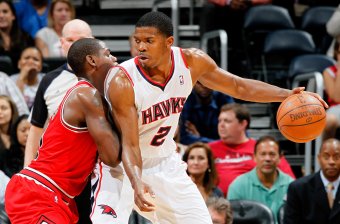 Kevin C. Cox/Getty Images
Deron Williams is a 20 PPG, 10 APG point guard who can make in game shifts between being an outside shooter, a slasher and a ball facilitator.
While Williams only averaged 13 PPG against the Heat last season, these statistics are deceiving: He didn't have nearly the same surrounding lineup back then as he does now.
Williams will have by far more scoring and assist opportunities against the Heat during the 2012-13 season. In fact, he will have capable scoring teammates on all areas of the floor.
Shooting guard Joe Johnson is a career 18 PPG scorer on 45 percent shooting. Most of Johnson's shot attempts are from beyond 15 feet, which means he will effectively spread the floor for the Nets offense. Johnson is also an effective passer; he has averaged four assists a game during his career.
Gerald Wallace is a slashing offensive player who will benefit from easy penetrations to the hoop with Williams and Johnson forcing the Heat to frequently address outside shot areas.
Center Brook Lopez (20 PPG in the 2010-11 season) will be lurking around the rim and between three to nine feet from the hoop—he's an effective scorer within both ranges.
In order to ensure well balanced scoring, the Nets will have to rely strongly on Lopez to consistently score around the rim and from between three to nine feet. During the 2011-12 season, 10 of Lopez's field goal attempts per game came from within this range, where he averaged better than 50 percent shooting.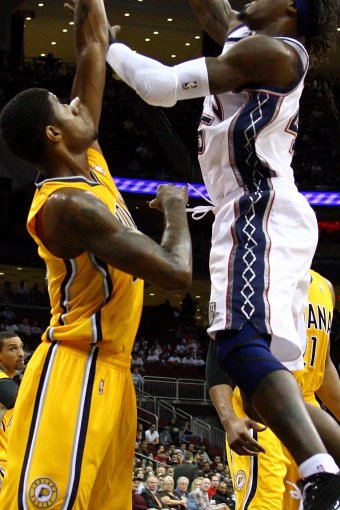 Chris Chambers/Getty Images
The Nets Core Four Have Just Enough Defense to Effectively Respond to the Heat's Big Three
The Nets strong perimeter defense will challenge the Heat's efforts at penetrating the paint and finding open jump shots.
Joe Johnson is one of the best defending 2-guards in the league. Opposing two-guards have an 88.8 percent offensive rating and a 10.0 player efficiency rating against Johnson, both of which are well below the league average.
Likewise, Gerald Wallace (career average 1.5 steals a game) is an elite wing and corner defender who should frustrate at least some of LeBron James' shot attempts. Granted, James will get his points on a nightly basis against any team in the league, Wallace will make him earn them.
The Nets defense will see a lot more success against Dwyane Wade and Ray Allen, both of whose games experienced small but significant declines last year due to age and injuries.
Last season, the then 30-year-old Wade saw a decrease in offensive production from his career average of 25 to 22 points per game. Wade struggled with left knee injuries throughout the season and had to receive surgery on it during the offseason.
Miami Heat sharpshooter Ray Allen will be 37 years old when the 2012-13 season begins. Allen also lost a step last season when he was playing for the Boston Celtics, in part due to bone spur injuries on his right ankle.
Both players will see a lot of Wallace and Johnson at the defensive end of the floor. If either Wade or Allen's offensive game slackens as the year progresses, the Nets' own athletic perimeter defense will punish them for it.
Will the Nets core be strong enough to beat the Miami Heat?
A lot will have to go right for the Nets to defeat the Miami Heat in a playoff series in 2012-13.
Deron Williams will have to elevate his offensive game to become a top closer in the fourth quarter. The Nets will also need to develop team chemistry, as their core four has not played a full season together.
However, Williams, Johnson and Wallace are all high IQ veteran players. Therefore, several of these adjustments are conceivable.
Conversely, if Dwyane Wade's offensive production diminishes due to age and/or injuries next year, the Heat will have difficulties responding to the Nets formidable perimeter play at both ends of the floor. Those difficulties may result in a surprising Nets edge against the Heat in the playoffs.
This article is
What is the duplicate article?
Why is this article offensive?
Where is this article plagiarized from?
Why is this article poorly edited?

Brooklyn Nets: Like this team?