Houston Astros: 4 SPs Who Will Get a Chance with Wandy Rodriguez Gone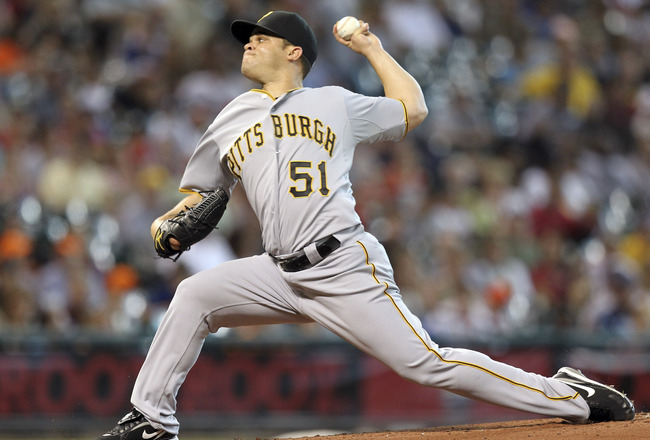 Bob Levey/Getty Images
The seemingly inevitable departure of Wandy Rodriguez finally happened on July 25, as Houston's ace was dealt to the Pittsburgh Pirates.
Clearly, the Astros are building for the future, as their recent slide has dropped them to the worst record in baseball.
Still, the void left by Rodriguez in the Houston rotation cannot be ignored.
Fortunately, Houston has a number of pitchers, both young and old, who are capable of stepping in to patch up that hole.
Let's take a look at who will be replacing Wandy now and in the future in Houston.
Present: Armando Galarraga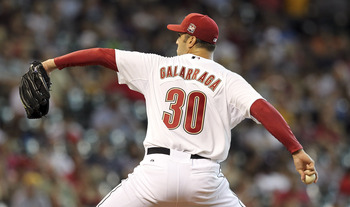 Bob Levey/Getty Images
Bud Norris and Lucas Harrell are expected to slide up in the rotation to be the go-to arms in Houston.
Harrell brought the Astros their first win in 16 tries in his first start since the departure of Rodriguez and may figure to be the outright ace for the time being.
Logistically, right-hander Armando Galarraga will fill in at the back of the rotation.
The Venezuelan was called up on July 28 to join the starting fleet for the Astros (via Associated Press, h/t ESPN.com).
Galarraga is a pitcher who has had some success in the majors, most notably a 13-7 season for Detroit in 2008, in which he finished with a 3.73 ERA and 1.192 WHIP.
That year, he finished fourth in the American League Rookie of the Year voting, higher than any other pitcher.
Those numbers would put him about on par with where Rodriguez was before the trade, at 7-9 with a 3.79 ERA.
If Galarraga can come close to that level of performance, the Houston rotation will be in nice shape.
Near Future: Dallas Keuchel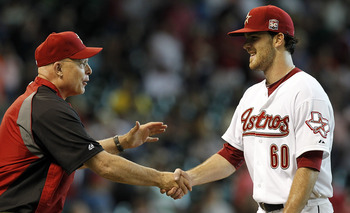 Bob Levey/Getty Images
Now that Wandy is gone, Dallas Keuchel is the only starting left-hander for Houston.
The 24-year-old has looked brilliant at times, but has also had his share of struggles.
In just his second start in the majors, the Tulsa, Oklahoma native tossed a complete game, allowing just one run and keeping his pitch count at 108 over nine innings of work.
However, since then, he has been sent down and brought back up, seeing his share of success and hardship on the hill.
Recently, he experienced the polar opposite of his complete game, allowing seven runs in 3.1 innings, throwing 79 pitches.
The big difference between his poor performances and his successful outings has been his command.
In his complete-game victory over the Indians, he walked only one batter and hardly wasted a single pitch, but in his four other starts, he has walked 18 and struggled to keep his pitch count down.
Keuchel must continue to work on his command, because when he's on, he has all of the qualities of a top-of-the-rotation starter.
Near Future: Rudy Owens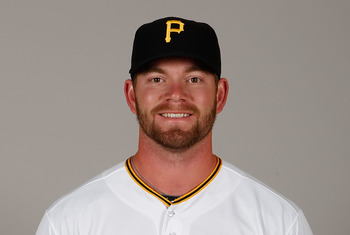 J. Meric/Getty Images
Houston fans may not yet know the name Rudy Owens, but they will soon learn.
The left-hander was one of the pieces the Astros received from Pittsburgh in the Rodriguez trade, and the 2012 International League All-Star could work his way into the rotation in Houston before long.
The 24-year-old is yet to make his major league debut, but has had his share of success in the minors.
Houston's Triple-A Oklahoma City farm team is the seventh club Owens has thrown for, as he has accumulated a 3.39 ERA and 1.148 WHIP over four years of minor league service.
With now only one lefty in the starting rotation and three on the entire staff, Owens may be added to provide some balance to a struggling bullpen.
From there, he could prove himself as a capable full-time starter.
Extended Future: Colton Cain
Photo Credit: PiratesProspects.com
The other pitching piece the Astros received in the Wandy deal is left-hander Colton Cain.
It may be a while before we see the 21-year-old make his way up to the majors, but he has the makings of a solid starting lefty.
The Texan was taken in the eighth round of the 2009 MLB Draft out of Waxahachie High School and has been working his way up through the Pirates' farm system.
His best season so far came for the West Virginia Power in 2011, where he finished 6-8 with a 3.64 ERA.
He has a high-80s to low-90s fastball, which is sufficient for left-handers.
The Lancaster JetHawks, Houston's Advanced-A club, will be feeling him out to see if he has what it takes to make it to the top.
With some development over the coming years, we could see him blossom into a starter in Houston.
Keep Reading

Houston Astros: Like this team?