USC Football: Predicting the Depth Chart Heading into Fall Camp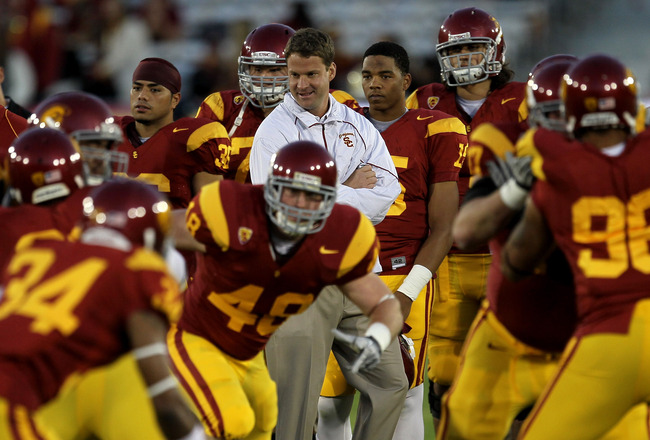 Stephen Dunn/Getty Images
The USC Trojans were banned from postseason play the last two seasons, but that is no longer the case in 2012. This team is no longer on punishment and will be looking to make up for lost time this season.
The Trojans return 17 starters, including nine on the offensive side of the ball. Tthat includes arguably the best quarterback in the country and the best wide receiver corps.
USC is no joke on paper, and it is a heavy favorite to not only win the Pac 12 title, but to reach the 2013 BCS National Championship Game.
With fall camp right around the corner, here is what the depth chart should look like for your 2012 USC Trojans football team.
Quarterback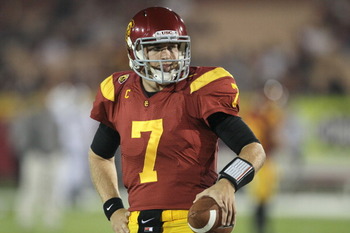 Stephen Dunn/Getty Images
Starter: Matt Barkley, Senior

Backup: Cody Kessler, Sophomore
There is no other starting quarterback that you would rather have in 2012 than Barkley. He is coming off his best season yet, throwing for over 3,500 yards and 39 touchdowns and completing 69 percent of his passes. If Barkley has the season everyone expects, he will win the Heisman Trophy and likely be the first pick in next year's NFL draft.
Running Back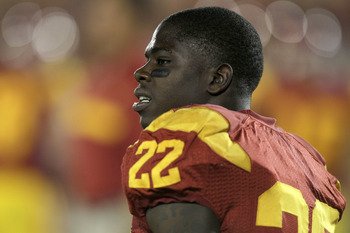 Stephen Dunn/Getty Images
Starter: Curtis McNeal, Senior
Backup: D.J. Morgan, Junior
Running back depth is an area of concern for the Trojans, but at least they have a 1,000-yard rusher in Curtis McNeal. He isn't the biggest back in the world at 5'7", but he has big-play ability, and he averaged nearly seven yards an attempt last season.
Receivers
Stephen Dunn/Getty Images
Starter: Robert Woods, Junior

Backup: Victor Blackwell, Sophomore
Woods and Barkley have a connection like none other, connecting 111 times last season for 1,292 yards and 15 touchdowns. He has been one of the more consistent receivers the last two seasons and should have another huge year in 2012.

Starter: Marqise Lee, Sophomore
Backup: George Farmer, Sophomore
Lee is a scary receiver at 6'0" with blazing speed. He has the skill set to be a firs- round pick whenever he decides to leave school.
As a freshman last season, Lee caught 73 passes for 1,143 yards and 11 touchdowns. Entering his sophomore season, he will become more of a household name than he is already.
Starter: Randall Telfer, Sophomore
Backup: Xavier Grimble, Sophomore
Telfer started five games last season for the Trojans, hauling in 26 passes—five of which went for touchdowns. With so many great receivers on this roster, the sophomore tight end should have many one-on-one situations to take advantage of.
Offensive Line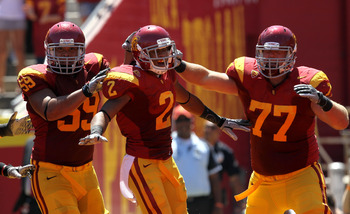 Stephen Dunn/Getty Images
Left Tackle
Starter: Kevin Graf, Junior
Backup: Nathan Guertler, Junior
Graf will have the huge task of replacing first-round pick Matt Kalil. Graf spent all of last season at the right tackle position.
Left Guard
Starter: Marcus Martin, Sophomore
Backup: Cyrus Hobbi, Freshman
Martin became the first true freshman to start at offensive guard for USC since 2004. He did a good enough job to earn All-American freshman honors from CBSSports and Sporting News, among others.
Center
Starter: Khaled Holmes, Senior
Backup: John Martinez, Junior
Holmes is a versatile player who has already played several different positions along the offensive line. He was a second-team All-Pac 12 selection last season and is a candidate for Rimington Award in 2012.
Right Guard
Starter: John Martinez, Junior
Backup: Jeremy Galten, Senior
Martinez can play any position on the offensive line, but he spent all of last year at right guard. Unless an injury takes place, you can expect him to remain at the position he did a fine job at last year.
Right Tackle
Starter: Aundrey Walker, Sophomore
Backup: Jeremy Galten, Senior
Walker played in 11 games last season as a backup lineman and special teams player. He will have the opportunity to start this season. At 6'6", 300 pounds, he has a bright future for the next level.
Defensive Line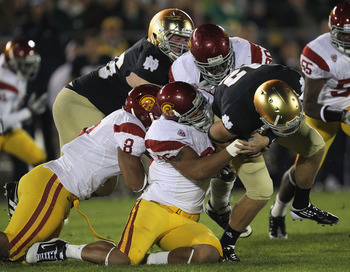 Jonathan Daniel/Getty Images
Defensive End
Starter: Wes Horton, Senior
Backup: Kevin Greene, Junior
Horton started seven games at defensive end last season and sacked the quarterback four times. He'll remain in his starting role as he enters his senior season.
Defensive Tackle
Starter: George Uko, Sophomore
Backup: J.R. Tavai, Sophomore
Uko was a backup last season who appeared in all 13 games. He finished the season with 18 tackles and two forced fumbles. He will have to grow up quickly, as there isn't much experience in the middle of the defensive line.
Defensive Tackle
Starter: Antwaun Woods, Freshman
Backup: Cody Temple, Freshman
Woods was a redshirt last season, but the former 4-star recruit should see plenty of playing time in 2012. He has gotten himself in much better playing shape by losing weight during the offseason and should be a key factor on this defensive line.
Defensive End
Starter: Morgan Breslin, Junior
Backup: Greg Townsend Jr., Freshman
Breslin is a transfer from junior college, but he should see the field quite a bit in 2012. He is an athletic player who racked up 13.5 sacks in 2011 at Diablo Valley Junior College.
Linebackers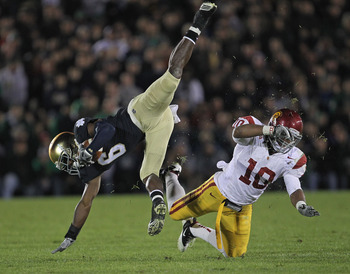 Jonathan Daniel/Getty Images
Starter: Hayes Pullard, Sophomore
Backup: Anthony Sarao, Freshman
Pullard was tied on the team for the most tackles last season with 81. He also added four sacks, which is good enough for him to remain as the starting weak-side linebacker for this Trojans team.
Starter: Lamar Dawson, Sophomore
Backup: Will Andrew, Junior
Dawson finished the last four games as the starting middle linebacker for the Trojans. He finished his freshman season with 25 tackles, two tackles for loss and a sack.
Starter: Dion Bailey, Sophomore
Backup: Scott Starr, Freshman
Bailey finished last season with 81 tackles, two sacks and two broken up passes. He is a candidate for the 2012 Butkus Award.

Defensive Backs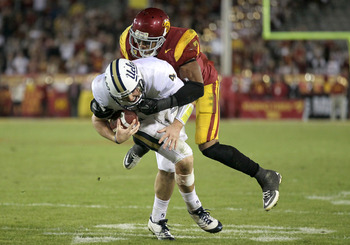 Stephen Dunn/Getty Images
Cornerback
Starter: Nickell Robey, Junior
Backup: Anthony Brown, Sophomore
Robey isn't the biggest corner at 5'8", but he is one of the best in the entire country at his position. He was a member of the 2011 All-Pac 12 team and is a serious candidate for the 2012 Thorpe Award.
Safety
Starter: Jawanza Starling, Senior
Backup: Demetrius Wright, Junior
Starling now has two years of experience at strong safety. He is most known for his 80-yard fumble return last season in the victory over Notre Dame, but he also provides experience to one of the best defensive backfields in the country.
Safety
Starter: T.J. McDonald, Senior
Backup: Drew McAllister, Senior
McDonald is the unquestioned leader of this defense and is one of the hardest hitters in the country. Last season, he had 67 tackles, three interceptions and 2.5 tackles for loss. Expect another big year from the senior safety.
Cornerback
Starter: Isiah Wiley, Senior
Backup: Torin Harris, Junior
Wiley played his first season at USC last year after transferring from a junior college. He started the final six games of the season and finished with 39 tackles and four passes broken up.

Specialists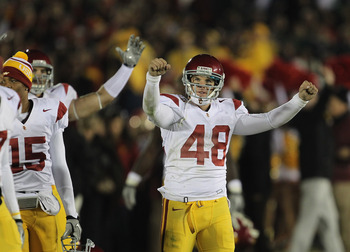 Jonathan Daniel/Getty Images
Kicker
Starter: Andre Heidari, Sophomore
Backup: Craig McMahon, Sophomore
Heidari is one of the top kickers in the country. Last season, he made 15 of his 17 field-goal attempts and every single one of his 50 extra points. He also made four of his five attempts beyond 40 yards.
Punter
Starter: Kyle Negrete, Senior
Backup: Kris Albarado, Freshman
Negrete came to USC as a walk-on, but was an effective weapon last season. He averaged a little over 40 yards per attempt and landed 19 of his 39 punts inside the opponents' 20-yard line.
Keep Reading

USC Football: Like this team?