Predicting Manchester United's First-Choice Starting XI for the 2012-13 Season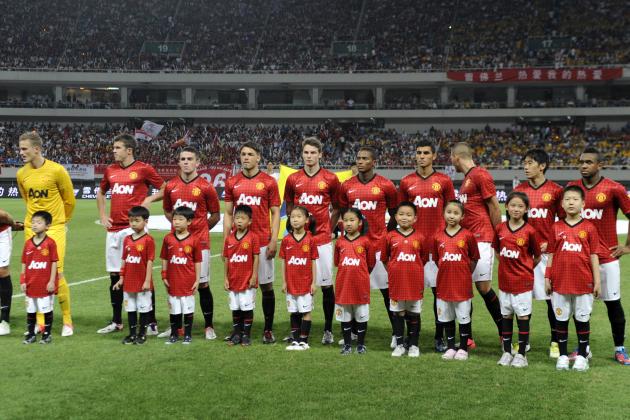 Hong Wu/Getty Images

Who can predict Manchester United's starting lineup for August 20 without a sense of excitement and uncertainty--especially with at least two new signings to come?
Sir Alex likes to keep his cards close to his chest, and this year, he will have as many challenges as ever before.
Of course, every team wants to get off to a good start, but this season, United will still be smarting from the last-minute loss of their title in May. Achieving one of your highest points totals ever, having the title in your own hands after City had made an even better start to the season; blowing it at the end. That hurts.
David Moyes will be equally desperate that his team starts quickly. It begins to look careless if, year after year, you start slowly only to finish in or near the European places.
There are added complications for each manager, of course: interest in some of Evrerton's players may continue right up to the transfer deadline which, amazingly, is always after the season has started.
Both teams have an eye on Leighton Baines. United are said to be interested in the Everton left back, or even Ashley Cole. Moyes wants him to stay. There has, not surprisingly, been speculation about Marouane Fellaini, who helped destroy United's hopes in that fateful 4-4 draw.
It would also be unsurprising if someone showed an interest in Jelavic, who was very effective after his arrival from Rangers in January. He was a bargain at £7 million.
Sir Alex already has conundrums in defence, an area that blighted the title defence last season. While Vidic is back in full training, Jonny Evans is still not fit from his operation; and now, Chris Smalling is out for 10 weeks with a broken metatarsal.
Added to that, United have a total of 14 first-team squad members not on tour, many because of Euro 2012 and the Olympics.
So, while few of the Manchester United team above will make the start, some obvious candidates may not either. All of you will have your own opinion about who will. Please post your team below.
Begin Slideshow

»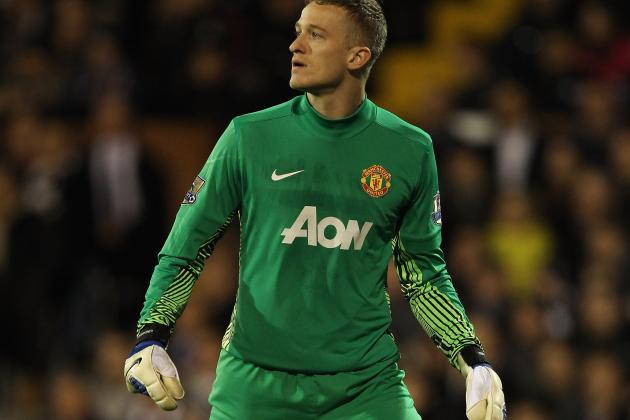 Clive Rose/Getty Images

After David De Gea's faltering start, last season, Anders Lindegaard was given the opportunity he craved.
He made his Premier League debut on 1 October 2011 and kept a run of five clean sheets before Newcastle put three past him. On 30 January 2012, he damaged ankle ligaments and did not feature for the rest of the season.
Once De Gea returned, he displayed the form that Sir Alex had signed him for, and the Dane couldn't get a look in.
Lindegaard has been on tour with Ben Amos and Sam Johnstone. Amos is joining Hull City on loan, and Johnstone is very highly rated at Old Trafford; he will be third-choice keeper.
Sir Alex loves competition among his squad members; on recent form, Lindegaard has once again looked like a top international keeper.
To add another twist, De Gea will now return earlier than expected with Spain knocked out of the Olympics. They have one match left to play on 1 August, after which he will be released. Presumably, he will be allowed a short holiday but he may opt to join United's tour, in order to keep his place.
Eric Steele is in no doubt that there are potentially two No.1 keepers at Old Trafford now.
I think Lindegaard will be given his chance against Everton, if only to keep the pressure on young De Gea, who will surely be first choice at United for many years to come.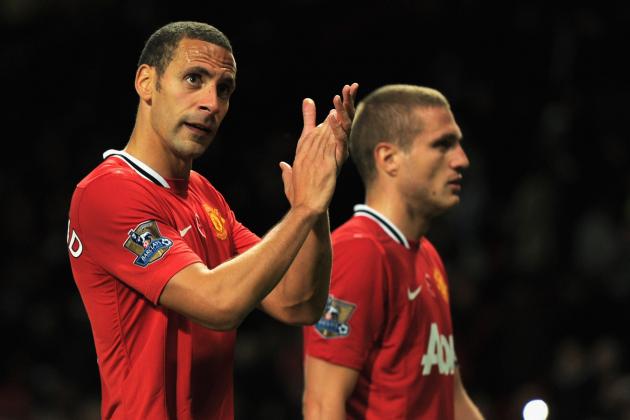 Michael Regan/Getty Images

It may be serendipity or design, but if Vidic is fit to start the season, with Smalling and Evans not yet ready and Ferdinand looking close to his best on tour, the "dream team" may be restored to their rightful place.
The club captain may be 30, and his sidekick 33, but try telling them they are getting old when Paolo Maldini retired from Milan and Serie A just before his 41st birthday.
With the likelihood of only three centre-backs fit and ready (including Phil Jones), plus youngsters like Scott Wootton, the first-choice pairing will surely be restored.
The wing backs pick themselves, even if Baines or Cole are signed. Patrice Evra is first-choice, and with Ferguson almost certainly allowing time for new recruits to settle in, last year's acting captain will start. After all, he has had little else to do since France's shock exit from Euro 2012 on 23 June.
At right back, there is the possibility that Phil Jones could start, with Rafael potentially only returning from the Olympics as late as 12 August. But the big Englishman will be needed for cover in the middle, and with the young Brazilian looking hot in the Olympic tournament, Sir Alex may risk starting him.
Starting lineup:
Rafael, Ferdinand, Vidic, Evra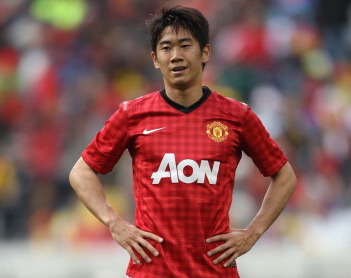 Gallo Images/Getty Images

From what we've seen so far, Shinji Kagawa could turn out to be one of Sir Alex Ferguson's most effective signings ever.
And he has given the manager the sort of headache he loves to have. Who to pick from the array of top class talent when all his stars are back?
Wayne Rooney is a certainty to be fitted in somewhere but an equally important question is what formation United will play.
At times in that fateful 4-4 draw, United were over-run in midfield. Fellaini was a handful on the deck and in the air, so Fergie will want height in the middle of the field as well as defence.
It may be no coincidence that Michael Carrick was played at centre back against Shanghai Shenwa, not just because there will be nervousness about Vidic's fitness for the Everton match. Carrick's height may be critical in midfield.
Sir Alex's dilemma meeting Everton this early will be whether to play United's traditional attacking style or be more pragmatic to start with.
There may be a key indicator from the tour and recent signings. The most common element has been pace. The young players given their chance on tour have been required to receive, pass and move at pace.
As well as Kagawa, if Lucas Moura were to be snatched, he also has terrific pace. It has also been of significance that United have played a highly fluid formation. This will fit the returning Rafael and can be accommodated partly because of the flexibility of players like Valencia and Young.
Kagawa fits into this mould. While not yet having Paul Scholes' long-range passing ability, every other aspect of his game reminds one of a young Scholes. Especially in China, he was seen picking up the ball in front of defence one minute and leading the line in the next.
Everton may well start with a 4-5-1 formation, with Jelavic leading the line and Fellaini at the heart of midfield. Sir Alex must resist the temptation to directly match up, but being away from home, he may go with a 4-3-3 that can adapt as necessary.
If he does, I expect Carrick to be in the middle of the park, flanked by Kagawa and Cleverley.
Even though Tom will be returning late to the squad, he has been running into form in the Olympics, and anyone who remembers his start last season will see the value of him being at his best. He is part of United's rich future.
Formation:
Cleverley, Carrick, Kagawa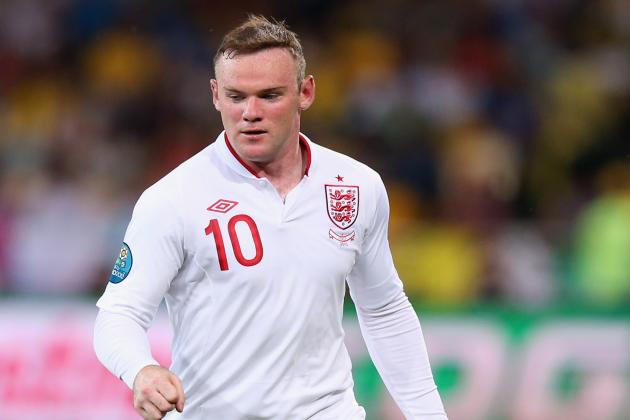 Alex Livesey/Getty Images

There are many questions still to be answered before the 18 August kickoff. Some of them affect United and other teams.
Dare Arsene Wenger risk leaving Van Persie's sale until the last minute, or even until January? And for that matter, is he coming to Old Trafford?
It may make common sense to neutrals for Van Persie to be moved on quickly, but for as long as there is a chance that he may go to one of Arsenal's rivals, there is every chance that, like Sami Nasri, he will be held up.
So this is the big dilemma in picking a starting lineup for the first match. Will Van Persie move to Old Trafford? There is no doubt in my mind that if he can get him, Sir Alex will do his darndest, not just to bolster United's title hopes, but to keep him out of the clutches of City.
However, given the likelihood of a late arrival, if at all, Sir Alex will probably go for the same personnel whatever happens.
Wayne Rooney had another disappointing major tournament and has something to prove to himself and his doubters. Last season, he didn't look fit early on. Apart from missing the first two England matches in the Euros, he seems to have been given a much longer holiday. He will be firing on all cylinders.
Sir Alex has to balance firepower with experience. Valencia and Young bring the advantage of being able to cover in defence, as indeed can Rooney.
With plenty of options on the bench to change things up or protect a winning margin, Sir Alex will want his team to go out and make an immediate attacking statement.
This would mean starting with the following three in attack (with Kagawa able to join in):
Valencia, Rooney, Young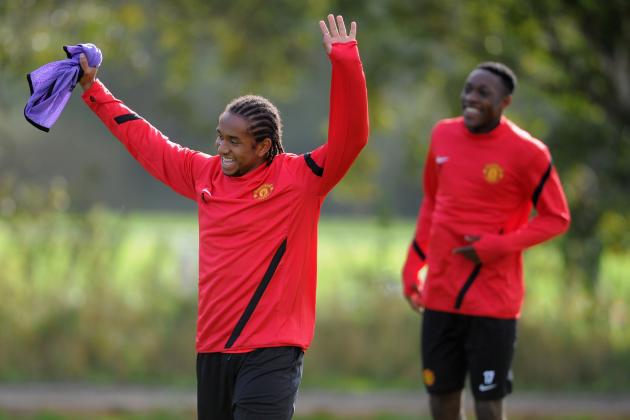 Michael Regan/Getty Images

Anderson's future at Old Trafford seems to depend more on last-minute signings than it does on his own form right now.
He looked poor in his first match on tour, but is recovering from the rust of a catastrophic couple of seasons both on and off the field. Following a sparkling start where he and Tom Cleverley appeared to be the emerging first choice central midfield, eventually, his knee injury problems wrecked his season.
He now says he is ready to justify the manager's faith. One way or another, he is now in the shop window as the preseason tour moves to Europe.
He can nail down a first team place if nobody else arrives, or he can attract interest from other top clubs who may recall when he was one of the hottest young midfield prospects on the planet. It would be a pity if he left in part exchange, even for Lucas Moura.
So the starting lineup for 20 August would seem to still depend on whether United make further signings. Even if they do, my instinct is that with likely late arrival, Sir Alex already knows what team he will start with and it is the bench that would be subject to change.
There are two scenarios, with or without these. Assuming the existing squad, my instinct is that Sir Alex will have little room for manoeuvre, going with these seven names:
De Gea, Jones, Blackett, Anderson or Scholes, Nani, Hernandez, Welbeck
If he signs Van Persie, Moura and Baines, the starting lineup would be unchanged, but the bench could be:
De Gea, Jones, Baines, Nani, Moura, Van Persie, Welbeck...mouthwatering...
So there is the spin of the roulette wheel at this stage where so much is to be decided.
What would be your first-choice team and substitutes to hit the ground running on 20 August against Everton?