Boise State Football: 5 Broncos to Watch at Fall Camp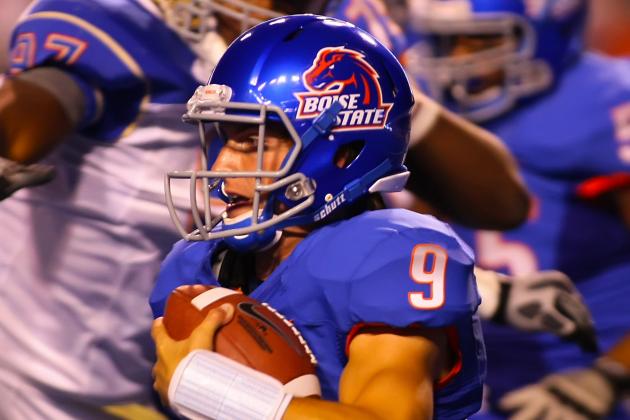 Brian Losness-US PRESSWIRE

It's that time of year once again! Yes, college football crazies, fall camp is starting. This means for the truly devoted fan, the season is officially underway. Now, for the average everyday fan the season doesn't start until the first kickoff, but we won't hold that against them.
This year, as camp begins, Boise State has one of the biggest tasks in the FBS when it comes to replacing last year's seniors. The Broncos must find a way to rebuild some of its offense and most of its defense from last year's impressive squad.
In total 15 positions will have new starters for BSU in 2012. However, with 25 seniors on this year's squad there are certainly a lot of veterans who have been around the program long enough to keep the ball rolling. Not only that, but Coach Petersen is still at the helm and you have to believe he has a few things up his sleeve as Boise State looks to continue its success.
With that in mind, let's look at a list of five players that may be part of Coach Pete's overall scheme. Five players who could have an impact on the season, and five players to watch as the fall camp rolls on.
Begin Slideshow

»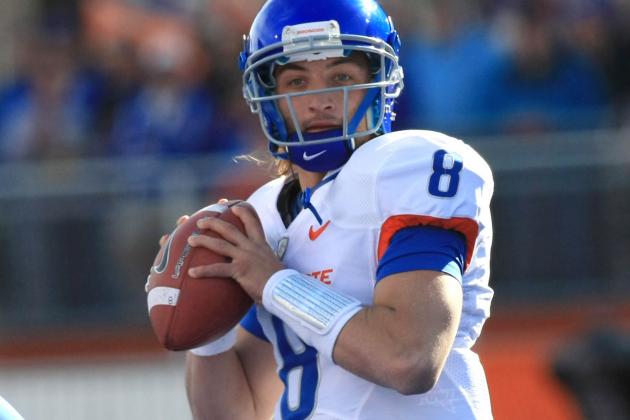 Brian Losness-US PRESSWIRE

This one is a no-brainer. A large number of fans have been talking about Nick Patti since before he showed up early in January to compete for the starting quarterback job.
However, Joe Southwick, Grant Hedrick and Jimmy Laughrea aren't likely to roll over for the youngster and let him swoop in as a true freshman and take the job.
Spring camp was intense and the quarterback competition was impressive. Laughrea showed off his powerful arm and Hedrick displayed his athleticism and diversity. Both of these guys had impressive camps, but it was Patti and Southwick that stole the show in the spring game.
Southwick looked like he has a solid command of the offense, and looked like a veteran. However, that was at home with a friendly crowd. Things change when it is East Lansing and 75,000 plus fans are shouting against you. Still, he is the most veteran of the four quarterback hopefuls and looked the part in the spring.
Patti however, may not have looked like the most veteran of the bunch, but he didn't look like a rookie either. It was pretty impressive how much of the offense Patti was able to grasp in such a short period of time, and his athletic ability was noticeable.
Patti threw a touchdown pass in the spring game, and it was clear by the end of the game that he had the potential to be something special.
It will be interesting to see how he handles the fall camp. Most people are banking that Southwick wins the job. However, it probably isn't wise to count out Patti just yet.
If nothing else, Nick Patti will help to elevate the quarterback competition for the Broncos and that fact alone helps the team.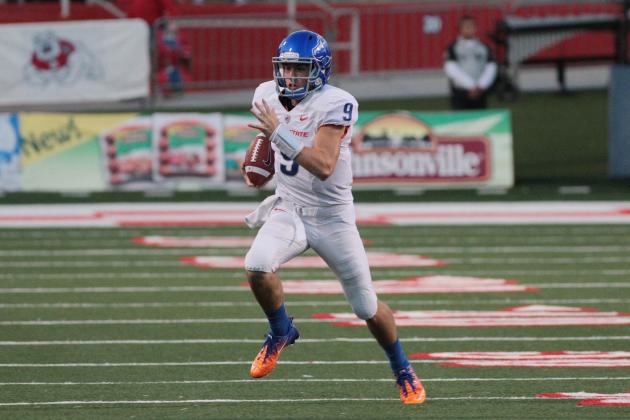 Cary Edmondson-US PRESSWIRE

Another quarterback on the list? Yes, Grant Hedrick, and the reason he makes the list is that he is a very versatile player. Hedrick is not only a good quarterback but he could probably play a number of positions on the field if needed.
It is for this reason that he will be interesting to watch as the fall camp begins. With so much talent fighting for playing time at the quarterback spot don't be surprised if an excellent athlete like Hedrick ends up doing other things.
You can of course expect the usual wild cat contributions that Hedrick has been known for in the past. But, you might see that kind of role expanded. One interesting thing to note is that Hedrick is a lot like a running back who plays quarterback.
As a senior quarterback in high school Hedrick threw for over 2,500 yards with 34 touchdowns. However, he also rushed for over 1,500 yards and 17 touchdowns that same season, and as a junior rushed for over 1,200 yards and another 13 scores. At 6'0", 191 lbs., Hedrick is built like a running back, and certainly has the speed to boot.
Will Petersen get creative with Hedrick? He has in the past, but it will be interesting to see how far he takes it this year.
From one potential running back to one potentially excellent running back. Jay Ajayi came to Boise with high hopes and fans were excited. Ajayi came to Boise in 2011 out of Plano, Texas. However, his short career at BSU has been anything but plano.
In 2011 Ajayi had a season-ending knee injury. With Doug Martin and D.J. Harper around, it wasn't as painful of a loss for the Broncos. However, Ajayi then decided compound his freshman issues with a shoplifting event that ended up landing him five days in jail.
That event, along with the injury looked like the end of a career before it ever started. However, the young running back out of Texas was given a second chance by coach Petersen. All of Bronco Nation is hoping that he makes the most of it.
As far as being a good running back, there is no question Ajayi has all the right stuff. In high school he was more than impressive, and if you watch his game film you will certainly agree. This season the Broncos need Jay Ajayi far more than they did last year.
Ajayi will be one to watch as fall camp ensues. If he is healthy and able to play to his potential, the Broncos could have a surprise weapon going into the season opener at Michigan State. As it stands now, BSU is very thin at running back, and could use his help.
If Ajayi is able to step up, it could help BSU take some pressure off of D.J. Harper and whoever wins the starting quarterback job.
Dillon Lukehart is a name many local Boise State fans will know. Lukehart was a very impressive standout from Eagle High School in Eagle, Idaho.
In high school Lukehart was a first-team all-state running back and defensive back in 2010 as a senior. Last year, as a redshirt, he was named the Boise State Special Teams Scout Player of the Year.
Lukehart is currently listed as a safety on the Boise State roster, and it will be interesting to see him in that role. However, it is on special teams that he will probably make his impact in 2012.
If you have seen him play, or at the very least watched some of his game film, you know he is athletic, fairly fast, strong and knows how to hit. Look for him to be a fearless force among the special teams squad in 2012.
Special teams is always fun to watch, and Dillon Lukehart should make it even more fun this season.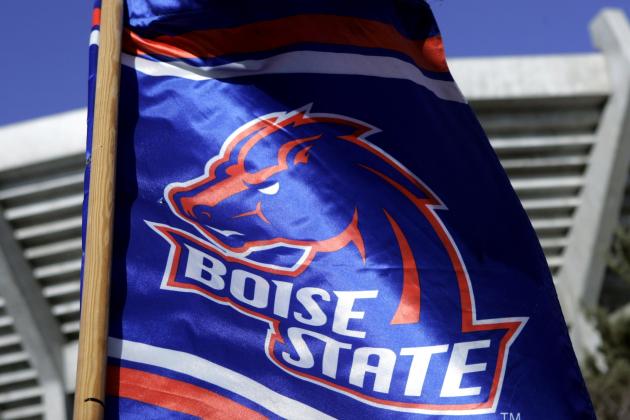 Brian Losness-US PRESSWIRE

He may not be the typical size for the position, but keep you eye on redshirt freshman defensive end Sam Ukwuachu this fall. He looked very good this spring and capped it off with a very impressive spring game.
At 6'4", 218 lbs., he looks more like a basketball player than a defensive end. However, he just makes it happen. As you watch this guy play you realize that the one thing you will never see on a roster is heart size.
If you could measure heart, Ukwuachu would be off the charts. Look for him to contribute this fall and right on in to the season. With the Broncos thin at the defensive end spot and rebuilding much of their defense, he will get more than an opportunity to prove he belongs.
It should be a breakout year for Ukwuachu, and it should only be the beginning of a very good career.