Alabama Football: Ranking Nick Saban's Biggest Enemies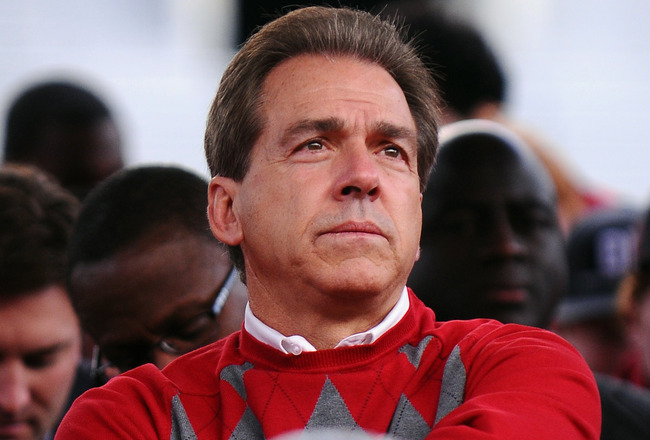 Kelly Lambert-US PRESSWIRE
Alabama head coach Nick Saban has picked up plenty of enemies during his coaching career. The ranks include fans, coaches, members of the media and all-around haters.
The only danger these enemies pose is on the field, but they do their best to cause damage to Saban's goals off the field as well, always to no avail.
Here are five people who would like to watch the world burn just to see Saban go along with it.
Daniel Tosh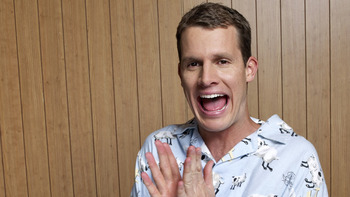 This tasteless fellow has his own television show on Comedy Central (the unofficial mascot of modern American culture) called tosh.0.
Tosh is a fanatical Miami Dolphins fan and has harbored a deep hatred for Nick Saban since he skipped town on the Dolphins to become Alabama's head coach.
He now despises Alabama and Nick Saban in equal measure, and even made some tasteless comments about the April 2011 tornadoes that decimated the state and Tuscaloosa.
Sure, he made a request for donations through the Red Cross, but you can bet that was a requirement by his producers.
Tosh hates Nick Saban, but he can do little beyond making snide comments.
Gene Chizik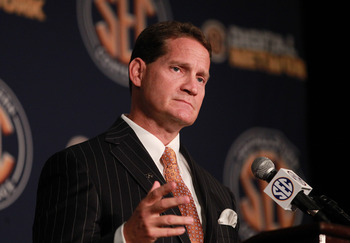 Marvin Gentry-US PRESSWIRE
Gene Chizik is Auburn's head coach, so that right there makes him an enemy of Nick Saban.
The Tide and Tigers only face each other once a year on the field, but the rivalry is year-round.
The merchandising battle is never-ending in the state of Alabama. You can't go to any Walmart in the state without seeing Alabama and Auburn paraphernalia over the clothing/houseware/toy sections. It's how the schools pay their coaches.
The real battle is in recruiting, and Chizik is Saban's archrival in the recruiting game. He nearly rivals Saban in the recruiting game, whether Alabama fans want to admit it or not.
The proof is in the pudding, and at the moment that pudding is named Reuben Foster.
Steve Spurrier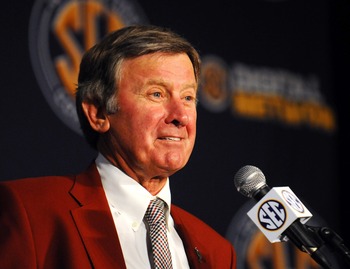 Kelly Lambert
Steve Spurrier is a future Hall of Fame coach, and he is very deserving of the honors. His illustrious career has few flaws, so why does he hate Nick Saban?
Because Nick Saban is better in every aspect.
Even though Saban is 1-3 against Spurrier, he has outclassed him in every other aspect of the sport, especially in recruiting and national championships.
Spurrier has often taken jabs at Saban but this one really stands out:
He's got a nice little gig going, a little bit like John Calipari. He tells guys, 'Hey, three years from now, you're going to be a first-round pick and go.' If he wants to be the greatest coach or one of the greatest coaches in college football, to me, he has to go somewhere besides Alabama and win, because they've always won there at Alabama.
It was pretty bold of Spurrier to suggest that Saban couldn't win elsewhere. All he did was win at Michigan State and LSU, who were both mid- to bottom-level programs in the conferences when Saban arrived.
Jim Delany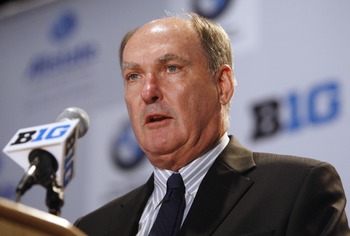 Jerry Lai-US PRESSWIRE
Fans of the Big Ten cling to the illusion that it is the best and toughest conference in the land, and they will do anything to discredit the SEC.
None of them can/will go to the lengths that Big Ten commissioner Jim Delany has.
Though he was not specific, one can infer this quote was referencing Alabama:
I don't have a lot of regard for that team. I certainly wouldn't have as much regard for that team as I would for someone who played nine conference games in a tough conference and played a couple out-of-conference games on the road against really good opponents. If a poll doesn't honor those teams and their conference champions, I do.
It can be inferred that he is suggesting that non-conference champions have no place in title games, even though there were clearly no better teams in the nation than Alabama and LSU in 2011.
Delany knows that the Big Ten is going to have trouble getting to the national championship. Even when three teams went 11-1 in 2010, they couldn't pull it off.
He will do everything he can to thwart any plan that may benefit the superiority of the SEC, and Nick Saban is the poster child of SEC superiority at the moment.
Les Miles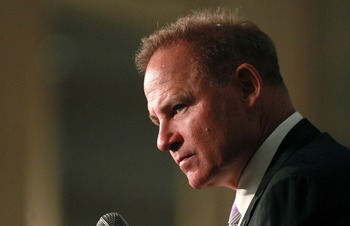 Marvin Gentry-US PRESSWIRE
Nick Saban was considered the best coach in college football for a while until Les Miles beat him twice in a row, both at home and on the road.
Miles was poised to become the best coach in the game until he completely floundered on Jan. 9, 2012.
After the debacle in New Orleans, Miles has had to defer those honors to Nick Saban.
Miles may not be the best coach in the nation, but he is still one of the best, and he fields powerful teams every year.
Saban has to go through Miles every season, and it will be the toughest contest of the year for both teams for the next several seasons.
As stated before, little to nothing can be done to Nick Saban's goals off the field. On-field actions are what can hurt Saban, and Les Miles is the most dangerous.
Keep Reading

Alabama Crimson Tide Football: Like this team?