Olympic Men's Gymnastics 2012 Monday Results: Live Scores, Highlights & More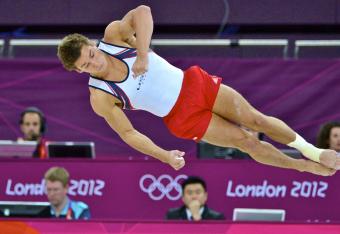 The final tally in Monday's men's team gymnastics final was fairly by the book—China first, Japan second, Great Britain third—but the path taken to get there was anything but.
We start in the sixth and final rotation.
With China firmly ensconced in first place, Japan, Great Britain and Ukraine waged a fierce battle for the final two podium spots.
When Japan's Kohei Uchimura came flying off the pommel horse routine, it appeared as though Britain had won silver, Ukraine had taken bronze and that the Japanese, a pre-event co-favorite, would leave empty handed.
Not so fast.
Japan appealed Uchimura's score and was awarded an upgrade that bumped the team into second place.
The Brits settled for bronze—still a breakthrough result for the long-dormant men's gymnastics program, but a bitter pill nonetheless.
And that was just the sixth rotation.
If Tuesday's women's final is anything like Monday, we're in for a treat.
Which reminds me: Join B/R for more live gymnastics coverage on Tuesday and throughout the rest of the Olympic competition.
Until then, sleep well and happy tumbling.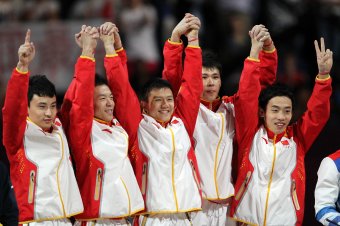 Streeter Lecka/Getty Images
The final results table on a day filled with histrionics, controversy and, for Team USA, utter disappointment.
China - 275.997
Japan - 271.952
Great Britain - 271.711
Ukraine - 271.526
United States - 269.952
Russia - 269.603
Germany - 268.019
France - 265.441
The big headlines:
- Team GB wins bronze, its first medal in the team competition since 1912;
- Japan takes silver, but only after a retroactive appeal upgraded its final routine and moved the team past Ukraine and Great Britain;
- China wins its second consecutive Olympic title and sixth consecutive major international championship;
- The Americans, who qualified with the highest score, end on a low note, dropping out of medal contention early and finishing fifth.
Chariots of Fire theme playing during medal ceremony...
An homage to Olympic controversy, perhaps?
Oh and in case you forgot amidst the drama, Japan was without one of its best all-arounders for the final four rotations. Blythe Lawrence of the Gym Examiner chimes in...
Koji Yamamuro hopping around the floor mat on one foot shaking hands with everyone and grinning as the team comes... fb.me/1xtnPv18S

— Blythe Lawrence (@GymExaminer) July 30, 2012
No boos or jeers as Japan accepts its silver, but applause doesn't get any more tepid.
Team GB accepts its bronze medals.
Thunderous applause as expected.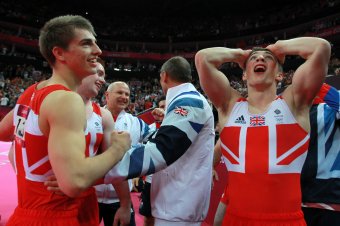 Ronald Martinez/Getty Images
If you're just tuning in:
We've seen heaps of drama today in the men's team gymnastics final.
Heading into the final rotation, China held first by a comfortable margin, Japan looked secure in second and the hometown Brits were in a battle with Team Ukraine for bronze.
Then, madness.
Japan collapse on pommel horse, punctuated by a stunning fall from all-around guru Kohei Uchimura.
Team GB and Ukraine nailed their routines on floor and rings respectively.
The capacity crowd went bezerk when the final table read:
China (1)
Great Britain (2)
Ukraine (3)
Japan (4)
Amidst the pandemonium, the Japanese issued an appeal on Uchimura's routine.
The judges accepted Japan's inquiry and the change bumped Japan into silver-medal position.
Team GB dropped to third. Ukraine was (and still is) off the podium.
Japan, the pre-event favorite, saves some face with a silver. Britain gets its first team gymnastics medal since 1912.
Expect tons of ink spilled over this wild finish in the days ahead.
Medal ceremony to come...
It'll be interesting to see how Team Japan is received. Great Britain, I expect, will get a raucous applause. The Brits did everything in their power today and should walk away proud.
Bronze is a fantastic result for a program with little Olympic pedigree to speak of.
There is little-to-no celebration from the Japanese.
They look relieved to have survived an embarrassment, but nothing further.
Not seeing a lot of happy faces after this ruling. We'll have to wait and see what exactly Team Japan protested and why it was awarded the upgrade.
The focus seems to be on Uchimura's dismount, but that's not official.
Interesting side note: Uchimura was the subject of a similar protest at Worlds and had a routine upgraded retroactively after a protest from his coach.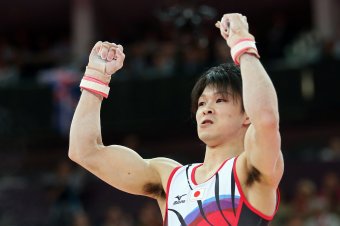 Ronald Martinez/Getty Images
Japan wins silver...
Uchimura's routine has been upgraded to a 14.166 and Japan finishes with a 271.952...0.241 points ahead of Team GB.

Jaws have hit the floor all over Great Britain.
Team GB gets bronze.
That would have been a wonderful result for them at the outset, but it sure feels hollow now.
Jeers raining down from the rafters.
Ukraine goes home medal-less.
David Bowie's "Heroes" blares over the arena sound system.
Question is: Are the Brits silver-medal heroes or something lesser?
The official inquiry has not yet been resolved.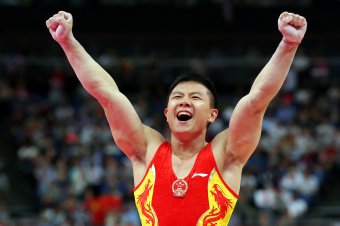 Streeter Lecka/Getty Images
Even with Team USA's rotten showing, this was some day at North Greenwich Arena.
Britain rode the crowd through a stirring final rotation and it's carried them to a medal (silver or bronze, we're not sure which). This could a "Magnificent Seven," paradigm-shifting kind of moment for British gymnastics.
Has gymnastics ever been bigger on the "sle of Wonder?
Ukraine came from deep within the pack to (potentially) steal a place on the podium.
China proved once again that it is the king of this sport and masters of the big moment.
The team final as it stands now:
China - 275.997
Great Britain - 271.711
Ukraine - 271.526
Japan - 271.252
An upgrade in Uchimura's routine could put Japan in silver-medal position.
There seems to be some sort of official review in progress regarding Uchimura's routine on pommel horse.
Hang with us. Japan may medal yet.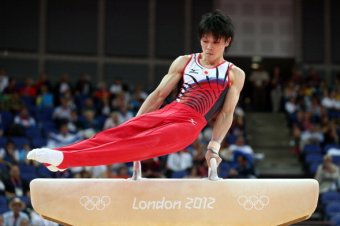 Ronald Martinez/Getty Images
The arena is in hysterics.
Most amazing of all, it was a massive mistake by Uchimura that doomed Japan. It looked like the Japanese were hell bent on trying to catch the Chinese instead of simply securing silver.
The ambition backfired and just like that, the Japanese, a popular betting favorite, will not win an Olympic medal.
Britain wins its first team gymnastics medal since 1912.
China gets gold.
Ukraine takes bronze.
JAPAN IS OUT!
NO MEDAL FOR THE JAPANESE!
Britain takes silver. Ukraine gets bronze.
Absolutely stunning.
MORE BRITISH MAGIC!
Kristian Thomas lands a 15.433.
Doing some quick math to see what Ukraine needs for Bronze. Bear with me.
Uchimura falters big time on horse. Not sure if their silver is lock safe anymore with Britain and Ukraine charging so hard.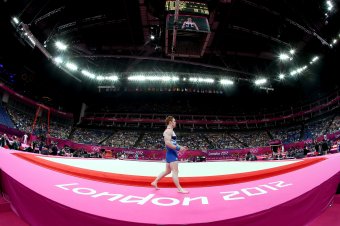 Ronald Martinez/Getty Images
This is shaping up as a fantastic duel for bronze...
The Brits are channeling every bit of home crowd oomph, but the Ukrainians refuse to yield.
Their second athlete posts a 15.433.
Hold on to your singlet, folks.
It's a 15.533 for Purvis!
A massive score for Team GB. Ukraine now squarely in the crosshairs on rings.
Team GB all-around talent Daniel Purvis throws down a fantastic floor routine...
Awaiting the score.
Team GB's Max Whitlock puts up a solid 15.166 on floor.
Ukraine returns fire with a fantastic 15.033 on rings.
Britain will need better to make up the bronze-medal gap.
Japan falls off the horse.
Let the celebration begin in Beijing. China, your new (and old) Olympic gymnastics champions.
Russia's final gymnast, Emin Garibov, scores a 15.600 on high bar.
That puts them 43.776 ahead of Ukraine. The Russians would need both Ukraine and Team GB to collapse in order to claim bronze.
Mike Hewitt/Getty Images
China sticks all three of its pommel horse routines.
Barring the spectacular from Japan, China is your Olympic champion.
Team GB and Ukraine are both going second on their respective apparatuses.
Russia is up first on high bar.
The Russians start off with a 14.833 and a 14.600.
Rough estimate: They'll need something in the range of a high 15 to have a shot at bronze.
China and Japan heading to pommel horse.
The Chinese need only avoid a major fall. If they can manage that, they'll win a second consecutive Olympic gold.
This article is
What is the duplicate article?
Why is this article offensive?
Where is this article plagiarized from?
Why is this article poorly edited?