Carolina Panthers: Under-the-Radar Players Ready to Break Out in 2012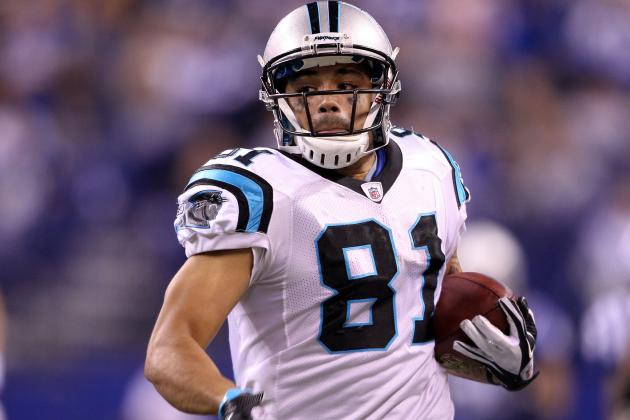 Andy Lyons/Getty Images

There is a lot of optimism surrounding the Carolina Panthers organization going into the 2012 season. Expectations are high and star players like Cam Newton and Steve Smith are predicted to shine again in Ron Rivera's second year as head coach. However, there are a few players out of the spotlight who could very well make a name for themselves this year. These players have shown the promise and potential of doing great things and are waiting to break out with a Pro Bowl kind of season.
In no particular order, here are six under-the-radar players ready to breakout in 2012. These are individuals who have either had big expectations from the organization and fanbase, or haven't yet reached their full potential on the gridiron.
Begin Slideshow

»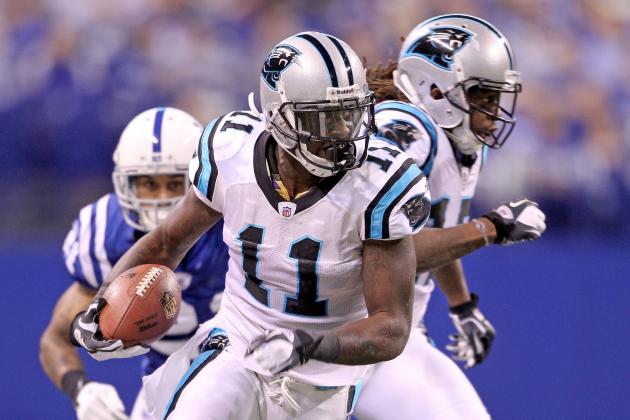 Andy Lyons/Getty Images

LaFell looks to make a strong case as the No. 2 wideout in Carolina's offense. He has shown promise in his two years with the team and could very well be the possession receiver the Panthers have been lacking since Muhsin Muhammad was reeling in passes.
Inside the numbers: LaFell has appeared in 30 games, having started in seven of them. Last season he caught 36 passes for 613 yards, a big leap from the 468 yards he recorded in 2010. Furthermore, LaFell established a career long 91-yard reception which resulted in a touchdown.
Bottom Line: When a team has a quality quarterback on the field, he has the ability to make everyone around him better. LaFell proved this last year by doing more with Cam Newton as the field general.
LaFell looks to to be the early favorite for the second wide receiver spot heading into camp. He has the potential to put up some big numbers this year, and could help carry the Panthers to a winning season.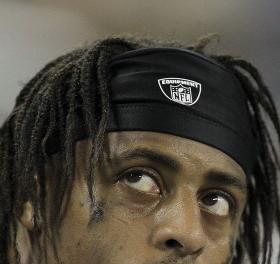 Leon Halip/Getty Images

Hardy has left many fans disappointed since showing signs of promise during the 2011 season. The "Kraken" has started 16 games in his career and should be the clear favorite for the second defensive end position, but he needs to be able to step up and make the big play.
Inside the numbers: Hardy recorded four sacks and 38 tackles last season. While these numbers are an improvement, more was expected of him as the full-time starter. Hardy is said to have bulked up tremendously this offseason, which could prove to be problematic for opposing guards and tackles assigned to keep him at bay.
Bottom Line: If the defense is healthy and the interior of the line remains solid, Hardy could produce the best season of his young career. A lot of teams are still focusing on Charles Johnson by using double teams, but Hardy's ability to rush the passer could exploit that strategy and disrupt many plays in the backfield.
This will be a crucial year for Hardy to make a name for himself; otherwise, he could find his role with the defense drastically changed.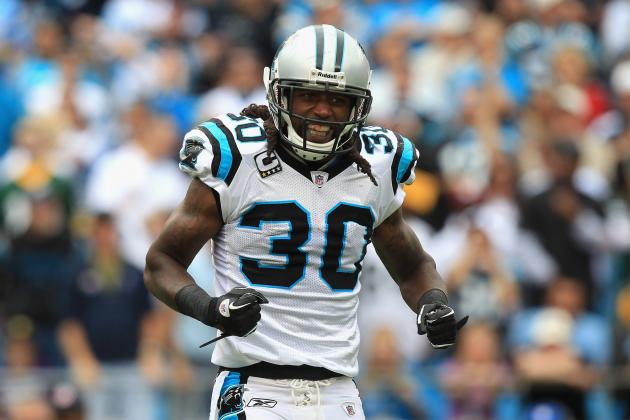 Streeter Lecka/Getty Images

One of the few bright spots of a dismal 2010 season was met with disappointment as Godfrey seemed to regress in 2011. Due to his lack of presence in the secondary, opponents seemed to have no problem passing the ball against the Panthers. Despite a decline in tackles and interceptions, Godfrey still has promise to solidify himself as a good safety in the league.
Inside the numbers: While Godfrey's 2011 production was less than the previous year, his numbers were not drastically reduced. He recorded seven fewer tackles in 2011 (from 69 to 62) and had three less interceptions (from five to two). Many critics dismiss his 2010 interceptions as being in the right place at the right time and too much was expected of him going into 2011.
The return of a healthy defense should aid in the resurgence of his defensive stats and improve the low-pass defensive ranking Carolina had last year.
Bottom Line: Godfrey will have to earn his spot at the safety position due to the addition of free-agents Haruki Nakamura and Reggie Smith, who are both ready to take on a starting role. Godfrey will have the advantage of being experienced in Sean McDermott's system and should be motivated to improve. HE may not grab many headlines even if he does have a breakout year, but his level of play in 2012 could determine his future in Carolina.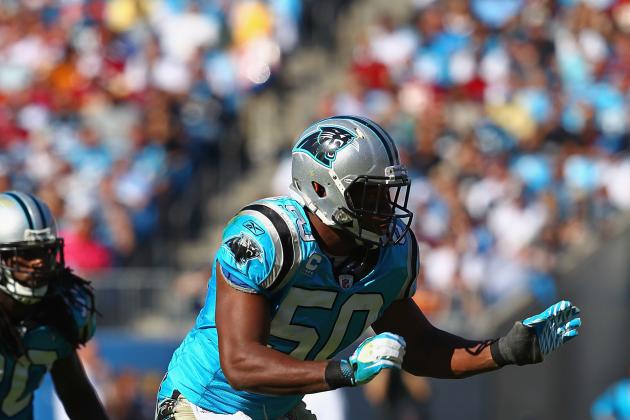 Dilip Vishwanat/Getty Images

What happens when a defensive playmaker is lost for the season? That was a question presented to Anderson last year, who answered it by having the best season of his career. Anderson tallied 98 solo tackles and 46 assisted to make up for the losses of Jon Beason and Thomas Davis.
Anderson's been a solid fit at the outside linebacker position, but rarely gets any recognition. He has provided the Panthers with a durable and reliable fixture in the defense for the past two seasons.
Inside the numbers: Anderson recorded the same amount of solo tackles in both 2010 and '11, but had 18 more assisted tackles in 2011. He had two fewer sacks (1.5) last year, but three more passes defensed. One has to wonder what kind of defensive numbers he can put up with a stronger and healthier linebacker unit working alongside him. Even if his production is repeated in 2012, his contributions should get him noticed, especially if the defense proves to be stout.
Bottom Line: Anderson is not recognized as often as he should be, but when playing on a team that has the likes of Beason and Davis lined up in the middle of the defense, one can understand why.
The addition of rookie Luke Kuechly will be a welcome addition, and if Davis returns from his ACL injury, this group should be very effective on each down. Look for Anderson to be a major contributor this year as Beason and Davis come back from their respective injuries.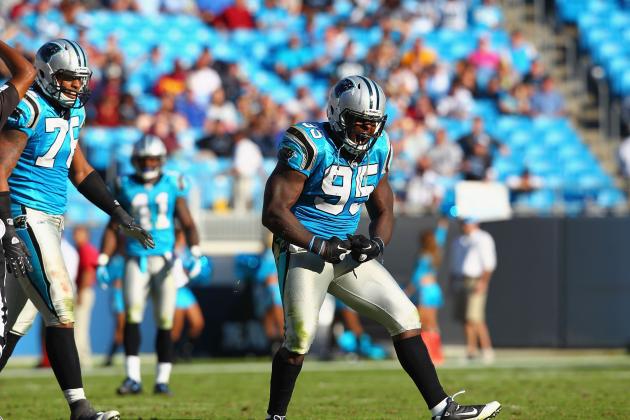 Dilip Vishwanat/Getty Images

Johnson had a great year in 2010, logging 11.5 sacks, but was met with constant double teams in 2011 and his production dropped considerably. There is no denying the talent Johnson has and he seems to be the ideal player to fill the hole left by Julius Peppers. Though he disappointed last season, it didn't help his cause that the interior of the defensive line was plagued by injuries.
Inside the numbers: As noted above, his production dropped. While he produced 9.0 sacks last year, his overall tackles dropped from 62 to 41. Needless to say, any kind of pass rush was nearly non-existent. Johnson is a veteran and has 36 starts under his belt, so he understands what is needed of him in order to be successful. Both Rivera and McDermott expect him to beat his man off the line and get extra pressure on the opposing quarterback.
Bottom Line: As with any other defensive player listed here, the health and productivity of the defense will help make Johnson's job a little easier. If Hardy can draw attention to himself and the interior of the line is improved, he should put up the same kind of numbers that rival the league's sack leaders. It shouldn't be any surprise to anyone if he is among the elite at his position at season's end.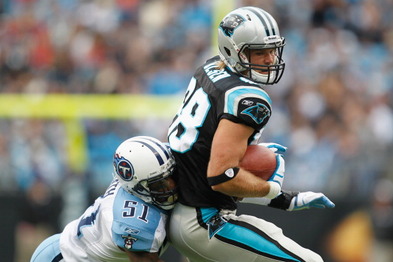 Streeter Lecka/Getty Images

Greg Olsen was brought in from Chicago, many thought he would have a huge season. If anything, it would be due to his ability to serve as a security blanket to rookie Cam Newton. What many people didn't expect was the addition of Jeremy Shockey and the two split targets. In the end, Olsen's numbers were no different than any season he experienced with the Bears.
Inside the numbers: Olsen has appeared in 78 career games and averages 48 receptions and 504 yards each year. Typically, he is good for five touchdowns. Entering the new season, Olsen is the clear cut No. 1 tight end and many feel his production should increase. However, he needs to make the catches and take advantage of an offense that is designed for a player like him to be a legitimate threat.
Bottom Line: He won't put up the kind of numbers that allowed Rob Gronkowski and Jimmy Graham to make national headlines a year before, but he does have the potential to make life difficult for opposing defenses. If he can capitalize on his targets towards the end zone, he may earn himself a spot in the Pro Bowl.