NBA Free Agency 2013: Predicting Where Next Year's Top Free Agents Will Land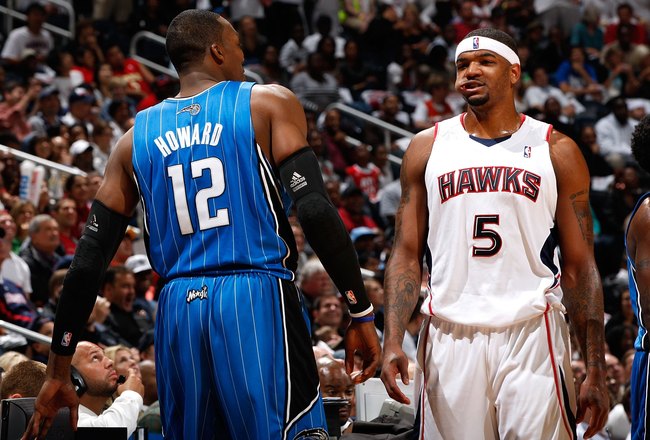 Kevin C. Cox/Getty Images
If you thought the 2012 class of NBA free agents were unpredictable and game-changing, you haven't seen a thing.
Once the 2013 offseason rolls around, more than 10 franchise players will become free agents. From the superstars to the faces of quality franchises, there will be no shortage of talent to pursue. Throw in a few young rising stars, and you've got yourself as eventful an offseason as we've ever seen.
The question is: Which players will sign where?
For that answer and more, the following slides will offer all of the insight you could possibly need. From player profiles to reasoning for each star's relocation or re-signing, these words of wisdom will do nothing short of setting up a league-altering offseason.
Honorable Mention: David West, UFA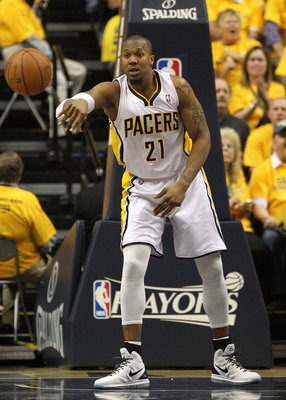 Jonathan Daniel/Getty Images
Position: Power forward
Age: 31
Experience: Nine seasons
During the 2012 NBA regular season, David West averaged 12.8 points, 6.6 rebounds and 2.1 assists. While those numbers seem respectable, West was paid $20 million over two years to duplicate his averages of 18.9 points and 7.5 rebounds from 2011.
He began to do this during the postseason, as he posted averages of 15.3 points, 8.5 rebounds and two assists.
Should West be able to build on that postseason success, the Indiana Pacers could look to bring him back. With West entering his 10th year in the league and hitting 32 at the end of August, however, the likelihood of Indiana bringing him back takes a significant hit.
The former Xavier Musketeer is bound to find a new home.
Coincidentally, there's a team filled with crafty veterans that could use a low-post scoring presence at the 4. That team, of course, is the San Antonio Spurs.
David West would complement Tim Duncan well, as he rebounds well, passes efficiently and is more than capable of putting up 20 points when on his game.
He'd also work the pick-and-roll to perfection with Tony Parker. Don't expect the Spurs to overlook that fact as they sign the not-so-expensive but super efficient David West.
Predicted Destination: San Antonio Spurs
20. Kevin Martin, UFA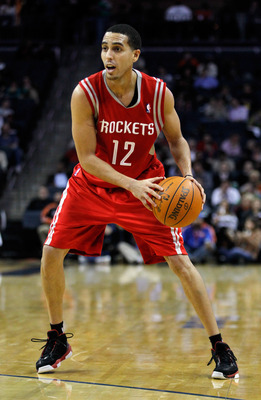 Streeter Lecka/Getty Images
Position: Shooting guard
Age: 29
Experience: Eight seasons
When Kevin Martin is ranked No. 20, you know this class is stacked.
There are more than a handful of options for Kevin Martin as he looks to find a new home. What is certain, however, is that he will not be returning to Houston.
For those unfamiliar with Kevin Martin, get familiar. He's one of the best scorers in the NBA and can fill up a stat sheet in a variety of ways. While his defense is weak at best, he's just as able to go off for 30 points in a game as any other player in the league.
His average of at least 20 points in six of the past eight seasons is evidence of such.
As for where Kevin Martin will end up, a likely destination is a franchise that will have as active an offseason as any: the Orlando Magic.
Dwight Howard is set to become a free agent, and Hedo Turkoglu has an early termination option. With two hefty contracts set to either expire or be traded, this opens the door for the Orlando Magic to stock up in the draft and look to add some crafty veterans.
While Kevin Martin would likely prefer a contender, he'd be in a comfortable position to start in Orlando. He'd also have an outside chance at teaming with Dwight Howard and competing for an NBA championship right off the bat.
Predicted Destination: Orlando Magic
19. Jose Calderon, UFA
Jonathan Daniel/Getty Images
Position: Point guard
Age: 30
Experience: Seven seasons
The Dallas Mavericks are set to lose several key assets to free agency, including point guards Darren Collison, Delonte West and Rodrigue Beaubois. To recover from such woes, expect the Dallas Mavericks to land one of the most consistent facilitators in the game today.
Jose Calderon has averaged at least eight assists per game in four of the past five seasons, and he has done so with a weak Toronto Raptors unit. Should the Mavericks place him alongside a weapon such as Dirk Nowitzki, the results would improve accordingly.
What's also important to note about Calderon is that he's a career 38.1 percent shooter from distance. This breeds thoughts of Jason Kidd, who offered the Mavericks the same tools of elite facilitating and solid three-point shooting.
The difference is Calderon is much younger but also a far inferior defender—a risk Dallas would be willing to take.
Predicted Result: Dallas Mavericks
18. Tyreke Evans, RFA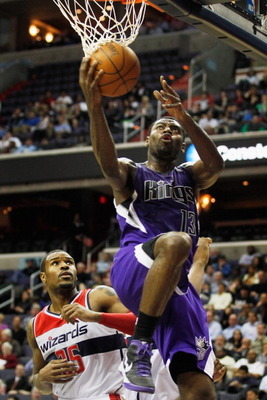 Rob Carr/Getty Images
Position: Guard
Age: 22
Experience: Three years
Tyreke Evans burst onto the scene with first-year averages of 20.3 points, 5.8 assists and 5.3 rebounds per game. As a result, he won the 2010 Rookie of the Year award and became the league-wide selection for the star of tomorrow.
Unfortunately, Evans has seen his averages decrease across the board in each of the past two seasons. This is a direct result of the fact that he's been playing without both a mentor and a defined position.
Chances are a change of scenery will cure Evans' woes. Sacramento has long been a place that tarnishes talent. The main reason is their decision to either go with a roster filled with players in their prime and no youth to develop or young players with no mentors to guide them.
In a change of scenery, Evans would find himself in Atlanta.
With Dwight Howard on the radar and Josh Smith poised to re-sign, the Atlanta Hawks will look to complete their Big Three. By Big Three, of course, we mean to say Big Four, as Al Horford pops in for a double-double whenever you forget his name.
With a majority of the superstars choosing other teams and John Jenkins entering just his second year in the league, Tyreke Evans becomes an obvious choice. He's an elite prospect whose do-it-all abilities and phenomenal athleticism would fit perfectly on the Hawks roster.
With a history of love for combo guards and Jeff Teague becoming a free agent, this signing becomes all the more likely.
Predicted Destination: Atlanta Hawks
17. Jrue Holiday, RFA
Drew Hallowell/Getty Images
Position: Point guard
Age: 22
Experience: Three seasons
Jrue Holiday infamously stated that he wants a max contract from the Philadelphia 76ers, according to a tweet by Marc J. Spears of Yahoo! Sports. This comes on the heels of an underwhelming 2012 campaign in which Holiday averaged 13.5 points, 4.5 assists and 3.3 rebounds on a weak 43.2 percent shooting from the floor.
Hardly numbers that would lead to a franchise even considering slapping a player with a max contract.
Considering Holiday is just 22 years old and has already played in three postseason series, however, the deal isn't that outrageous. The 76ers selected the UCLA alum with their first-round draft choice in 2009 and rid themselves of Lou Williams in a possible attempt to give Holiday more responsibility on the court.
This is something to which Holiday should respond well.
Holiday is a potentially elite perimeter defender due to his combination of size, athleticism and active hands. He came up with 1.6 steals per game in 2012 and has improved mightily in terms of his footwork.
It will take a monster season to deserve the deal. Whether he receives it or not, though, the Philadelphia 76ers will hold onto their franchise point guard by any means necessary—a strategy supported by the fact that Holiday is a restricted free agent.
Predicted Destination: Philadelphia 76ers
16. O.J. Mayo, Player Option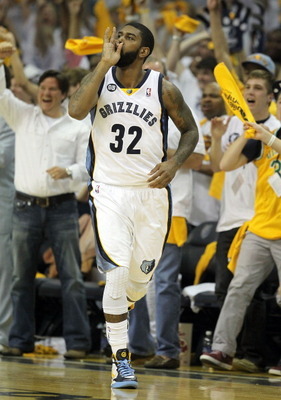 Andy Lyons/Getty Images
Position: Shooting guard
Age: 24
Experience: Four seasons
O.J. Mayo has found a new home in Dallas and has already been penciled in as the team's starter. With a star-studded offseason coming in 2013, you can bet that he'll be looking to hold onto that job and compete for a title with the Mavericks' new acquisitions.
As for those concerned with Dallas' desire, or lack thereof, to retain Mayo, note that he has a player option for the 2014 season. That means that he has the right to remain with the Mavericks or sign elsewhere, which presents a favorable situation for Mayo's future in Dallas.
The only way he'd opt out would be if he believed he could receive more money elsewhere from a team who is also competing. Should Mayo's production in 2013 be worth the money, it should be Dallas who rewards him royally.
One way or another, O.J. Mayo is remaining with the Dallas Mavericks.
Predicted Destination: Dallas Mavericks
15. Shawn Marion, ETO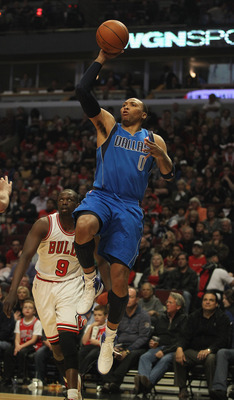 Jonathan Daniel/Getty Images
Position: Small forward
Age: 34
Experience: 13 seasons
How much does Shawn Marion have left in the tank? The fact that he ranked third amongst small forwards with 7.4 rebounds should offer a solid answer. His defensive dominance of Kevin Durant in the first round of the 2012 postseason—he held KD to 34.1 percent shooting on 44 shot attempts through the first two games—should facilitate that explanation.
So, who's going to take a chance on one of the most productive players in the NBA?
Marion remains an elite defender who can dominate the glass and pour in 15 to 20 points when needed. This is something that the Dallas Mavericks are well aware of, which is why they will not let him walk.
Shawn Marion will return to the team that gave him his first ring.
Predicted Destination: Dallas Mavericks
14. Stephen Curry, RFA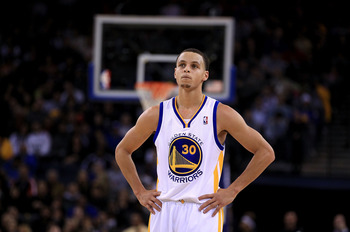 Ezra Shaw/Getty Images
Position: Point guard
Age: 24
Experience: Three seasons
Stephen Curry has spent the past three seasons lighting up opponents in every statistical category. From scoring to facilitating to rebounding, Curry has been a one-of-a-kind player. Throw in the fact that he's a career 44.1 percent shooter from distance, and you have a legitimate star.
Unfortunately, Curry has spent the past year battling injuries, and he's all but convinced the NBA nation that he can't remain healthy. One legion of people that he has not convinced of that fact, however, is the Golden State Warriors' front office.
Hence the Warriors' forthcoming decision to re-sign him come the 2013 season.
Curry is the key to the Warriors' long-term success. Such was made evident by the fact that Golden State traded Monta Ellis and held onto their franchise point guard.
Predicted Destination: Golden State Warriors
13. Paul Millsap, UFA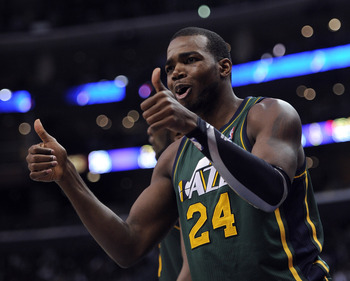 Harry How/Getty Images
Position: Power forward
Age: 27
Experience: Six seasons
Paul Millsap is coming off of a career year in which he averaged 16.6 points and 8.8 rebounds per game. He played a key role in the Utah Jazz's recovery from the departure of Deron Williams and brought the Utah Jazz to the postseason because of his chemistry with Al Jefferson.
Utah has taken note of that and will make re-signing Millsap a top priority. However, with Derrick Favors hot on the prowl and Enes Kanter just as likely to take over Millsap's role in the near future, Millsap will be looking for a starting job with more security.
This is something the Indiana Pacers can provide.
While Miles Plumlee may have been Indiana's first-round draft choice, there are few who view him as a long-term starter. David West, meanwhile, is a free agent and has been rather underwhelming in his brief tenure in Indiana.
Unless West turns things around in a major way in 2012, Paul Millsap is the easy choice.
Predicted Destination: Indiana Pacers
12. Ty Lawson, RFA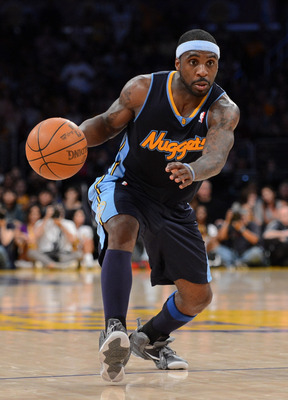 Harry How/Getty Images
Position: Point guard
Age: 24
Experience: Three seasons
Ty Lawson began his breakout in the 2012 NBA postseason, averaging 19.0 points and six assists per contest in a seven-game series against the Los Angeles Lakers. He'll continue the process during the 2012-13 season and emerge as one of the hottest names hitting the open market.
Fortunately for the Denver Nuggets, he's a restricted free agent and falls under Bird rights. There will not be a conversation to have about what's possible as Ty Lawson will return to Denver for the 2014 season and beyond.
This is something that has been all but guaranteed by Denver's decision to re-sign Andre Miller and allow him to continue to mentor their franchise player.
Predicted Destination: Denver Nuggets
11. Al Jefferson, UFA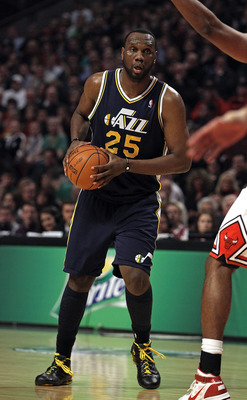 Jonathan Daniel/Getty Images
Position: Center
Age: 27
Experience: Eight seasons
Had Al Jefferson been playing for a team with greater visibility, he'd be a perennial All-Star. He's averaged between 18.6 and 23.1 points per game in each of the past five seasons and between 9.3 and 11.2 rebounds in each of the past six.
He also carried the Utah Jazz to the postseason in 2012 and has done wonders for 2012 breakout star Paul Millsap.
In 2013, however, Jefferson will become a free agent. With Derrick Favors and Enes Kanter both younger and taken with top-five draft choices, it appears as if either he or Paul Millsap will be the odd man out.
Unfortunately for Utah, both will depart.
As for where Jefferson will end up, Doc Rivers and the Celtics could be an option. Rivers has always been like a father to Jefferson (via Jefferson; Steve Bulpett of the Boston Herald). Unfortunately, the financial and roster flexibility just won't be there, and Jefferson will head to a new location.
Dallas is where big names will once again slip away, and an elite center will be needed to pair with Dirk Nowitzki.
Predicted Destination: Dallas Mavericks
10. Monta Ellis, ETO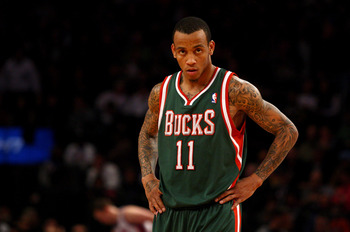 Chris Chambers/Getty Images
Position: Shooting guard
Age: 26
Experience: Seven seasons
Monta Ellis is as close to elite as you can get as a scorer. Ellis has averaged at least 20 points in four of the past five seasons. He's also a career 46.4 percent shooter from the floor, making for a more efficient level of play than the average fan would acknowledge.
Ellis, however, may have discovered his true calling during the second half of the 2012 regular season.
Ellis has always been an excellent passer. He's averaged at least five assists per game in each of the past three seasons, which is significant, considering he plays the 2. After watching him play alongside Brandon Jennings and looking more like a point guard than his counterpart, Ellis' future running an offense could be brighter than we may have presumed.
The fact that he's seen an increase in assists per game in every season since 2009 should offer evidence of that claim.
Due to this fact, the Milwaukee Bucks will do everything in their power to secure Ellis for the foreseeable future. He's a key to the team's success and could offer a serious sense of depth and security if Brandon Jennings leaves after the 2014 season.
Predicted Destination: Milwaukee Bucks
9. Tony Allen, UFA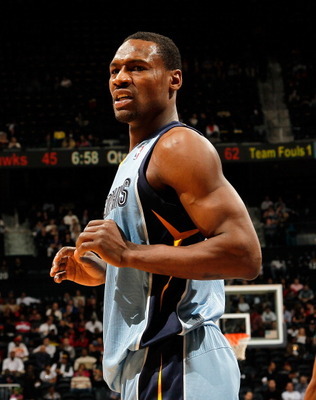 Kevin C. Cox/Getty Images
Position: Shooting guard
Age: 30
Experience: Eight seasons
Even at the tender age of 30, Tony Allen remains the best perimeter defender in the NBA. As he enters what's likely to be his final chance to command major dollars, we can only assume that he'll go with the best possible payday.
Or will he?
Tony Allen is one of the greatest competitors this game has to offer. He's a ferocious defender whose tenacity and devotion to his team has always commanded respect. What he'd love to be able to add to his impressive resume, however, is a second NBA championship.
This is something that he will be in search of in 2014.
Fortunately for fans of the Memphis Grizzlies, they offer Tony Allen both of the things that he is looking for. His contract would fall under Bird rights, thus enabling a bigger payday from Memphis than any other franchise.
The fact that the team is a perennial playoff team with the youth and depth necessary to win a title should clinch his future.
Predicted Destination: Memphis Grizzlies
8. Andre Iguodala, ETO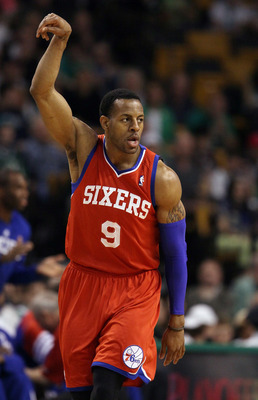 Elsa/Getty Images
Position: Small forward
Age: 28
Experience: Eight seasons

There's no question about Andre Iguodala's intentions here. He's been a member of the Philadelphia 76ers since he entered the league in 2004 and has firmly established himself as the face of the franchise. With the ball in his court, there's no way he executes his early termination and leaves Philadelphia.
Right? Wrong.
Keep in mind that the Philadelphia 76ers selected small forward Maurice Harkless with the 15th overall draft choice this past June. Also remember that Evan Turner could see time at the 3 if Nick Young pans out.
With a suddenly crowded and youth-infused position, could Andre Iguodala see his talents as better fit for another franchise? Could he be frustrated with the consistent trade rumors surrounding his name?
No matter how convincing that argument may be, the answer is no.
Iguodala is going to remain in Philadelphia as long as they want him around. With the decision purely his own, that means Iguodala will be a member of the 76ers in 2014. As for where he'll be beyond that season, one can only guess.
We can simply presume that Iguodala will not test the waters in a stacked 2013 class.
Predicted Destination: Philadelphia 76ers
7. Manu Ginobili, UFA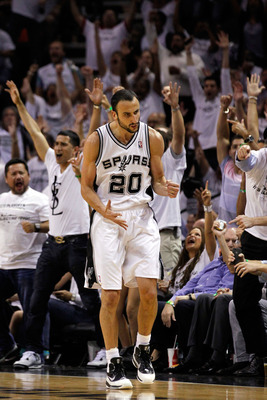 Tom Pennington/Getty Images
Position: Shooting guard
Age: 35
Experience: 10 seasons
For those concerned with Manu Ginobili's age, stop yourself while you're ahead. There are few players at any age who can change a game the way he can.
Just ask Team USA, the Oklahoma City Thunder and the other 28 NBA teams that Manu Ginobili torches every time he's on the court.
While his name will demand respect and attention, the end result should not come as a surprise. Ginobili will join Tim Duncan as lifetime members of the San Antonio Spurs and sign a deal that could span the remainder of his career.
The money will be there, the years will join it, and Manu Ginobili will remain where he rightfully belongs. Gregg Popovich will have the game's best sixth man for a significant amount of time.
Predicted Destination: San Antonio Spurs
6. Serge Ibaka, RFA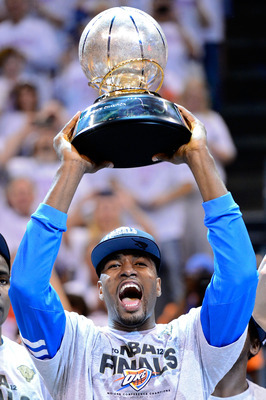 Michael Heiman/Getty Images
Position: Power forward
Age: 22
Experience: Three seasons
Serge Ibaka's offseason will be based off one difficult scenario to handle. With both he and James Harden hitting free agency, it will likely lead to the Oklahoma City Thunder re-signing one and parting ways with the other.
Fortunately for Ibaka, defensive brilliance outweighs offensive savvy every time out.
Serge Ibaka will re-sign with the Oklahoma City Thunder, and it will be a long-term deal. With both Kevin Durant and Russell Westbrook locked up for the foreseeable future, the Thunder will be looking to secure the third member of their Big Three.
Even after drafting Perry Jones III in 2012, Serge Ibaka remains.
The 22-year-old led the NBA in blocks during the 2012 season, swatting an average of 3.7 shots per game. During the postseason and early stages of the Olympics, Ibaka has also displayed a reliable mid-range jump shot that he had not possessed in previous seasons.
As nice as it would be to see "The Beard" return, Ibaka is the more important piece. Expect him to rock "OKC" across his chest for quite some time.
Predicted Destination: Oklahoma City Thunder
5. James Harden, RFA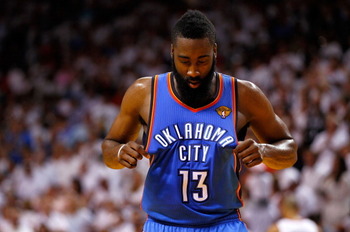 Mike Ehrmann/Getty Images
Position: Shooting Guard
Age: 22
Experience: Three seasons
As acknowledged in the previous slide, this decision comes down to a question that the Oklahoma City Thunder will have to answer: Who is more important to their future success? Extraordinary shot-blocker Serge Ibaka or reigning Sixth Man of the Year James Harden?
While we all love a guy who can light up the scoreboard, the answer is rather obvious. The Oklahoma City Thunder need a dominant interior defender more than they do a third elite scoring option.
In the words of the all-time great Chuck Daly, "defense wins championships."
This leaves James Harden as the odd man out. Fear not, fans of the beard, as the Arizona State graduate will head back to the state that helped make him famous. The decision will simply rest on how long Harden wants to stretch things out.
After all, Harden already made it clear that the Phoenix Suns are on his short list, according to Dan Bickley of The Republic. That needs not stretch any further, as that will be his end destination.
Predicted Destination: Phoenix Suns
4. Josh Smith, UFA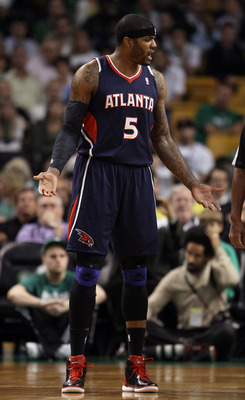 Elsa/Getty Images
Position: Forward
Age: 26
Experience: 8 seasons
If Josh Smith re-signs with the Atlanta Hawks, he will play a key role in the potential recruitment of hometown hero Dwight Howard. Considering Howard is also one of Smith's best friends, the likelihood of such a deal instantly increases.
Josh Smith has made his name known as one of the most athletic players in the game. In 2012, however, he established himself as one of the more dominant defenders by posting averages of 9.6 rebounds, 1.7 blocks and 1.4 steals per game.
He also averaged 18.8 points per game and improved his shot selection in a major way. Now just imagine if Al Horford had been healthy.
This leaves Smith in a situation in which loyalty and opportunity comes into play. Should he remain with the franchise who has placed their faith in his abilities and upside, he could find himself alongside Dwight Howard and another star.
If he goes elsewhere, that opportunity may again present itself. Here's to praising Smith for predicted signs of devotion.
Predicted Destination: Atlanta Hawks
3. Andrew Bynum, UFA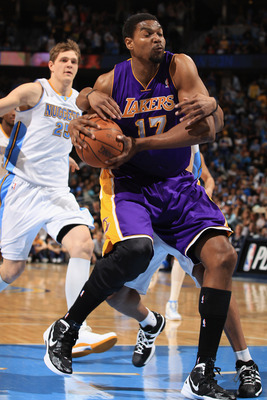 Don't blink; Andrew Bynum could be out of Los Angeles before you know it.
Doug Pensinger/Getty Images
Position: Center
Age: 24
Experience: Seven seasons
Fans of the Los Angeles Lakers will jump the gun here and state that it's all but certain Andrew Bynum returns to the Staples Center. After an offseason filled with trade rumors and controversy, however, one cannot be so sure.
But we can still be confident.
Andrew Bynum would receive the most money if he returned to the Los Angeles Lakers under the current Bird rights rules. For a player who's just 24 years of age and has a long history of injuries, that will play a major role.
Bynum becoming a franchise player within the next two or three seasons will also be significant.
While another franchise could offer the former 10th overall draft choice that opportunity, they could not pad it with the money L.A. can. This combination will be the determining factor for a player who many felt the Lakers drafted too high.
Those very people will learn that loyalty is not dead.
Predicted Destination: Los Angeles Lakers
2. Chris Paul, UFA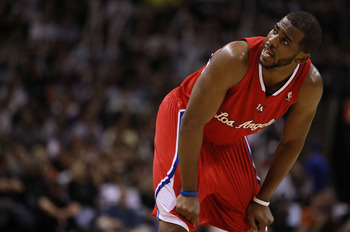 Will CP3 be standing alongside a fellow superstar in 2013?
Ronald Martinez/Getty Images
Position: Point guard
Age: 27
Experience: Seven seasons
Chris Paul is widely considered to be the best point guard in the NBA. Due to this fact, it's more than likely that he will receive a max contract from any team who pursues him.
Believe it: Paul will cash in on this opportunity to see a major payday.
Due to the fact that he's under Bird rights with the Los Angeles Clippers, CP3's current franchise can offer him more money than any other team. This should be expected to have an impact on Paul's potential decision.
Although an opportunity to unite with a fellow superstar in either Atlanta or Dallas is an option, Paul should be comfortable with where he currently is. The combination of he and Blake Griffin should give the Clippers a legitimate title contender.
The final hurdle will be finding the players to properly complement their dynamic duo—a process LAC may have completed in 2012.
While we may fantasize about Chris Paul throwing lobs to Dwight Howard, we'll have to settle for those lobs going to Blake Griffin. What a tough life we live.
Predicted Destination: Los Angeles Clippers
1. Dwight Howard, UFA
"Peace Orlando, I'm free!"
Ronald Martinez/Getty Images
Position: Center
Age: 26
Experience: Eight seasons
People will stretch to tell you why Andrew Bynum is the best center in the NBA. They'll cite a more polished offensive game, a better body for banging in the paint and a higher upside. In all likelihood, each of those people are simply fishing for reasons that don't equate to truth.
Dwight Howard has ranked in the top five amongst centers in terms of points per game in every season since 2006. He's led all centers in scoring in three of the past four years. Howard has also ranked in the top five amongst all players in terms of blocks in each season since 2008.
Throw in the fact that he has led the league in rebounding in all but one season since 2008, and you have a true superstar in every sense of the word. The question is, where will this superstar end up?
For D-12, there will be a homecoming. Many favor the Brooklyn Nets and Los Angeles Lakers, but neither could afford his contract if they did not have him under Bird rights.
His hometown Atlanta Hawks, meanwhile, have the cash available and a best friend in Josh Smith to woo him. With three major advantages over their lead competitor, the Dallas Mavericks, this has Atlanta as the favorite to win the Dwight Howard sweepstakes.
Predicted Destination: Atlanta Hawks
Keep Reading