7 Injured Players 'Skins Are Excited to See Return to Training Camp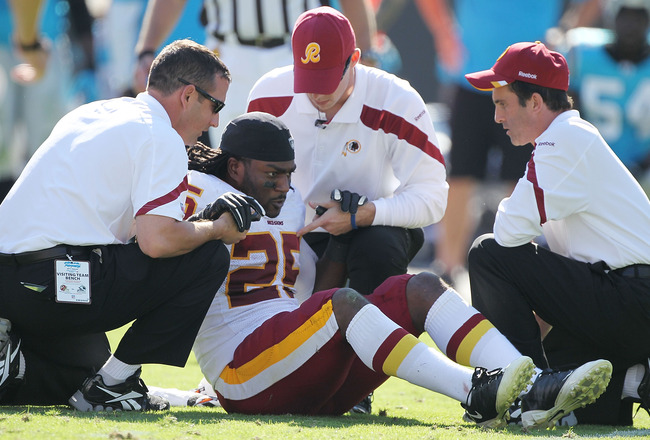 Scott Halleran/Getty Images
Although it happens to the best of teams, it always feels like the Washington Redskins get the short end of the stick when it comes to keeping a healthy roster.
Whether it be a major loss at a key position, or dings and dents large enough to affect overall depth, the Redskins can never seem to get a healthy 17 weeks.
This season, a number of players are set to return to action after battling injuries, and they have the collective potential to push the Redskins for a few more wins in 2012.
Jammal Brown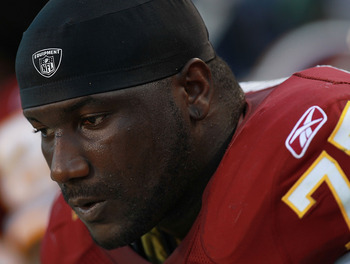 Ronald Martinez/Getty Images
Recent reports regarding Jammal Brown don't look good for the right tackle, or the Redskins.
After suffering from nagging injuries over the last two seasons, fans and coaches were hopeful that Brown could return to the Redskins and stay healthy for a full season on the right end.
Despite Pilates and yoga regiments over the summer to help the flexibility in his groin and hip, Brown missed the Redskins first practice and is currently listed on the team's PUP list.
As I've suggested all offseason, the Redskins' success is dependent on the offensive line. If the guys up front can block, then the Redskins could surprise some people. If they can't, then the Redskins will live up to those hideous four-win predictions. The key, however, is health.
Jammal Brown is easily the team's best right tackle, but fans should start familiarizing themselves with names such as Tyler Polumbus and Willie Smith.
Santana Moss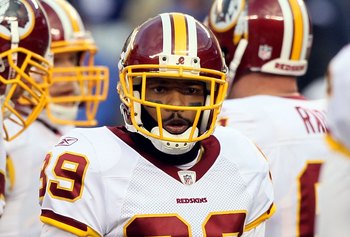 Jim McIsaac/Getty Images
After missing four games last season with a shattered bone in his hand, veteran receiver Santana Moss returns this season in what some are calling the best shape of his life.
According to reports, Moss enters camp after shedding about 15 pounds in an effort to regain some of the quickness that he earned paychecks for in the earlier stages of his career.
With a rookie quarterback set to take over in Washington, Moss could easily become a favorite target for Robert Griffin III.
In addition to his quickness, Moss has some of the surest hands on the team, and he's the most experienced guy of the unit. If Moss is healthy and continues to bring it hard in camp, he could battle with Pierre Garcon for the No. 1 spot.
Kory Lichtensteiger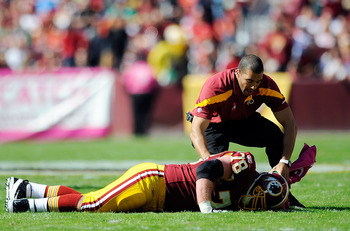 Patrick McDermott/Getty Images
The Redskins were 3-1 last season when they entered the bye week, keeping fans on top of the wave and playing decent football.
Then they came out against the Eagles in Week 6, lost starting left guard Kory Lichtensteiger to a torn ACL and proceeded to lose 10 of their last 12 games.
Initially, most people didn't consider Licthensteiger a key cog in the Redskins' offensive line and overall success. But fans and coaches were quickly reminded.
Because of that, Redskins Nation is crossing their fingers in hopes that 'Steiger can return to early 2011 form and help hold down the left side of the offensive line.
Jarvis Jenkins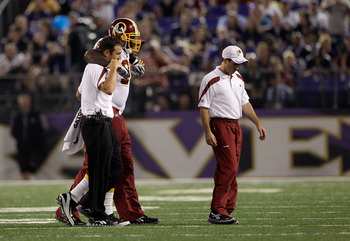 Rob Carr/Getty Images
Nine months ago, Redskins fans listened to whispers that then-rookie Jarvis Jenkins was having the best camp of any defensive lineman on the roster. But before the regular season even started, Jenkins was lost for the season after tearing his ACL and undergoing required surgery.
Fortunately for fans, coaches and Jenkins himself, reports indicate that the power and explosiveness that he displayed last summer has returned and that the 6'4", 310-pound load is prepared to destroy opposing offensive lines.
Everyone should be excited about Jenkins. Not only have we yet to see what he can really do in serious game action, but the guy has all the characteristics that you look for in a Pro Bowl defensive lineman.
Tim Hightower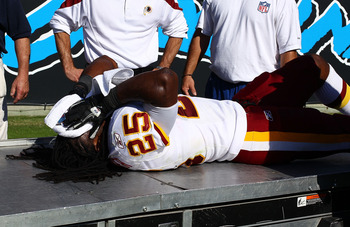 Scott Halleran/Getty Images
Tim Hightower's debut season with the Washington Redskins was cut short last year when he went down with a torn ACL in late October. But before going down, Hightower demonstrated valuable skill as a runner, pass-catcher and backfield blocker.
After re-signing with the Redskins in May, Hightower enters camp this month with competition from two second-year backs in Roy Helu and Evan Royster.
Although Hightower enters camp with his hands full and likely as a depth chart runner, head coach Mike Shanahan believes his work ethic to be just as significant as his play on the field.
Leonard Hankerson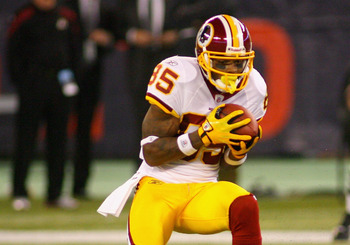 Rick Stewart/Getty Images
Leonard Hankerson showed flashes of brilliance during his rookie season last year before tearing his labrum (hip) and having to undergo surgery.
Offensive coordinator Kyle Shanahan and the Redskins intend to make the 6'2" Hankerson a major contributor in the team's offense, but reports indicate that the 23-year-old isn't quite back to full health.
Not only is Hankerson a guy with tremendous ball skills and the ability to make plays after the catch, but he's also the Redskins' largest receiver and one of the team's top redzone threats.
A speedy recovery and maximum practice participation is crucial for Hankerson and his potential role in the offense.
Chris Cooley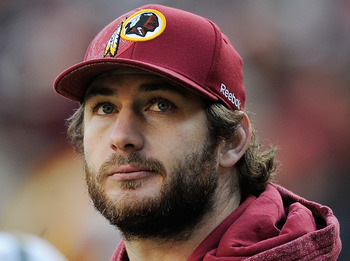 Patrick McDermott/Getty Images
As one of the biggest favorites amongst Redskins fans, everyone is rooting for a healthy Chris Cooley.
After tallying just eight catches in five games last season, many began to doubt if Cooley's nagging knee injury would result in the Redskins releasing him and moving on at the tight end position. In addition, Cooley's contract isn't/wasn't necessarily team-friendly for a guy that can't stay on the field.
That said, when Cooley is healthy, he's one of the better tight ends in the game. And that's the reason why Shanahan and the Redskins decided to retain the nine-year veteran and observe his progress through camp and preseason.
The Redskins do have a playmaking tight end in Fred Davis, but there's no questioning that Cooley is the team's best pure tight end. Not only can he catch and move (when healthy), Cooley is also the team's best non-lineman blocker.
With Robert Griffin III entering his first professional season, Chris Cooley would be a huge asset for the Redskins in 2012.
Keep Reading

Washington Redskins: Like this team?