Will Ryan Tannehill Unseat Veterans with Early Success in Training Camp?
Use your ← → (arrow) keys to browse more stories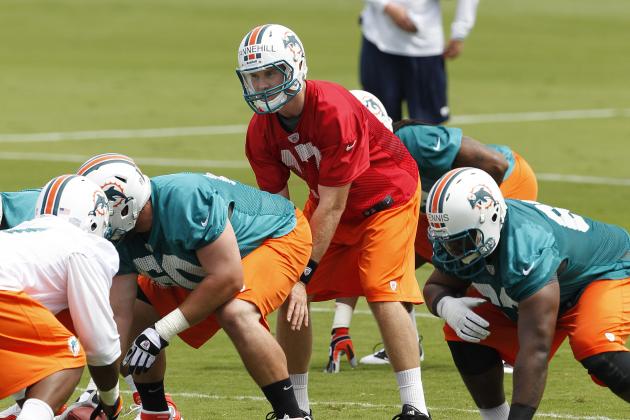 Joel Auerbach/Getty Images

Ryan Tannehill had a rough start entering training camp for the Miami Dolphins, primarily because he wasn't even present for the start of camp.
Tannehill was the No. 8 overall draft pick for the Dolphins last April and is viewed by the team as the long-term answer for a troubling quarterback situation that began over a decade ago with the departure of Dan Marino.
The Dolphins were mesmerized with Tannehill's ability to make strong, accurate throws on the run. The Texas A&M product also boasted scrambling abilities supposedly on the same level as Aaron Rodgers.
But regardless of the clear talent, the Dolphins were criticized for drafting him purely out of desperation as a result of their poor quarterback situation.
However, with veteran Matt Moore already on the roster and David Garrard joining the team as a free agent, the Dolphins may not be as desperate as some think.
Both veterans are underwhelming, but they have starting experience and have had some success at one point or another, so Tannehill will have to have an incredible training camp to even win the job.
Tannehill Checks Into Training Camp
Now that Tannehill is back in camp, he'll have that opportunity to work his way up the depth chart.
Should Ryan Tannehill start Week 1?
Tannehill missed Friday's practice in an apparent contract "holdout" (according to Sports Illustrated), but "holdout" isn't really the right term. It was more like Tannehill's agent, Pat Dye, and Dolphins GM Jeff Ireland taking slightly longer than expected to complete the contract.
The incident caused some premature outrage, but the Miami Herald announced that a deal was reached and the rookie was able to practice on Sunday, July 29.
Some felt the holdout hurt Tannehill's odds even further, but his first-day performance suggests that the incident will be forgotten soon enough.
ESPN is reporting that Tannehill had an impressive first day on the practice field, and offensive coordinator Mike Sherman claims that Tannehill "didn't seem to miss a beat."
So does he really have a chance at winning the starting job?
Matt Moore started 12 games for the Dolphins in 2011 and threw for 16 touchdowns and only nine interceptions.
The Dolphins started 2011 with a disastrous 0-8 record, but Moore was able to step in and allow the team to finish with a respectable 6-10 record.
David Garrard, the team's free-agency acquisition, didn't play a snap in 2011, but the 2009 Pro Bowler threw for 23 touchdowns during his last season as a starter in 2010.
The production that these veterans have shown at times is difficult for any rookie to compete with.
In reality, even if Tannehill has a great camp, the Dolphins will stick with a veteran for the time being. Maybe outrage from the fans will earn him a few starts down the stretch, but Week 1 is out of the question.
But the Dolphins didn't draft him to ride the bench. At some point, his day will come.