Shooters: The Toughest Men in Professional Wrestling is the third book from Jonathan Snowden.
Snowden's first two books, Total MMA and The MMA Encyclopedia, are essential reading for any fan of mixed martial arts, and while Shooters is mostly focused on professional wrestling, there is more than enough crossover material here to interest fans of both MMA and professional wrestling.
For those that are fans of both, Shooters is nothing short of a goldmine of historical information.
Shooters is not one of those pulpy throwaway books that we so often see associated with professional wrestling or MMA; like Snowden's first two titles, this is a labor of love.
Shooters is a thoroughly researched journey through the history of professional wrestling with plenty of stops thrown in to visit the world of MMA.
The book begins in the late 1800's with William "The Solid Man" Muldoon and carries the reader right through the present with individuals such as Kurt Angle, Brock Lesnar and Josh Barnett.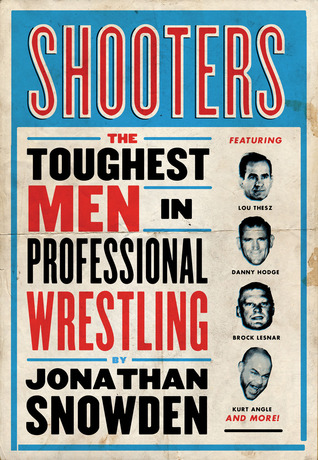 Snowden lays his book out in easy-to-follow fashion. Through 27 chapters and nearly 300 pages he transitions smoothly from one era of the sport and its legends into another, each chapter smoothly segueing to the next, almost forcing the reader to continue to the next chapter to learn what comes next.
While Shooters is mostly a history book, it's not what one would consider a "dry" read. Snowden provides plenty of facts and background on the individuals involved, but he does so with an eye toward the truth, not buying into and reporting the myths and tall tales of the past as historical fact. It's that type of deeper research that makes the book all the more entertaining and refreshing.
The early historical pieces of the book are interesting, providing information on individuals that to most of us are merely names we hear, but don't really know much about. For someone like me, that would be people like "Strangler" Lewis, "Farmer" Burns, Frank Gotch and George Hackenschmidt.
For others those figures may be the aforementioned as well as the next generation of wrestlers, men like Lou Thesz, Verne Gagne, Danny Hodge, and Billy Robinson, while the younger generation will learn about the Funks, Antonio Inoki and Jack Brisco before getting to the more modern era.
As stated earlier, there is a fair amount of MMA crossover material contained within Shooters, for instance the chapters on "Judo" Gene LeBell, Masahiko Kimura, Kazushi Sakuraba and Brock Lesnar will surely appeal to those that are fans of MMA.
Not to mention the fact that readers get a fair share of the Gracie family, Ken Shamrock, Bas Rutten, Pancrase, Pride, Shooto, as well as the UFC within the pages of Shooters.
By no means is this book light reading, but that shouldn't scare the reader away, in fact, it should do just the opposite.
This is the type of a book that should be studied and researched, providing fans of both professional wrestling and mixed martial arts with the type of knowledge that fans of other more mainstream sports have had access to for decades.
Just as Snowden's first two books are essential reading for fans of MMA, so is Shooters.