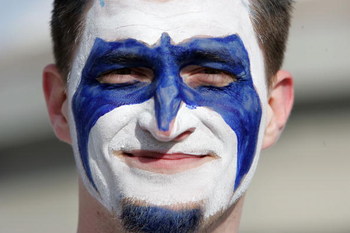 Face paint, I think, can and do play a very interesting role in a persons character in the world of sports entertainment, and not forgetting masks like Rey Mysterio, or Kane's mask, I think they are excellent.
The only problem is when they have been performing the face paint easily peels off unless its just the cheap stuff that they may use only for health and safety reasons.
Anyway I hope you all enjoy my slide show of some of the interesting insight that I have had from over the years on the world of Sports Entertainment.
Is he the same man?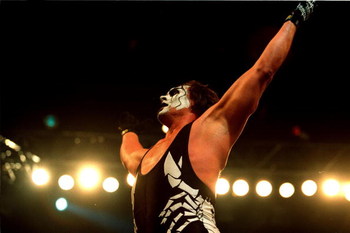 This has been one question on my mind for some time now, is he the same man that I used to see wrestling in the early days of WCW I remember that their was a guy that went be the same name Sting,
But the guy I remember had blonde hair, and had a lighting face paint pattern on his face which was white with a black outline, he also used to wear yellow pants sometimes which may have had print of red scorpion on them.
So what I want to know is it the same man that is with TNA maybe someone out there can tell me.
LOD will live forever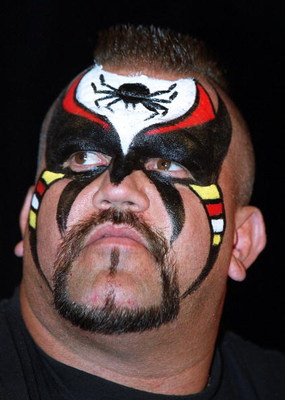 Everyone must remember this fantastic, Iconic face paint pattern, I always wondered where he got his inspiration for this character, I think these things are always interesting to know.
Truly one of the greatest tag teams of all time, The Road Warriors AKA The Legion Of Doom, sadly Hawk is no longer with us, but he will live on for ever in spirit.
Animal continued to wrestle with the WWE on Smackdown for some time, I always remember if some one got hit by those guys they would get badly hurt weather it was cage matches or any other kind of match they would be standing tall.
From way back when they started right up to early WCW days then to WWE being the only ever tag team to had ever held all the major Tag Team Titles simply proving that they were the most dominating tag team of all time.
NWO early days for this humor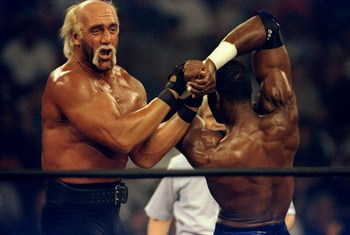 Maybe this was how it all began for this kind of comedy I'm not sure I'll let you all be the judge on that.
I thought they were great for WCW taking over making fun of people here and there were ever they would go, from spray painting NWO in black like some sort of trademark.
But at the time DX had also begun in the WWE or back then it was still known as the WWF, any way I think you will all remember the time when WCW Nitro and the WWE were like at war with one another trying to beat each other in the ratings out do each other at sell out pay per views, with lots of different storylines almost like a battle of the general managers you might say.
I dont know what happend they just ended up being faded out which I thought was a big loss to the world of sports entertainment like I said this is just my opinion, I'll let you all be the judge on that.
What I do think would be good for the world of sports entertainment would be to have a NWO reunion on WWE, I think that would be awesome I'm sure you would all agree, they could even have something like that as a special segment on a pay per view
Keep Reading