The 50 Craziest Outfits in Sports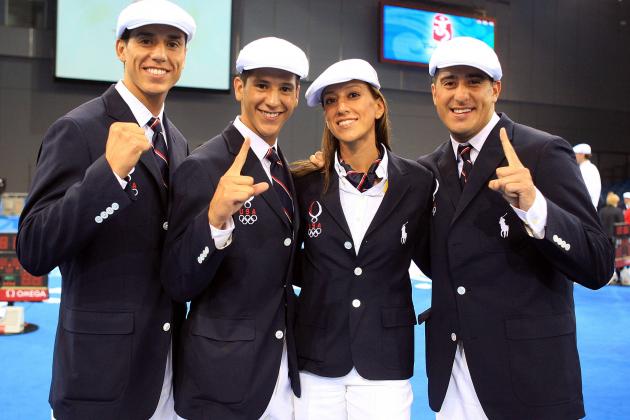 Image via shotgunworld.com
From Team USA and its horrible berets to Oakland Raider fans, sports has seen its share of crazy outfits.
What is it about the Olympics that inspire terrible clothing? Is it the determination to stand out in the pact or just simply a terrible design?
But you can't just blame the designers, the user that rocks the wardrobe gets partial blame. Whether it is a lunatic fan, and we all know they dressed themselves, or an athlete representing his/her country, it is time to check out some of the craziest outfits in sports.
Luckily for you, I have done all the work. All you need to do is sit back and watch the show. Enjoy.
Begin Slideshow

»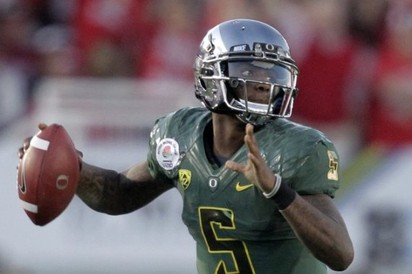 image via freshnessmag.com
This is not going to be a list talking about all the terrible uniforms in sports. Been there, done that.
But I have to include Oregon and their incredibly crazy choice of colors.
Who cares if the founder of Nike went to your school? The uniforms are not getting better, they are getting worse.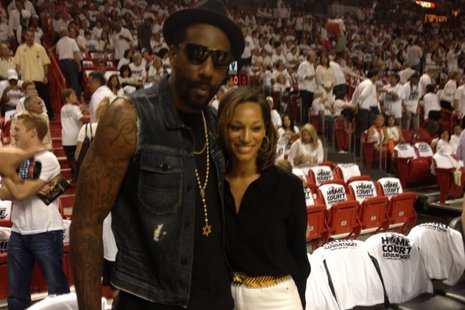 Image via businessinsider.com
Uh, is Amar'e Stoudemire even aware of how ridiculous he looks?
If so, maybe next time he shouldn't include the jean vest. But what do I know, I am only a writer.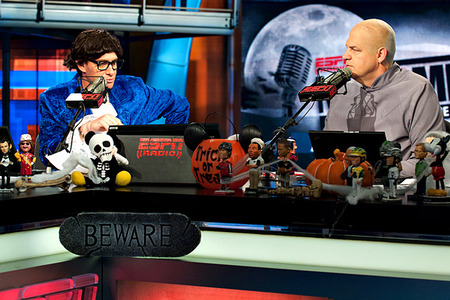 Image via m.espn.go.com
One is Dr. Evil, the other is Austin Powers.
Mike and Mike struck gold in the crazy outfits for a radio host category. I understand the show is on TV too but dressing up for a radio show takes the cake.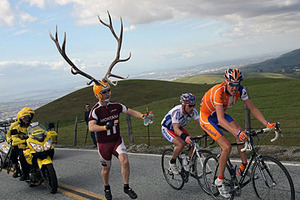 Image via bikehugger.com
I am not sure if this guy is a Texas Longhorns fan, a biking fan or just very enthusiastic about horns.
Regardless of which one he is, this man makes Tom Green look like Mother Teresa.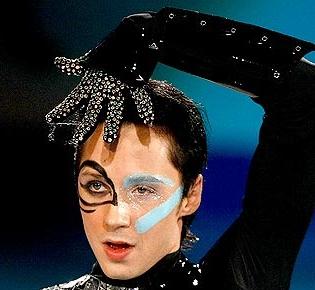 Image via people.com
Johnny Weir is just what figure skating needed to help grow its popularity.
His outfits, on the other hand, were not.
He was a lucky person to have shared a suite with Tanith Belbin during the 2010 Winter Olympics in Vancouver.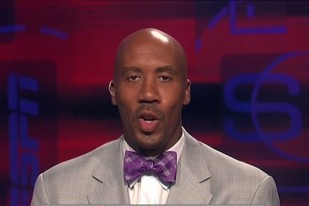 Image via chooseindie.com
If I worked for ESPN, I would apply to be a member of the wardrobe department so that I could stop Bruce Bowen from wearing those awful bow ties.
We get it Bruce, you have style. Too bad no one else agrees.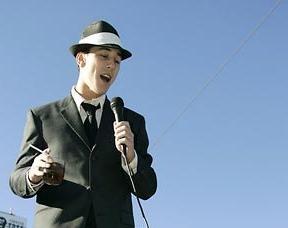 Image via seattletimes.nwsource.com
This isn't the worse fashion moment in sports, but it makes the list because of who is underneath the suit. It's San Francisco Giants pitcher Tim Lincecum.
This is the last outfit you would imagine him sporting. Even if it is crazy, it still somehow works.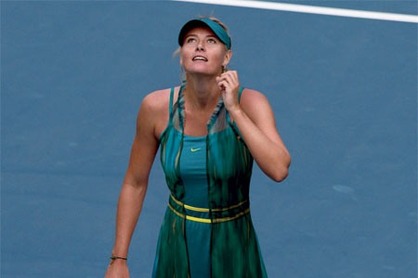 Image via womenstennisblog.com
We have all seen worse outfits in tennis. And trust me, you will get your chance to see the others if you keep on clicking.
But Maria Sharapova wore this outfit back in 2010 and gladly has not worn it since.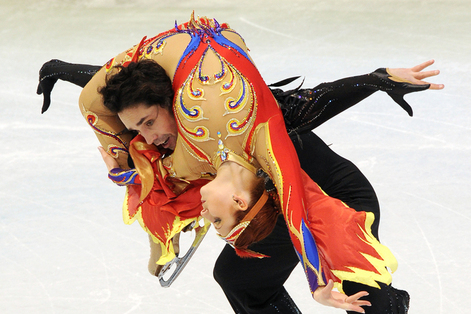 Image via washingtonpost.com
Figure skating is a sport that requires costumes and outfits to have a sense of flare. But some times those outfits become a bit of a distraction instead of a part of the act.
Jana Khokhlova and Sergei Novitski are suppose to be, well, I am thinking a parrot. Or maybe a circus?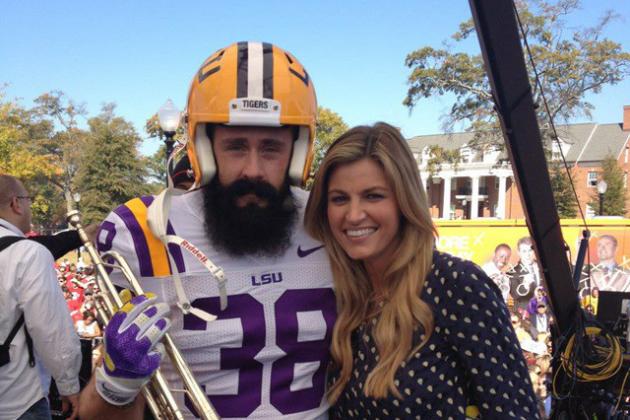 Image via sfist.com
Brian Wilson is known for his crazy antics and ridiculous personality but back in 2011 he showed up in Alabama for ESPN Gameday rocking an LSU football uniform and helmet. With no facemask.
Why not? He is Brian Wilson. He can pull that kind of crazy outfit off.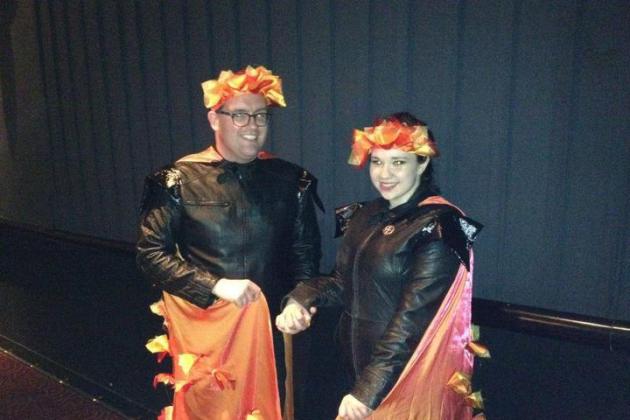 Image via blogs.seattleweekly.com
Fans of the Hunger Games movie showed up...wait a minute. How did this get in here?
I lost track of what was real and what was not.
Now back to the show.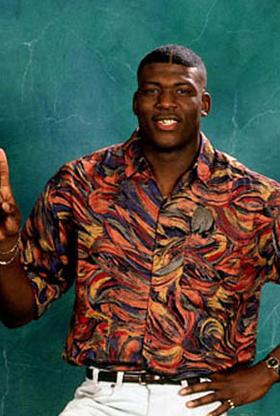 Image via perezsolomon.com
Oh the '90s. That was the decade where you could wear an array of colors that don't make sense and it looked good.
Larry Johnson might have rocked this look in 1991 during the NBA Draft, but I guarantee he doesn't own anything close to this outfit anymore.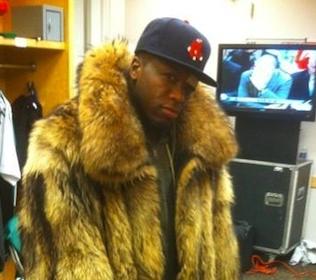 Image via totalprosports.com
Nate Robinson is wearing an over-sized fur coat. There is no way that this thing belongs to him, which is why it is crazy.
He is completely engulfed in this coat. I wonder if he has ever worn this outside the locker room.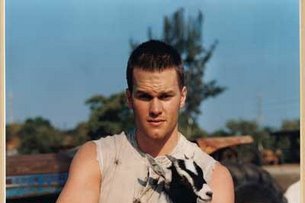 Image via famewatcher.com
Tom Brady, what were you thinking?
Did you decide it was time for a change in your perfect life and move to a farm to raise goats? Or did you just make a bad decision that looked good on paper?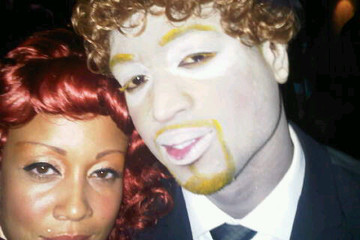 Image via cbssports.com
Dwyane Wade dressed up as Justin Timberlake. That is funny.
But the face paint wasn't as big a success as he probably thought it would be and he turned out looking less like JT and more like himself, with white face paint.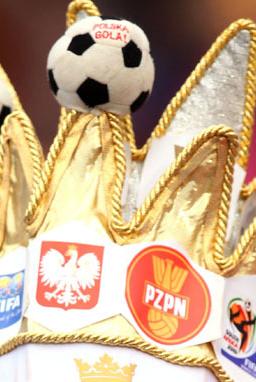 Image via asylum.com
This guy is the King of Poland. That is how crazy soccer fans are: even the King of Poland gets in on the crazy action.
OK, so it is not really him. In fact, there isn't a King in Poland anyway. Fail.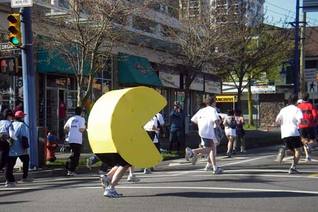 Image via 4.bp.blogspot.com
If I were to ever attempt to run in a marathon, the first thing I wouldn't do is buy a Pac-Man costume.
Can you imagine how hot and difficult it was to run around in that thing? I promise you this guy didn't make it halfway before quitting.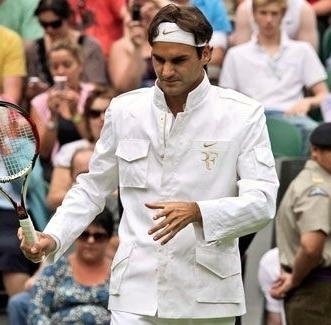 Image via funtasticus.com
Roger Federer can dress up like a Beatle, that is OK.
Why? Because he is Roger Federer. He has won more tournaments than The Beatles have had hit songs. He can wear the strange outfits.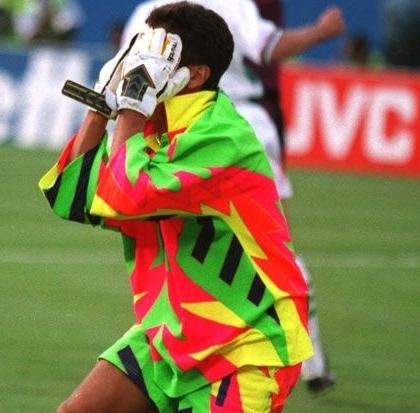 Image via funny-potato.com
Can anyone identify this man?
I know he is a soccer goalie from the '90s. The colors of the uniform give that away. But who would even attempt such a crazy outfit?
Image via current.com
Hannah Storm is hot. That is a fact.
But her wardrobe selection on this day caused such a controversy, it got a man suspended from his job.
We might enjoy it but next time, for ESPN's sake, she should use a little caution.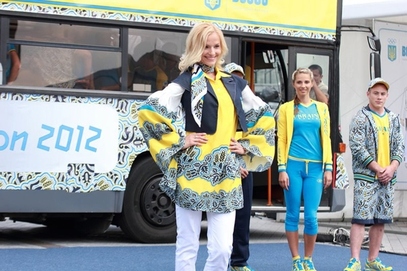 Image via kyivpost.com
Our first Olympic wardrobe to make the list is the lovely Ukraine.
Do you even know the reason for the odd '70s gear? But I am a fan of the blue tights.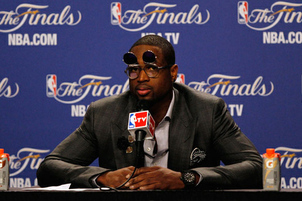 Image via sbnation.com
When Dwyane Wade approaches the press conference every night, the world sits and waits. We wait to see what he will wear tonight.
He must have been watching a rerun of A Different World when Dwayne Wayne use to rock the glasses.
Wait a minute...Dwayne Wayne, Dwyane Wade. Ah, I see what he did there.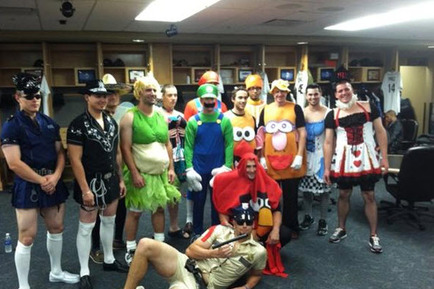 Image via raysindex.com
Just because you made it to the pro's doesn't mean you are excused from hazing and being treated like a rookie.
The Tampa Rays took care of business on the last road trip of the season by making all the rookies wear crazy costumes. Excellent.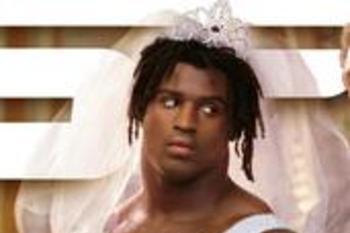 Image via sportsnola.com
When the New Orleans Saints and Mike Ditka traded everything not glued to the ground to get Ricky Williams, it was only a matter of time before someone put on a women's dress.
It was fitting to see Ricky Williams and not Mike Ditka wearing it though.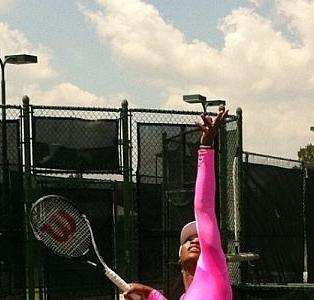 Image via sportressofblogitude.com
If you ever wanted to have every flaw on your body exposed, wear some tights.
If you wanted to expose every single flaw and every single bump on your body, wear a full body tight suit. That should do it.
Image via guardian.co.uk
I am probably going to get a lot of gripe for Rickie Fowler making the list but look at him. He wears colors that only he can pull off.
And the only reason he can do it is the same reason Elton John can wear crazy hats, we are used to seeing it. That doesn't make it fashionable.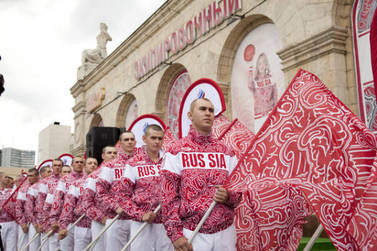 Image via expanish.com
Yes, we get it Russia. Your colors are red and white.
But after seeing the gear of the Russian Olympians, I am not sure they execution of the design went as expected.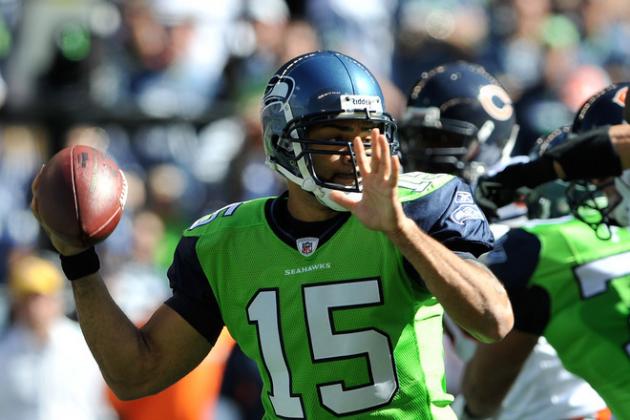 Image via sbnation.com
Lime green should never be used in any sport. Period.
When I see Seattle sporting the green, I change the channel. Maybe something is on the Food Network.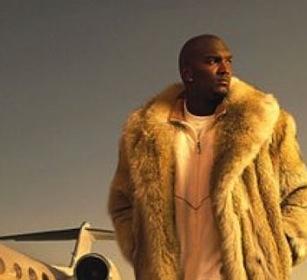 Image via totalprosports.com
Oh no he didn't.
JaMarcus Russell spent about $403 million before actually winning an NFL game. Maybe that was his problem.
Such a wasted talent.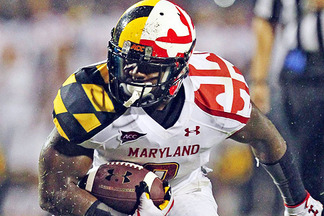 Image via soraspy.com
If you thought the Oregon Ducks' uniforms were terrible, maybe you need to venture on over to Maryland.
I don't even understand this design. I can't even figure it out. It is beyond crazy.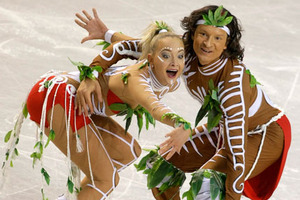 Image via findingdulcinea.com
In Russia, these outfits might make sense.
In the Olympics, we are all sitting here wondering, "What is going on?" and "When does Tarzan show up?"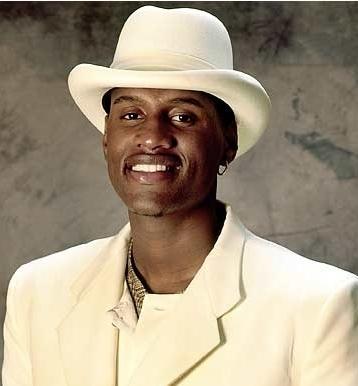 Image via perezsolomon.com
Is it OK to dress up like a pimp from Ohio the night you are attending the NBA draft with hopes of being drafted?
The answer is no. Duh.
That could also be the reason he plays in Syria these days.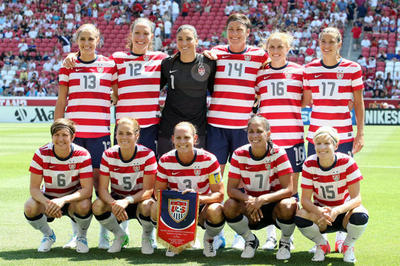 Image via csmonitor.com
I am the biggest patriot in the world. I paint my chest red, white, and blue for no other reason than to show my love for my country.
But when the women's US soccer team hits the pitch in these uniforms, I picture the uniforms getting lost on the next flight because those things are terrible.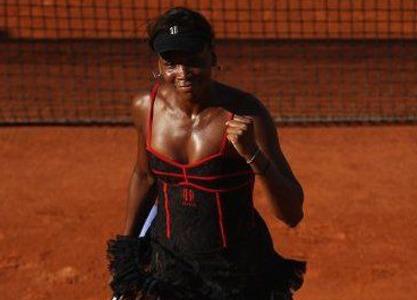 Image via tashhunc.com
When you look back at Venus Williams' playing career, this is the outfit that takes the cake.
After she wore this lingerie during a live tennis match, the world was left wondering why. But we know why, right?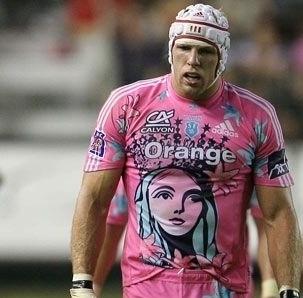 Image via funny-potato.com
I was going to say something funny but after realizing that underneath these hideous uniforms lies a gigantic professional Rugby player, I decided to keep those thoughts on the down low.
Have you ever met a professional Rugby player in person? These guys are like pro wrestlers—only bigger.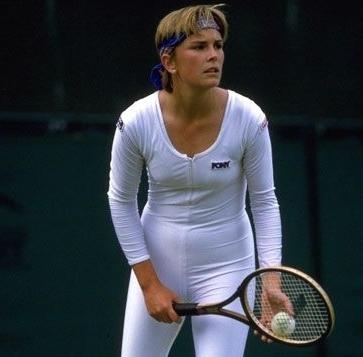 Image via funtasticus.com
You see? Serena Williams was not the first female tennis player to rock the full body skin tight spandex outfit.
Although, I really wish she would have been.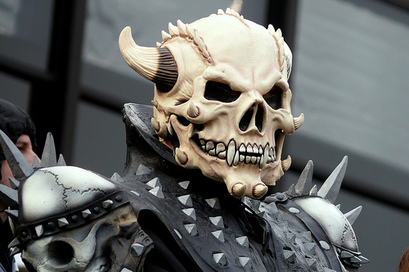 Image via blogs.westword.com
The Oakland Raider fans deserve a list of their own.
They didn't invent the skull mask but they made it look even scarier.
And there are more...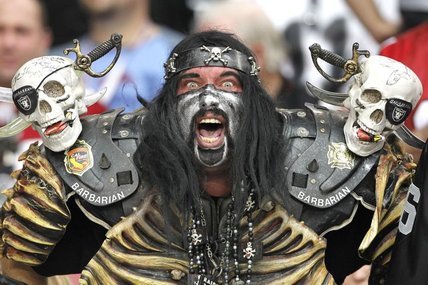 Image via raiders.topbuzz.com
Not every Oakland fan wears a skull and cross bones. Some of them simply wear face paint and tape the skulls to their shoulder pads.
There is a sentence I thought I would never say.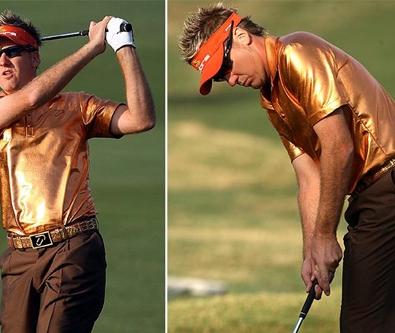 Image via totalprosports.com
Because golf needs more outfits like this. Yeah that's the ticket.
Sorry Ian but this is just plain awful. You remind me of another golfer, what was his name again?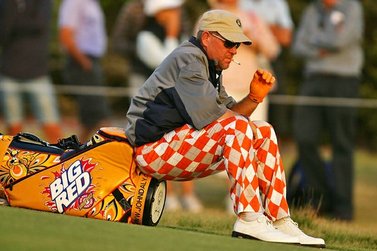 Image via golfweek.com
Yep, that is the guy.
John Daly is the epitome of awesome when it comes to pants. He has worn some of the most epic multi-colored pants in sports history. And does he care?
Not one bit.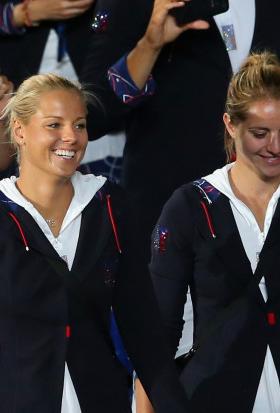 Image via mydaily.co.uk
What is with the rain boots and umbrellas? When did that become a fashion accessory?
Did I miss that day in common sense class?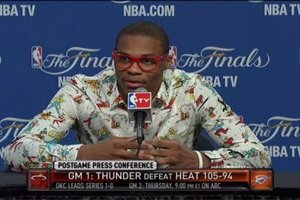 Image via businessinsider.com
If Russell Westbrook was looking to start a trend, he might want to look some more because all he did was distract us from listening to him speak.
The worst part about this is that he planned on wearing it earlier in the day. That was his choice.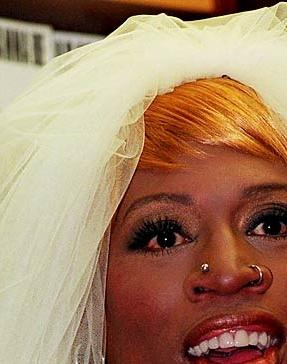 Image via sportsillustrated.cnn.com
No, Dennis Rodman is not getting married in Connecticut. He just wanted to help promote his book.
I can think of several other ways to promote a book that doesn't involve dressing like a bride. Like maybe using a billboard.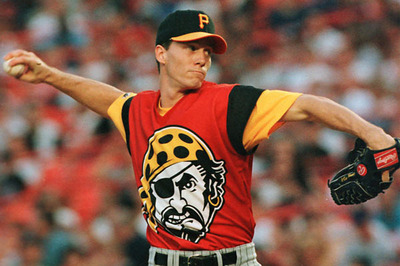 Image via k-dubsports.blogspot.com
If the Pittsburgh Pirates tried to wear uniforms worse than these, I am not sure they could find a way to make that work.
In fact, I hope these things get burned and never return.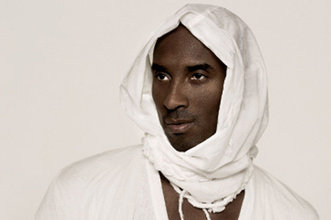 Image via knowyourmeme.com
There is no fashion guru, expert or fan that can convince me that this is a good look.
Kobe, Kobe, Kobe. What were you thinking?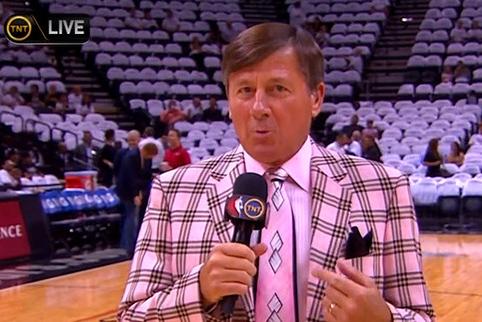 Image via craigsagerssuits.tumblr.com
Craig Sager has such terrible suits that he has a website dedicated to showing pictures of them all.
In my experience, if someone makes an satirical website in honor of your wardrobe, you might be wearing some outlandish get-ups.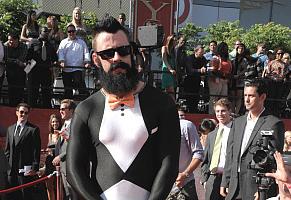 Image via weareuncivilized.wordpress.com
It is true that Brian Wilson does whatever he can to be different. There is no disputing this.
However, he does it in a way that makes the entire world laugh. And he loves it.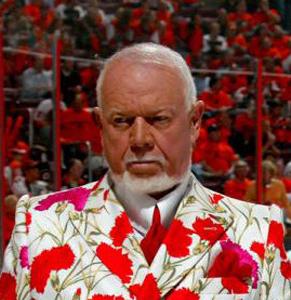 Image via blog.ounidesign.com
Don Cherry is the Craig Sager of hockey except for one giant difference: Don played minor league hockey for 20 years.
If that earns him the right to wear whatever he wants, I am good with that. But it doesn't subtract the craziness of it.
Image via ihatelupica.blogspot.com
You know that moment when you take one last look in the mirror and tell yourself just how good you look?
This guy doesn't have that problem.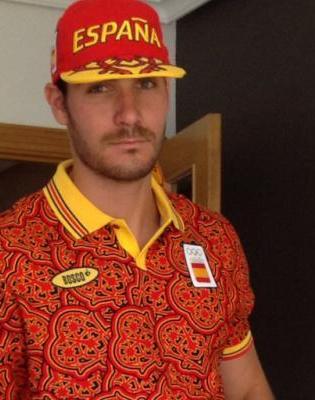 Image via guyism.com
Either this guy is going bowling or he has another interview at McDonald's.
No offense to the Spain Olympic team but those uniforms are easily the worse things I have ever seen in sports.