Evan Royster: Can 2011 6th-Rounder Emerge as Washington Redskins' Starting RB?
Use your ← → (arrow) keys to browse more stories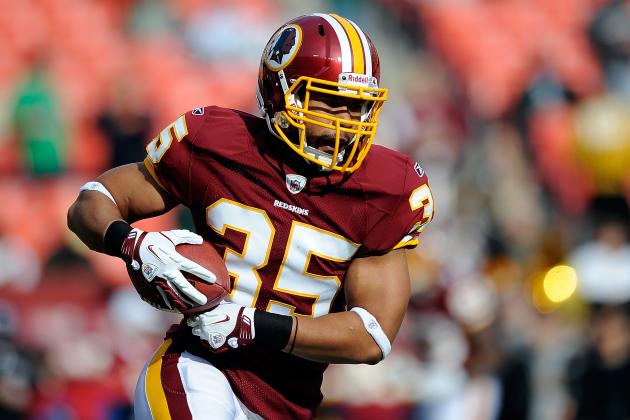 Patrick McDermott/Getty Images

According to a report from John Kiem of the Washington Examiner, Evan Royster began the Washington Redskins' training camp as the first-team running back. The question is can the 2011 sixth-round pick leapfrog the competition and become the starting runner for this season?
The competition at running back will likely be one of the most fierce battles taking place during Redskins training camp. Royster is one of four runners fighting for the right to carry the load for the ground game in 2011.
He will need to distinguish himself ahead of veteran Tim Hightower, fellow second-year pro Roy Helu and this year's sixth-round pick, Alfred Morris. Royster has a strong finish to the 2011 campaign in his favor.
In the final two games of last season, Royster gained 100 yards rushing against both the Minnesota Vikings and Philadelphia Eagles. He ran for 132 yards on 19 carries against the Vikes and needed 20 carries to gain 119 yards in Philly.
Those are impressive numbers, but how does Royster compare to the other backs on the Redskins' roster? In terms of style, Royster's finest attribute is his ability to gain ground between the tackles.
Hightower has a similar degree of upper-body power and can offer the Redskins' rush attack a similar type of threat. However, durability remains an issue for the player attempting to come back from a serious ACL injury.
Morris also possesses good power inside at 5'9" and 219 pounds. He can use a low center of gravity and a stout frame to punish the middle of a defense. A lack of pro-level quickness could undermine Morris though, as he may not the offer the explosiveness to attack cutback openings.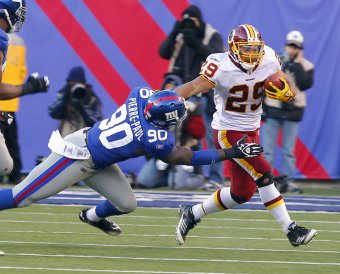 Jim O'Connor-US PRESSWIRE
Insufficient speed is not a problem for Roy Helu. Acceleration and agility are his best assets and where he certainly has the edge over Royster. The problem for Helu has more to do with decisiveness in the backfield.
At times last season, the ex-Nebraska ace often seemed like a "feast or famine" type of runner. If a natural and obvious hole was there, Helu would use his impressive initial burst to exploit it.
However, Helu didn't always have the patience to let creases develop, if a defense did a good initial job of plugging gaps. That patience is an essential requirement of Washington's zone-based scheme.
That's not to say that speed is not important and an inability to be a game-breaker could hurt Royster's chances of starting. Head coach Mike Shanahan's version of the zone running system is based on the outside stretch play.
That calls for initial patience, followed by decisive decision-making once a lane appears and the sudden acceleration to get through that opening. Washington Examiner's John Kiem's report, notes that Royster has more experience as an inside zone runner.
That could remain the best route to the starting job for the former Penn State standout. The zone rushing game is designed to terrorize a 4-3 front and with both the Eagles and the New York Giants, employing four-man front schemes, the Redskins need a workhorse in the backfield.
The Eagles' wide-nine, double three-technique line alignments, do leave the middle exposed and are naturally open to sound cutback running. Although he won't sprint past a defender on the edge, Royster's ability to run over them in the middle could give the Redskins a better chance of controlling the clock and setting up the play-action game.
With four runners vying for the lion's share of the carries Shanahan has some tough decisions to make, as he looks for the dependable workhorse to make his famed schemes work. If Royster can take full advantage of his first-team reps, he could make those decisions a lot easier.