Hulk: 6 Biggest Strengths of the Brazil Striker's Game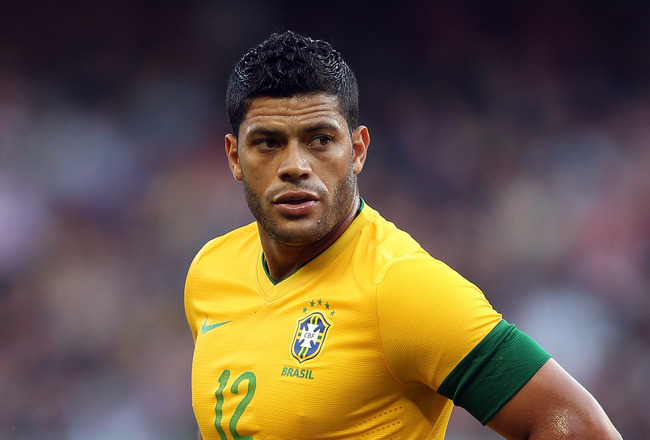 Julian Finney/Getty Images
26-year-old Brazilian Givanildo Vieira de Souza, who is currently on international duty with Brazil at the Olympics, is better known all over the world as Hulk. This nickname was given to him by his father, who is interestingly a fan of the fictional character, the protagonist from the TV series and movie, The Incredible Hulk.
Hulk plays for club side FC Porto, though there have been numerous rumors about him this transfer window regarding a move to UEFA Champions League winners Chelsea.
While the Brazil international tries to get his country to achieve gold at the Olympics, something that they have never done, let us analyse the six biggest strengths in his game.
Hammer of a Shot
As can be seen from the video, Hulk has an incredible shot on him. When his left foot unleashes a thunderbolt on target, the goalkeeper has to be prepared to get stung or see the goal net bulge.
Sadly for this keeper, he got stung and still conceded a goal.
A video in another slide demonstrates another example of the power in Hulk's shots. He almost burst the goal net with a 108 kmph drive while scoring that goal. With balls modified now and again at the international level, keepers find it hard to adjust to the swerve or flight.
If things were not bad enough, they found Hulk striking from all ranges, whether it be from 40 yards out or from the penalty spot.
I mean, seriously, who would even consider trying to save Hulk's penalty? The goalie might just leave the goal mouth to save Hulk the effort.
Dribbling
He who comes from Brazil shall be ridiculed if he does not know a good trick or two. Fortunately for Hulk, he has loads to offer in that department. Just watch the video and you will know what I mean.
Hulk can play as a striker or an inverted winger. His dribbling skills make him perfect for the latter. What fits more appropriately is that he loves to cut inside and unleash the kind of shots that take very little time in getting near to entering the net.
Strength and Power
Hulk's strength and power make him almost unplayable. Just like Didier Drogba, Hulk is not easily muscled of the ball. And with his dribbling abilities, he does not need others to offer support, find space or retain the ball. He is able to do all this by himself.
Despite his strength and power, Hulk is not really renowned for heading the ball. But then again, Brazilians rarely are. The Porto player has scored only one goal using his head, literally, since joining the Portuguese side.
These attributes make him ideal for the Premier League and Chelsea should do what it takes to acquire his services if the club actually intends on signing him.
Size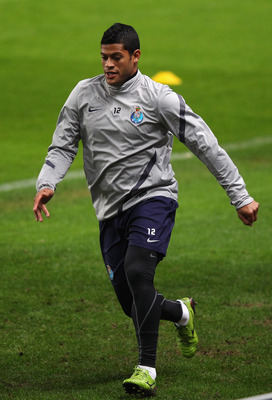 Alex Livesey/Getty Images
Hulk's size makes it hard to believe that he has all those attributes just mentioned and more. He does not have a low center of gravity, but still he is quick. He has a well-built torso on long legs and yet he is able to dribble admirably.
The Porto man is as fit as any footballer to have ever graced the planet. Being tall also means that you have a farther view, even if only by a little, of what is in front of you when you have your head down while dribbling at pace.
Finally, a larger size also gives you a larger frame to get the ball down and control it when a teammate passes.
Quick
Readers who have not seen Hulk in action might not actually believe in all these attributes contained in a single player, but it is actually true. They might be wondering that the picture being presented is very close to that of an ideal attacking player.
Well, Hulk is not far off, is he?
Hulk is arguably quicker than Didier Drogba, and we have all seen how Drogba used the combination of size, power, strength and swiftness to great effect in the Premier League with Chelsea. Hulk is bound to do the same.
For the moment, though, he should do it in London to help Brazil achieve gold.
He Can Score and at Times Assist as Well
Hulk, like all good strikers, has an eye for goal. He has scored 38 goals for Porto in the past two seasons in the league and is entering an age that is known as the prime for all strikers.
He also has an aye for a pass. While he scored more last season than this one just gone by a few months ago, he assisted far more this season than last.
With all these attributes and strengths, it is no wonder that Porto instated such a grand amount in his contract as release clause.
Keep Reading