Mexico vs. Gabon: Olympic Men's Soccer Live Score, Highlights, Stats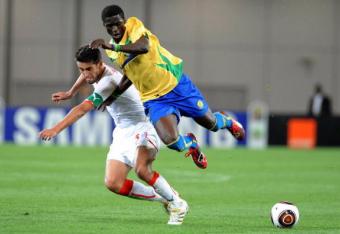 Gallo Images/Getty Images
2012 Summer Olympics, men's football tournament, Group C
Mexico 2-0 Gabon
LINEUPS
Mexico: Jose Corona (C); Carlos Salcido, Hiram Mier, Darvin Chavez, Diego Reyes, Nestor Vidrio; Javier Aquino, Hector Herrera (Enriquez 49'), Miguel Ponce (dos Santos 45'); Marco Fabian (Cortés 76'), Oribe Peralta
Gabon: Didier Ovono (C); Muller Dinda (Nzambe 85'), Franck Engonga, Alexander N'Doumbou (Nono 70'), Henri Ndong; Levy Madinda, Jerry Obiang (Mbingui 84'), Merlin Tandjigora, Mabikov Boussoughou; Pierre Aubameyang, Axel Meye
Goals: Dos Santos (63', 90'+2)
FULL TIME: MEXICO 2-0 GABON
Australian Ben Williams blows up for full time to put Gabon out of their misery.
Mbourounot's men did well to last and developed a threat of their own in the second half but Mexico were always in control of this tie.
Mexico will face Switzerland next where they hope to assure their progression into the next stage while Gabon will take on South Korea.
Giovani dos Santos came on to prove his worth once again today and surely can't be left out of Mexico's next starting XI.
Don't stray too far fro B/R who will be providing you with reaction to today's matches as well as the rest of the Olympic men's Football tournament.
90'+2—GOAL! (Dos Santos)
He may not have started the match but he's sure as heck finishing it.
Giovani dos Santos, an outcast at White Hart Lane, doubles his tally by putting the penalty past Didier Ovono.
Mexico soar to the top of Group B.
90'—PENALTY (Mexico) Red Card!
Game Over.
Just when you think things can't get any worse for gabon, Henri Ndong gives away a penalty to ensure his team's demise.
The defender was off balance and stumbled into Oribe Peralta, bumbling him over in the process.
That was Ndong's second booking and so his tournament looks over.
88'—MEX 1-0 GAB
In these dying minutes, Mexico need do only one thing—hang onto the ball.
Except that's the one thing they're having trouble doing, as they have done all game and Gabon remain in this fixture.
The African side have had the majority of the second half chances so don't turn away from this one just yet.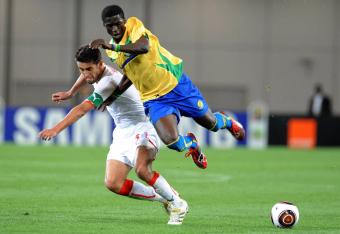 85'—INCHES CLOSE!!
After a desperately missed bicycle kick from Andre Aubameyang, substitute Allen Nono is at the back post but screws his effort just wide.
That could have squared things.
84'—Substitution (Gabon)
Final change for Gabon and it's 16-year-old Muller Dinda that come sof so that Stevy Nzambe can come on.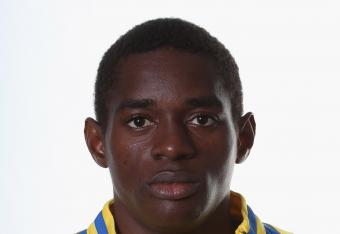 82'—Substitution (Gabon)
Jerry Obiang has had a decent match today and makes way for 20-year-old Samson Mbingui who almost scores with his first touch from a corner.
Nearly a dream introduction for Mbourounot.
80'—MEX 1-0 GAB
Ten minutes remaining and Mexico are stil in a good position heading into the final leg of this game.
The ponchos in the crowd won't all necessarily hold firm Hispanic allegiances but the crowd's favourite look like they're on the way to the top of Group C.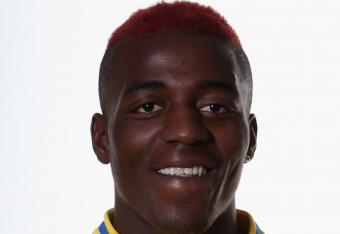 77'—MEX 1-0 GAB
Fortunately for Mexico, Gabon are in equally as wild a mood and their search for a goal means Axel Meye struggles to latch on to his teammates' poor crosses.
Gabon aren't going to equalise unless they take their time.
76'—Substitution (Mexico)
A third and final sub for Tena sees Javier Cortés come on in the place of Marco Fabián.
73'—MEX 1-0 GAB
Mexico's worst crime isn't a lack of ability, just a lack of calm.
The Tri are eager to get more goals but are inhibiting themselves by misplacing frenzied passes, with Enriquez the latest culprit.
71'—MEX 1-0 GAB
That goal seems to have lit a fire under the Gabon contingent and the African representatives are now looking a little more fierce in the last third.
Jerry Obiang blasts a laid shot in the direction of the Mexican net but Corona comfortably cradles the ball into his arms.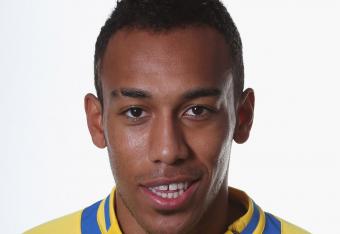 69'—MEX 1-0 GAB
Aubameyang, as usual, looks like one of Gabon's more lively attacking threats.
After several frantic chances, Mbourounot puts Allen Nono on in place of Alexander N'Doumbou.
65'—MEX 0-0 GAB
Luis Tena is in a Tena-ous position here. (See what I did, there?)
Gabon have already come from behind to earn a point at the Summer Games but Mexico can't afford to shut up shop, either.
The dilemma of an international football manager..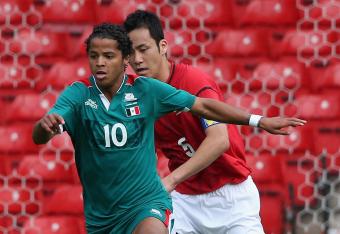 63'—GOOOOOOAAAAAALLLLLLL!!! (Dos Santos)
Who else would it be to score Mexico's first goal of the 2012 London Olympics?
Giovani dos Santos, often referred to as the "Poster Boy of Mexican Football", powers home from all of 16 yards after a mountain of Mexican pressure.
Peralta with the subtle assists there.
59'—MEX 0-0 GAB
Javier Aquino charges down the right flank and turns on the afterburners to get past Muller Dinda.
However, Dinda recovers well and forces Aquino to put the ball out.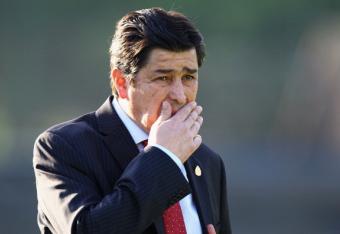 56'—MEX 0-0 GAB
Luis Tena must be containing a lot of frustration right now.
His defenders insist on launching long balls into the Gabon half when his side are capable of cutting their way through if they can just hold onto the round thing.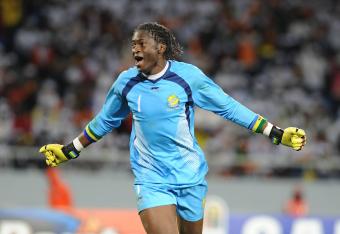 52'—Brilliant Save!
Didier Ovono, take a bow.
Some neat build-up play on the edge of the Gabon box opens up the space for Peralta to curl an effort towards the Gabon goal but Ovono dives to reject the oncoming shot.
That one was goalbound.
51'—MEX 0-0 GAB
Remarkably, Mexico earn their first corner of the game after Giovani dos Santos thunders a free-kick against a Gabon defender.
The Spurs attacker takes the set-piece but it's easily cleared.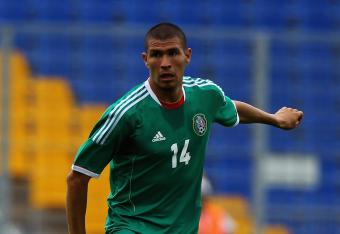 49'—Substitution (Mexico)
Hector Herrera comes off for Jorge Henriquez
48'—MEX 0-0 GAB
Dos Santos wastes no time in getting on the ball and initiating an attack but his pass to Peralta is not completed after the striker wandered offside.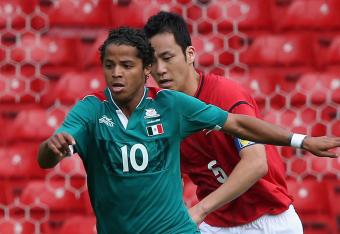 Halftime Substitution
Defender Nestor Vidrio makes way fro fan favourite, Giovani dos Santos, the only player in Mexico's squad not to ply his trade in his native Mexico.
That substitute marks a big change in tactics for Tena, who appears intent on snatching the win here.
Second Half
The players emerge from the tunnel and the game is set to get back underway at the City of Coventry Stadium.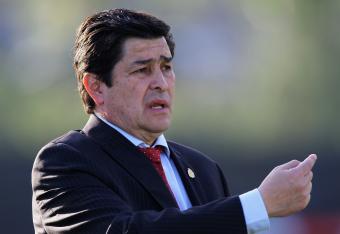 HALFTIME: MEXICO 0-0 GABON
The first period ends in the same fashion as it started and a final Mexican effort on goal is driven wide before Ben Williams signals for halftime.
Claude Albert Mbourounot's Gabon are hanging in there but something needs to change if they are to emerge as victors today.
44'—CHANCE!
This attack summed up Gabon's attacking efforts so far.
Franck Engonga barrels through the Mexican defence and, afraid to concede the penalty, the Mexicans allow him to stumble before getting to his feet and lashing an effort against Nestor Vidrio, barely seven yards out.
This article is
What is the duplicate article?
Why is this article offensive?
Where is this article plagiarized from?
Why is this article poorly edited?