On Friday, Cesar Gracie announced (via GracieFighter.com) that Nick Diaz has every intention of returning to the Octagon as soon as possible. When he does, he would very much like to face current UFC middleweight champion Anderson Silva in his return bout.
Silva's manager Ed Soares wrote on Twitter that it would be a "pretty good" idea. On Saturday, Gracie filled in some more details about Diaz's desire to face Silva inside the Octagon.
MiddleEasy.com spoke to Gracie via telephone about Diaz's return and the fighter's request to face Silva upon said return. During the conversation, Gracie made one thing clear: neither he nor Diaz have any desire to pursue Silva's middleweight crown:
It's not about the title, we don't want a title. If it were to be at 185 we don't want the title. Nick isn't trying to be disrespectful to all the great middleweights out there, our camp doesn't want that. There's a lot of great middleweights out there that are in line for a title shot. This is about fighting, a superfight.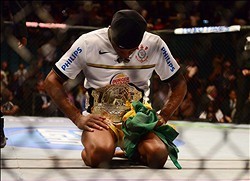 Mark J. Rebilas-US PRESSWIRE
The fact that Gracie acknowledges that there are a number of top-notch middleweights in line for a shot at Silva's title is commendable. That may quiet some of the rumblings about a Silva versus Diaz fight, but it's highly doubtful that his tip of the hat to the 185-pounders will make those fighters feel any better about possibly being passed over so that this "superfight" can take place.
One wrinkle in this talk is that Diaz is currently suspended by the Nevada State Athletic Commission until February 2013 after his post-UFC 143 drug test came back positive for marijuana metabolites.
Therefore, if the Silva versus Diaz fight does get booked, and Silva doesn't fight before then, his next title defense would not take place until sometime in mid-to-late 2013. That fact would more than likely leave the top contenders in the middleweight division a wee bit miffed.
Do you think we will ever see Silva vs. Diaz?
Gracie did offer a solution to that conundrum: book the fight somewhere other than Nevada.
Nick has a contract with the UFC, they need to let him fight. He doesn't have a contract with the NSAC, he has a contract with the UFC and so he could fight in Brazil, he would love to fight in Brazil or Europe.
The odds of that taking place could be placed at close to zero.
UFC president Dana White was asked about this scenario in the past, specifically when Chael Sonnen was serving out his suspension with the California State Athletic Commission. White said, "Nope, we won't let him fight anywhere. We'll honor that suspension until it's cleared up" (via MMAWeekly.com).
Asking White to make an exception in Diaz's case will most likely fall on deaf ears.
There are a lot of obstacles to overcome before a Silva versus Diaz fight can take place, and I suspect that this will not be the last we hear from Cesar Gracie on the subject.
Be sure to check out the full interview with Cesar Gracie right here.