WWE Opinion: Taking a Look at the Best Moments in 2012 Thus Far
Over the course of 2012, WWE television has been filled with moments that will be remembered for years to come. Whether it is amazing, action-packed matches or magnificent, yet unexpected returns, WWE has always found a way to make history. This year was no different, as we witnessed greatness time and time again. Most people take a look at the bad over the good, but I'm using this article to do the exact opposite.
In what was has been a solid year thus far for WWE(in my opinion), there have been multiple times where WWE left me in complete shock. Sometimes it was for the good, while others for the bad, but nonetheless, I was awestruck. In this article, I will be looking at the good over the bad. So without further ado, let's take a look at the greatest moment of 2012 in the WWE!
The Return of Y2J
For over a month, vignettes played stating that a former star will return to take what is rightfully his. It was going to be the end of the world as we knew it. Rumors immediately began to swirl and it basically came down to a few options, which included the McMahon children, Undertaker and Chris Jericho.
It ended up being the latter of the three, as Y2J made his long awaited return. While he didn't exactly change the face of WWE (He is yet to win a PPV match), he has still helped to create amazing and exciting matches.
Chris Jericho has always been a great wrestler, but just hasn't seemed to ever be THE wrestler. He could easily assume the role in my opinion, but the time has never been right. He has worked well as a both a face and a heel, and after returning as the bad guy, it looks like he is switching sides due to his feud with Dolph Ziggler.
However, despite his lack of impact, his return was still built up and didn't disappoint, although his lack of words was slightly confusing.
The End of an Era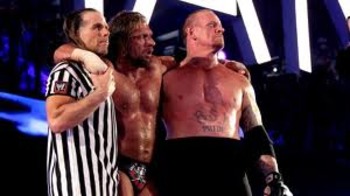 As WrestleMania began to approach, the WWE Universe quickly began taking shots at who would be Taker's next victim. As rumors began to pop up of Triple H being the likely opponent, I grew frustrated.
Instead of using this opportunity as a way to put an up-and-comer over, WWE was using doing the same old song and dance. The addition of Shawn Michaels didn't help matter either in my opinion.
I'll be the first to admit that I was deadly wrong. Sure, both superstars are on the back end of their career, but that doesn't mean they can't go in the ring. They put on what was in my opinion, a lock for match of the year (D-Bry vs Punk at OTL may end up as a close second).
These two put and end to an era in style, creating history inside Hell in a Cell. Shawn Michaels played his part to perfection and the three marched out of Miami standing tall, and rightfully so.
The Great One Stands Tall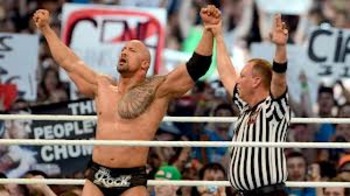 In a feud that started in weeks leading up to WrestleMania 27, The Rock and John Cena were part of one of the most built-up, anticipated feuds in history. After scheduling their matchup a year in advance, they had to deliver a quality match, or it would be a huge disappointment.
They definitely delivered, as they created an amazing back and forth match between the past and the present. The entire fight really told the story of these two, and despite The Rock winning, it was nearly impossible to figure out who would win until the referee counted to three.
While The Rock quickly went off to make movies and John went back to be the Super Cena we all hate, it is probably safe to say that these two aren't finished yet.
One Word: Crazy
When AJ Lee broke onto the scene as part of NXT, she was known as the nerdy good girl. Boy, things have changed mightily to say the least. She is quite the opposite of a good girl, as she is twisted, cruel, and crazy to say the least.
She has had multiple moments that scrammed insanity, but I feel that pushing Daniel Bryan and CM Punk through a table just moments after locking lips with Punk was the peak of her run. She hasn't slowed down much and things may begin to heat up, and we will see her a lot more now that AJ is running things on Raw.
I have liked the growth of AJ as a character, but I fear that with too much TV time, the WWE Universe could grow sick of her. With that said, maybe more time in the spotlight could be good for her, as she continues her reign as the craziest woman in the WWE.
John Cena Wins.....Shocker!
Was this one a big surprise? No. Did everybody see it coming? Yes. Heck, was the ending botched? Yes. Nonetheless, there is no denying that this yet another big accomplishment that Cena can chalk up on his long list on accomplishments.
To see Cena accomplish something for the very first time is hard to come by nowadays, so seeing it happen was actually pretty cool.
While I knew Cena was going to walk out with the briefcase, I was hoping for Y2J to win it. I had a whole story planned out: Jericho would win the briefcase and then go out on his tour. Upon his return he would cash in the briefcase, and after such a long wait, it would be the end of the world as we know it!
However, that didn't happen and John "defied the odds" to walk out with the briefcase.
A Star Is Finally Born
For years Dolph Ziggler has been stuck in the background. Whether it was being the caddy to Chavo Guerrero or a backup in a male cheerleading squad, Ziggler has never been able to shine in the spotlight.
At Money in The Bank, all eyes were on him, and he delivered. In a match that really came down to Dolph Ziggler and Cody Rhodes, Zig managed to pull down the briefcase and is now guaranteed a shot at the World Heavyweight Title.
For just about two years, fans all over the Internet have been begging for Dolph to get a title reign that is longer than a few minutes. However, WWE always seemed hesitant to give him that one final push.
Just when it seemed that he was breaking out, he would go on a losing streak and drop back into the midcard. However, that time has finally passed. Ziggler can finally be looked at as main event player.
CM Punked?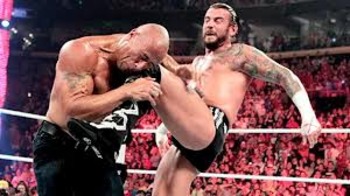 For the past few years, WWE has created a huge summer angle that really grabbed the viewers. First came the Nexus, the ruthless group of rookies that refused to go unnoticed. Last year was no different, as CM Punk cut an epic promo, taking shots at the WWE brass for all the unfair politics.
With back-to-back big storylines, the WWE creative was under a lot of pressure. It seems that they have come up with he beginning of the angle.
Last Monday, CM Punk squared off against John Cena for the WWE Championship. While Punk walked out with the title still around his waist, he didn't do it alone. After reluctantly watching Big Show attack Cena, it seemed as though Punk was on his way out of the ring, but after The Rock got in the ring, something explosive happened.
Setting up for The People's Elbow, The Rock went running, only to be nailed by Punk with a flying clothesline. One GTS later, and it seems that Punk has turned his back on the WWE Universe. It was a great way to end a fantastic and historical show, but this is just the beginning. Look for Punk continue his transition is WWE's resident heel.
Keep Reading