Olympic Volleyball 2012: Upcoming Tests for Team USA's Beach & Indoor Teams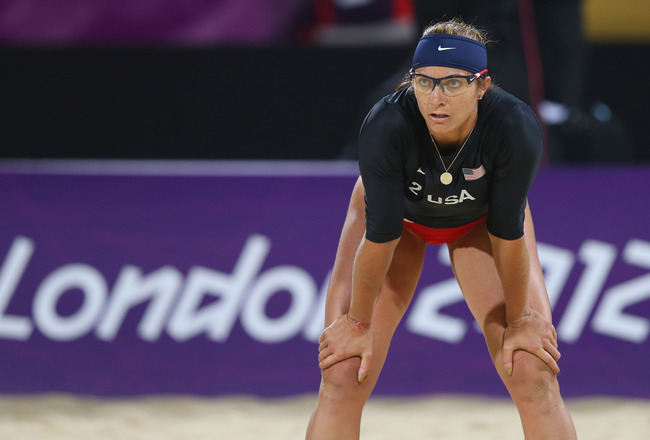 Ryan Pierse/Getty Images
Volleyball fans have two styles of the sport to watch at the 2012 Summer Olympics in London. Both indoor and beach volleyball will be on display for two weeks in the British capital.
The United States has six teams competing in the sport: one men's and one women's team indoor, and two pairs of each gender on the beach. To make it even more interesting, all six of those squads will compete for a medal at these Olympic Games.
Half of those teams have already made their start to the Olympic tournament, all of them with a victory. The other half kicks off on Sunday. Click through to read about each team's next match.
Men Indoor vs. Serbia (Sunday at 11:45 a.m. ET)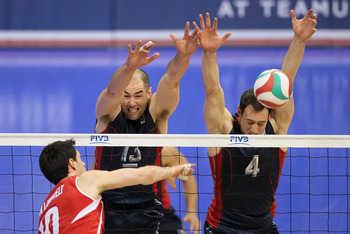 Jeff Gross/Getty Images
The U.S. men will open the 2012 Summer Olympics against Serbia. It will be a No. 5 (U.S.) vs. No. 7 (Serbia) matchup in the world rankings and will determine where both of the teams stand.
Realistically, it will be a stretch for either team to make it onto the medal podium, but matches such as these, against other fringe teams, will be crucial to determining just how much of a chance they have.
Despite a drop in the rankings, the Americans are defending their 2008 gold medal and won't go down without a fight.
April Ross and Jen Kessy vs. Argentina (Sunday at 4 p.m. ET)
Lintao Zhang/Getty Images
April Ross and Jen Kessy are the No. 2 American pair in London. They will face Maria Virginia Zonta and Ana Gallay of Argentina on Sunday in their first matches of the 2012 Games.
The Argentina team shouldn't be a problem for Ross and Kessy, who could end up on the medal podium next to their American compatriots by the end of the tournament.
Phil Dalhausser and Todd Rogers vs. Japan (Sunday at 5 p.m. ET)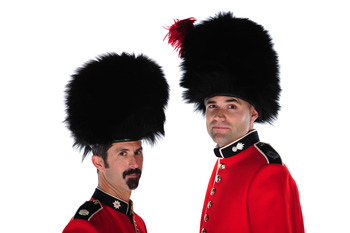 Harry How/Getty Images
Todd Rogers and Phil Dalhausser are set to defend their 2008 gold medal with their first match at London 2012. The Japanese pair of Asahi Kentaro and Shiratori Katsuhiro will be their opponents, but this match shouldn't be too close.
The Americans should easily win this matchup of experienced players. Dalhausser, 32, and Rogers, 38, have a winning pedigree that Asahi, 36, and Shiratori, 35, just don't have.
Women Indoor vs. Brazil (Monday at 11:45 a.m. ET)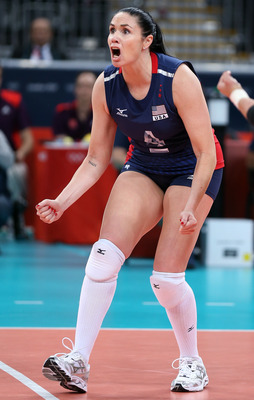 Elsa/Getty Images
Both the U.S. and Brazil were taken to the limit in their first games of the group stage of London 2012. Brazil is the defending Olympic champion, but it took five sets to defeat Turkey on Saturday. The U.S. beat South Korea in four.
After that opening performance, the two world leaders will want to make a statement in their next match. It will be a good match between the No. 1-ranked U.S. and No. 2 Brazil.
This could also be a preview of the gold-medal match, and there is very little separating the two teams. The U.S. responded well to dropping the third set against South Korea, but any slip-up against Brazil will be punished more ferociously.
Jake Gibb and Sean Rosenthal vs. Poland (Monday at 4 p.m. ET)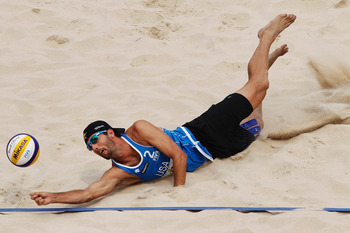 Lintao Zhang/Getty Images
The No. 2 American men's pair continues its second Olympic campaign on Monday against Grzegorz Fijalek and Mariusz Prudel of Poland. The Americans won their first match, while the Poles dropped theirs.
Although they might be the No. 2 pair, look for Gibb and Rosenthal to make a run for the gold medal. In the build-up to the London Games, they started winning matches at a pace they haven't since finishing a disappointing fifth in 2008.
Misty May-Treanor and Kerri Walsh-Jennings vs. Czech Republic (Mon., 6 p.m. ET)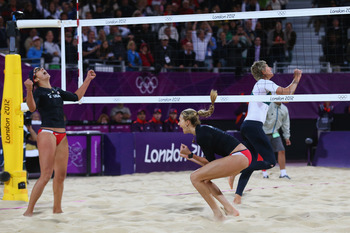 Ryan Pierse/Getty Images
Misty May-Treanor and Kerri Walsh-Jennings have a day to think about their close first match against Australia before facing Kristyna Kolocova and Marketa Slukova of the Czech Republic on Monday.
The American No. 1 pair should coast through the group stage after that first match. They won back-to-back gold medals in 2004 and 2008, but they were apart in 2009 and 2010 due to injuries and pregnancies.
Still, they finished second in the 2011 World Championships on their way to an unprecedented third straight beach volleyball gold.
Keep Reading