Olympic Swimming Results 2012: Day 2 Updates, Medal Winners, Analysis & More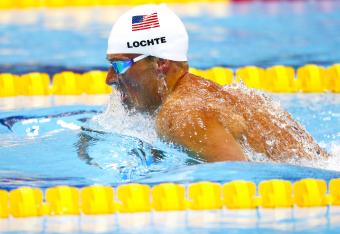 Day 2 of the 2012 Olympic swimming competition includes:
Women's 100m Butterfly - Finals

Dana Vollmer wins gold medal with world record time.
Men's 100m Breastroke - Finals

Cameron van der Burgh wins gold medal with world record time.
Women's 400m Freestyle - Finals

Muffat of France wins gold with American Schmitt right behind. Rebecca Adlington wins bronze for Great Britain.
Men's 4x100m Freestyle - Finals

Team USA takes the silver in the 4x100m free relay. Lochte loses the lead in the final 100m and France gets the gold.
That's it for now. Don't spoil it for all your friends who will be watching tonight... Unless they deserve it.
Where do I get one of those USA Swimming jackets? They're awesome.
What a day it's been at the pool. A much better one for the Americans, particularly with Dana Vollmer's world record performance to take the gold in the 100-meter butterfly. Although it wasn't as triumphant as Beijing, the silver medal in the 4x100-freestyle relay was a good race for the Americans. Phelps turned in a great leg, easing concerns over his demise in the 400 !M.
What should be very exciting is Lochte against Yannick Agnel in the 200-meter freestyle final tomorrow. Agnel was slightly faster in his anchor leg of the 4x100. Sun Yang, however, heads into that race with the fastest qualifying time.
I always forget there are other sports besides swimming in the olympics

— Swimmer Problems (@swimmerproblems) July 29, 2012
WOW HOW ABOUT THAT men's 4 x 100 fre relay??? Best race so far

— Stephanie Rice (@ItsStephRice) July 29, 2012
By the way, Michael Phelps just won his first ever silver medal. It's now 14 gold, one silver, two bronze...
Australia doesn't even win a medal in the 4x100-meter freestyle. That's crazy. France-USA-Russia on the podium. Can't wait to see what Magnussen has to say.
Jason Leak was in the stands. We would have won if it was him instead of Lochte, right? Uh-huh...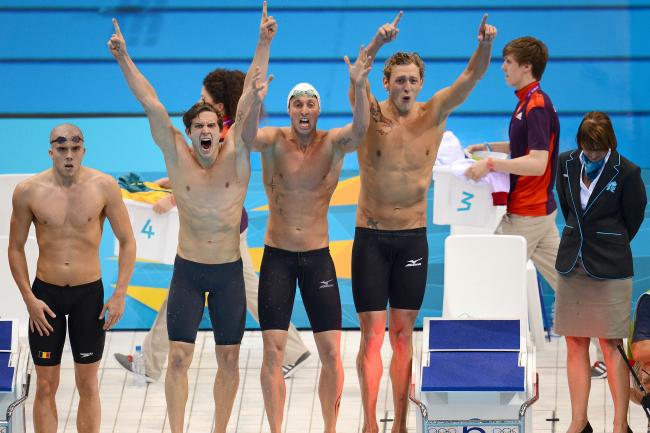 France and USA down the stretch neck and neck again! France gets revenge by taking gold over the United States.
Phelps turns in a great split. Cullen Jones leading the race for USA now. Nail-biting!
USA in the lead after one leg. Adrian out-legs Magnussen!
4x100 freestyle teams entering the pool deck. Buckle your seat belts...
Missy Franklin swims an impressive second half of the 100 backstroke to win her semifinal. Not a gold-medal time, 59.12 seconds, but looks pretty good.
Missy Franklin in the water in her semifinal for the 100-meter backstroke.
Australia's Coutts (bronze in 100 fly) said she could have got silver if she hadn't thrown up in pool with 50 to go. Um, O.K. #london2010

— Andrew Das (@AndrewDasNYT) July 29, 2012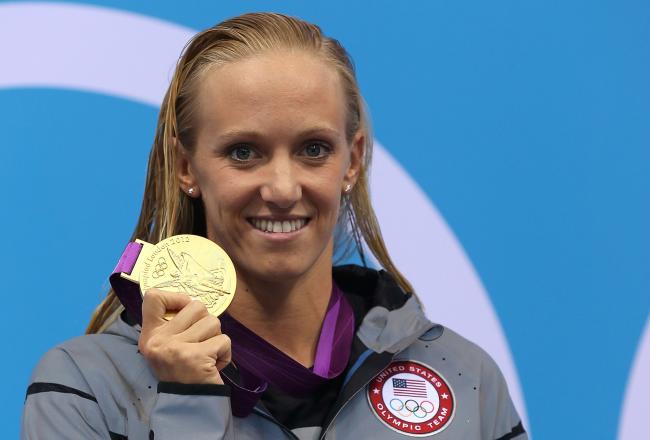 Photo of the day in swimming so far?
No record, but Grevers went 52.66, looking strong heading into the final. Lacourt is behind him at 53.03
I didn't see the swim cap fall off. Moving too fast, perhaps.
Terrific WR setting, gold medal winning swim by @danavollmer 100 fly & she lost her bathing cap during 1st 50m! #nbcolympics

— Andrea Kremer (@Andrea_Kremer) July 29, 2012
Adlington gets bronze in 400 free, but status as Britain's swimming sweetheart seems secure judging by crowd's roars. #london2012

— Andrew Das (@AndrewDasNYT) July 29, 2012
Camille Lacourt of France just won the first semifinal in 100-meter backstroke. PREDICTION: Grevers will set a world record in his semifinal heat. That's a stretch, but I just have a feeling.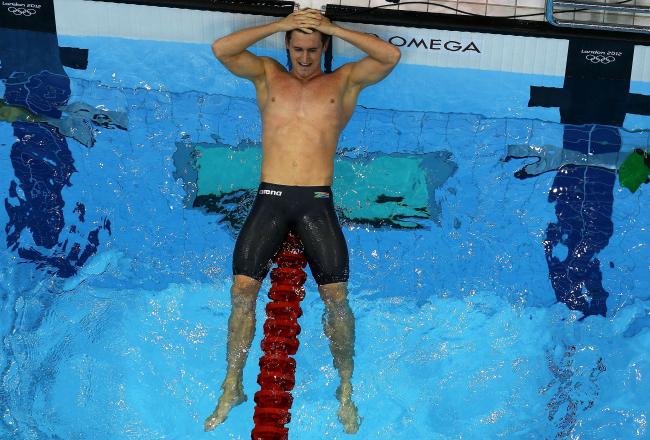 Cameron van der Burgh had a great celebration sitting on top of the lane line.
Arkady Vyatchanin of Russia, swimming in the first semifinal of the 100-meter backstroke, is 6-foot-8.
Muffat sets Olympic record by out-touching Allison Schmitt for gold in the 400-meter freestyle. Great race.
Allison Schmitt and Camille Muffat in a duel down the stretch.
This article is
What is the duplicate article?
Why is this article offensive?
Where is this article plagiarized from?
Why is this article poorly edited?