Olympic Women's Gymnastics 2012 Sunday Results: Live Scores, Highlights & More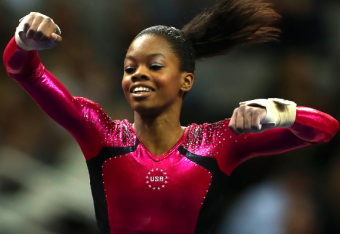 When we started monitoring this long day of women's gymnastics qualifications, we said the United States, Russia, Romania and China were the leading contenders. And they are.
Those four countries accounted for eight of the top 10 gymnasts to advance to the individual all-around final. It would be 10 of the top 12 if not for the rule that limits each country to two gymnasts in each final. That rule will keep world champion Jordyn Wieber out of the all-around final.
The USA and Russia put some distance on the other contenders. China and Romania were clearly ahead of the rest.
Read on to see how it all unfolded ...
And for those who like to watch the all-around bubble, the last person in is Australia's Ashleigh Brennan. The Aussies will have two in the final.
No one in this last qualification session came close to the all-American-and-Russian top five.
That does it for today. Thanks for spending many, many hours with us. Should see some thrilling old-school USA-Russia action in the finals, along with a few surprises from elsewhere.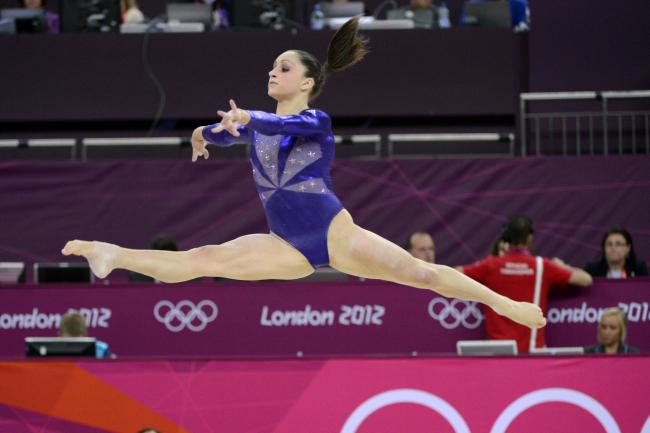 Final U.S. apparatus qualifiers:
Vault: McKayla Maroney, first
Uneven bars: Gabby Douglas, sixth
Balance beam: Gabby Douglas, third; Aly Raisman, fifth
Floor: Aly Raisman, first; Jordyn Wieber, sixth
Final team qualification standings:
1. USA, 181.863
2. Russia, 180.429
3. China, 176.637
4. Romania, 176.264
5. Britain, 170.656
6. Japan, 170.196
7. Italy, 168.397
8. Canada, 167.696.
Just missing out: Germany, 167.331. Australia was also close, France not so close, Brazil nowhere near.
The remaining suspense: Who will get the two Romanian spots in the all-around?
Oops ... never mind ... Chelaru didn't compete on the beam. So it's Iordache, who qualified in ninth place, and Izbasa, who's 11th.
Japan's scores are in. Asuka Teramoto is a solid eighth in the all-around. But the rest of the team is underwhelming. Rie Tanaka will just barely squeeze into the all-around final. The team score is fifth behind Britain. And they don't seem to have qualified anyone for the apparatus finals.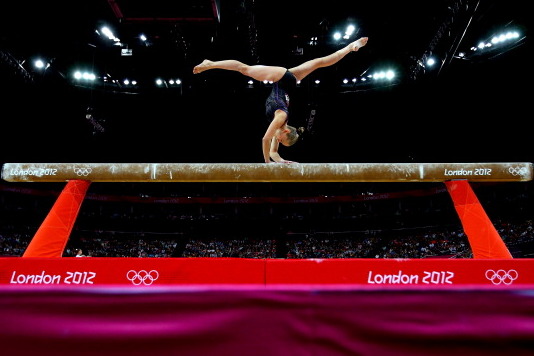 Final rotation. And if you're an American sweating your place in the apparatus finals, you can almost relax. Maroney's still first in vault. Douglas is still sixth on uneven bars. Douglas and Raisman are still third and fifth on beam. The only American who has been bumped down a space through three rotations is Wieber, who's sixth in floor exercise. Hasn't she been through enough today?
In other three-way battles ... the Romanian all-around contenders are clustered together:
Larisa Iordache, 43.000
Sandra Izbasa, 42.932
Diana Chelaru, 42.732
All three could easily qualify for the all-around, but as the U.S. team can tell you from experience, only two can qualify.
Romania slipped a bit in the uneven bars (41.833) and might not finish ahead of China in the team competition.
Japan, meanwhile, isn't showing much depth at all. Asuka Teramoto is ahead of the Romanians in the all-around. Their other two all-around contenders trail.
More success for Romania today. Water polo score:
13-4 victory for Romania. That one was always going to be difficult for the British men but four more chances to make amends this Games.

— British Swimming (@britishswimming) July 29, 2012
Halfway through, and still, it's Romania pushing through. They post a 45.733 on the vault.
Japan's beam score of 42.765 was well behind the three leaders.
But first, let's wait for Lithuania's Laura Svilpaite to finish her floor exercise while everyone else chills in between rotations. ...
All done? Great. Japan is off to the floor; Romania hits the bars. The uneven ones, that is. This isn't a story about the Olympic Village.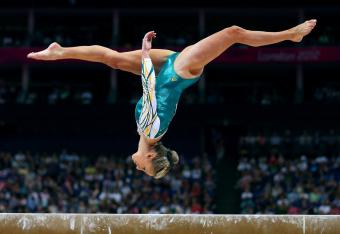 Quick look at the international bubble: Germany is in seventh place, Australia eighth. They can't feel the least bit secure with Romania and Japan out there now.
The top six so far: USA, Russia, China, Britain, Italy, Canada.
The individual all-around is more difficult to calculate. We'll have 24 in the final, but no more than two from each country. So the cut line right now is somewhere around the three Brazilian gymnasts clustered between 30th and 32nd. Above them, Germany's Nadine Jorosch (29th) and Greece's Vasiliki Millousi (28th) should be nervous.
Heeeeeere comes Romania. Their 43.999 on the floor exercise is the best by any team so far. Sandra Izbasa has bumped Jordyn Wieber down to sixth.
None of the other apparatus standings have had any significant change.
Japan actually leads Romania after one rotation, but the uneven bars have seen higher scoring than the floor exercise all day.
Reporter finds U.S. team keeping a positive attitude after the surprise of Aly Raisman qualifying for the all-around final ahead of Jordyn Wieber.
Maroney attitude level set to "comforter" : "I think (Jordyn) will be fine. She's a strong gymnast. She can turn it around in 2 seconds."

— Will Graves (@WillGravesAP) July 29, 2012
Tough sport to have athletes competing against each other in such high-stake contests one day and then turning around to join together so quickly.
Commentator jinx. Vietnam's Thi Ha Thanh Phan comes up for the vault with our commentators expecting something big. They see a flat-out fall on her first landing. Then her second landing takes her off the mat. She won't advance to the vault final.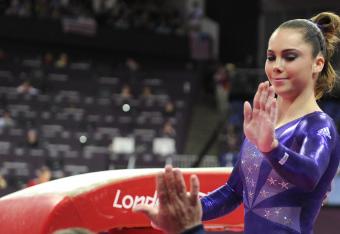 So let's peek at those apparatus standings and see what's what for the USA:
Vault: McKayla Maroney is the leader. No need to worry about her about making other plans.
Uneven bars: Gabby Douglas stands sixth with a 15.333. British favorite Elizabeth Tweddle leads at 16.133.
Balance beam: Both all-around Americans are in good shape here -- Douglas is third at 15.266; Aly Raisman fifth at 15.100. Kyla Ross is sixth, but as in the all-around, only two gymnasts from each country can qualify.
Floor exercise: Raisman leads this with a 15.325. Jordyn Wieber, improbably, must hang on here to compete in any individual event. She's fifth, with a 14.666.
Thanks for that wonderful introduction. I am indeed Beau Dure, ready to watch the fifth and final qualification session for women's gymnastics.
Not much suspense here for the U.S. team or the all-around qualification. We'll be watching the apparatus standings to see who survives in the final eight for each of those four medal events. And we'll see if the two full teams in this session, traditional power Romania and occasionally interesting Japan, look ready to threaten the talented Americans in the team final.
The other gymnasts in this session are on "mixed" teams -- basically, their countries didn't qualify for the team event, but they're giving it a go individually.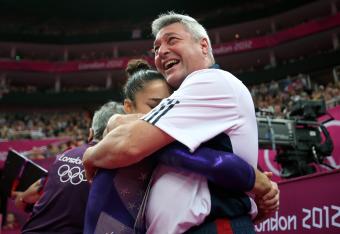 This all-encompassing update machine will be under direction of the highly skilled Beau Dure moving forward as Bleacher Report continues to bring you all the action from London. There's still plenty to be determined and what happens in the subdivision 5 session will shake out the finals situation in the individual all-around and team competition.
So stay tuned and enjoy the drama of Olympic gymnastics!
Individual All-Around standings through four subdivisions
Now that we've analyzed the newly adjusted team standings, let's take a look at the current state of the individual all-around leader board.
Again, keep in mind that subdivision 5 takes place in about at approximately 2:50 p.m. ET with representatives from mighty Romania set to take center stage.
1. Victoria Komova, Russia -- 60.632
2. Aly Raisman, U.S. -- 60.391
3. Gabby Douglas, U.S. -- 60.265
4. Jordyn Wieber, U.S. -- 60.032
*Wieber is excluded from finals because nations are limited to two representatives.
5. Aliya Mustafina, Russia -- 59.966
6. Linlin Deng, China -- 57.998
7. Vanessa Ferrari, Italy -- 57.932
8. Qiushuang Huang, China -- 57.707
9. Anastasia Grishina, Russia -- 57.332
*Grishina is also excluded from finals because nations are limited to two representatives.
10. Jessica Lopez, Venezuela -- 56.665
Today's top gymnastics story -- Jordyn Wieber's failure to qualify for the AA final -- is based on a rule that doesn't allow more than two representatives from one nation to reach the final. So despite the fact that Wieber currently sits in fourth place in AA standings after four subdivisions, she is out of options since she trails American teammates Gabby Douglas and Aly Raisman.
For the record, I hate this rule. It's worse than Major League Baseball requiring at least one representative from all 30 teams. It puts competitive fairness in jeopardy when you selectively cap greatness at the Olympics.
NBC's Andy Thornton agrees...
Wow, this is stunning.Defending world AA champ Jordyn Wieber has just missed the AA finals.This 2 per country rule HAS to finally go.

— Andy Thornton (@AndyThorntonNBC) July 29, 2012
Check out this tweet from Rita Wieber (Jordyn's mother). With how good these gymnasts are, it can be easy to forget that they're also teenage girls far from home.
My one wish right now would be to give my amazng daughter #jordyn_wieber a huge hug.So proud of her.She is all class!!!#Olympics

— Rita Wieber (@gymmom) July 29, 2012
Time to re-examine the overall team scoreboard, as this session of Olympic women's gymnastics qualifying is in the books.
Here's the revamped standings after four rotations:
Remember, the top eight teams advance into the Olympic team finals. We still have one subdivision to go and it includes talented teams from Romania and Japan.
1. United States -- 181.863
2. Russia -- 180.429
3. China -- 176.637
4. Great Britain -- 170.656
5. Italy -- 168.397
6. Canada -- 167.696
7. Germany -- 167.331
8. Australia -- 166.721
2008 Olympic gold medalist and recently retired American gymnast Shawn Johnson showing some love for the new generation of American stars.
At one point, many thought Johnson would be a part of this squad.
All of the girls did Team USA proud. Watch out... Tema Finals here we come #OlympicsTODAY

— Shawn Johnson (@ShawnJohnson) July 29, 2012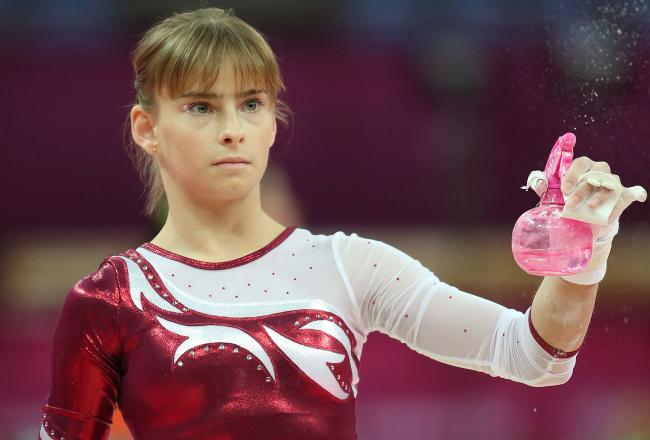 Russia's Anastasia Grishina starts things off on beam with a relatively error-free performance. However, nothing in her arsenal stood out enough to blow away the judges.
She picked up a 14.900. In contrast, three Americans (Gabby Douglas, Kyla Ross and Aly Raisman) secured scores higher than 15.
Germany is stumbling toward the finish line
In its final event of this Olympic qualifying session, the Germans are struggling to stick landings on vault. The team finds itself 13 points behind Russia and was never considered a top-flight gold medal contender, but you hate to see any dream end this way.
Germany's Nadine Jarosch fell hard after her flight through the air and teammate Janine Berger followed with a major backward stumble on her landing. Both gymnasts handled it with grace, saluting the crowd before walking off the biggest stage of their life.
Russia is only slightly behind where the U.S. was through three events. The team finished on beam, and it would take a near flawless effort for Russia to catch the Americans in the all-around.
Regardless, Russia seems to have sown up the top spot in this group, with a five-plus point advantage over China.
Here's where we stand entering the final event of subdivision 4...
1. Russia -- 135.197
2. China -- 129.639
3. Germany -- 123.365
This article is
What is the duplicate article?
Why is this article offensive?
Where is this article plagiarized from?
Why is this article poorly edited?