MLB Predictions: Who Will Start for the Kansas City Royals in 2014?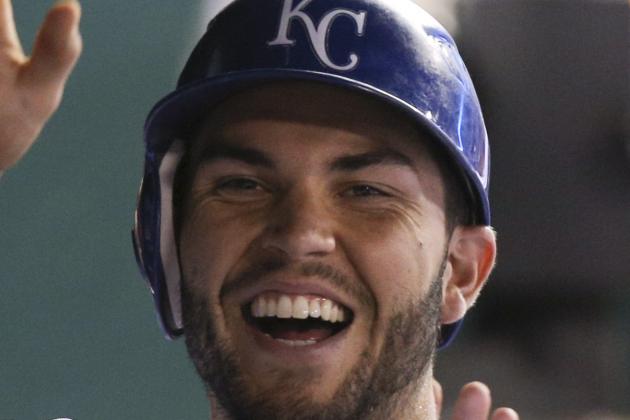 Ed Zurga/Getty Images
Eric Hosmer should lead the 2014 lineup.
The Kansas City Royals aren't going anywhere this year, but the future is still bright for the team.
Young players have been coming up through the farm system in the last year, and there is more talent on the way to Kansas City.
This article takes a look at the projected lineup for the 2014 Royals—one that has the potential to be among the best in the game.
Begin Slideshow

»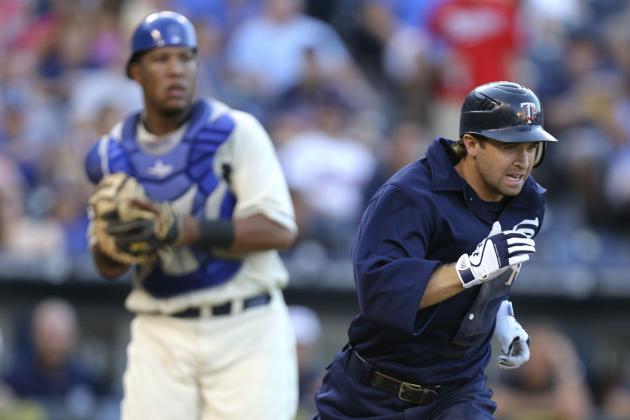 Ed Zurga/Getty Images
Salvador Perez is a talented two-way catcher.
There really isn't any true competition for this spot. Young Salvador Perez, all of 22, has already established himself as one of the top young two-way catchers in the game after playing just 65 games in the big leagues.
Perez was promoted in August last year, and managed to play in 39 games with the big club before the season ended. He was considered to be a strong defender, but surprised observers with his bat as he hit .331/.361/.473 with three homers and 21 RBI.
Perez was set to be the full-time starter this year, but an injury in spring training kept him out of the lineup until late-June.
In his first 26 games he has hit .326/.351/.543 with five homers and 10 RBI. That puts him at an overall total of .329/.357/.500 with eight homers and 31 RBI in his first 65 games.
Perez is likely to be the starter in Kansas City for the next decade.
Also considered: No one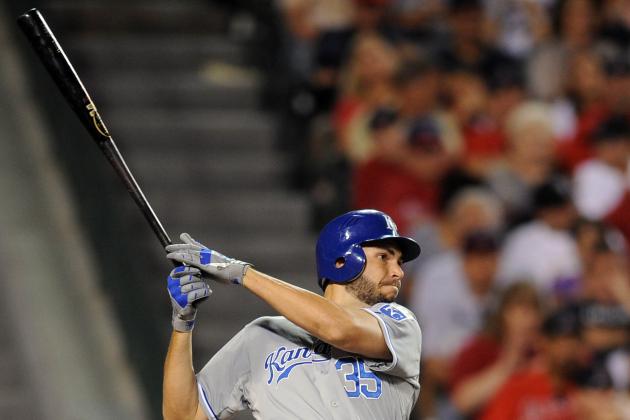 Kelvin Kuo-US PRESSWIRE
Eric Hosmer could rebound from his surprising sophomore slump just like Jason Heyward has.
Don't worry Royals fans, Eric Hosmer can rebound from his struggles, if he spends the offseason working on correcting his issues.
Just like fellow can't-miss prospect Jason Heyward, Hosmer came up and had an extremely impressive rookie season. Then, just like Heyward, Hosmer's sophomore season has been a complete disappointment.
At times he looks lost at the plate.
Heyward hit .277/.393/.456 with 18 homers and 72 RBI as a rookie in 2010, followed by .227/.319/.389 with 14 homers and 42 RBI last year.
After working all winter to fix his issues, Heyward is hitting .267/.347/.474 with 15 homers and 48 RBI this year. Sure, the average and on-base percentage are down from his rookie year, but the power is up.
Hosmer, who still owns one of the best pure swings in the game, hit .293/.334/.465 with 19 homers and 78 RBI last year at age 21. That makes his 2012 line of .228/.300/.362 with nine homers and 40 RBI very puzzling, especially considering he hasn't dealt with injuries like Heyward has.
With a winter of hard work, Hosmer could be back on his way to the top in 2013, and he could very well be a star by 2014.
Also considered: Billy Butler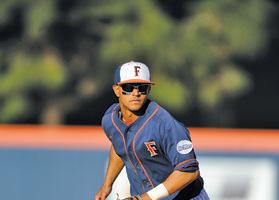 Christian Colon is the favorite to be the Royals second baseman in 2014. Photo from macksmets.com
Second base is the first position on this list where there is no clear-cut favorite to be the starter in 2014.
The Royals have some options, but each one of them comes with questions, as well. One thing that can be pretty much guaranteed is that current starter Yuniesky Betancourt will not be the man in 2014.
When the Royals used the fourth pick in the 2010 MLB draft on CSU Fullerton shortstop Christian Colon, it was considered a bit of a cost-cutting move. Colon signed quickly and immediately went to High-A Wilmington, where he hit .278 with three homers and 30 RBI in 60 games.
He was to open 2011 in Double-A with a chance to make his big-league debut by the end of the year. However Colon was disappointing, as he hit just .257 with eight homers and 61 RBI.
Colon has rebounded well this year while repeating the league. Overall, he is hitting .296/.372/.413 with five homers and 24 RBI in 63 games after missing a chunk of the season due to injury. He has played mostly shortstop in the minors but doesn't project to fit there in the big leagues where he will be blocked by the Royals' current shortstop, Alcides Escobar.
The other option is Johnny Giavotella.
Giavotella came up in 2011 and had a decent-enough debut, hitting .247/.273/.376 with two homers and 21 RBI in 46 games. He was expected to be the starter this year, but was surprisingly demoted to the minors to start the year. He has hit .333 with 10 homers and 53 RBI in 70 games in Triple-A to go with .217 in 21 big league games this year.
Also considered: Johnny Giavotella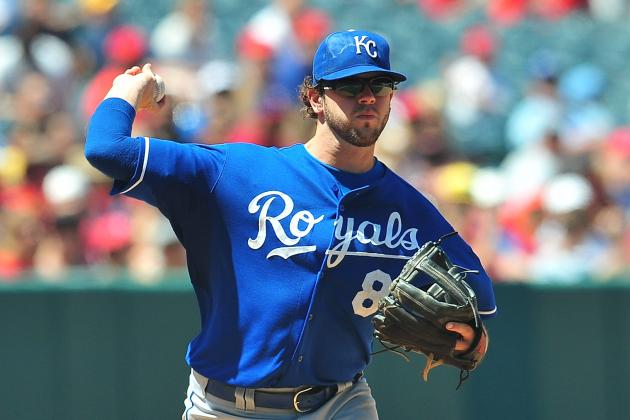 Gary A. Vasquez-US PRESSWIRE
Mike Moustakas has surprised many with his defensive ability.
Mike Moustakas struggled badly in the big leagues after being called up last summer.
The top prospect at times looked lost at the plate and wasn't hitting for much power. Just when it started to look like the Royals promoted him before he was ready, "Moose" finally went on a tear in September. That helped him to post a final line of .263/.309/.367 with five homers and 30 RBI in 89 games.
This year, Moustakas has been able to build upon his strong finish to his rookie season.
Overall, he is hitting .263/.318/.463 with 16 homers and 50 RBI in his first 93 games. He has also been one of the better fielding third basemen in the American League, which has surprised some who expected him to be a below-average defender.
Moustakas was left off the AL All-Star squad this year, though he did more than enough to earn a spot. Despite this year's snub, he likely has many All-Star Games in his future. Expect him to reach 30 homers and 100 RBI on a regular basis while also playing quality defense at the hot corner.
Also considered: No one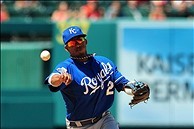 Gary A. Vasquez-US PRESSWIRE
Alcides Escobar has had a career year at the plate.
After hitting .304 with a homer and 11 RBI in 38 games for the Brewers at the end of the 2009 season, Alcides Escobar saw the hype surrounding his potential skyrocket. Escobar, a top defender at a premium position, ranked No. 12 on the Baseball America Top 100 List for 2010.
Escobar failed to reach expectations as a rookie the following year, hitting .235/.288/.326 with four homers and 41 RBI. Following that disappointing season, the Brewers dealt him to Kansas City as part of the trade for Zack Greinke.
Escobar's sophomore season was an improvement, but not by much. He managed to hit just .254/.290/.343 with four homers, 46 RBI and 26 steals.
It was starting to look like Escobar was a glove-only player who would never amount to much as a hitter.
However this year something finally clicked for Escobar at the plate. The 25 year-old is hitting .301/.341/.414 with four homers and 29 RBI. All of his triple-slash numbers would set new career highs, and he has already set one new career high with 23 doubles.
Even if Escobar can't keep hitting at this level, his defense makes him a quality regular player. With him hitting at this level, he is among the best all-around shortstops in the game.
Also considered: No one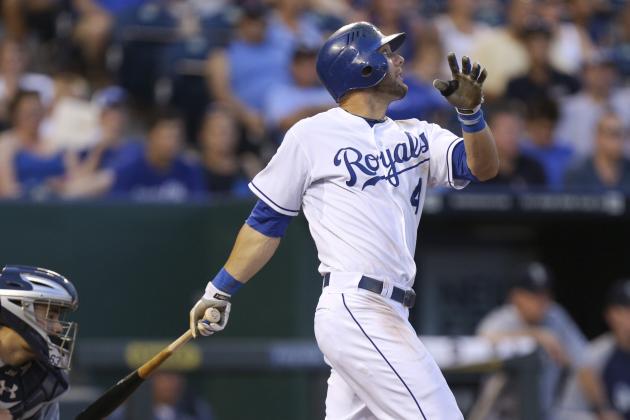 Ed Zurga/Getty Images
Alex Gordon has hit at least .340 in both June and July.
The Royals used the No. 2 pick in the 2005 MLB draft to take Nebraska third baseman Alex Gordon, hoping to have drafted the player that Ryan Zimmerman now is.
However, until last year the Royals looked to have taken a bust.
The fact that the 2005 draft was historically great—Justin Upton, Ryan Zimmerman, Ryan Braun, Troy Tulowitzki, Ricky Romero, Andrew McCutchen, Jay Bruce and Jacoby Ellsbury were all first-round picks in that draft—made it even tougher to swallow.
The Royals finally got some return on their investment last year when Gordon emerged by hitting .303 with 45 doubles, 23 homers, 87 RBI and 17 steals. He also added a Gold Glove as a left fielder, after being moved to the outfield just a year earlier.
Gordon slumped badly to start 2012, hitting just .232 in April and .241 in May, with a combined four homers and 20 RBI. It was starting to look like Gordon's 2011 was a fluke.
Until he hit .349 in June.
So far in July, he is hitting .340, and overall he's up to .292/.375/.428 with five homers and 37 RBI to go with a league-leading 33 doubles.
Gordon has quickly gone from being a bust to becoming one of the best left fielders in the game. The Royals can only hope that his power stroke comes back, but even if it doesn't, his average and on-base skills will be an important asset.
Also considered: No one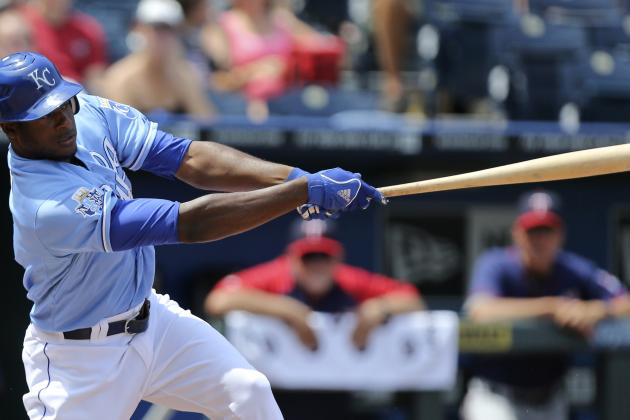 Ed Zurga/Getty Images
Lorenzo Cain needs to remain healthy for the Royals.
Alcides Escobar isn't the only piece received in the Zack Greinke deal who is a part of the projected 2014 lineup. (This doesn't even get into the projected starting rotation, where a third piece of that trade is expected to be a major contributor.)
Lorenzo Cain has been good when he's been on the field, but his ability to stay on the field has been his biggest question mark. Injuries have limited Cain to 60, 127, 134 and 34 games between the minors and the big leagues in the past four seasons.
This year Cain has played in only 20 games in Kansas City; he is hitting .273/.316/.455 with three homers and 14 RBI.
To see what he could do over the course of a full season, all you need to do is look at his Triple-A numbers from 2011, when he hit .312/.380/.497 with 28 doubles, seven triples, 16 homers, 81 RBI and 16 steals in 128 games.
As long as he can stay healthy, Cain is a very promising leadoff hitter who has a nice combination of power and speed.
Also considered: No one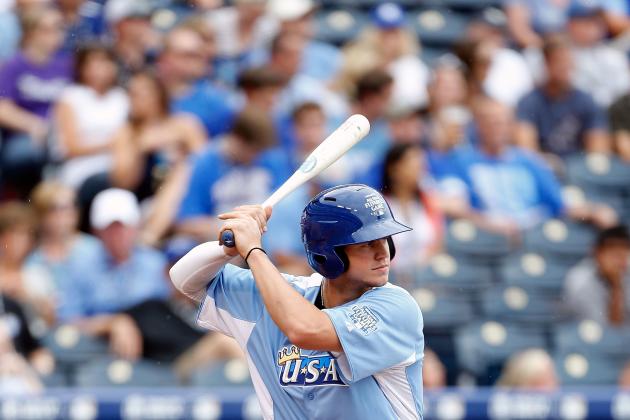 Jamie Squire/Getty Images
Wil Myers is ready to star in the big leagues.
The Royals have just one last elite hitting prospect about to come up through the farm system—a hitter who is on the same level as former top prospects Eric Hosmer and Mike Moustakas.
That hitter is Wil Myers.
Myers, a catcher-turned-right fielder, has played in center field and at third base, as the Royals try to find a way to get him in their lineup.
Myers' story has been told many times. He fell to the third round in the 2009 draft due to bonus demands, then destroyed pitching at both Low-A and High-A in 2010. He struggled badly last season in Double-A, due in part to injuries and inexperience.
Myers hasn't had any problems bouncing back from his disappointing 2011 season.
This year he started back in Double-A and hit .343 with 13 homers in just 35 games. After being promoted to Triple-A, Myers has hit .280 with 16 homers in 63 games. His overall line is .302/.381/.621 with 23 doubles, 29 homers, 79 RBI and six steals.
In fact, if not for a recent slump, Myers numbers would be even more impressive.
Myers has almost nothing left to prove in the minors. He stood out at the Futures Game and from there went to the Triple-A All-Star Game where he was the MVP.
It's just a matter of time before he gets the call to Kansas City, though his recent slump may have helped to delay his arrival for a short time.
Also considered: No one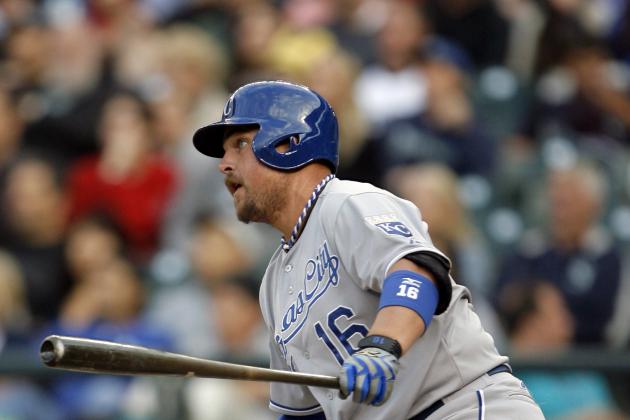 Joe Nicholson-US PRESSWIRE
Billy Butler seems to have tapped into his raw power more this season.
Billy Butler has done nothing but produce at a high level since being promoted to the big leagues back in 2007, just three years after he was a first-round pick out of high school in Florida.
There is one knock on Butler, however, as—despite his size (6'1", 240)—he has never hit more than 21 homers in a season.
Butler is a career .298/.361/.464 hitter in his six years in the big leagues. The 26-year-old has already once placed in the AL's top 10 in batting average and three times has been among the league leaders in doubles.
This year Butler made his first All-Star Game appearance. He is hitting .301/.370/.507 with 20 homers and 62 RBI and is just two away from setting a new career-high mark in homers. The emphasis on the long ball is most likely the reason his doubles total has dropped to 16 so far in 2012, after hitting at least 44 in each of the past three seasons.
Butler had been the Royals first baseman through 2010 but moved to designated hitter last year in order to make room for Eric Hosmer.
As long as Butler's high batting average and new-found power are here to stay, he will be among the top designated hitters in the league.
Also considered: No one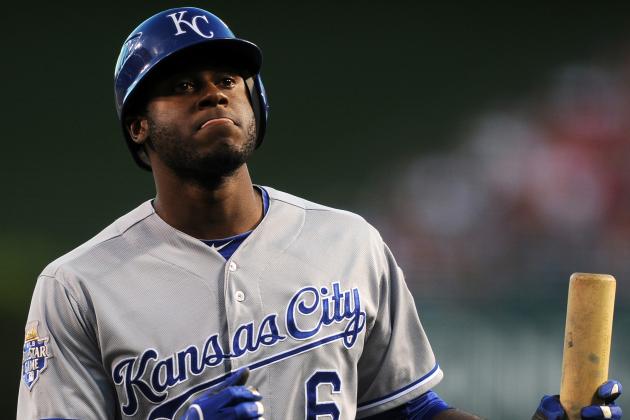 Kelvin Kuo-US PRESSWIRE
If Lorenzo Cain is healthy, the Royals lineup could be dangerous.
1. Lorenzo Cain
2. Alex Gordon
3. Eric Hosmer
4. Mike Moustakas
5. Billy Butler
6. Wil Myers
7. Salvador Perez
8. Christian Colon
9. Alcides Escobar
The Royals have used Gordon as their leadoff hitter for much of this year. But if he is healthy and producing, then Cain is a better fit at the top of the lineup.
Moving Cain to the top of the order would allow Gordon to move down into a slot that would better allow him to produce runs as well as take advantage of his on-base skills.
Hosmer is a good fit hitting third because he is the team's most complete hitter when he's going right. Moustakas is likely to be the cleanup hitter, as he has the ability to potentially hit 40 homers in a season.
Butler is another middle-of-the-order bat and could potentially be switched with Hosmer into the three spot. Myers' power and hitting ability make him a potentially dangerous No. 6 hitter, but the projected lineup is so strong that he belongs there for now.
Perez is a quality No. 7 hitter from what we have seen so far.
That leaves Colon, who has gap power and the ability to hit 10 homers per year, to bat eighth.
Escobar's lack of power makes him fit best in the final spot, but if he can hit .301 like he is this season, then he becomes a strong No. 9 hitter.