2012 Olympics: Previewing 4 Games to Watch in Tomorrow's Second Group Matches
Julian Finney/Getty Images
The Olympic men's football tournament continues through the group stage tomorrow as each team comes to its second hurdle.
Some of these matches could shape the field for the quarterfinals while others could effectively eliminate some teams from the competition.
It should be a fine day of football and one well worth watching.
However, it is possible that you won't have the time to watch every single match. After all, there are a lot of other interesting competitions going on at the Olympics. And it's not like this is the pinnacle of football competition anyway.
Hence, in an effort to help, I have cut the matches in half and present to you the four that you should definitely watch tomorrow.
Here are previews for the four matches to watch in tomorrow's Olympic football.
Brazil vs. Belarus: 10:00 EDT, Old Trafford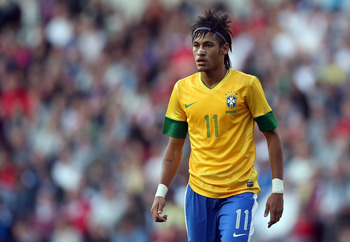 Julian Finney/Getty Images
I doubt you need much more reason to watch this match than the elegance and pure talent of this Brazilian side.
However, if you do, then take into account that this might be the trickiest of their group matches.
Brazil is coming off of a poor (by their standards) performance in the second half of their first match with Egypt that saw them go from 3-0 up to scraping out a 3-2 victory.
Meanwhile, Belarus were more than impressive against New Zealand, creating massive amounts of chances in a 1-0 win that could have been more.
Expect Neymar and company to pick up the three points, but it might be closer than you think.
Senegal vs. Uruguay: 12:00 EDT, Wembley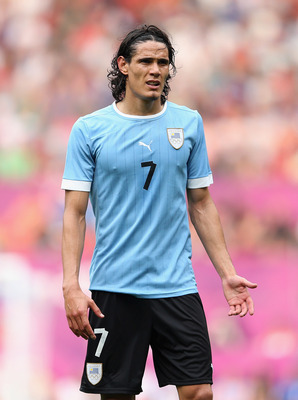 Julian Finney/Getty Images
If you don't know much about this Uruguayan team, then you should definitely tune into this match.
In Luis Suarez and Edinson Cavani, they have two of the best strikers in the tournament.
Except for Brazil, Uruguay should make for the second favorites in the tournament.
Meanwhile, Senegal proved that they are not above taking chunks out of opposing players.
Add to this that the match will be the first time Suarez has gone up against an African side since his infamous hand-ball against Ghana in the World Cup quarterfinals and you get the picture of a potentially chippy affair.
Uruguay should dominate on the scoreboard, though.
Spain vs. Honduras: 14:45 EDT, St James' Park
Stanley Chou/Getty Images
Was Spain's loss to Japan in their opening match of the tournament just a blip?
We will find out tomorrow as they take on a Honduras side that were less than impressive against Morocco in their opener.
I expect Juan Mata, Jordi Alba and the rest of Spain's side to bounce back and cruise to victory.
On the other hand, I did not expect them to lose to Japan in the first place.
Great Britain vs. United Arab Emirates: 14:45 EDT, Wembley
Michael Regan/Getty Images
If nothing else, this rag-tag group that represent the hosts are an interesting spectacle to behold.
Will Team GB be holding gold medals at the end of this tournament? Probably not.
But if they have any hope of getting out of the group, the British must get a victory over the United Arab Emirates tomorrow.
However, UAE looked surprisingly good despite losing in their first match against Uruguay. The Emirates even jumped out to a lead against the South Americans in that first match.
I don't know what to expect from this one. Doesn't that make it all the more must-see?
For the latest news in the world of football, follow me on Twitter.
Keep Reading