Steve Austin, Ric Flair and the 10 Biggest Omissions from WWE Raw 1000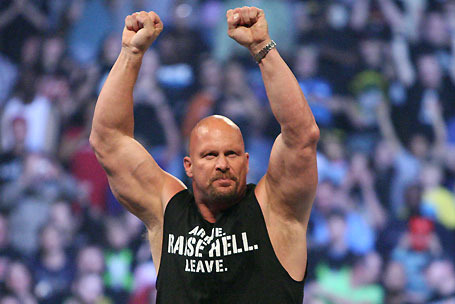 Photo courtesy of WWE.com
When Raw 1000 concluded, there was a lot of chatter about which past WWE stars showed up for the historic show.
But there was probably even more buzz about who didn't.
While the 1,000th episode of Raw was loaded with talent, the fans were still left extremely disappointed by the absences of some of the the biggest names in WWE history, including "Stone Cold" Steve Austin and Ric Flair, among a slew of others.
Many couldn't swallow that the WWE would fail to bring in some of the huge names who played crucial roles in the success of the company's flagship show.
For the most part, I was satisfied with the legends' appearances on Raw. But I definitely would have loved to see some more names from the past on the show.
Here are the 10 biggest omissions from the historic 1,000th episode of Monday Night Raw.
Begin Slideshow

»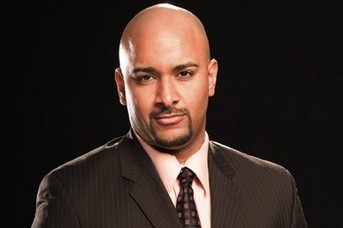 Photo courtesy of WWE.com
Jonathan Coachman may not exactly stand out as one of the most influential men in wrestling, but his place in WWE history can't be overlooked.
Coachman was a fixture in the WWE from 1999 to 2008, and though he probably shouldn't have, he cemented himself as one of the best comedic characters in the company during that time.
Much of Coachman's fame and notoriety among wrestling fans stems from his on-screen relationships with Mr. McMahon and The Rock.
Coachman became Mr. McMahon's lackey in 2006 and was put in more embarrassing situations and angles than I care to count. Meanwhile, he also became well known for his hilarious (and also humiliating) segments with The Rock.
Whether he was a heel or a baby face, a backstage interviewer or Mr. McMahon's executive assistant, Coachman was always entertaining.
If Sean Mooney could get on Raw 1000, then "The Coach" should have been there, too, even if it was just for a 30-second backstage skit with The Rock.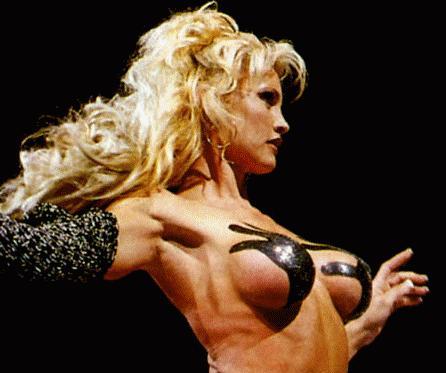 Photo courtesy of WWE.com
On Raw 1000, we got appearances from two of the most unforgettable Divas in WWE history, Trish Stratus and Lita.
But there are three other notable women from the past who should've appeared on the show, but didn't: Sable, Stacy Keilber and Torrie Wilson.
Whenever I think of the WWE Divas, Sable, Stacy and Torrie are three names that almost instantly come to mind.
Sable is one of the most important female figures in Raw history, while Keibler and Wilson have both made even bigger names for themselves in their post-WWE careers.
With Sable's real-life husband, Brock Lesnar, working the show, Keibler's high-profile relationship with actor George Clooney and Wilson's seven-year WWE career, I figured that at least one of three would have made a brief appearance on the show.
These are three women who could have given the WWE some outside media exposure and given some of the WWE's male fanbase one more opportunity to hear Jerry Lawler scream, "Puppies!"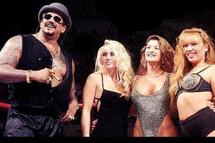 Photo courtesy of WWE.com
A big portion of wrestling fans consider the Attitude Era to be the greatest period in wrestling history.
Yet I was really surprised by the lack of Attitude Era names on the 1,000th episode of Raw.
Yeah, we got guys like The Rock, Mick Foley and the APA (Farooq and Bradshaw), but beyond that, I thought the WWE could have done a little more to highlight the most famous era that wrestling has ever seen.
There were plenty of midcard Attitude Era stars who played a pivotal role in the success of the WWE at the time, but they were nowhere to be found on the show.
Although it might just me be, I would have loved to have seen some of the more notable Attitude Era mid-carders on the show, especially the ones with some outrageous gimmicks.
How about Val Venis, The Godfather, Ken Shamrock and/or Goldust?
While I get that the WWE had some time constraints, a short segment with the hoe train isn't too much to ask for, is it?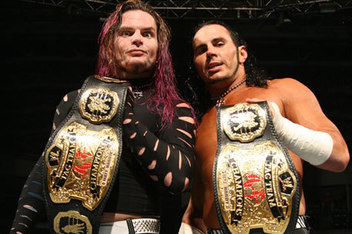 Photo courtesy of WWE.com
Yeah, I know--Jeff Hardy is in TNA, while Matt Hardy seems to have burned his bridges with the WWE.
But if neither of those were true, then it would have been great to see a Hardy Boyz reunion on Raw 1000.
Personal feelings for either Hardy aside, they are two of the most decorated and most popular stars from the recent Raw era.
Their time on the show actually extends all the way back to the mid-1990s when they both worked as jobbers before eventually signing with WWE and debuting with the company in 1998, and they became staples of the WWE for much of the next decade.
Although both Matt and Jeff had their ups and downs with the company, they became one of the most popular and accomplished tag teams ever, one that revolutionized the division with their TLC matches.
They'd also ascend to the top of the WWE, eventually combining to win every World title in the WWE.
After breaking out as singles stars, both Matt and Jeff made their own individual impact on the WWE, and they should have given us a reminder of what the tag-team division once was on Raw 1,000.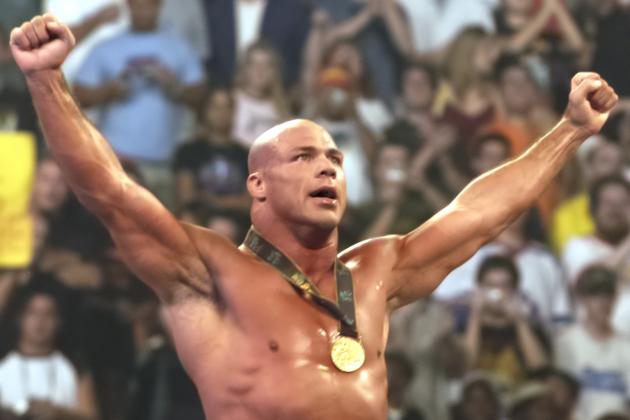 Photo courtesy of WWE.com
Yep, another TNA star.
Though a lot of wrestling fans now associate Kurt Angle with TNA and many associate him more with SmackDown, we can't forget about what Angle meant to the success of Monday Night Raw.
After debuting on Sunday Night Heat in 1998, he quickly became a fixture on Raw, and a year later, he was well on his way to becoming one of the biggest stars in the company.
Angle's amateur wrestling background separated him from the pack, but it was his promos (remember the three "Is"?) and his charisma that truly took him to the main-event level.
He rose to the top of the WWE about as fast as anyone in WWE history, and just a few years into his career, many saw that he would likely one day be called one of the best ever.
Needless to say, Angle's proved that over the course of an historic 14-year career.
We not only would love to see him back on Monday Night Raw. We'd love to see him back in the WWE for one last run.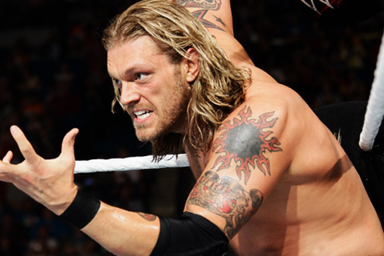 Photo courtesy of WWE.com
One guy who I thought for sure would appear on Raw 1000 but didn't?
"The Rated R Superstar," Edge.
On and off from 1998 to 2011, Edge wowed us on Raw as both a tag-team and singles competitor, becoming one of the top stars in the show's history along the way.
When he wasn't revolutionizing the tag-team division with Christian, he was feuding with John Cena over the WWE championship in one of the best rivalries that the show has ever seen.
As we all know, Edge was forced to retire early last year because of a career-threatening injury, and in 2012, he became the youngest male inductee to ever enter the WWE Hall of Fame.
Had it not been for that injury, Edge would probably still be entertaining us with his incredible promos and matches to this very day.
He is undoubtedly one of the most accomplished stars the WWE has ever seen, and given that much of that success took place on Raw, I was shocked that he wasn't on Raw 1000 in some way, shape or form.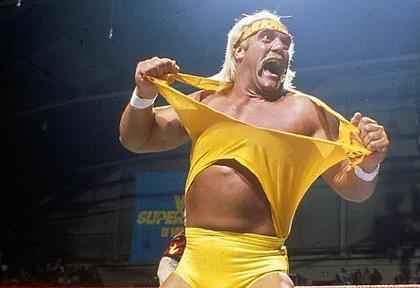 Photo courtesy of WWE.com
Like with Kurt Angle and Jeff Hardy, Hulk Hogan was never going to appear on Raw 1000 because he's under contract with TNA.
But it's still a shame that one of the biggest names in WWE history couldn't appear on such a historic episode for WWE's flagship show.
Although Hogan spent a big chunk of Raw's critical years in WCW, he is, to this day, synonymous with the WWE.
When you think of pro wrestling or the WWE, chances are that if you're not thinking of "Stone Cold" Steve Austin, you're probably thinking of Hogan.
He revolutionized the business in the 1980s, into the 1990s and even played a huge role in the WWE well into the 2000s.
While he doesn't have the greatest relationship with the WWE or Vince McMahon and is currently with the company's biggest rival, I still missed the Hulkster on a show that probably wouldn't have been possible if it wasn't for him.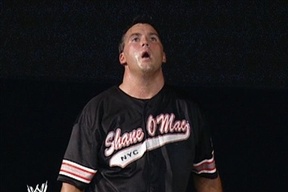 Photo courtesy of WWE.com
We got Mr. McMahon on Raw 1000. Heck, we even got Stephanie.
But where oh where was Shane O Mac?
Shane McMahon is hands down one of the most influential and important figures in the history of Monday Night Raw and the WWE.
Having played huge roles in the Corporation, the Alliance and Invasion angle and a number of other feuds with guys like DX, I'm not sure there's a non-wrestler (other than Vince McMahon) who has had a bigger impact on the WWE than Shane did.
From his great performances as an on-screen character to his death-defying stunts as a wrestler, Shane went balls to the wall every time he appeared on WWE TV, and to this day, he still remains one of the most unforgettable performers I've ever seen.
I know that Shane seems to have firmly moved on to other business ventures and doesn't appear to be interested in a return to the squared circle.
But the WWE completely dropped the ball by not getting him involved in Raw 1000 in some way, preferably in the angle between Triple H and Brock Lesnar.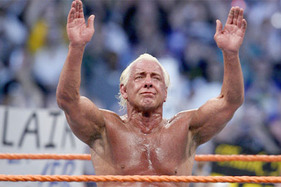 Photo courtesy of WWE.com
I can see why the WWE didn't have Ric Flair appear on Raw 1000.
With the company's ongoing lawsuit with TNA, it was probably a smart idea not to bring in a guy who only recently parted ways with the WWE's rival organization.
That being said, Flair's absence on the show can't be described as anything but a major letdown.
Many fans expected to at least see Flair appear briefly on the show, but a very optimistic bunch thought he might even be brought in as a manager or as the new general manager of Monday Night Raw.
Obviously, though, Flair was nowhere to be found on Raw 1000.
Although unfortunate circumstances were clearly the cause of this, we wanted to see "The Nature Boy" back where he belongs: in the WWE.
Flair had a rather forgettable stint in TNA, and it's time for him to come home, though not as a wrestler.
What better way to bring him back than having him return on the biggest episode of Raw in the last three years?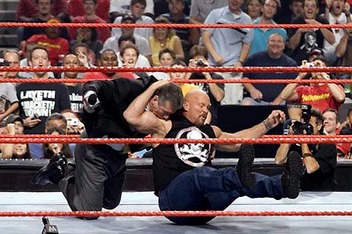 Photo courtesy of WWE.com
Whenever I think of Monday Night Raw, "Stone Cold" Steve Austin immediately comes to mind.
In many ways, he is Raw for me.
I grew up during the Attitude Era when Austin was at his peak, and the vast majority of the moments I remember from that show involve him in some way.
There was "Stone Cold" attacking Mr. McMahon in the hospital or spraying him with the beer hose. There was Austin going at it with Mike Tyson or hitting everyone in his path with a Stone Cold Stunner.
The bottom line (see what I did there?) is that Austin is, even to this day, synonymous with Monday Night Raw.
He was the biggest star in the WWE on its flagship show during its best years when the programming was the most entertaining and viewership was its highest.
If it wasn't for Austin, who knows if Raw would have reached such high levels of success or even be around today.
While knee surgery understandably prevented him from being at Raw 1000, it's a borderline travesty that he didn't appear in person on the show that he helped lay the foundation for.
Drake Oz is a WWE Featured Columnist for Bleacher Report. You can follow him on Twitter and ask him any wrestling-related questions on Formspring.