NHL Sleeper Picks: Eastern Conference Regular-Season Champion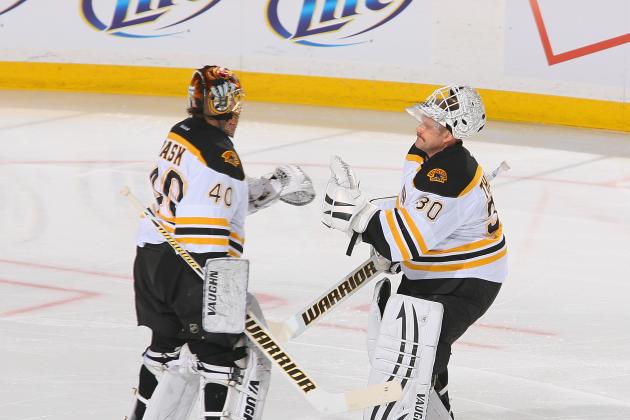 Rick Stewart/Getty Images

The Boston Bruins have fallen out of the favorites for the Eastern Conference, largely due to their top goaltender taking a year off.
Tim Thomas is not going to be between the pipes for Boston in 2012-13, but they have a very capable backup in Tuukka Rask.
Rask, 25, is 44-34-10 in his last three seasons in Boston as Thomas's backup. Rask also has 10 shutouts in the last three seasons.
Rask has a career 2.20 goals-against average in 102 NHL games and should be solid for the B's.
Offensively, the Bruins are fairly solid. Milan Lucic, David Krejci, Tyler Seguin and the return of Nathan Horton can cause defenses fits.
Defensively, it's hard to find a deeper team that the Bruins, led by Zdeno Chara. Dennis Seidenberg, Andrew Ference and Johnny Boychuk help stabilize the Bruin blue-line.
2011-12 Rankings:
Offense: T-Second in NHL (3.17 goals per game)
Defense: Sixth (2.43 goals against per game)
Power Play: 15th (17.2 percent)
Penalty Kill: 11th (83.5 percent)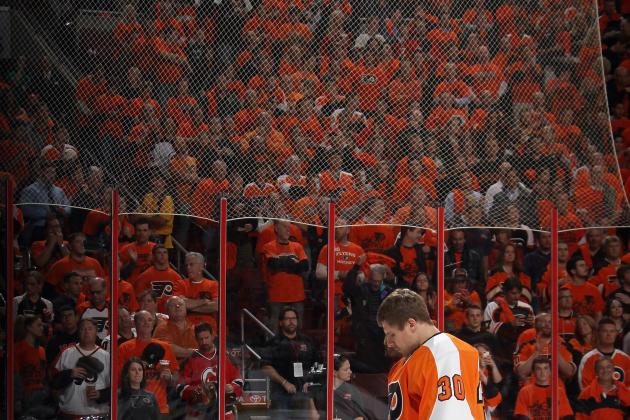 Bruce Bennett/Getty Images

Unfortunately for the Philadelphia Flyers, they play in the toughest division in the NHL.
The Flyers would be favorites to win the other two conference divisions, but they could finish as low as fourth in the Atlantic. That's how tough the Atlantic division is with the Penguins, Rangers, Flyers and New Jersey Devils.
The Flyers still have questions on their blue line and goaltender Ilya Bryzgalov hasn't gotten the Flyers to where the front office wants them to be—yet.
You have to assume the Flyers will find the answer on defense. A big-market team with a track record for Eastern Conference success is appealing to players. Philadelphia will find a way to get their defense back on track, even if captain Chris Pronger doesn't return.
The larger question mark is Bryzgalov. He has strong regular season numbers, with 69 wins in the last two seasons. But, an 8-14 record in the last three postseasons, hasn't won Bryz many fans.
Bryzgalov will need to improve his numbers (.909 save percent, 2.48 goals-against average), but the Flyers should be able to count on 30-plus wins from him next season.
2011-12 Rankings:
Offense: T-Second (3.17 goals per game)
Defense: 20th (2.74 goals-against average)
Power Play: T-Fifth (19.7 percent)
Penalty Kill: 17th (81.8 percent)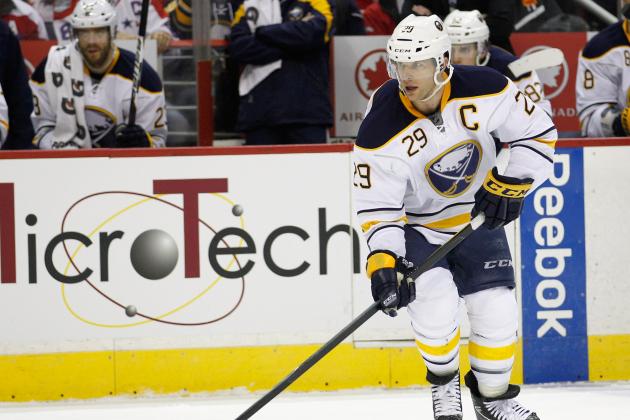 Rob Carr/Getty Images

I understand what I'm implying here, but the Buffalo Sabres could compete for the Eastern Conference title.
The Sabres underachieved in 2011-12 and missed the playoffs. Many forget the talent the Sabres have between the pipes.
Some solid offseason acquisitions have significantly improved the Sabres. Competing in the wide-open Northeast Division could benefit Buffalo.
The Sabres went 13-6-5 against division opponents last season and dominated their Western Conference opponents (11-6-1). Buffalo went an astonishing 9-1-1 against the Northwest and Pacific Divisions last season.
That being said, the Sabres have added quality forwards in Steve Ott and grinder Mark Mancari.
The defense will be improved with the addition of Adam Pardy. He joins a solid defensive group including Tyler Myers, Christian Ehrhoff and Robyn Regehr.
The Sabres also have a goaltending tandem that could be one of the best in the league with Ryan Miller and Jhonas Enroth.
A good year for Miller last season should provide confidence to improve in 2012-13.
2011-12 Rankings:
Offense: 17th (2.57 goals per game)
Defense: 18th (2.72 goals-against per game)
Power Play: T-16th (17 percent)
Penalty Kill: 19th (81.7 percent)