Stat Predictions for the Top 20 Heisman Trophy Favorites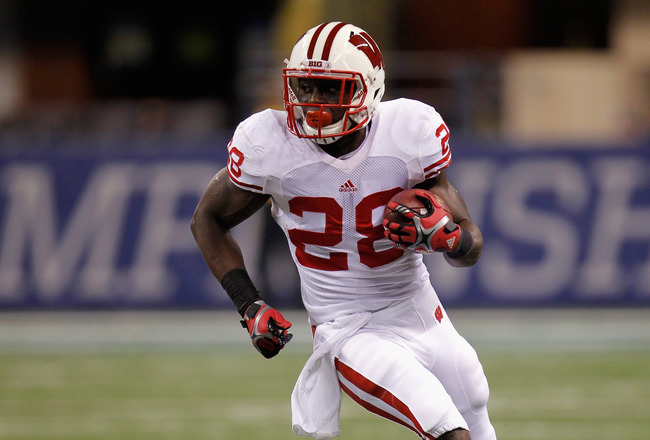 Gregory Shamus/Getty Images
It's coming, folks.
Inevitably, like Lee Corso shooting off at least one gun during the season, Lou Holtz making ridiculous predictions for Notre Dame, and Steve Spurrier throwing his headset, the college football season is approaching closer and closer.
Each of the 20 players on this list will be heavily involved this upcoming season—not just as your average player, but as some of an elite few that have the opportunity to take home college football's most prestigious award, the Heisman Trophy.
The following is a list of my top 20 Heisman candidates going into the 2012 season (barring injury, of course) accompanied by the expected outcome and production of each candidate's season.
So, if you get some time during an Olympics filled with soccer, cycling, swimming and, yes, badminton, take a few minutes to check out these '12 predictions and let me know what you think in the comments below.
20. Ryan Aplin, QB, Arkansas State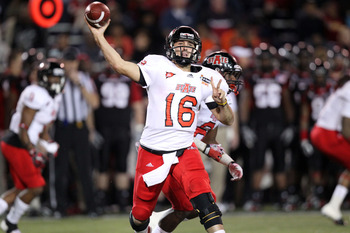 Nelson Chenault-US PRESSWIRE
Yeah, he's a long-shot, but Ryan Aplin must not be overlooked going into the season.
With Gus Malzahn as his new head coach, and a prime non-conference matchup with LSU, Aplin has the opportunity to put up big numbers and make a statement against a great defense and national power.
Further, Aplin has the opportunity to vastly improve his numbers—as well as drop his interception total—as he is surrounded by plenty of talent for his senior season in the Sun Belt.
12 Stats Prediction: 3,600 yards, 25 touchdowns, 12 interceptions, 550 yards rushing, 12 touchdowns
19. Collin Klein, QB, Kansas State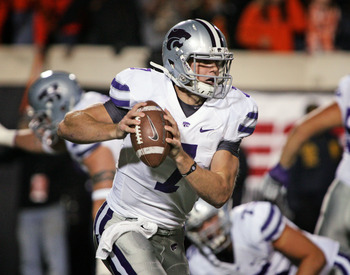 Brett Deering/Getty Images
The Heisman is a difficult award to win, especially if your team does not reach a BCS bowl game.
Kansas State's Collin Klein found that out last season when he tied the record for rushing touchdowns in a season by a quarterback, and still never found himself even on the periphery of the Heisman discussion.
This season will not be all that different.
While Klein will improve his passing totals, it's very difficult to see him duplicate last year's great rushing numbers.
The 'Cats will again have a good season, not a great one, and Klein will be left behind early in the Heisman race.
'12 Stats: 2,000 yards, 14 touchdowns, 10 interceptions, 1,200 yards rushing, 22 touchdowns
18. De'Anthony Thomas, RB/WR, Oregon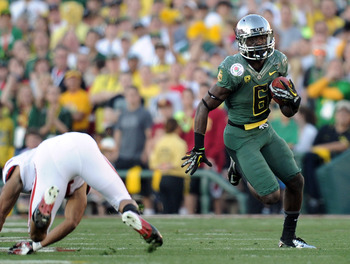 Harry How/Getty Images
Thomas and fellow Oregon running back Kenjon Barner are in for a good year.
With the departure of LaMichael James, there are plenty of touches to go around in the Ducks backfield, and Thomas figures to be the main beneficiary of the extra touches.
There is no other running back in the country as explosive, and no other with his speed. Whether that turns into Heisman-caliber production remains to be seen.
'12 Stats: 850 yards rushing, 12 touchdowns, 900 yards receiving, 10 touchdowns
17. Sammy Watkins, WR, Clemson
Streeter Lecka/Getty Images
In spite of some of Sammy Watkins' off-field issues, he remains the most explosive receiver in the country. There are few cornerbacks he will face with an honest chance of slowing him down. And rather than a "sophomore slump," expect Watkins to step up and better his numbers from last season.
With a year of experience under his belt now, and Tajh Boyd throwing him the ball, Watkins has All-American written all over him.
Of course, he plays in the ACC, so the level of competition is not as tough as it could be, but Week 1 against Auburn will give us a glimpse of what he can do against a higher-caliber defense like the Tigers.
'12 Stats: 1,300 yards, 15 touchdowns, 14.5 yards per reception
16. Tyler Bray, QB, Tennessee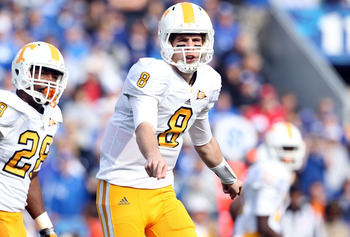 Andy Lyons/Getty Images
Bray is a sleeper pick—he demonstrated the physical tools and smarts to be extremely productive last season.
Another year of experience, coupled with the return of receivers Justin Hunter and Da'Rick Rogers, bodes well for Bray's chances of having a huge season.
Keep an eye on this guy.
'12 Stats: 3,000 yards, 30 touchdowns, eight interceptions, three rushing touchdowns
15. Keith Price, QB, Washington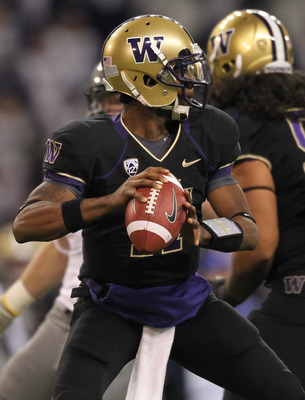 Otto Greule Jr/Getty Images
Keith Price might surprise some folks by keeping up with Matt Barkley statistically for most the year.
He has a great arm, makes good decisions and, when healthy, the mobility to make a difference with his legs.
Washington has more solid weapons than the casual observer might realize. While the Huskies are not Pac-12 title material, they have the potential—led by Price—to ambush some of the conference favorites.
Price has the talent to pull an RG3 "lite"-type season, though he does not have the same talent at his disposal that Griffin did last season.
'12 Stats: 3,500 yards, 35 touchdowns, 300 yards rushing, three touchdowns, 10 interceptions
14. Tyler Wilson, QB, Arkansas
Chris Graythen/Getty Images
Tyler Wilson is poised for the greatest season by an Arkansas quarterback in history.
With a good performance against SEC powers LSU and Alabama, it could be a special season for the Hogs, and the outcome of those games will largely depend on the play of Wilson.
Some of the pressure will be taken off of his shoulders by the return of running back Knile Davis from injury, and Wilson has demonstrated that he has the ability to perform at an All-American level.
With a big win against either LSU or Alabama, Wilson will put himself square in the Heisman discussion, and stay in it until late in the year.
'12 Stats: 3,800 yards, 30 touchdowns, three rushing touchdowns, eight interceptions
13. Tyrann Mathieu, CB, LSU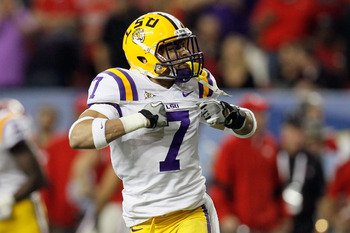 Kevin C. Cox/Getty Images
Just last week, I rewatched the 2011 SEC title game.
Georgia was firmly in control when Mathieu took a 62-yard punt to the house, giving the momentum a complete 180 in a few seconds' time.
This was just one of several such moments Mathieu had in 2011.
A year wiser and stronger, the Honey Badger will undoubtedly have another exceptional year in Les Miles' defense.
'12 Stats: Three interceptions, four return touchdowns, 11 passes broken up
12. Knile Davis, RB, Arkansas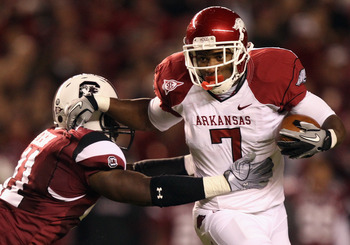 Streeter Lecka/Getty Images
The SEC's leading rusher in 2010, Davis suffered an awful ankle injury just before the start of the 2011 season, sidelining him for the entire year.
With Tyler Wilson leading the Hogs' passing game, it will open up more than his share of big-play opportunities for Davis. His combination of strength and vision makes him special, and his 2012 numbers will be near the best in the nation.
'12 Stats: 1,500 yards, 24 touchdowns, 150 receiving yards, two touchdowns
11. Kenjon Barner, RB, Oregon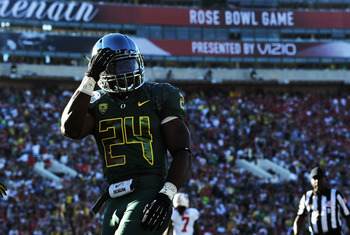 Harry How/Getty Images
As mentioned earlier, Barner and fellow Duck De'Anthony Thomas have the opportunity to take over where LaMichael James left off.
With a new quarterback taking over as well, and James gone, expect Barner to dominate the Pac-12 and sufficiently demonstrate why the Ducks were particularly excited about nabbing this recruit out of high school.
There are few defenses that can match his speed and elusiveness, either out of the backfield or as a receiver.
'12 Stats: 1,700 yards, 20 touchdowns, 350 yards receiving, five touchdowns
10. Aaron Murray, QB, Georgia
Al Messerschmidt/Getty Images
Aaron Murray is a great quarterback and Dawg fans should be happy to have him.
Georgia has a stout defense this season, and one of the weakest schedules in the SEC, which both seem to lend themselves to a solid season for the Bulldogs.
That said, Murray must hope that his offensive line, which has some serious questions, can keep him upright long enough for him to make the necessary completions.
He has demonstrated that he has the capability to pick apart even solid defenses, but almost no QB can survive—let alone thrive—without the sufficient time and opportunity.
'12 Stats: 3,100 yards, 32 touchdowns, 12 interceptions
9. Robert Woods, WR, USC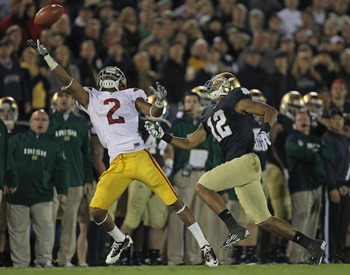 Jonathan Daniel/Getty Images
What's not to love about Woods?
He's talented, an athletic freak and has one of the most talented signal-callers in the nation throwing him the ball.
While some would argue that Woods is not even the best receiver on the Trojans roster, he is undoubtedly one of the most physically imposing threats to score every time he touches the ball in the college game today.
'12 Stats: 1,350 yards, 17 touchdowns, 13.0 yards per reception
8. Tajh Boyd, QB, Clemson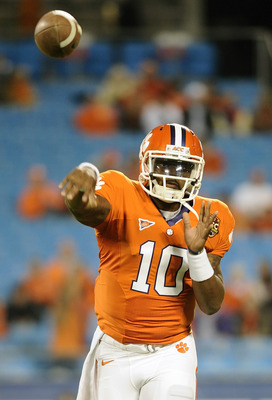 Jared C. Tilton/Getty Images
Here is the problem with Tajh Boyd: His offensive line is questionable, at best.
Sure, with running back Andre Ellington and quarterback Sammy Watkins returning the offense could be explosive, but if the offensive line is subpar, it won't matter who is in the backfield.
My guess is that Clemson will be fine along the O-line, and Boyd has too many weapons at his disposal to underperform.
He still needs to get those interception numbers down, but outside of that flaw, he's extremely solid.
'12 Stats: 3,500 yards, 32 touchdowns, 14 interceptions, 200 rushing yards, four touchdowns
7. Marcus Lattimore, RB, South Carolina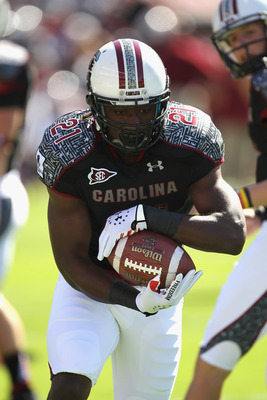 Streeter Lecka/Getty Images
Marcus Lattimore's return from a vicious knee injury has Gamecock fans excited about the running game in 2012.
SC's passing game is suspect, and Lattimore is a horse, so you can expect him to carry plenty of the load for Steve Spurrier's offense.
Although the Gamecocks face a particularly brutal schedule littered with excellent run defenses, Lattimore has the potential to break the 1,500-yard mark and compete for the SEC rushing crown.
'12 Stats: 1,600 yards, 22 touchdowns, 350 receiving yards, four touchdowns
6. Landry Jones, QB, Oklahoma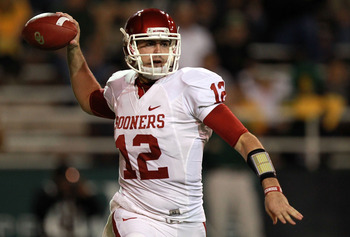 Ronald Martinez/Getty Images
Each of the past two seasons, Landry Jones has been mentioned in the preseason and earlyHeisman discussion.
Each of the past two seasons, he has had good passing numbers, but his interception totals and big-time letdowns have held him out of late-season consideration.
This year, although the Sooners look less than invincible, Jones will put up monster numbers. And even though his receiving corps has been depleted, there is still plenty of talent in Norman to help him remain in the discussion into the latter parts of the year.
'12 Stats: 4,500 yards, 32 touchdowns, 14 interceptions, two rushing touchdowns
5. Logan Thomas, QB, Virginia Tech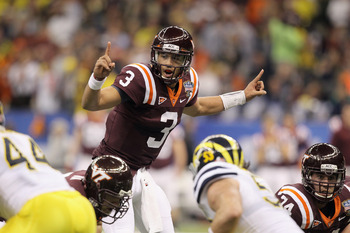 Matthew Stockman/Getty Images
This guy skated under the nation's radar for most of last season, mainly because he couldn't solve Clemson's defense, but Logan Thomas is a monster.
At 6'6" and 260 pounds, he has the ability to stretch plays and put pressure on the defense. With a year of experience as starter under his belt, and plenty of talent to work with, he is going to have a monster season for the Hokies, putting him at No. 5 of my Heisman list.
'12 Stats: 3,400 yards, 25 touchdowns, 500 yards rushing, 12 touchdowns, eight interceptions
4. Denard Robinson, QB, Michigan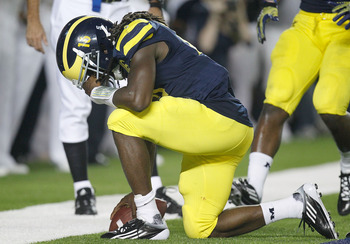 Gregory Shamus/Getty Images
Denard led the nation in early-season Heisman recognition for the past two seasons, but hasn't yet been able to carry it over into a complete season.
In his second year under Al Borges and his offensive system, expect Robinson to make great strides as a thrower—from tolerable to good.
Easily the most elusive and dangerous QB in the nation with his feet already, this added passing dimension to Robinson's game could finally lead to the Heisman's return to the Big Ten.
'12 Stats: 3,008 yards passing, 25 touchdowns, 10 interceptions, 1,623 yards rushing, 14 touchdowns
3. Geno Smith, QB, West Virginia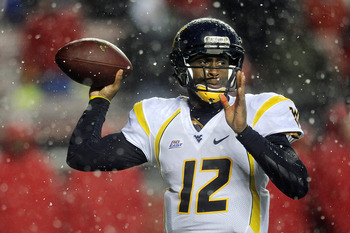 Patrick McDermott/Getty Images
Dana Holgorsen's offense is tailor-made for quarterbacks to thrive in, and Geno Smith is lined up to be the beneficiary of that offense in 2012.
In his second year in the system, you could argue that Smith has as excellent and comparable receiving options as anyone in the nation, with Stedman Bailey and Tavon Austin catching plenty of Smith's offerings.
The Big 12, while an excellent conference, thrives on offenses that throw the ball all over the field against helpless opposition.
Going into that situation, Smith has to be happy about his chances of approaching 5,000 passing yards on the season.
'12 Stats: 4,900 yards, 36 touchdowns, eight interceptions, two rushing touchdowns
2. Montee Ball, RB, Wisconsin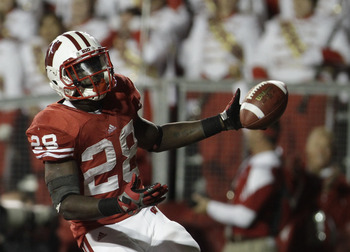 John Gress/Getty Images
After a season last year that saw Montee Ball score 39 touchdowns (not counting his one passing touchdown) and lead the nation in scoring, he will pursue some major milestones in 2012.
Ball only needs 18 rushing touchdowns to tie the NCAA career record.
Given that he scores touchdowns about as regularly as the SEC wins titles, he should hit that mark around the end of October.
The Badgers have an extremely talented stable of backs which will be competing with Ball for carries, but Wisconsin has a new quarterback and offensive coordinator to break in, so you can bet the rushing game will again be the team's bread-and-butter.
Ball's speed and ability to break tackles is an extremely dangerous combo, and you can expect to see it on display from day one this season in his quest to finish what he started last season.
'12 Stats: 1,800 yards, 28 touchdowns, 300 yards receiving, six touchdowns
1. Matt Barkley, QB, USC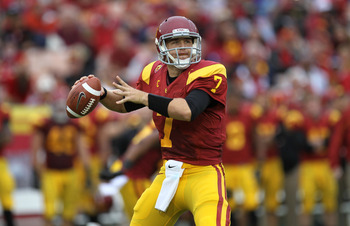 Stephen Dunn/Getty Images
Yeah, he's everybody's favorite Heisman candidate going into the season, and the accolades are well deserved.
Barkley is a skilled game manager, with the ability to make all the big throws in a game.
The fact that he is surrounded by top-flight talent, such as receivers Robert Woods and Marquise Lee, definitely adds some legitimacy to his Heisman campaign.
Don't be surprised if Barkley breaks the 40-touchdown, 4,000-yard mark this coming season.
'12 Stats: 3,875 yards, 40 touchdowns, six interceptions, one rushing touchdown
Keep Reading