Milwaukee Brewers: Top 5 Replacements for Zack Greinke in 2012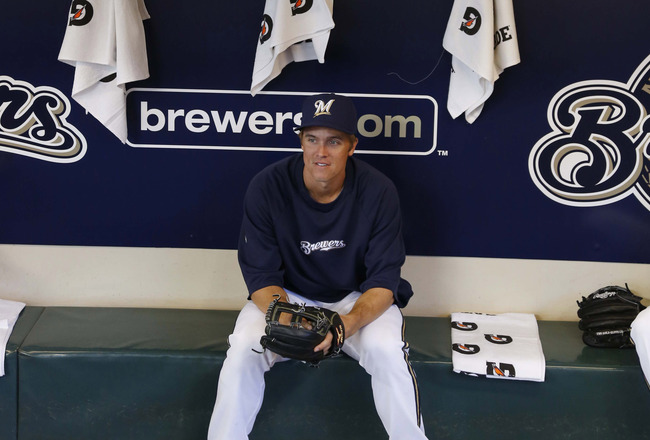 Jeffrey Phelps/Getty Images
Now that Zack Greinke has been traded to the Los Angeles Angels of Anaheim, who will step in to take his place?
When Milwaukee traded for Zack Greinke, they had immediate postseason success in mind. The plan worked out in 2011, as the Brewers made it to the NLCS. But this season has been an ugly story, forcing Milwaukee to flip the page on their strategy and send Greinke on his way.
With their ace gone,the Brewers will most likely call upon their farm hands to fill Greinke's hole in the rotation. Though not terrifically deep, Milwaukee has a handful of young hurlers who could be a nice fill-in for the remainder of the 2012 campaign.
It will be no easy task replacing the former Cy Young Award winner. Greinke posted a 9-3 record with a solid 3.44 ERA in 21 starts for the Brewers. A dazzling pitcher with a lights-out arsenal, he struck out 122 batters in just 123 innings.
Unfortunately, Milwaukee's minor-league affiliates have no one close to an ace like Greinke. Replacing him is incomprehensible. Whoever Ron Roenicke places in the rotation, he will be more of an intermediate option than anything else.
Here are the five pitchers who can fill in for Zack Grienke in 2012.
5. Livan Hernandez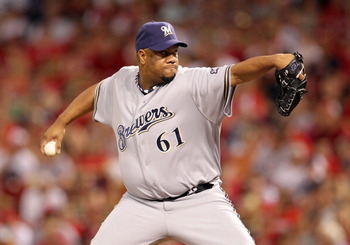 Andy Lyons/Getty Images
The only way Livan Hernandez will start for the Brewers in 2012 is if crisis mode is on full blast.
If injuries succumb the starting rotation, as they already have with Chris Narveson and Shaun Marcum, Milwaukee may have no other option besides the 37-year-old veteran.
The former Washington National last started in 2011. He was the Opening Day starter and in 29 starts, the righty went 8-13 with an ERA of 4.47.
After being released by the Houston Astros this season, the Braves quickly snatched him up and placed him in their sturdy bullpen. However, his stay in Hotlanta didn't last long. He signed with the Brewers shortly after being released by the Braves.
Livan's time in Milwaukee has been rough to say the least. In 13 innings, Hernandez has allowed six earned runs, giving him an ERA of 4.15. Despite his struggles, Hernandez is a valuable piece for manager Ron Roenicke. With a plethora of young pitchers, Hernandez provides a veteran presence with sound advice for the young rookies. Craig Counsell had a similar role in 2011, aiding the clubhouse with his veteran knowledge.
The old-timer's lack of success in the bullpen has made it clear that he is more fit for a starting role, though it's unclear if he would be any better.
Roenicke will look to his unproven prospects before settling with Hernandez. But if this season continues down the same weary road, it wouldn't surprise me to see him make a few starts.
4. Manny Parra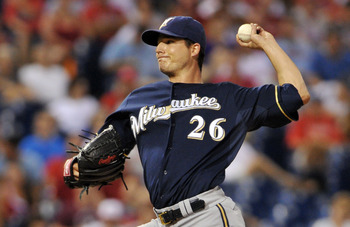 Drew Hallowell/Getty Images
Remember when Manny Parra started for the Brewers?
Parra was in Milwaukee's starting rotation for three years and last started in 2010, but his season was cut short after injuring his elbow which eventually caused Tommy John surgery.
The 29-year-old's time as a starter did not go as the Brewers had envisioned. After his injury, they placed him in the bullpen to start 2011. He remains there but Parra's future could be changing.
There have been rumblings that Milwaukee may transition Parra to the starting rotation again. Right now, Parra is mostly used as a long reliever in Roenicke's bullpen. In 43 appearances, the southpaw has posted a 4.73 ERA, while striking out 51 in 44 innings. Current starter Marco Estrada seems better suited for Parra's role. The Brewers might venture into the idea of having Parra and Estrada switch spots.
Having another left-handed pitcher in their rotation could work wonders for the Brewers. Randy Wolf is currently the only lefty and everyone knows how well he has been fairing this season.
If Milwaukee views Parra as a future starter, they'll insert him into the rotation now.
3. Wily Peralta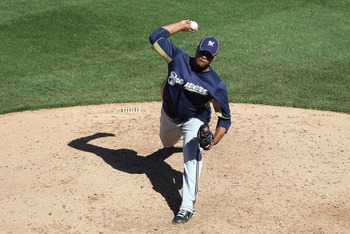 Christian Petersen/Getty Images
Wily Peralta is the Brewers top pitching prospect and his tenure in the big leagues is nearing.
This season, Peralta has an ERA of 4.92 with six wins and nine losses—not ideal stats for a young ace. But after a rough start to the year, Peralta has calmed down. In his last ten starts, the right-handed pitcher has gone 5-2 with a 2.94 ERA. Because of a 2.20 ERA in July, a call-up may be looming for Peralta.
Peralta still may be a year away from becoming the stud many expect him to be, but Milwaukee doesn't have the luxury to wait. Peralta would be a sensible replacement for Greinke. Like Greinke, Peralta is a strikeout pitcher. In 116 innings, the fireballer has struck out 100 batters
Brewers fans have long-awaited Peralta to make his mark in the rotation. After a superb July, Peralta is making a case to be the next starter for Milwaukee.
2. Mark Rogers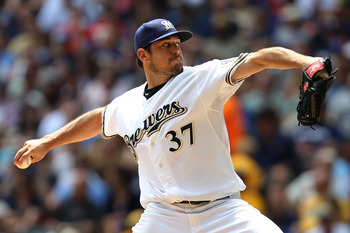 Mike McGinnis/Getty Images
Mark Rogers was the first experiment the Brewers tested to replace Zack Greinke and he passed with flying colors.
In just under six innings, the former fifth overall pick allowed just two earned runs on six hits while striking out seven Nationals—not too shabby considering he hasn't pitched in the majors since 2010.
He has a plus fastball in the upper 90's. The biggest pitch for him is his offspeed stuff. If he can control his breaking pitches, he can dominate.
Rogers was once viewed as the next best thing for the Milwaukee Brewers, but injuries and a 25-game suspension silenced his future. Even this year for the Nashville Sounds, Milwaukee's Triple-A affiliate, his stats have been anything but noteworthy.
He has a 4.72 ERA with a 6-6 record in 18 starts for the Sounds. Those stats would impress no one, especially a major league ball club. So why would the Brewers call upon him to make last Sunday's start?
Rogers' last three starts have been nothing short of immortal. In his last 19 innings, Rogers has allowed only two earned runs while striking out 20. His performance over the last couple weeks was the sole reason Rogers was promoted.
After his quality performance on Sunday, Rogers might be here to stay.
1. Tyler Thornburg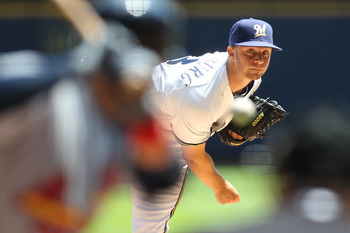 Mike McGinnis/Getty Images
Tyler Thornburg was viewed as the pitcher to take Greinke's start last Sunday. However, a tired arm removed him as an option.
Despite his fatigued arm, Thornburg is the best choice in filling Milwaukee's starting rotation. Thornburg started the season in Double-A, where he went 8-1 with a 3.00 ERA. His performance earned him a promotion to the majors.
Thornburg has struggled as a major league pitcher in his five appearances—two of them starts. In 14 innings, the 23-year-old has allowed seven long balls. That comes from his fastball being as straight as an arrow. Without any movement, a fastball can be very easy to hit. Location will be key for Thornburg moving forward.
Thornburg may have lost his spot in the rotation for the remainder of 2012, seeing as how well Rogers threw. The Brewers still believe in Thornburg, however. If not for his recent arm issues, Thornburg, not Rogers, would have taken the mound on Sunday.
Keep Reading

Milwaukee Brewers: Like this team?