Who Will Miguel Cotto's Next Opponent Be: Timothy Bradley or Saul Alvarez?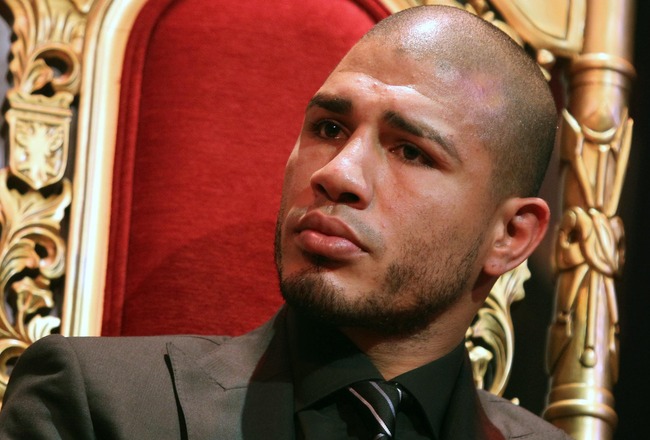 Miguel Cotto
Ed Mulholland-US PRESSWIRE
Miguel Cotto may end up standing across the ring from Timothy Bradley or Saul Alvarez on the night of his December return in Madison Square Garden.
Cotto (37-3, 30 KO) and adviser Bryan Perez, according to Boxing News 24, have revealed Bradley (29-0, 12 KO) and Alvarez (40-0-1, 29 KO) as two of the top choices for Cotto's next opponent.
WBO world welterweight champ Bradley has stated that he'll "entertain" a fight with Cotto, stating that he used to fight at 152 pounds in the Olympics.
The only thing going against Bradley is that he's aligned himself with Top Rank Promotions.
Cotto is currently in negotiations to co-promote his December 1 return to Madison Square Garden with Golden Boy Promotions.
WBC world junior middleweight champ Alvarez is promoted by Golden Boy Promotions and remains the more proven commercial draw.
Both choices are undefeated, strong athletes in their primes. A fighter such as Cotto must leverage the pros and the cons of either man. Here's a look at what each man brings to the table.
Timothy Bradley (29-0 12 KO)

Bradley takes on Abregu and dominates.

Bradley is coming off the biggest win of his career against Manny Pacquiao (54-4-2, 38 KO). That should normally make Bradley a very marketable opponent.
The issue is that the victory is also one of the highest-profile controversial decisions in recent memory.
If Bradley is to succeed in landing Cotto, he must hope his competitor Alvarez is upset during his upcoming championship defense.
Alvarez has a September 15th defense against Josesito Lopez (30-4, 18 KO), a blown-up junior welterweight coming off an upset win over a strong welterweight contender in Victor Ortiz (29-4-2, 22 KO).
One thing Bradley does have is a weaker punch. Bradley could not seriously hurt a 147-pounder in Pacquiao and it is doubtful his punch will be very effective at 154 pounds against Cotto.
Cotto could potentially walk Bradley down and take him out. Cotto will have shown he can beat an opponent Pacquiao didn't and possibly set up a lucrative rematch against Pacquiao next year.
Saul "Canelo" Alvarez (40-0-1, 29 KO)

"Canelo" vs. "Sugar"

Alvarez's September 15th defense against Josesito Lopez (30-4, 18 KO) will determine whether he lands a shot against Cotto or not.
His promoter is in talks to co-promote Cotto's Madison Square Garden show, and Alvarez has a world championship at the weight Cotto fights at.
Mix in Canelo's sizable Mexican following, Cotto's Puerto Rican following and the long lucrative history of Mexico vs. Puerto Rico boxing matches—here lies a recipe for financial success and a legacy enhancement.
It's easy to see Canelo as the top choice, but he must not overlook Lopez. If he does, Lopez could score another upset this year and leave Cotto with no choice but to select Bradley.
For more sports and entertainment news and analysis, follow me on Twitter @justindavidtate
Keep Reading