Olympic Basketball 2012: If Team USA Played Each Other 1-on-1, Who Would Win?
David Becker/Getty Images

Have you ever wondered who is truly the greatest player at his individual position in the game today?
Earning a spot on the 2012 Olympic basketball roster deservingly credits each player as one of the best in the game.
But, who are the best of the best?
Individually, would LeBron James overtake Kevin Durant yet again, or would Durant's one-on-one offensive abilities reign supreme?
How about Kobe Bryant vs. Carmelo Anthony, or Chris Paul vs. Deron Williams?
We will take an in-depth look at each individual matchup and try to determine who would come out victorious based on past accomplishments, current skill sets and height/weight advantages.
When it is all said and done, there will be angry and benevolent fans who disagree and agree, respectively. Whether you are enraged or content with the predictions, make sure to sound off in the comment section below.
May the best players truly win.
Begin Slideshow

»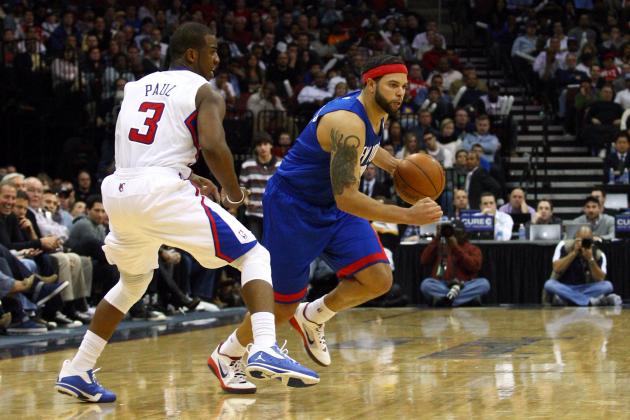 Chris Chambers/Getty Images

Between Chris Paul and Deron Williams, you have two players who possess some of the best passing and scoring abilities in the NBA today.
Paul is famous for his flurry of ball-handling maneuvers, precision passing and deadly shooting range. He knows where he is on the basketball court and is hyper-aware of his surroundings, giving him one of the top basketball IQs in today's game. His mid-range game is second to none, and he is the best defensive point guard in the league.
Deron Williams is very similar to Paul when it comes to his lethal offensive repertoire. From speed to precision, Williams is the ultimate icon for a guard who can get to the rim and finish at will. He possesses a nice outside shooting touch and has good size for his position. At 6'3", Williams gives his opponents plenty of fits on the defensive end. And, he is an elite passer, as evidenced by his career assist averages.
So, when we pit these two players up against each other, who will win?
These two players are very similar in nature, but Chris Paul has the edge.
While Williams has the height advantage, Paul plays defense with flair and maximizes every inch he has.
I can see Williams' speed becoming problematic for Paul, but in the end, Chris Paul's almost-guaranteed mid-range game would prevail.
Final Score:
Deron Williams: 17
Chris Paul: 21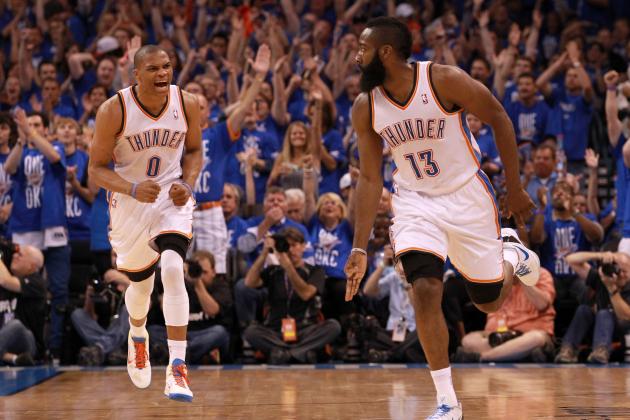 Ronald Martinez/Getty Images

This would be a matchup for the ages.
Teammate vs. teammate, rising star vs. rising star and max contract vs. Harden, who is still waiting on an extension.
Russell Westbrook has taken the league by storm with his highlight plays, pesky defense and emotional tirades. He plays the game with passion and is the ultimate spark for a team needing to go on a run.
He does anything and everything from getting a steal before the ball crosses half-court to burying a timely three-pointer to slicing down the lane for a vicious slam dunk. His speed makes spectators feel they need contacts or prescription glasses, as Westbrook is only a blur when he whistles by. He often leaves his opponents behind in the dust.
Russell Westbrook is every opponent's nightmare. If they guard him too closely, he will speed past them for a layup or dunk, and if they lay back, he will drain a nearly automatic jump shot. He is a problem that holds no solution.
James Harden is the icing on the cake to Westbrook's brilliance. The reigning Sixth Man of the Year broke the necks of opponents that Westbrook had already sprained. He is a spot-on deadly shooter from all sides of the court and can get to the rim and finish at will. His offensive efficiency is invaluable for a team that depends heavily on outside shooting.
And, arguably, his defense is his greatest asset of all. We have witnessed Harden slow some of the NBA's best. From getting a steal to taking a charge, Harden does everything necessary to win.
While most people would predict Westbrook to be the easy favorite in this matchup, I am not sure the outcome is so clear-cut.
Russell Westbrook has a marginal advantage when it comes to speed and perimeter shooting, but defensively Harden would give him all sorts of headaches.
James Harden would use his size to his advantage, and his defense would be sure to aggravate Westbrook, but, ultimately, Russell's speed and streaky shooting would prevail.
Final Score
Russell Westbrook: 21
James Harden: 19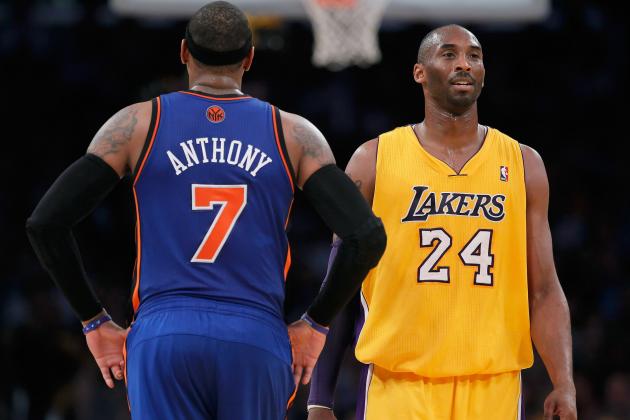 Jeff Gross/Getty Images

When you put Carmelo Anthony and Kobe Bryant in the same sentence, there is only one word that comes to mind: offense.
Both Kobe and Carmelo have had very colorful careers up to this point. While one holds five championship rings and the other is still chasing his first, both are the clear-cut leaders of their individual teams and can offensively take over a game in an instant.
Carmelo Anthony is a dynamic frontcourt player, known for his perimeter shooting and ability to finish at the rim with force.
He possesses the perfect size for a forward. He is lean, giving him the speed of a guard, but has the upper body strength that allows him to dominate the defense with brute force.
He rebounds with grit and is a prime fourth-quarter performer when his team needs him most. When the game is on the line, he has come through time and again in the clutch, making his matchup with Kobe Bryant, the greatest clutch player in the game today, one for the ages.
Kobe Bryant has had an illustrious career full of record-breaking milestones, championship parades and timeless moments sure to never be forgotten.
His dominance in the game has left a mark of inspiration for those looking to follow in his footsteps.
With absolute brilliance, Kobe still dominates his opposition seemingly with ease. At the age of 33, he has clearly lost a step in the athleticism department, but has made up for it with wisdom beyond his years and an ability to adapt to his weaknesses, ultimately making them strengths.
When the fourth quarter comes around, game plans and strategies change from stopping the team to denying No. 24 the ball. By now, everyone knows what happens when Kobe has the ball in the fourth quarter, let alone the final seconds.
He wins with sheer will, and we all watch in awe. Even though the world has witnessed Kobe over and over again, we still watch in amazement with each new feat he accomplishes.
Carmelo Anthony would be one of Kobe's toughest opponents in a one-on-one matchup.
While Kobe is arguably the best one-on-one basketball player still, Anthony possesses the strength and speed that would give Kobe a sure challenge.
But, in the end, there is no stopping Bryant. When his competitive instincts pick up, he refuses to lose.
His mid-range game is still the NBA's best, and Anthony would be at a loss when it comes to defending Kobe in a game full of isolation sets.
If Carmelo plays tight defense, Kobe's quick first step will give Anthony major problems, and, of course, if Bryant has space, his perimeter shooting and fade-aways are always golden sweet.
Final Score
Carmelo Anthony: 15
Kobe Bryant: 21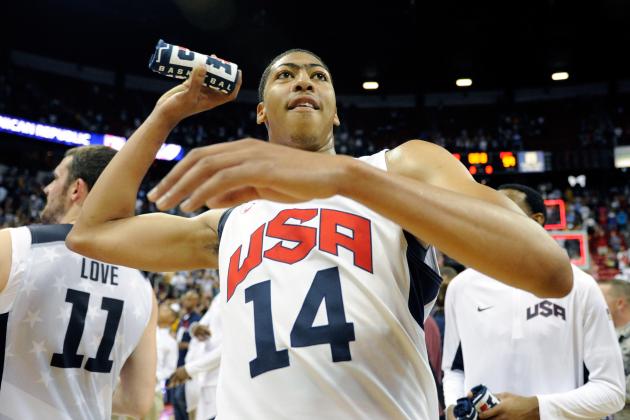 David Becker/Getty Images

Anthony Davis is the newest kid on the block, but he has lofty expectations to fulfill.
On the other hand, Kevin Love came into the league with minimal expectations but has blown everyone away with his super-star emergence.
Fresh off of an NCAA championship with Kentucky, Anthony Davis has all the makings of greatness.
He posseses incredibly rare court vision for a player of his size, and he showcases a touch and hands that are so soft, you could compare them to a baby's bottom.
His court awareness is prime and will ultimately make him one of the greatest shot-blockers the game has ever seen.
Davis is incredibly athletic and lanky. He can finish forcefully at the rim and displays post moves and fundamentals that go beyond his years.
When Anthony Davis' comparisons draw the likes of Tim Duncan, you know something special is waiting to happen.
Kevin Love is considered the best power forward in the league today.
With a combination of size and precision, he possesses one of the most diverse games for his position.
From launching the three-pointer to chasing down rebounds, Love has both the drive and grit to outperform the rest.
He owns the shot of a pure-shooting guard and the tenacity of a rebounding monster. Kevin Love is the complete package.
But, in a one-on-one scenario, Kevin Love is at a clear disadvantage.
While Love has the upper hand in perimeter shooting, Anthony Davis is an elite one-on-one shot-blocker.
Davis' athleticism would be far too much for Love to handle, and, with a combination of defensive prowess and post-up plays, Kevin Love will be taken to school by its newest member.
Welcome to stardom, Anthony.
Final Score
Anthony Davis: 21
Kevin Love: 11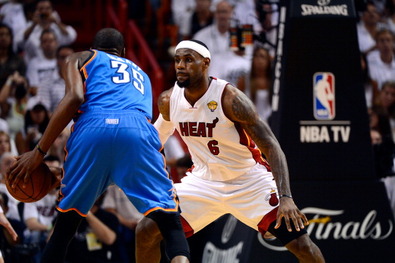 Ronald Martinez/Getty Images

As Bruce Buffer of the UFC would say: Ladies and gentlemen, we are live! This is the main event of the evening. This is the moment you''ve all been waiting for. It's time!
Out comes LeBron James from one corner and Durant from another with their boxing gloves on, fists clenched.
While LeBron is fresh off his first NBA championship, the 23-year-old Kevin Durant showed absolute brilliance in his own title quest against James, matching "the King" in his prime.
Kevin Durant has defied every expectation set before him.
He can score from any spot on the floor, and his ball-handling skills and freakish athleticism make him downright scary for his height.
He lives for the pressure moments and has come through time and again when the game is on the line.
Durant's speed and height give him unmatched versatility, and he scores at will, no matter what is set before him.
It doesn't matter who you are or what you do, Kevin will cross you over and take your lunch money and your desert cash, too, if you aren't careful.
The young kid is just too good.
But let's not forget about the King.
LeBron James has been a superstar talent since he first stepped into the league.
Athleticism, precision, speed, ball-handling, defense and fundamentals don't do justice in describing his game.
He might as well be a remote-controlled robot, because seemingly everything he does is inhuman.
He drops 30 points with ease, tallies a triple-double as if nobody is defending and jumps like there is an invisible trampoline under his sneakers.
So, who would win the ultimate battle between Durant and James?
James owns the edge when it comes to body strength, but Durant is the better shooter.
Kevin Durant owns the height advantage and would use his size and ball-handling well when going one-on-one against James.
While LeBron would bring a fight for the record books, Durant's size and precision would keep him at bay.
The game would certainly go down to the wire. With a score of 20-20, who would have the grit to pull out the win?
Durant gets the nod, as his clutch shooting would knock James off the throne. When it matters, Durant has proven he can deliver in the final moments, and this situation would be no different.
See, team basketball is far different from isolation.
James is the clear favorite in a game of five-on-five.
But, in this head-to-head matchup, Kevin Durant finally reigns supreme.
Final Score
Kevin Durant: 21
LeBron James: 20