Ranking the Top 10 Commercials Featuring Current NFL Players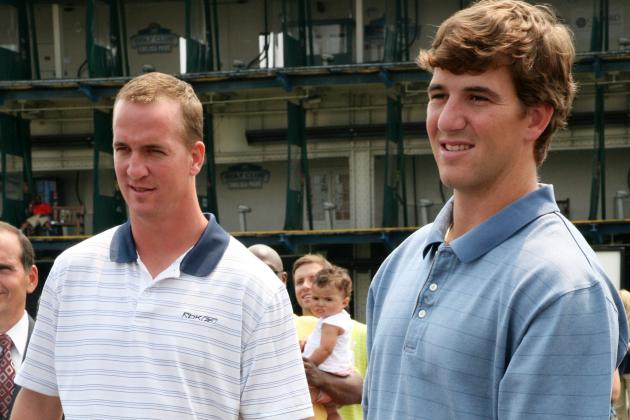 Astrid Stawiarz/Getty Images

Peyton Manning and Eli Manning are among the many NFL stars who not only shine on the football field, but on America's television screens as well. The best NFL players along with the elite television networks make a huge profit off the commercials that are created involving these top athletes.
With plenty of commercials featuring these NFL stars over the years, there are a few that have stood out of being the best on television.
Here are the top ten NFL commercials involving current NFL players today.
Begin Slideshow

»
Ray Lewis has been a punishing line backer in the NFL for 16 seasons and has shown no mercy to any opponent that gets in his way.
The most classic commercial involving the future Hall of Famer is no different. It features Lewis punishing opposing tacklers with vicious stiff arms on the way to the end zone.
Lewis never reaches the end zone, stating how men, women, and even animals want to be just like him. Why? It's simple: Old Spice deodorant.
This was a classic commercial involving the All-Pro safety of the Pittsburgh Steelers. After finished playing a hard-fought game, his biggest fan offered Polamalu his Coke Zero.
When the drink was nearly taken from him, Polamalu did not hesitate to take his anger out on the people who got in his way.
Polamalu has been involved with multiple commercials, but this one manages to top his list.
Larry Fitzgerald has proven to be one of the elite wide receivers in the NFL due to his ability to catch every football that is thrown off him.
He brings the same awareness off the field, especially at the ESPN studio. Not only is he able to catch small objects while talking with Jay Harris, but he even manages to catch a cheerleader who falls into his lap.
He is a good fit for television.
Steve Smith has not been given much exposure to national television during the course of his career. However, he did not waste any time taking an opportunity to play a part on an ESPN commercial.
And what better person to do it with than Kenny Mayne, one of the more interesting personalities on ESPN.
Mayne wanted to know how to describe Smith's speed, and it took him a second to figure out the answer.
Drew Brees has been quite a popular figure in recent NFL commercials, and this one involves his role as a leader of the New Orleans Saints.
Brees has used the same chant to pump up his teammates in New Orleans since becoming a member of the Saints. The fans couldn't help but join in on the chant, which includes employees who work for the NFL.
Former Houston Texans defensive end didn't appreciate hearing Brees' chant from the guy in the ticket booth when entering the stadium.
Aaron Rodgers began the widely famous "Discount Double Check" move in quite a few commercials.
When Rodgers saw BJ Raji steal his pose, he didn't appreciate his own teammate stealing his touchdown dance.
It didn't take long for Raji to show Rodgers what kind of moves he truly had in him.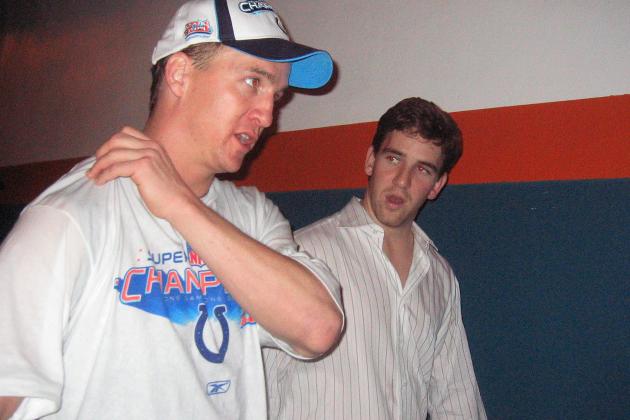 Doug Benc/Getty Images

Eli and Peyton Manning have never been disappointing in their sharing of the same spotlight, and they enjoy becoming entertaining actors when the time arrives.
In this case, both brothers are acting anything like mature brothers, much less professional quarterbacks.
Unfortunately, it's the case of big brother picking on his younger sibling.
This is the most famous Drew Brees commercial to date, and he has been involved with quite a few over his professional career.
His most notable commercial? It is without question the ESPN run commercial where is blocking any ESPN employees from entering the building.
Brees may be a successful quarterback, but no one has patience when one man can manage to create traffic miles long by blocking the entrance.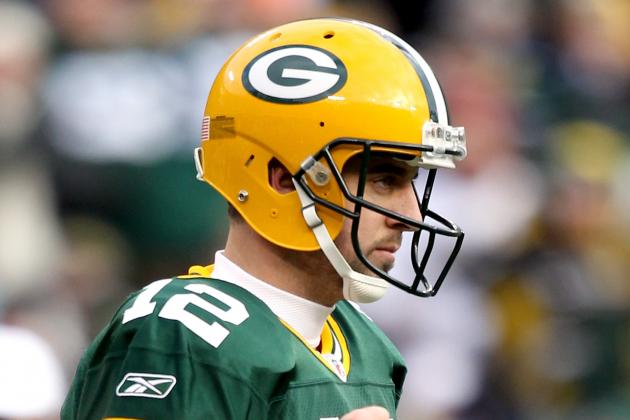 Matthew Stockman/Getty Images

This was Aaron Rodgers' first main commercial, and his "Discount Double Check" dance has carried to the football field, on television, and even on the basketball court with Knicks guard Steve Novak.
Rodgers' commercial was one of the more memorable television appearances in recent memory. Go see for yourself.
The best commercial involving current NFL players involves the Manning brothers once again. With Eli set to face off against his brother on Sunday Night Football, he knows the easiest way to win the game is to take Peyton out of the equation.
As a result, Eli locks Peyton in the closet and convinces Archie that he has no idea about his whereabouts.
Peyton won't forget that one, Eli.