Drafting to Win: Which Carolina Panthers Will Best Impact Your Fantasy Team?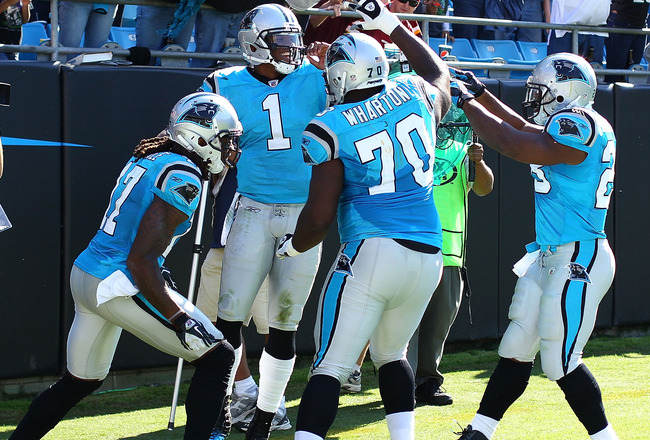 Scott Halleran/Getty Images
Training camp is on the verge of starting and the first preseason games are just a couple of weeks away. This is the time of the year when many people begin to plan their fantasy football draft strategy, ranking players and reviewing countless guides and player reports.
Anyone who has ever played fantasy football, veteran or rookie alike, will always have a certain player they want for their team. Most often the players in mind are perennial Pro Bowlers, consistent point scorers or a starter from their favorite team. The loyalty of a sports fan, especially football, is unmatched and because of that loyalty owners will be tempted to draft a player from that favorite team.
This kind of strategy can have mixed results. Sometimes a selection made out of loyalty can be a great move, and other times it can be so devastating it causes the team to be non-competitive.
As with any team this year, the Carolina Panthers will have a few key guys that will be filling up many big boards and into the draft plans of individual owners. The purpose of this article is to outline those players who will make a weekly impact, those who will add depth and those who should be avoided on draft day altogether.
Caution: This is in no way a means to determine how to draft but instead just a little insight on what could be in store with these talented players. Draft with care.
Cam Newton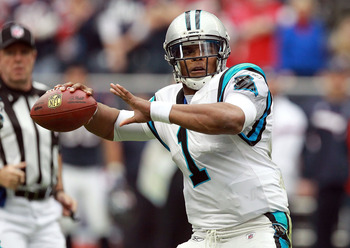 Newton will be among fantasy football's best
Ronald Martinez/Getty Images
Newton rewrote the record books last year after being a quarterback who went undrafted in many leagues. He became a hot commodity after the first two games of his career. That will not be the case this year.
Newton will have the distinction of being the only Panther to be taken in the first round. A lot has been made about his first season being a fluke and how teams will have adapted to his playing style, but the offense he leads is so talented that it is not one-dimensional....and neither is he.
What to expect: He will be just as efficient of a passer as he is a runner. He will try to make the throw before scrambling. It is unlikely he duplicates last year's passing and rushing numbers, but there should be an increase in touchdown passes and fewer interceptions.
Prediction: Passing: 3,855 yards, 30 TDs and 12 INTs; rushing: 543 yards, 7 TDs
Steve Smith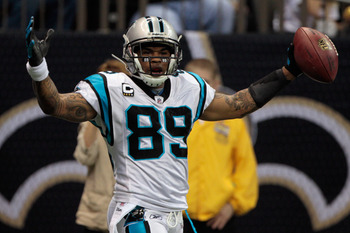 Another big year for Smitty?
Chris Graythen/Getty Images
The fiery captain had a resurgence in his career last year thanks to the arrival of Cam Newton. Smith should be regarded as the only true receiving threat on Carolina's roster. Additionally, he should be the next Panther to go on fantasy draft boards.
Smith caught 79 passes for 1,394 yards and six TDs in 2011 and looks to repeat those numbers in 2012. If he gets help from his fellow receivers, he should be able to improve on last year's production.
What to expect: He will be elusive and go up and grab a ball. He is a competitor. He may not see many targets in the red zone due to the makeup of the offense with Greg Olsen and Jonathan Stewart looking to be mainstays within the 20-yard line. Oh yeah, and a guy named Mike Tolbert, too.
Smith is still a good first option at wide receiver, especially to an owner building around the running game. Expect him to be gone by the end of the fourth round.
Prediction: 89 receptions, 1,010 yards, 8 TDs
DeAngelo Williams and Jonathan Stewart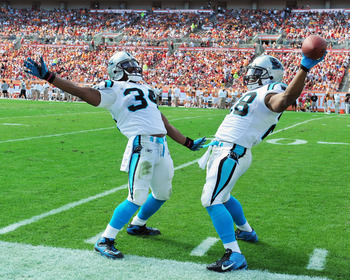 How effective will Double Trouble be in 2012?
Al Messerschmidt/Getty Images
Double Trouble is sharing the same slide because it would be a moot point to feature them individually when the story will be the same. Williams is the feature back of the team and should get a few more carries than Stewart. The biggest misconception about this tandem is they are regressing. That couldn't be any further from the truth.
Williams and Stewart had a breakout year in 2009 with both of them eclipsing 1,000 yards on the ground. However, health was a main issue the following season as Williams only appeared in six games and finished with 361 yards rushing while his counterpart appeared in 14 games rushing for 770 yards.
When the Panthers drafted Newton, they had another weapon that could pass and run. The latter resulted in the Panthers refraining from using the duo as much and they were spared the wear and tear experienced by their peers.
What to expect: Unless opposing defenses forget how to tackle (and that would be pretty sweet) Williams and Stewart should each rush for at least 800 yards again. There is a chance one of them will reach 1,000 yards on the ground. Also, Stewart is a capable receiver. However, he could see fewer targets (and red-zone appearances) now that Tolbert is part of the offense.
As talented as these guys are, they are mid-rounders and depth fillers. Both of them would be ideal for leagues featuring a flex WR/RB position.
Prediction: Williams: 923 yards, 9 TDs, 18 receptions, 1 TD
Stewart: 889 yards, 4 TDs, 27 receptions, 212 yards, 3 TD
Greg Olsen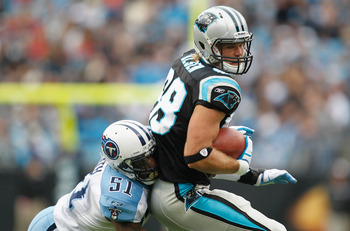 Olsen is now the #1 TE in Carolina
Streeter Lecka/Getty Images
Olsen's production was lower than expected last season, and that may have been partly due to the presence of Jeremy Shockey. Olsen is the undisputed top tight end on the roster with Gary Barnidge backing him up. Olsen needs to improve upon last year and his overall career numbers if he is to make any kind of significant fantasy impact.
He is capable of making the big play and should be a reliable check-down target for Newton if needed.
What to expect: Olsen should do most of his damage in the red zone; especially in goal-line situations. The one thing that will annoy many fantasy owners will be his inability to not make the most of his chances. The one glimmer of hope Olsen has going for him is this offense is better suited for his skill set and should allow him to become a fantasy stud.
Of course, the same was said about him last season. Olsen should be on the draft board toward the later rounds and could either be a late steal or a good second option.
Prediction: 54 receptions, 605 yards, 5 TDs
Do Not Draft/Waiver Wire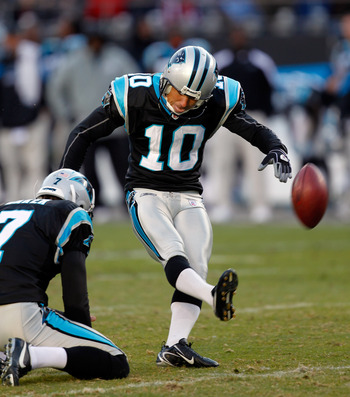 Mare could be given the boot if he doesn't improve
Streeter Lecka/Getty Images
These are the players any owner would want to avoid on draft day. Look to pick them up either on the waiver wire or out of desperate necessity. There is no need to draft them!
Brandon LaFell, WR
This is a toss up. On one hand, he looks to be another Carolina receiver who may underachieve. On the other, he could be the kind of complement Steve Smith has needed for years and help take away the double-teams.
Best case: He has a great year and puts up some good numbers, solidifying his place as a good second or third receiving option on fantasy rosters.
Worst case: He puts up similar numbers to last year and is used to fill in for starters sitting late in the season.
Olindo Mare
If he is drafted it should be in the last two rounds. He scored 123 fantasy points last year and while it's decent, he did miss six field goals. Unfortunately, some of those misses were from a short range.
Mare could prove to be counterproductive if in a league that heavy penalizes kickers for missed attempts; especially if he regresses back to his last season woes.
Carolina Defense
This unit was the worst performing defense many had seen in Carolina in perhaps its entire history. Granted, a lot of that had to do with injuries and forcing the younger guys to step up. The Panthers added Luke Kuechly during the draft and he should help return a once formidable linebacker corps to glory.
However, there are too many question marks regarding the front line and the secondary. It is best to leave it alone on draft day and see how they fare during the season. They could surprise.
Keep Reading

Carolina Panthers: Like this team?