At the beginning of last season, the deals that Brian Burke made this time a year ago seemed to be working well.
There was a brief point early in the season were many thought that Toronto even topped the league. Phil Kessel and Joffrey Lupul were tearing up the scoreboard.
For the first time in a long time, Toronto fans had something to be excited about. That was before their collapse in February.
The Maple Leafs went from holding onto a playoff spot to one of the worst teams in the league. No matter what Ron Wilson tried, he could not get the Leafs to win.
MLSE ended up letting Wilson go only a few months after he signed a contract extension, and brought in Randy Carlyle.
There was a lot of excitement in Toronto that started with the trade deadline, as the rumor mill went into overdrive. Suddenly, every top player was being mentioned in a trade to Toronto.
When February 27th had passed, not much had changed in Toronto. A few deals that brought some prospects was about it.
The rumor mill once again started when Toronto obtained the fifth pick overall in the draft lottery.
The biggest news to hit Toronto in the offseason came on draft day, when a trade sent defenceman Luke Schenn to Philadelphia for forward James Van Riemsdyk.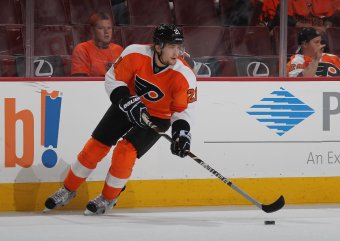 Bruce Bennett/Getty Images
This early move got Toronto excited, but with very little else done this offseason, the Maple Leafs are looking very similar to the team that collapsed in the later half of last year.
Burke made sure to re-sign many of his free agents, including Nikolai Kulemin, but also let a few walk away to a new home, like Joey Crabb.
Burke made sure to re-sign future prospects like Ryan Hamilton and Matt Frattin, while buying out the oft-injured Colby Armstrong and letting Philippe Dupuis go.
This type of house keeping is essential in the NHL, but for a team that had some very serious needs, it seems that Burke hasn't done enough.
The most recent signings of Simon Gysbers and Keith Aucoin, as reported on Mapleleafs.nhl.com, was another shake of the head.
Simon Gysbers is a 25-year-old defenseman and played last season for the Marlies. He had 29 points on the season and finished with plus-13 rating.
With the wealth of defensive talent, it will be a while before he is seen on the Maple Leafs' main roster.
Keith Aucoin is a 33-year-old forward who has spent the majority of his career in the AHL. His addition to the Leafs will see him in a bottom six role, if at all.
The Leafs signed free-agent Jay McClement, who played last season in Colorado. He will be a solid addition to the bottom six, and a replacement for Armstrong.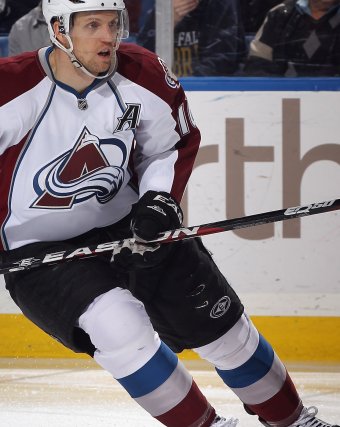 Bruce Bennett/Getty Images
So far, none of these players have addressed the issues that faced the Leafs last season. They needed a solid veteran goaltender and a top-line center.
It was announced that James Van Riemsdyk will try to play on the top line during the preseason.
The fans of the Leafs need to remember that while JVR has a lot of potential, he is still unproven in the NHL. During his tenure with the Flyers, he played on the wing.
He did play center during his career in the minors, but that is not the same level of play. If Van Riemsdyk can not cut it at center, the Leafs have only one other option at this point—Mikhail Grabovski.
There were times last season that Grabovski played on the top line. But for whatever reason, his style did not seem to mesh well with Kessel and Lupul.
Grabovski has a solid spot with two players he works well with—Clarke MacArthur and Nikolai Kulemin on the second line.
Burke seems to feel that Reimer and Scrivens splitting the starting duties will work well this season—as he felt that Gustavsson and Reimer splitting last season would work.
In the last season of his contract as GM of the Maple Leafs, the fans expected more out of Burke this offseason.
It has been over 40 years since the Leafs won the Stanley Cup, and it has been seven seasons since the lockout without even a playoff appearance by the Leafs.
The fans are getting restless, and with the minimal movement that Burke has done this offseason, it looks like this season could be their eighth without a postseason.